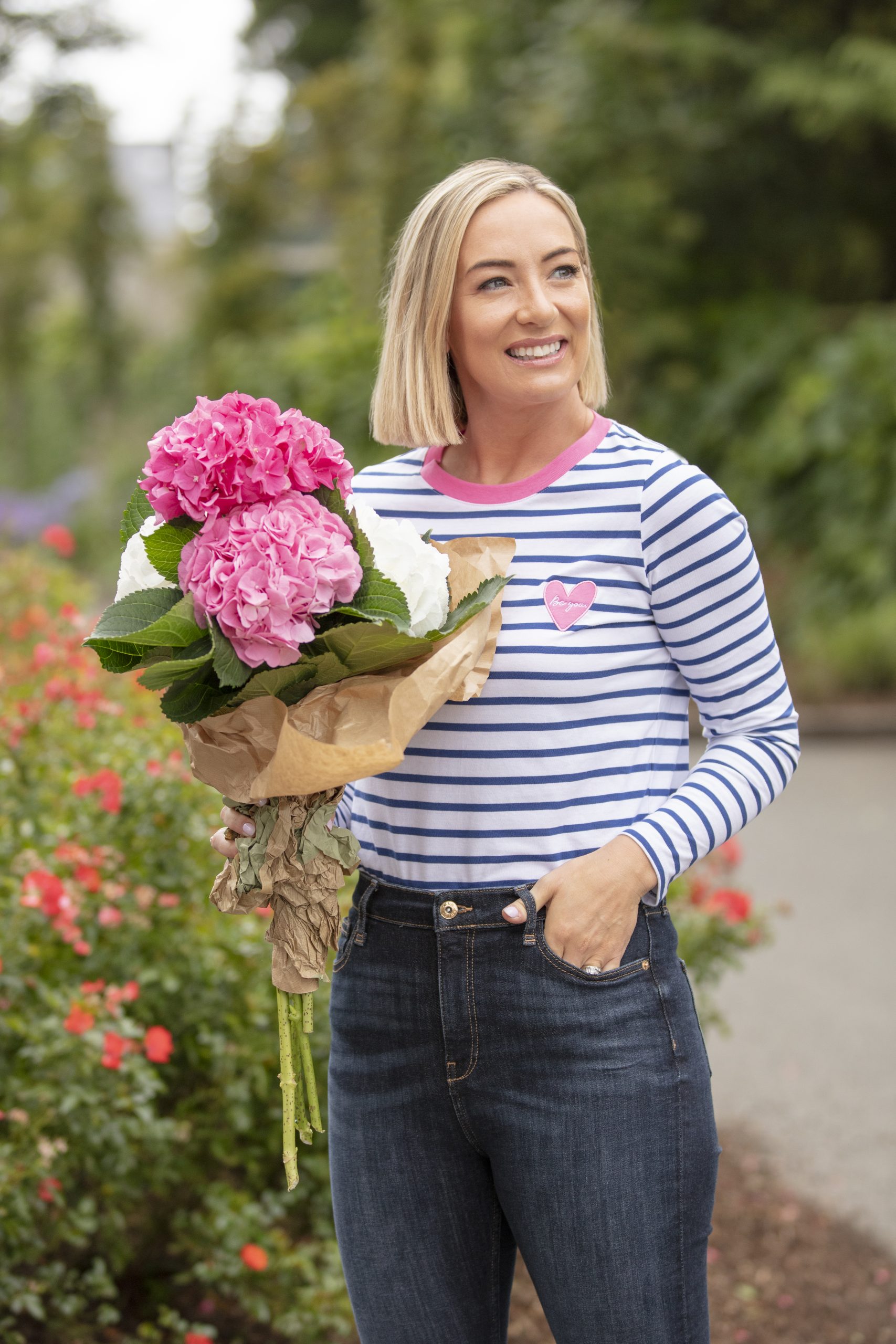 It's been a whirlwind few months for Naomi Clarke, but in the best way possible. The influencer and her husband Cormac, who are parents to Anabelle Ivy (5) and Luna May (3), welcomed a gorgeous new addition to the family earlier this year; their third daughter named Kaia. While her pregnancy, which took place in the middle of a global pandemic, wasn't always smooth sailing, Naomi safely gave birth to the tiny tot and since her arrival in April, has been enjoying evening minute with her beautiful family.
On a professional front, it's also a big and eventful year. Naomi has spent the last few months working away on a gorgeous new collection with Littlewoods Ireland, curating four t-shirts, available in sizes 6-24, and this range also supports a very worthy cause.
In a bid to give back, 10% of the profits will go towards Women's Aid, a charity which has done incredible work supporting women in terrible situations, particularly over the last two years in lockdown. Ahead of the launch, we caught up with Naomi to discuss life with her three babies, why there should be more done to support women right across the nation – and of course, it wouldn't be a chat with the Style Fairy without hearing some tips on transitional dressing and wardrobe must-haves.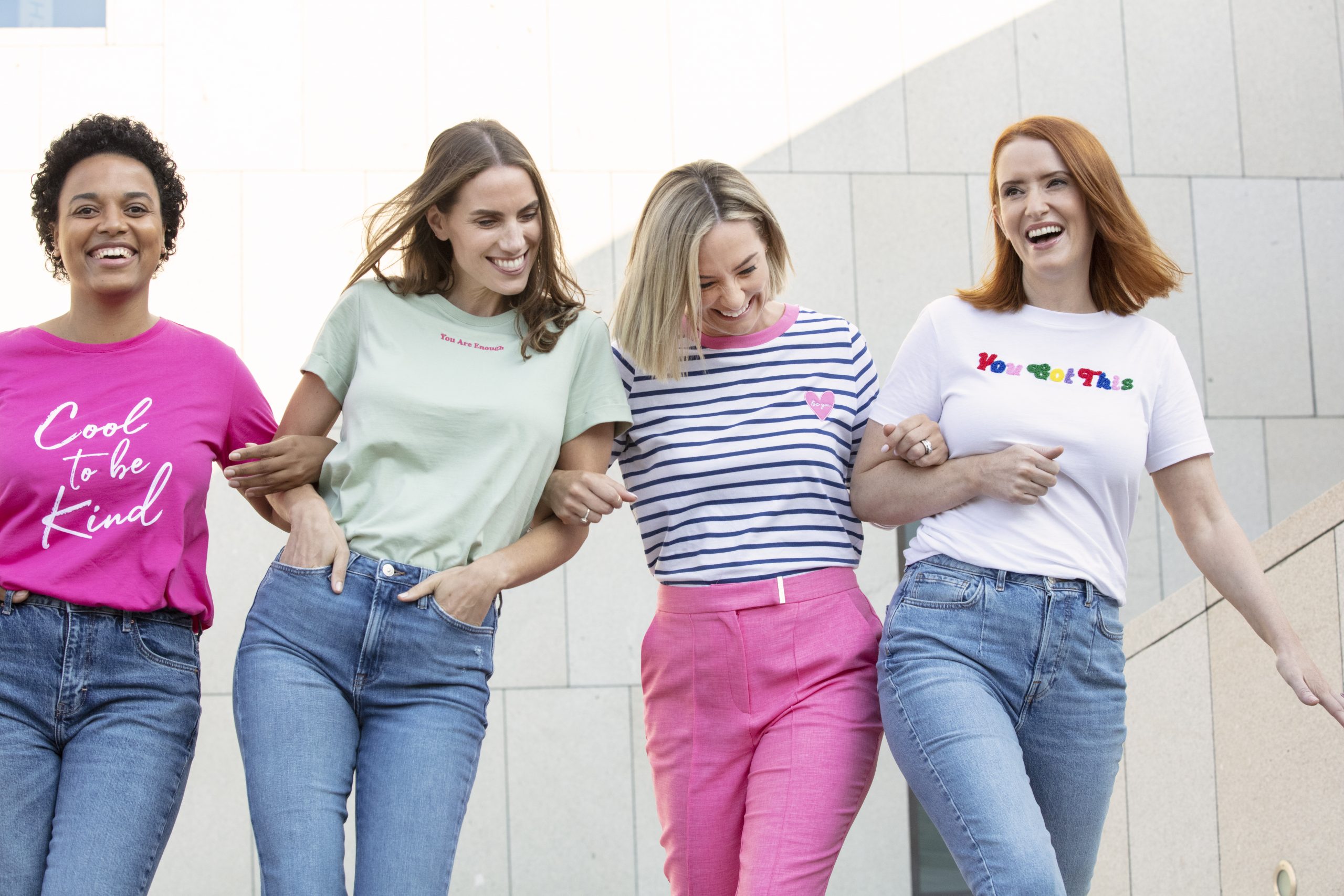 Naomi, how have you been keeping over the last few months?
Great! With three little girls, it's a bit of a mad house. Kaia is doing really well though. The girls dote on her, and you're always worried about that when a new little person comes into the house, but they've taken to her so well. We're finding our feet now. Those first few weeks were a haze and I can barely remember parts, but we've found a rhythm and we're doing good.
Were the girls immediately obsessed with their little sister or was there an adjustment period?
Our eldest, Annabelle, she's five and was immediately obsessed. She's a real mammy so she loves helping me, she's very affectionate with her and great with the baby. Luna turned three just shortly after Kaia was born. She loves her, but definitely found it more of an adjustment. She had lots of little tantrums at the beginning. She was just trying to find her feet and understand she wasn't the baby anymore. She couldn't explain why she was upset but would just break down crying. She's doing great now, and has just started pre-school.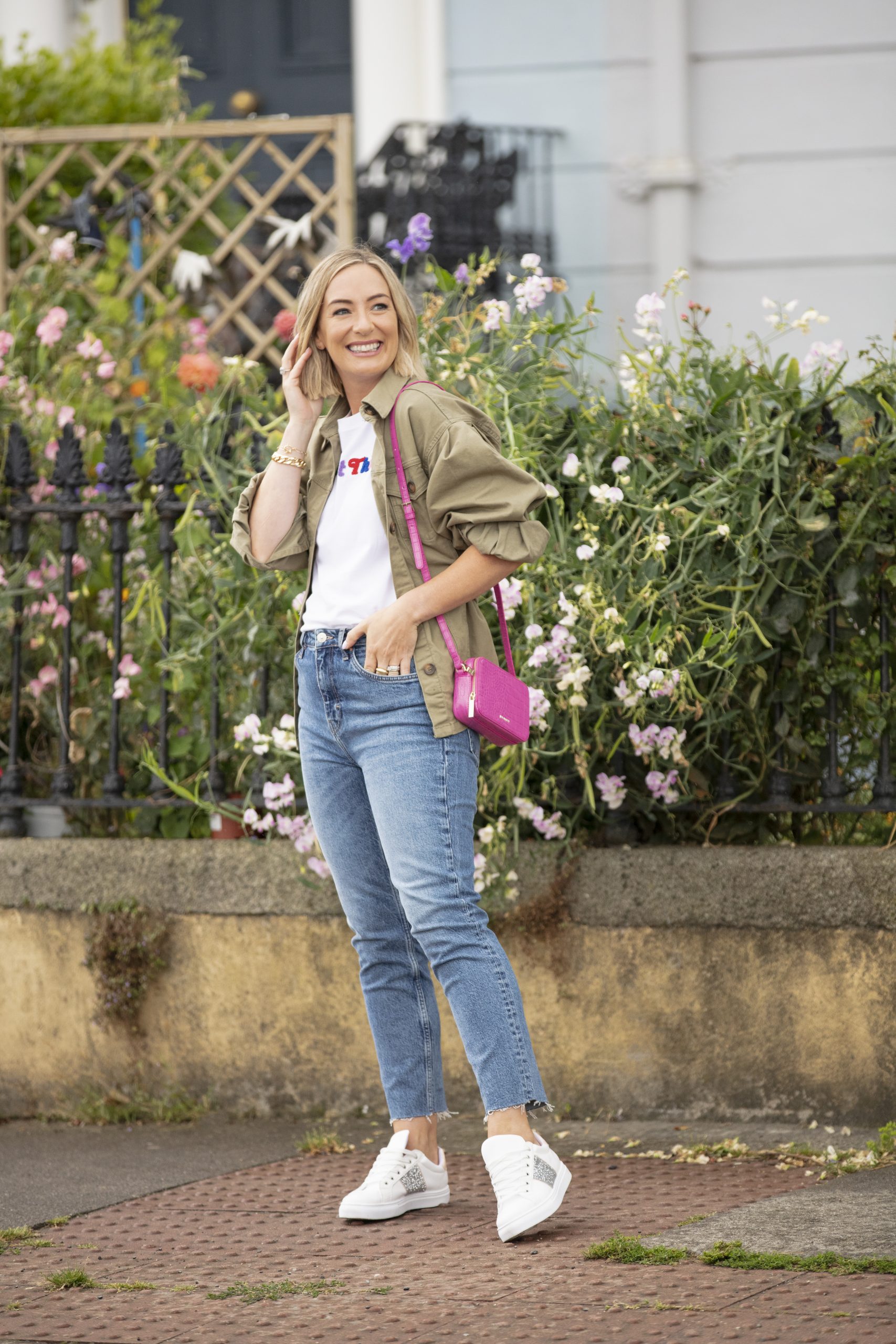 You welcomed Kaia during lockdown, how did you find that experience of giving birth during the pandemic?
It was difficult, I won't lie. My husband was only allowed to come in for the scan at 20 weeks and outside of that, he couldn't come to any other appointments. I've type 1 diabetes and I had other complications during previous pregnancies so it was a high risk pregnancy and I had to deal with a lot of appointments on my own, taking in very serious information, which I found very difficult. He'd be sitting outside in the car and I'd come out and try relay the information but it was hard.
This time around the C section was very strange. I had to go in the night before but Cormac had to just drop me at the door with my bags and say goodbye. I didn't get to see him again until we were going into the theatre and I was in my gown. It was very surreal. Particularly for Cormac, it was very difficult.
Should there be more done to support new parents during these times?
Absolutely. It's so frustrating. I'm lucky that Kaia is here and things went well, I know people have been through far worse and it's a very lonely and difficult place to be  there on your own. Even being in the ward the night before, you can hear all the mums on their phones whispering to their partner on the phone. It's very strange. It's very unfair. I can't imagine having to deal with really difficult news on your own.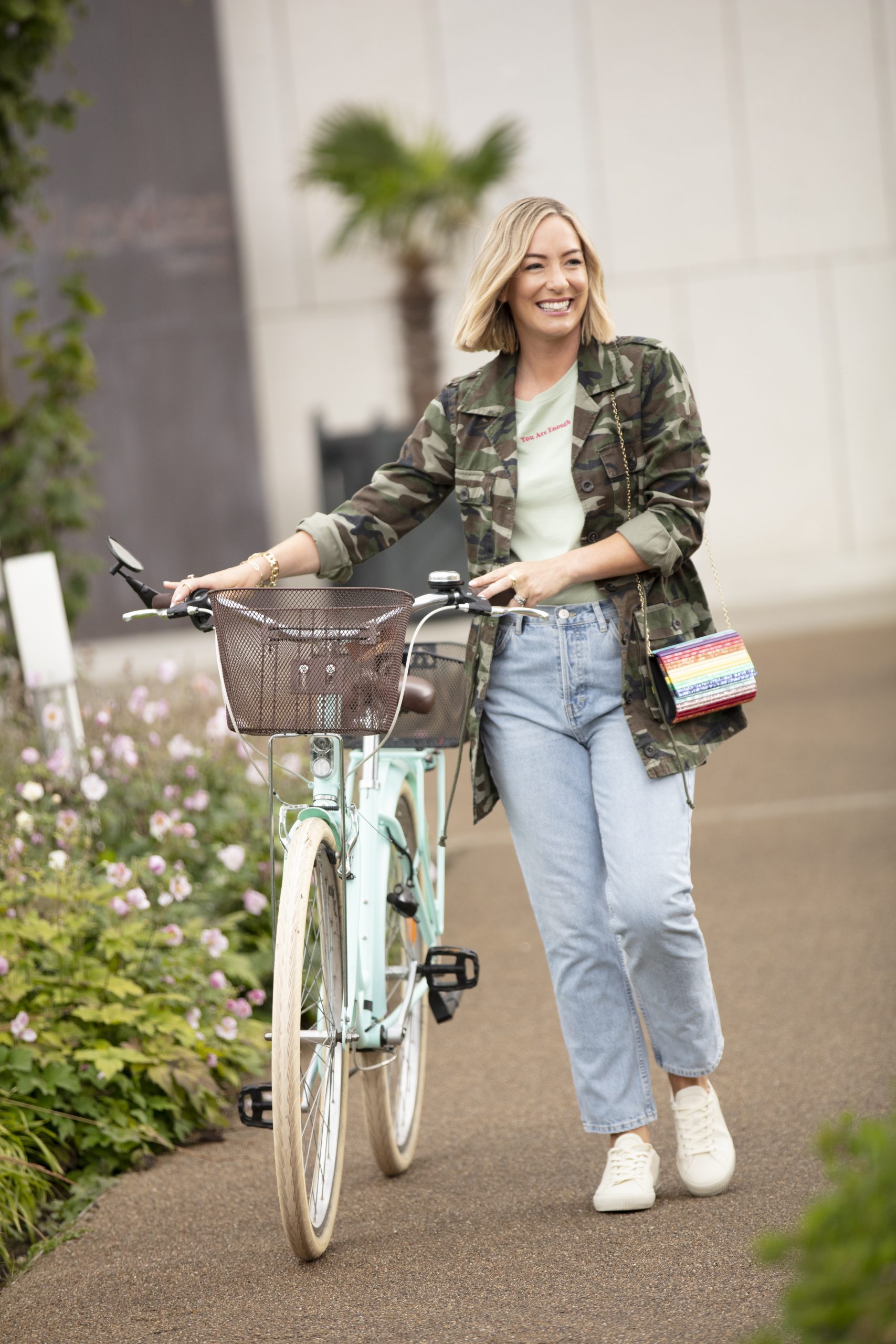 How did you find lockdown? Did you appreciate having the additional time with your little ones, and to focus on other projects?
I did! It was good. I found homeschooling quite hard though, then Luna was just two years old and I was pregnant too so that time was difficult. There were parts of it that I loved though and we spent lots of time together as a family. I'm glad there's some sense of normality resuming though, especially for the kids.
A lot has changed over the last few months, but one thing that's remained
is your stylish outfit choices and daily updates. What are your wardrobe must-haves?
I really believe in the power of really good basics; good fitted jeans, a classic white shirt, staple vests and good knitwear. I think they're so important. I also adore colour and print as it really lifts my mood.
And now you've got your own range with Littlewoods Ireland! Tell us how it all came about.
When it comes to my most recent partnership with Littlewoods Ireland, the whole thing is quite surreal. I've a long-standing relationship with them. They're one of the first brands I ever partnered with and they've always believed in me. Last year I was lucky enough to create two different edits with them which was an incredible experience and from that I learned so much.
This year when they approached me about designing a t-shirt collection, it was a no-brainer and I jumped at it straight away. I was given so much creative control and I feel so fortunate about that. I thought about basics, that there has to be a classic white t-shirt, a Bretton t-shirt is also a necessity in any wardrobe it's such a staple and very timeless. For the next, I went for a bright pink t-shirt and the fourth is sage green shade. I adore those colours in clothes and interiors too. To see it all come together was an amazing experience.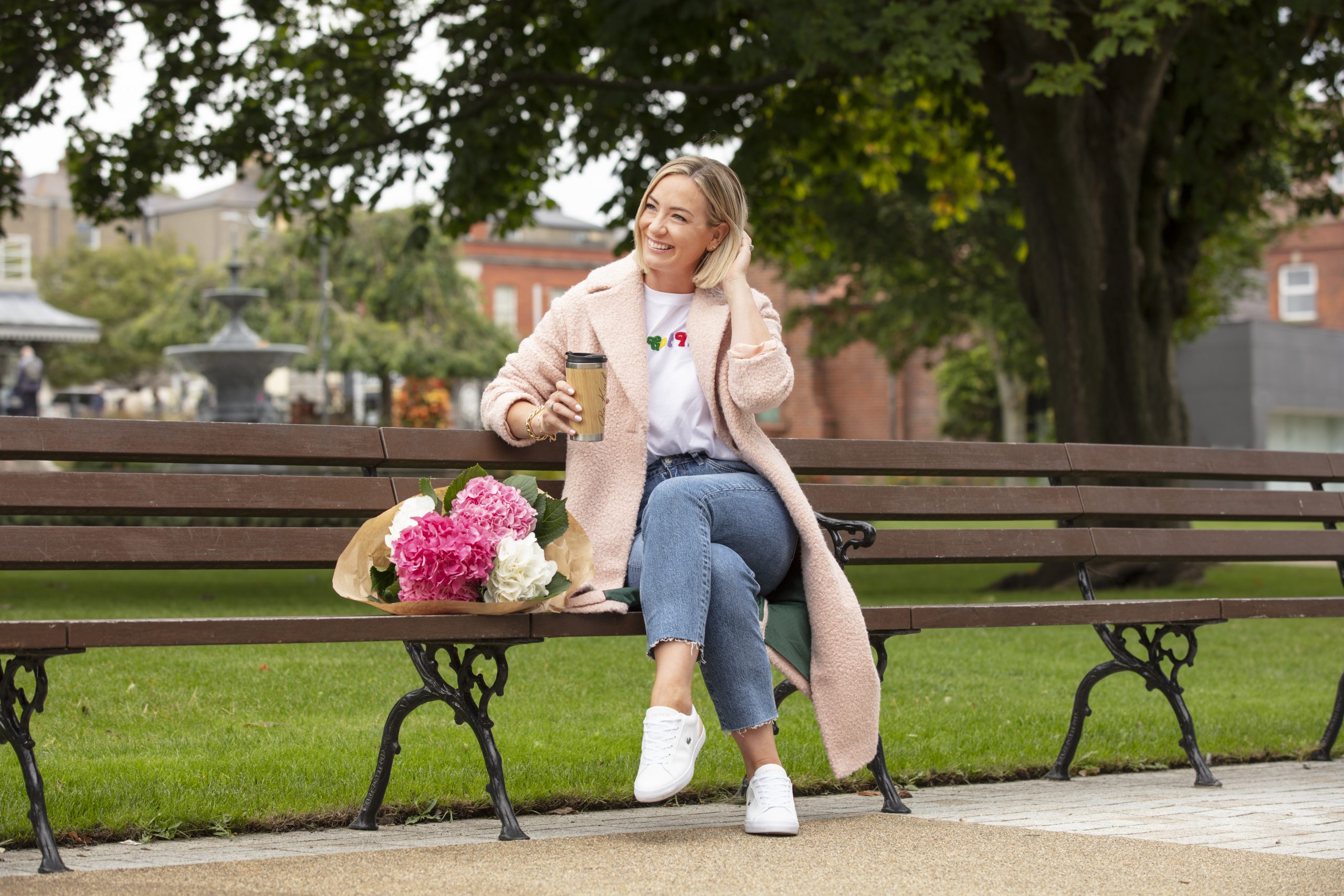 These are perfect transitional pieces, to get you from season to season. Was that important for you when creating the range?
Really important! I think this is the most difficult time of year to dress for, so we wanted t-shirts that you could wear with a light blazer and jeans or you could wear with a midi-skirt and a bomber jacket.
How do you feel coming into the colder months, are you more of a summer gal or looking forward to the cosy evenings at home?
I adore summer, but I love winter clothes. I love chunky knits, ankle boots and leather jackets so I look forward to that. I find the hardest part of winter is the cold, dark evenings.
What are your hopes for the coming weeks now Naomi?
I just want to focus on the girls. Life is busy here at home. Getting the girls settled into school and preschool will keep us occupied for a few weeks and then launching the collection will be massive, it's a big highlight for me. It's a very exciting time.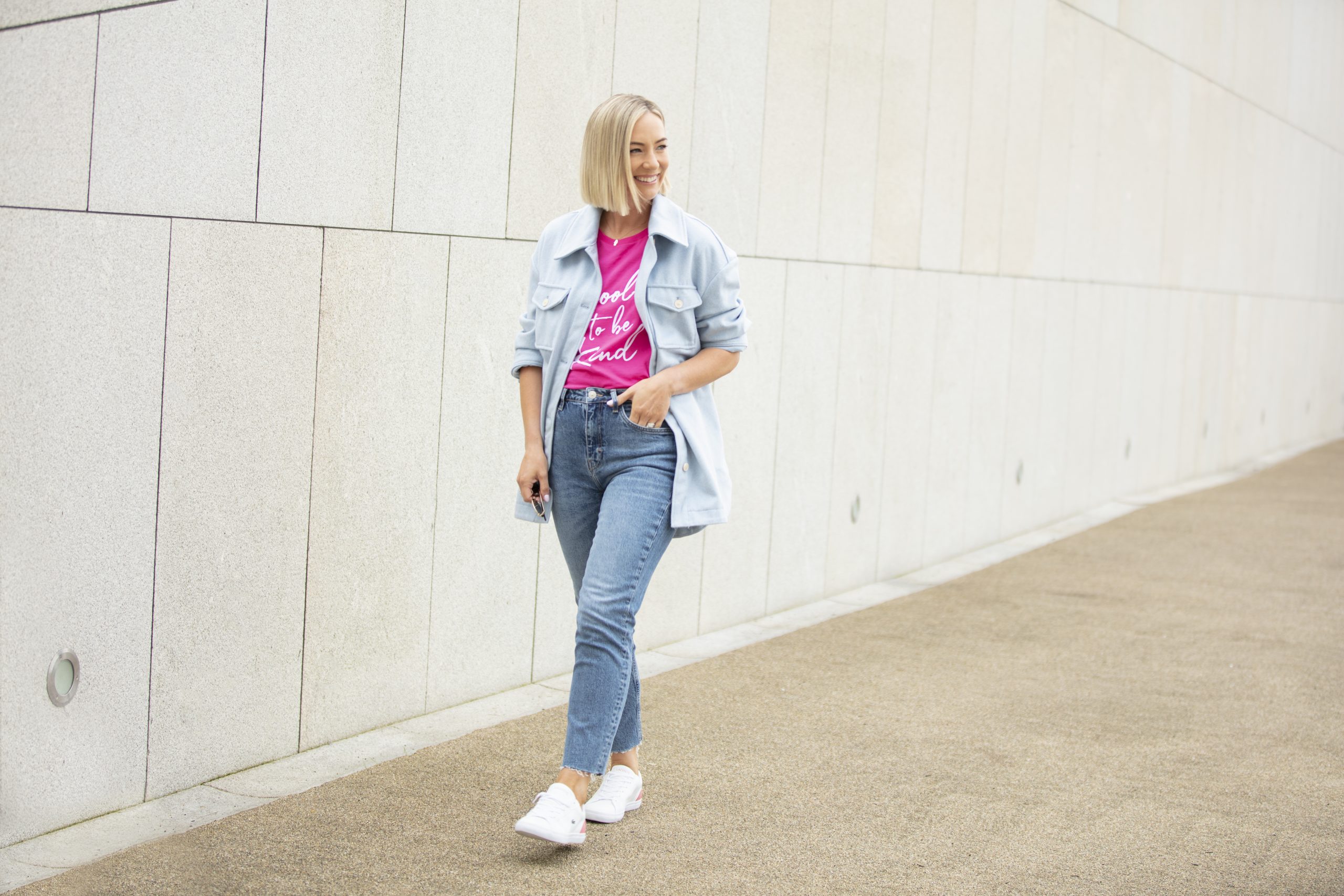 INTERVIEW: Michelle Dardis
The collection, made from organic cotton is available on LittlewoodsIreland.ie in sizes 6 through to 24, with prices ranging from €20 to €24.