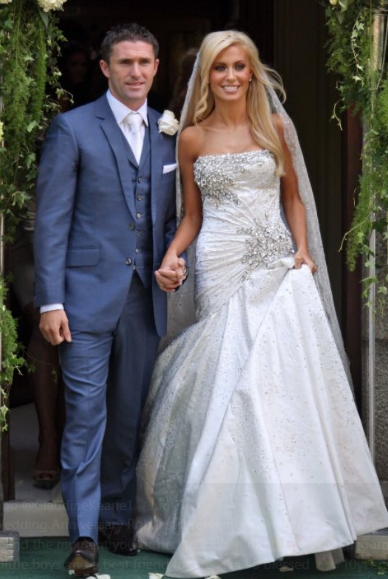 Claudine Keane has shared a sweet anniversary message to her husband Robbie, as they celebrate ten years of marriage,
The pair are still as happy and loved up as ever, a decade after walking down the aisle, and welcoming tow little boys along the way.
The stunning model posted some throwback pics from their wedding in 2008, along with a sweet message to her footballer hubby.
"Happy 10th Wedding Anniversary Rob. I still remember walking down the aisle with my Dad so vividly and the moment you turned to look at me," she shared on Twitter.
"What a journey it's been, two beautiful little boys and a best friend for life.. I'm so blessed"
Claudine recently opened up about her life living between Dublin, Dubai and LA, and what's next for the famous family.
"We're living between Dubai and Ireland so there's loads of travelling," she told VIP Magazine on the red carpet at the Peter Mark VIP Style Awards.
"Trying to juggle two boys and the travelling, and Rob's between clubs at the moment so it's just exciting.
"We're back and forth to LA, we kept our home over there so we're always on the go. But I wouldn't have it any other way. I enjoy it.
"I think we'll go with the flow, it's definitely a gorgeous place"
Happy anniversary Robbie and Claudine!