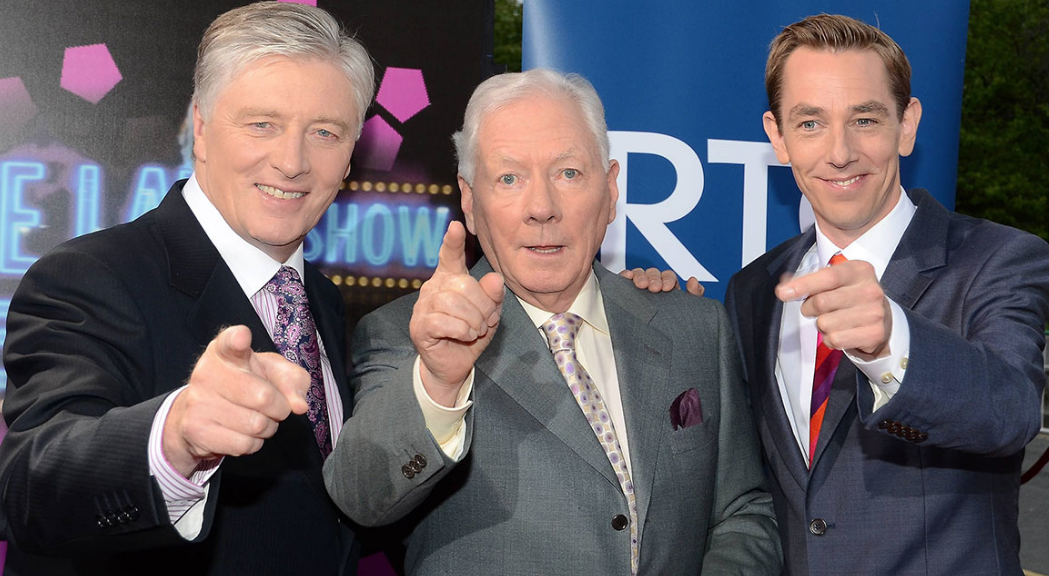 Following the sad news of Gay Byrne's passing earlier today, fellow presenters, broadcasters and TV stars have been paying tribute to the broadcasting legend.
The former Late Late Show host passed away today aged 85 following a lengthy battle with cancer.
Fans of the popular presenter took to social media to express their sadness and send condolences to Gay's wife Kathleen and family.
"Gay Byrne was someone who exuded warmth and presence, who was possessed of effortless wit, charm and who had a flair for broadcasting."

Statement by President Higgins on the death of Gay Byrne: https://t.co/P3WbkIDiqi
(Photo: RTÉ) pic.twitter.com/OJ22xYcttE

— President of Ireland (@PresidentIRL) November 4, 2019
I'm very sorry to hear of Gay Byrne's passing. I can't imagine there's a single broadcaster in Ireland who wasn't influenced by him. May he rest in peace.

— Louise McSharry (@louisemcsharry) November 4, 2019
I'm truly so sad to hear Gay Byrne has passed away. I watched and listened to him as a child and young adult and he was a huge influence on my life choices. The man was a genius and true legend. My sincere condolences to his wife, family and friends. RIP #RollItThereColette pic.twitter.com/NFvRql2ejs

— The Niall Boylan Show (@Niall_Boylan) November 4, 2019
So sad to hear about Gay's passing. His journalistic legacy is as colossal as the man himself – Ireland grew up under Gay Byrne, and we will never see his like again. My deepest sympathies to Kathleen and the family." #GayByrne

— Dee Forbes (@deeforbes_dee) November 4, 2019
My first real memory of radio was listening as a child to the Gay Byrne Radio Show theme music. His ability to forge a connection with the listener was unique. A broadcasting giant, lost. #RIPGay

— Jonathan Healy (@jonathanhealy) November 4, 2019
Ireland's Greatest Broadcaster Gay Byrne was hero to me & others who were inspired by his awesome talent to follow him into broadcasting. He was unique. Got to know him & his family & loved him even more.Sympathies to Kathleen & family. Nobody compares to you Gay💔 RIP @rtenews

— Marty Morrissey (@MartyM_RTE) November 4, 2019
"He was the master, a once off and the likes of which we will never see again."
– Ryan Tubridy

RIP Gay Byrne 1934 – 2019 pic.twitter.com/XRlZE9D4nX

— Ryan Tubridy Show (@RyanTubridyShow) November 4, 2019
Whenever I met Gay Byrne over the years, he went out of his way to compliment and encourage me…it meant so much coming from a giant like him and I was so aware that it was a special kind of generosity. God speed Gay, and Roll it there Colette 💙💙💙💙💙💙

— Deirdre O'Kane (@DeirdreOKane1) November 4, 2019
I luckily had the privilege of meeting the man himself at the annual @rteliveline Christmas Eve show in 2015.

He will go down in history as the most influential media figure Ireland has ever produced, oozed charisma and those Toy shows were legendary.
RIP Gay Byrne ❤️🇮🇪

— Al Foran (@ImpressionistAL) November 4, 2019
Have been trying to explain to someone under the age of 30 how influential Gay Byrne (RIP) was. Tough one. If you add up all the Irish social media 'influencers' & multiply by 10, that might get close. Whatever about what he said on air, no broadcaster in my lifetime comes close

— Greg Allen (@gregallenRTE) November 4, 2019
Gay Byrne was the most influential broadcaster in the history of the State, a much-loved figure who changed Ireland for the better in so many ways. I knew him when he was Chairman of @RSAIreland and saw the effectiveness of his campaign against the needless tragedy of road deaths

— Leo Varadkar (@LeoVaradkar) November 4, 2019
Gay Byrne was the one true genuine giant of Irish broadcasting. We grew up watching to him, listening to him and hoping that in some small way we could emulate the influence he had in our world.

My genuine sincere condolences to his family and friends. https://t.co/RNh67wflbv

— Rick O'Shea (@rickoshea) November 4, 2019
#RIPGayByrne – so supportive of Irish artists. He came to see my first solo show in Dublin for no other reason than he was interested in what young people were up to. His Late Late show episode where he calls a competition winner who has just lost a loved one is incredible TV. https://t.co/jhHah96CXw

— Aisling Bea (@WeeMissBea) November 4, 2019
Gay Byrne wasn't a tv personality or an interviewer or a celebrity. He wasn't even a talk show host. He was a force for change when no one else was willing/able to speak up. He was a game changer and the gold standard. There will never be anyone quite like him again. #RIPGayByrne

— Jarlath Regan (@Jarlath) November 4, 2019
We've lost a great. RIP Gay Byrne. You'll be remembered as the legend you are and for being a staple part of so many homes ❤️ pic.twitter.com/rzcc9at5Ti

— Laura Whitmore (@thewhitmore) November 4, 2019
Gay Byrne – a man in a league of his own. The end of an era. RIP.

— Maureen Nolan (@MaureenNolan_) November 4, 2019
Very sad to hear of the death of Gay Byrne. Hard to explain how huge a presence he was in Ireland for 40+ years; a legendary, instinctual broadcaster; that rarest thing, a gifted listener; and an interviewer of huge emotional intelligence. An enormous life.

— Dara Ó Briain (@daraobriain) November 4, 2019
Related news:
Gay Byrne's top ten TV moments 
Joe Duffy recalls moment he first met Gay Byrne in 1966
Gay Byrne and Kathleen Watkins' first photoshoot together as Ireland's golden couple
When VIP joined Gay, Kathleen and family for Christmas 2018