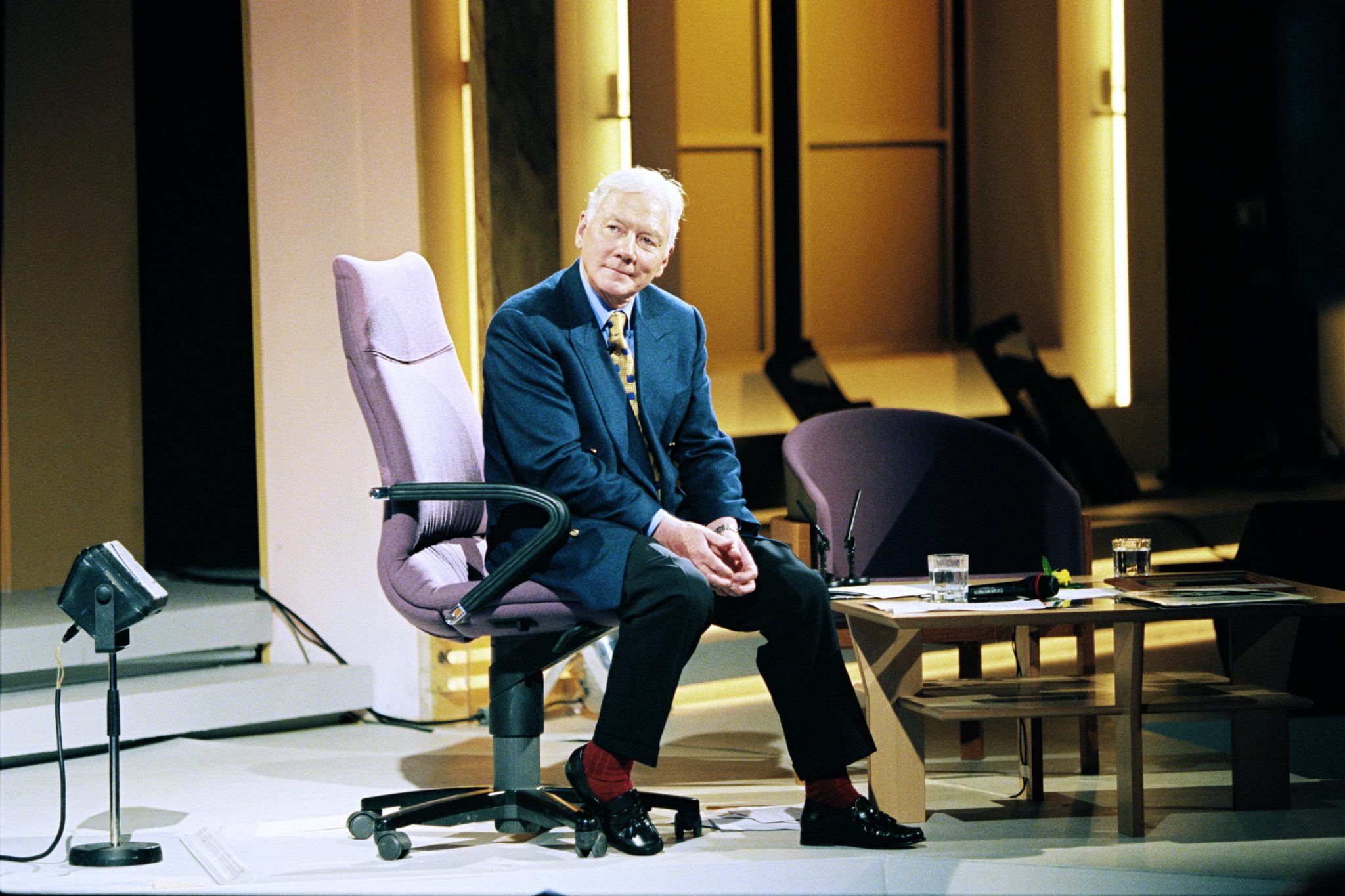 Following the tragic news that broadcasting legend Gay Byrne has passed away aged 85, we're taking a look back at his top 10 tv moments.
The acclaimed broadcaster began working on The Late Late Show in the early 60s, and continued to do so for a further 37 years, until he retired in 1999.
There was never a dull moment throughout his onscreen career, highlighted here with ten iconic interviews and snippets.
Gay consoles a competition winner following death of her daughter (1997)
One of Gay's shining moments on the Late Late Show came in 1997 when he rang Rita Hanley, to congratulate her on winning a new car. However, viewers were shocked when Rita informed Gay that her daughter Linda, who had entered the competition on her mother's behalf, died in a fatal car accident the previous night. Rather than rushing to take the call off-air, Gay offered his condolences to Rita and offered the support and prayers of the audience to the grieving mother.
In 2016, acclaimed TV presenter Graham Norton told American podcaster Ru Paul that Gay's handling of the situation had a huge impact on his career as a broadcaster. "It's one of those things whereas a broadcaster your instinct would be 'ok goodbye' but no, he talked to this woman. This was a light entertainment chat show. He was able to steer it with confidence. He said this is my show and anything can happen in the world because I'm in control."
Gay quizzes Boyzone in their first live TV appearance (1993)
When Boyzone entered the Irish music scene in the early 1990's, no-one could have anticipated how big the five-man band would become.
In their first ever TV appearance, the lads were grilled by Gay, who opened the segment saying, "I was told you don't play any instruments at all, none of you. I was also told that you don't sing at all, none of you. And knowing that you don't play, you don't sing and you can't write music, I thought you'd go very far – but now you've wrecked the whole thing."
Surrounded by the group, Gaybo concluded the interview, telling them,"We look forward to hearing from you when you're famous." 
Gay is interviewed on his own show (1989)
The tables were turned on Gaybo when he became a guest on the Late Late in this special 1989 episode. The veteran presenter was interviewed by author Deirdre Purcell, whom he had collaborated with for two years on his autobiography, "The Time of My Life."
Gay was reluctant to participate in the special, having to be jokingly dragged onstage by the show's producers before being pointedly asked how much he earned per year for his TV gig. "Mind your own business," he quipped to a round of applause from the audience.
Gay interviews Annie Murphy (1993)
In 1993 Gay grilled American divorcee Annie Murphy about her secret relationship with the Bishop of Galway, Eamonn Casey. Annie claimed that the then-Bishop was the father of her son Peter Casey and had written a book detailing their love affair in a move that sent shockwaves throughout the nation.
In a statement that led to some criticism, Gaybo told Annie "If your son is half as good a man as his father, he won't be doing too badly." "I'm not so bad either, Mr Byrne," she replied drily before quickly exiting the studio.
Gay demonstrates how to use a condom on live television (1987)
During the late 80's, the AIDS crisis became a hot topic of conversation, so naturally, the Late Late Show discussed the issue in some detail. This controversial episode saw a daring Gaybo demonstrate how to use a condom, in a move that shocked Irish viewers.
One audience member became so enraged with the discussion, stating he "felt like walking out", but hesitated in doing so because he didn't want to embarrass Gay. "If I can embarrass you, you can embarrass me," Gay countered, making his opinion on the issue clear.
Gay interviews Stephen Fry (2015)
In 2015, Gaybo interviewed comedian Stephen Fry on his programme "The Meaning of Life with Gay Byrne", discussing faith and religion, in a clip that went viral.
"Suppose it's all true and you walk up the pearly gates and you are confronted by God, what will Stephen Fry say to him, her or it?" Byrne asked.
"I think I'll say: bone cancer in children? What's that about? How dare you. How dare you create a world in which there is such misery that is not our fault," Fry answered.
The show got the whole country talking, and some years later, a blasphemy referendum was held.
Gay welcomes Dustin the Turkey and Zig & Zag to the Toy Show (1992)
When professional puppet duo Zig and Zag visited the Toy Show set in 1992, Gay handled the terrible twosome with ease. Joined by their furry friend Dustin the Turkey, the trio poke fun at Gay's Christmas jumper before chasing him around the studio with a remote control car.
"Get off! I've had enough of you, get off, how dare you!" Gay jokes, playing the role of a cranky, ill-humoured host, perfectly.
Gay meets Manuel from Fawlty Tours 
In a famous skit, Andrew Sachs of Fawlty Towers fame made a Late Late Show cameo as the hilariously awkward waiter Manuel.
"I here to pour water for señor Byrne," he announced to the audience, before proceeding to spill the entire contents of his jug and tray.
"I'm sorry, I don't like to do this in front of so many people. I hope nobody else is watching," he quipped as Gaybo held in his laughter.
Gay, the Bishop and the Nightie (1966)
In one of the Late Late Show's most infamous moments, Gaybo scandalised the nation with the well-documented "The Bishop and the Nightie" incident from 1966.
In this controversial episode, Gay chose a newlywed couple from the studio audience to participate in a segment based on "The Newlywed Game," a US television game show.
When Gay asked the couple in question what colour nightie the bride had worn on her honeymoon, her husband replied that it was transparent, while the bride herself joked that she hadn't been wearing one in the first place.
This comment caused scandal among viewers, with the Bishop of Clonfert Thomas Ryan publicly condemning Gaybo's question, and its answer.
Gay is gifted a Harley by U2 (1999)
On May 21st, 1999, Gaybo bid farewell to the Late Late after 37 years at the show's helm. In his final appearance as host, Gay watched as U2 members Bono and Larry Mullen Jr. rode into the studio on a Harley Davidson motorbike.
"Do you remember about three or four years ago at Sutton Cross?" asked Larry. "I was there; I was on my Harley… And this car pulled up beside me – it was a very battered Limousine! The window went down and you stuck your head out and you said, 'Excuse me, what sort of a bike is that?' I turned around and I saw you and I said, 'It's a motorbike, Gay!' And you said, 'I love those bikes.' So Gay, this is from us, to you, as a gift."
"Come on! For God's sake, don't be ridiculous!" Gay retorted in disbelief, before asking Bono to sing a song for the audience. "I wasn't planning on singing," Bono replied. "I thought the bike would be enough!" He then proceeded to lead the audience in a hilarious rendition of the Late Late's theme tune.
Words: Catherine Taylor
Related news:
RTE to broadcast Gay Byrne's funeral this Friday
Joe Duffy recalls moment he first met Gay Byrne in 1966
Gay Byrne and Kathleen Watkins' first photoshoot together as Ireland's golden couple