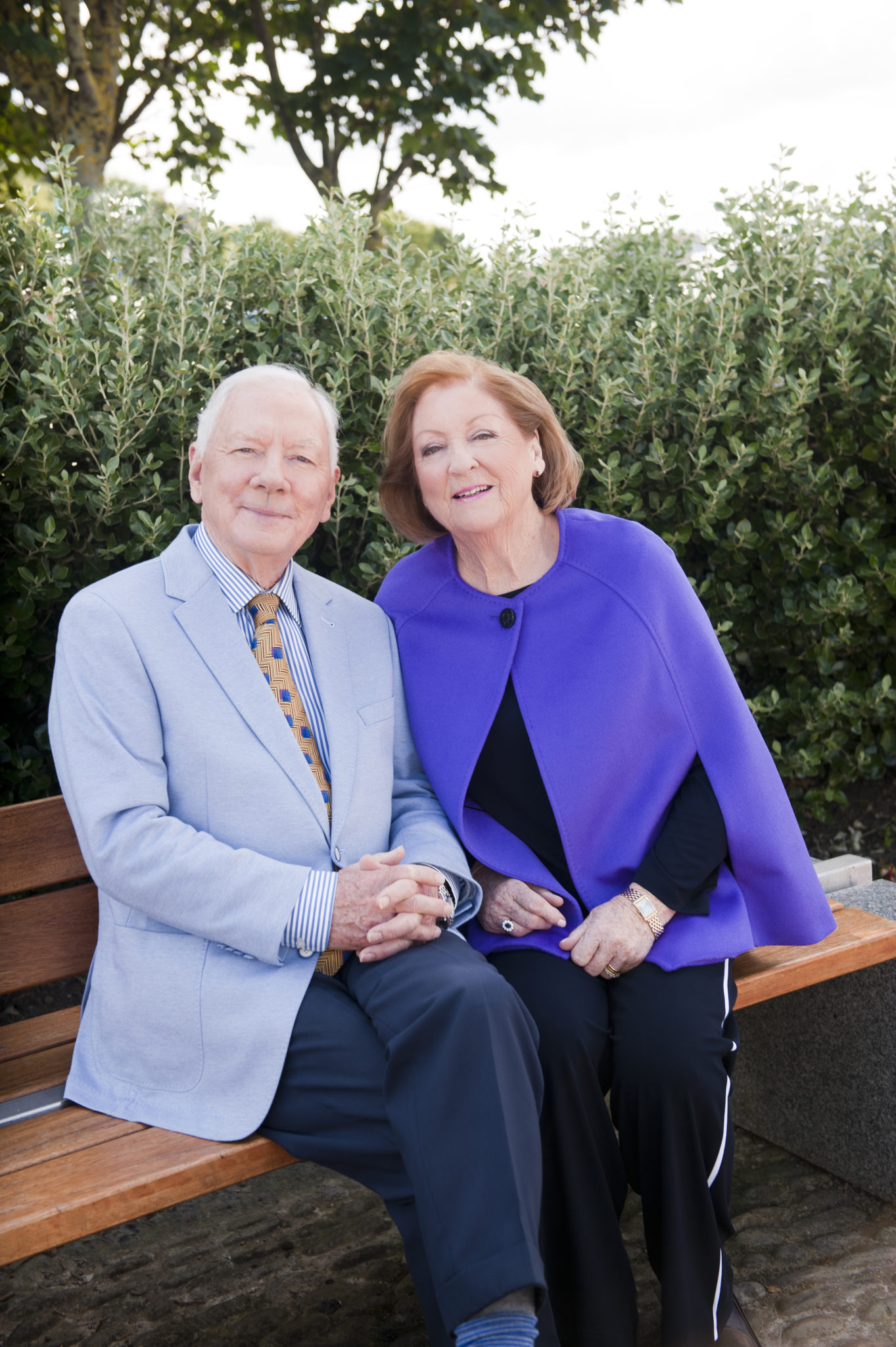 We met the couple in November 2016
VIP magazine has…well, we've been around! Throughout our 17 years, we've made it our mission to bring you ever closer to Irish celebrities, and often right into their very homes. However, until now, Gay Byrne and Kathleen Watkins – one of Ireland's best-loved couples – have resisted our persistent advances. And 'why?', you may ask? Well, in the words of Ms. Watkins herself: "I never had anything interesting to say," she tells us over tea.
Well, VIP has just spent an afternoon in Kathleen's company at a favourite old haunt of hers, The Yacht Club in Howth, Co. Dublin, and we can confirm that this is a flawed judgment (sorry Kathleen!). Because time spent with this 82-year-old (yes, you read it right, 82!) is nothing short of an education. This mother of two, grandmother of five, and well-known harpist and folk singer goes way beyond fascinating. She has served on the board of the Arts Council of Ireland and the National Gallery of Ireland, and recently has done poetry readings in the National Library. When she talks about opera, ballet, theatre, and the writings of Seamus Heaney, Brendan Kennelly and WB Yeats' brother, Jack Yeats, you can hear her passion. And to be honest, it makes us feel like we're really culturally lacking!
But it took a mannerly little pig called Pigín to convince Kathleen into this VIP exclusive, with her doting husband Gay, who upon arrival kissed his wife of 50 years, and lovingly greeted his eldest daughter Suzy and three of their five beloved grandchildren, Cian (11), Sadhbh and Saoirse.
The book, Pigín of Howth, which at the time of going to print sat at No. 1 for a second week on the bestsellers list, and has just been nominated for a Bord Gáis Energy Irish Book Award, is based on the stories Kathleen told her grandchildren when they were growing up. And they are lovely stories. And Kathleen is a lovely granny. And Gay, we know is very proud, despite his tongue-in-cheek answers, which you can read below. "Don't mind Gay!" Kathleen tells us, laughing. "He's only messing!"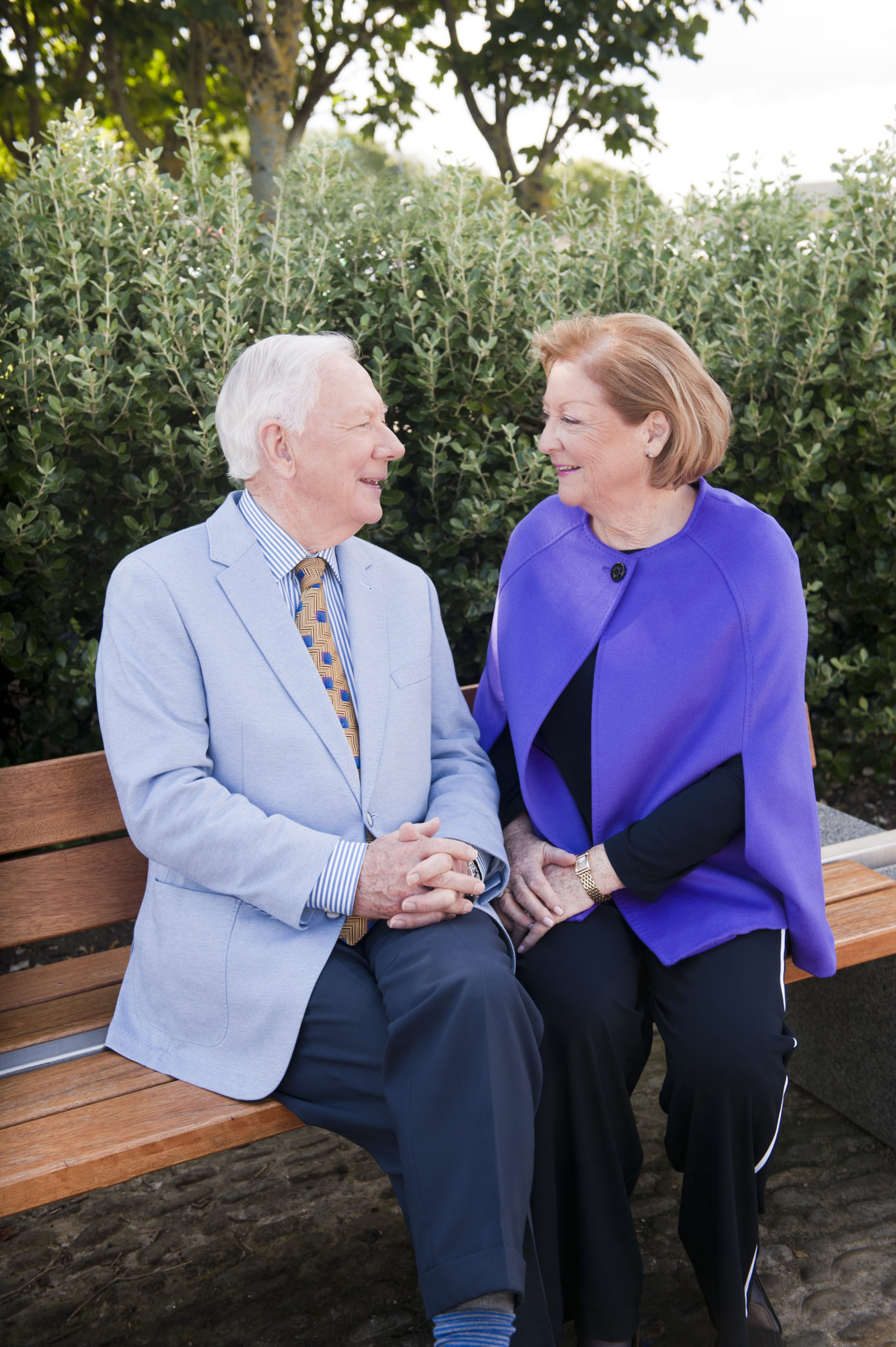 Kathleen, you and Gay are supposed to be retired and having lunch in Howth Yacht Club, not doing a photoshoot in it! But here you are today, both busier than ever.
Indeed, but we love being busy. My family used to say, 'better to die tired than die bored!'
Well, it's all that pig's fault for keeping you this busy! Pigín has you working very hard.
He does, doesn't he? I never expected to be this busy, and indeed while doing the book the last thing I thought about was publicity and interviews and appearances. Down the years I've been asked to do interviews and always I declined because I never wanted that.
Why?
I felt, 'why? What have I to say?'I didn't feel I was doing anything interesting. But suddenly people are very interested in this book, and I'm amazed.
Well, at the time of going to print, Pigín was No. 1 on the bestsellers list for the second week in a row. It is flying of the shelves, Kathleen.
And it all happened by accident when I started to make up stories for my eldest grandson, Cian, when he was just three-years-old.
At the book launch, which was opened by Ryan Tubridy, Cian who is now 11, spoke lovingly about his "mad granny" and her "crazy imagination". Accurate?
I think I am a mad granny! Of course I am! But I'm sure many grandparents tell these mad makey-up stories.
[Gay suddenly appears in the room]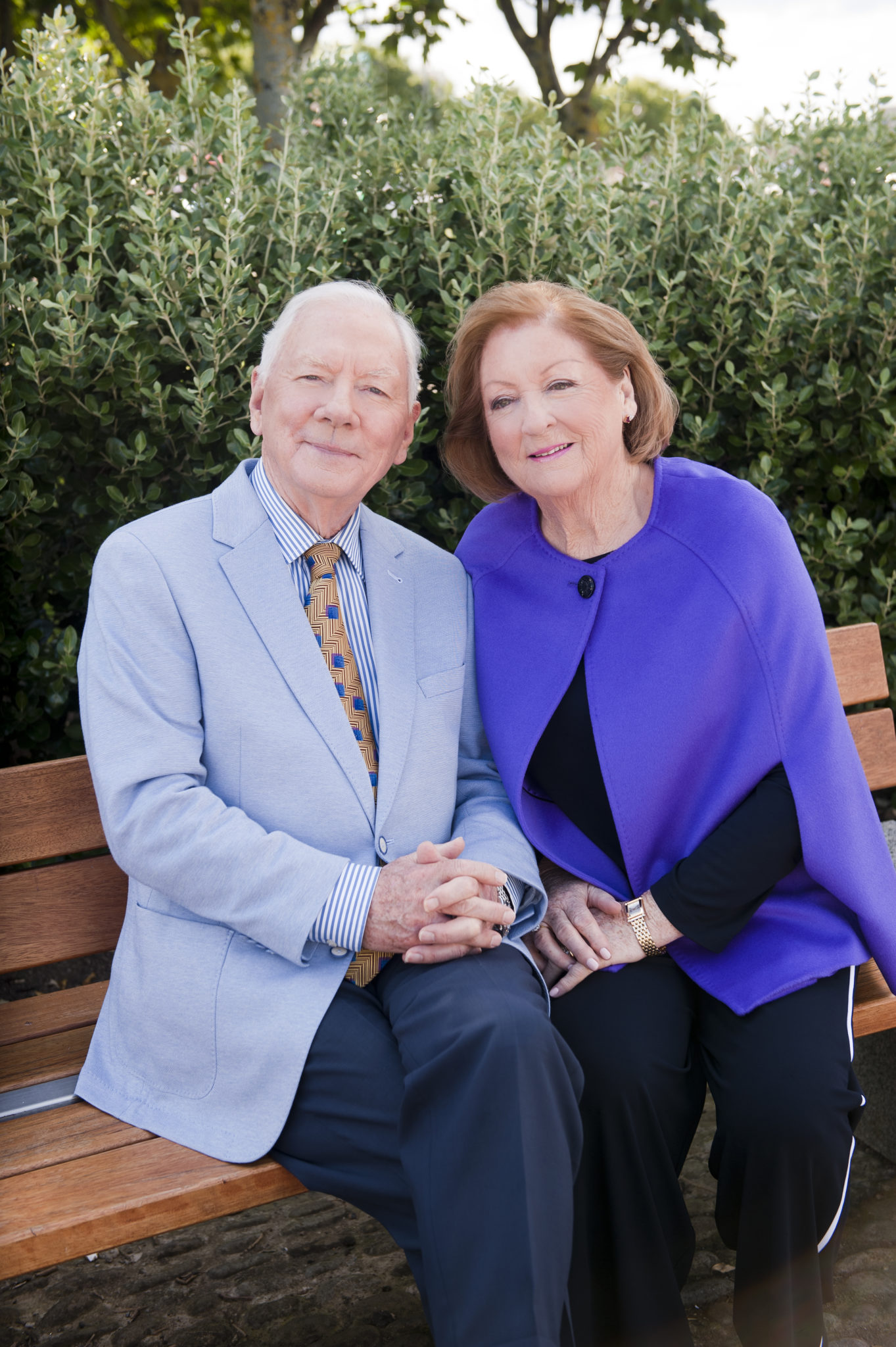 Gay, the very man! You must be delighted for Kathleen?
I'm absolutely delighted, because it really did happen by accident at the launch of the second Meaning of Life book. We were doing our thing and Kathleen was in conversation with someone about her stories for the kids and the next thing the publishers leaped upon it, and that was it.
But at your own book launch, Gay! She was stealing your thunder!
Yes, and will I get any of the proceeds of the book? Will I get a thank you? Will I get a little present on the side for my troubles? No! She just walked in and hijacked our launch and went off with her own book, and that's typical of what people do!
Sabotage, Gay.
Underhand is the word I would use! There's another word too. Sneaky!
Two authors in the one house – is there going to be fierce competition?
Oh, I'm of long standing, she's only a newcomer as an author. I don't know how she'll be able to handle it. I have grave doubts. I don't know how she'll handle worldwide fame. I've handled it all my life, but I'm not sure about her!
Well sure, you can give her some tips?
I intend to give her no assistance whatsoever! Let her get on with it like the rest of us had to do!
[GAY SCOOTS OFF, GRINNING BROADLY!]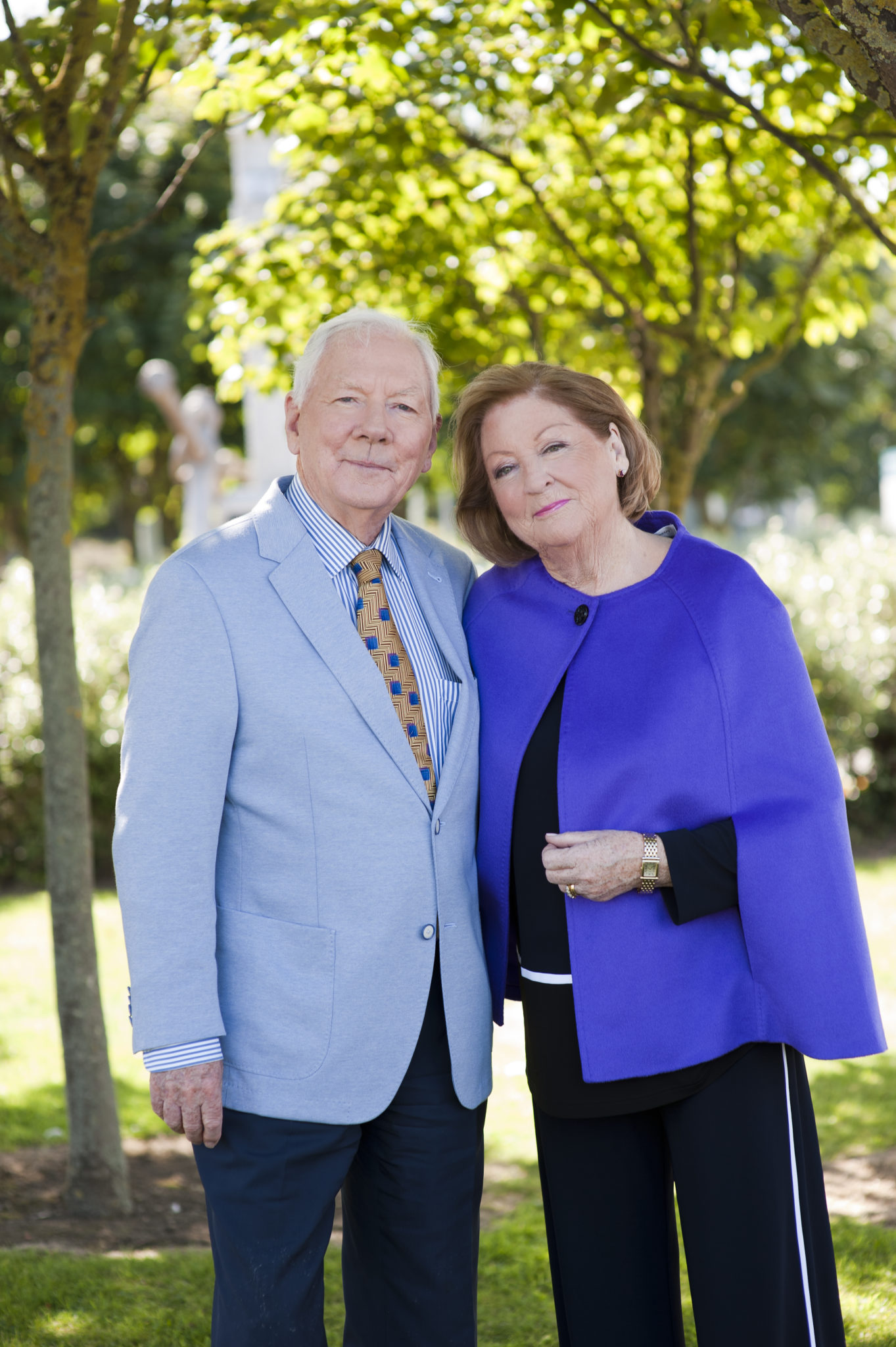 How do you put up him Kathleen, and all that slagging he carries on with?! Do you just laugh it off?
Of course I do, it's only a bit of fun. Don't mind him, he's only messing.
He must be secretly very proud of you?
I don't know if he is! You see we are always doing different kinds of things, although I have never done a book before. We did Gay's one-man show, with one woman, me! And that was the first thing we did together. We've done 47 of those.
And what was it like working with your husband?
It was a great experience, and terrific fun. But we did have separate dressing rooms, because I'd drive him insane with my texting and talking!
Kathleen, you say the book was written over plenty of hot buttered scones and pots of tea. Was it Gay bringing you the hot tea?!
Not at all! Gay had nothing to do with this book. He was in his office working away and I was at the kitchen table working away. He knew I was doing it, but that's it. We do our own thing.
There are many subtle messages in the book about old school manners, like sending thank you notes, and young people giving up DART seats to older people, and gentlemen giving up seats for ladies. We like that.
Yes, I wanted that element in the book, because I think it's nice to say thank you and I think it's nice to give up DART seats. But that's a rare thing nowadays. I'm on the DART frequently, and no one stands up.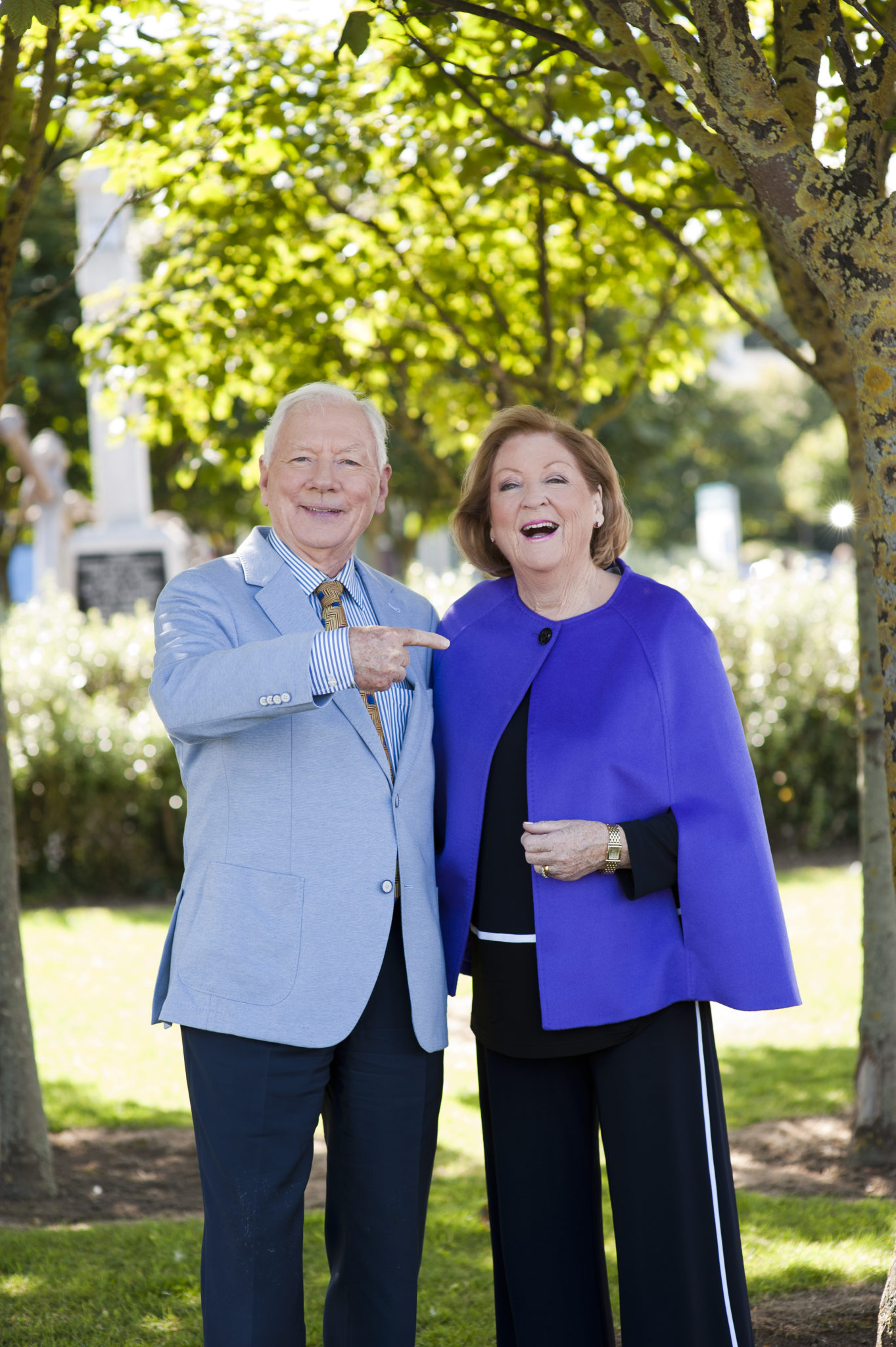 But Kathleen, you hardly look like you would even need a DART seat! You're as fit as a fiddle.
I'm not bad for 82, sure I'm not? The Lord is good. You see, there's no knowing what way people's lives will go. Many of my friends are in and out of hospital.
What do you put it down to?
I really have no idea. I think there's a blueprint for everybody's life. And you look at some peoples' lives, and they seem to have so much grief.
The walking must have helped?
Absolutely. Gay was always a much more serious walker than I. He would do hours. He just loves walking, and indeed cycling a bit as well. I think exercise is wonderful and it helps with those up and down days. Just look at athletes, they look so alive.
You look like a woman who has taken good care of yourself, too.
Well, I was never a big drinker. If I had to give up alcohol tomorrow, it wouldn't be a problem. Weeks would go by before we'd even open a bottle of wine, and then we'd open gallons when we'd have people in!
Your grandchildren, Kathleen, three of whom are here today, all call you Nanakit. And, in the book, Nanakit likes a properly set table, with napkins and delicate china cups. Does art imitate life, chez Byrne?
Well yes, Nanakit is very fussy! And, she loves old-fashioned afternoon tea. I'm big into table settings, and flowers and all that. My favourite thing at Christmas is the traditional advent wreath with candles.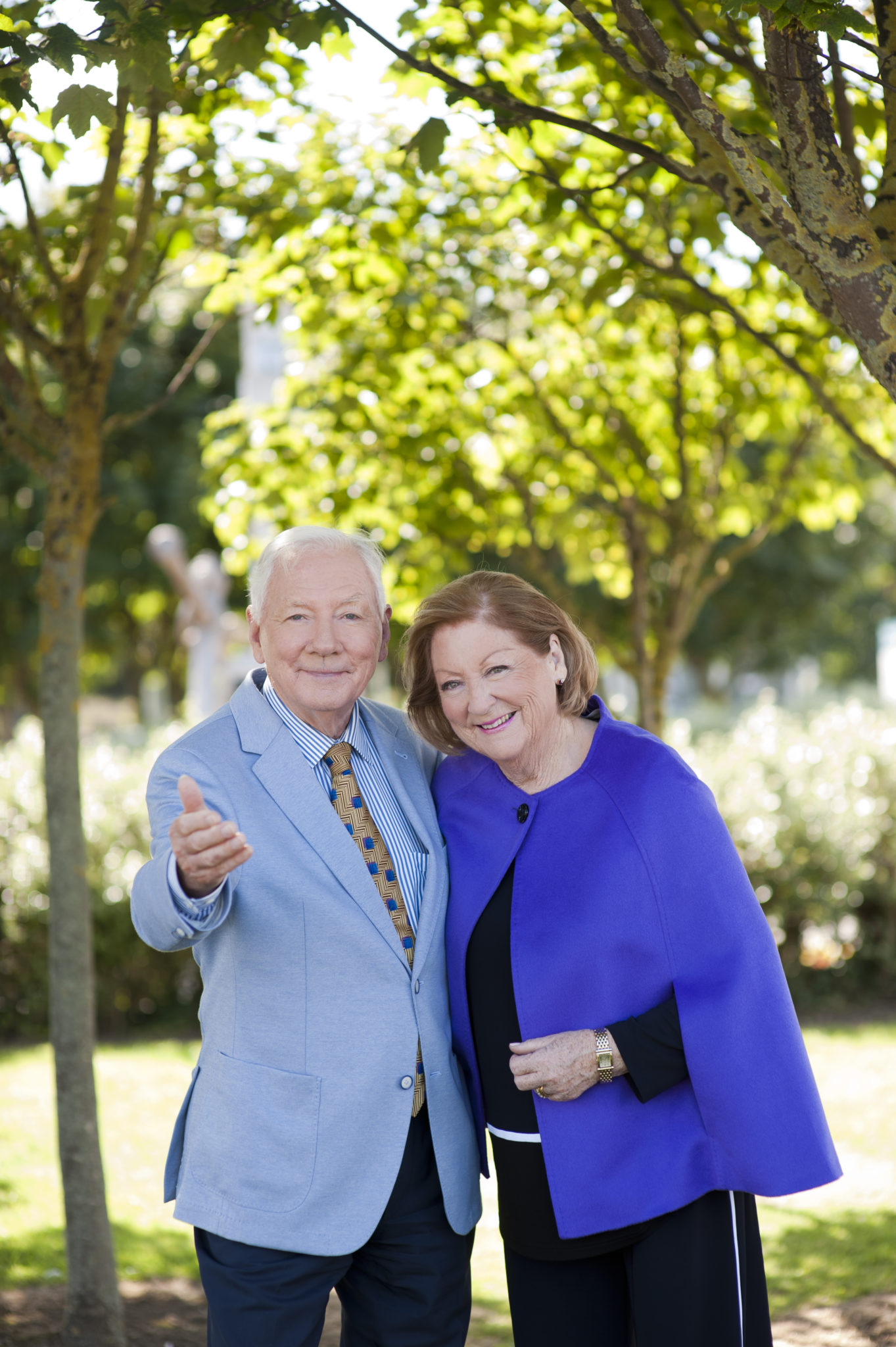 All five grandchildren get a mention in the book. They must have been seriously proud when they first read it.
Yes, they each took it to assess privately! And it was passed! There was approval!
'Perfect love sometimes does not come until the first grandchild,' goes the Welsh Proverb. Would you agree?
Being a grandparent is incredible. We were out in Howth waiting by the phone when Suzy was in labour with our first grandchild. And the hours were going by so slowly, and I said to Gay: "I can't stand it any longer, we have got to go in to the hospital." And coming through Clontarf we got the phone call: "Hello Nanakit! You've got a grandson!" Well it was just incredible.
Happily married for 50 years, Kathleen. How have you done it?
Do you want to know the secret? There is none! You just get on with living, and you keep busy. Also, we have always done things singly and together. I think there's a freedom in that.
Gay says the secret of a happy marriage is: "You do what you're told, when you're told, how you're told. You come in, you get your instructions, you salute three times and you don't fall over the furniture on the way out."
And in a way that's true because the house is my domain, and always has been. If we were entertaining people, he'd come home from RTÉ and everything would be done. The wine would be uncorked even. And it's still a bit like that, but he's now a bit better at filling and emptying the dishwasher. Suzy bought him a little brush and pan recently and he's good at scooping up stuff around the kitchen. And, he can boil an egg. And, he can use a microwave.
Did you always do everything?
He never had to do anything. He was never involved. He was gone at 7.15am and back at 7.15pm and we had to be highly organised. There's a right and wrong way for everybody. I hope I did it the right way.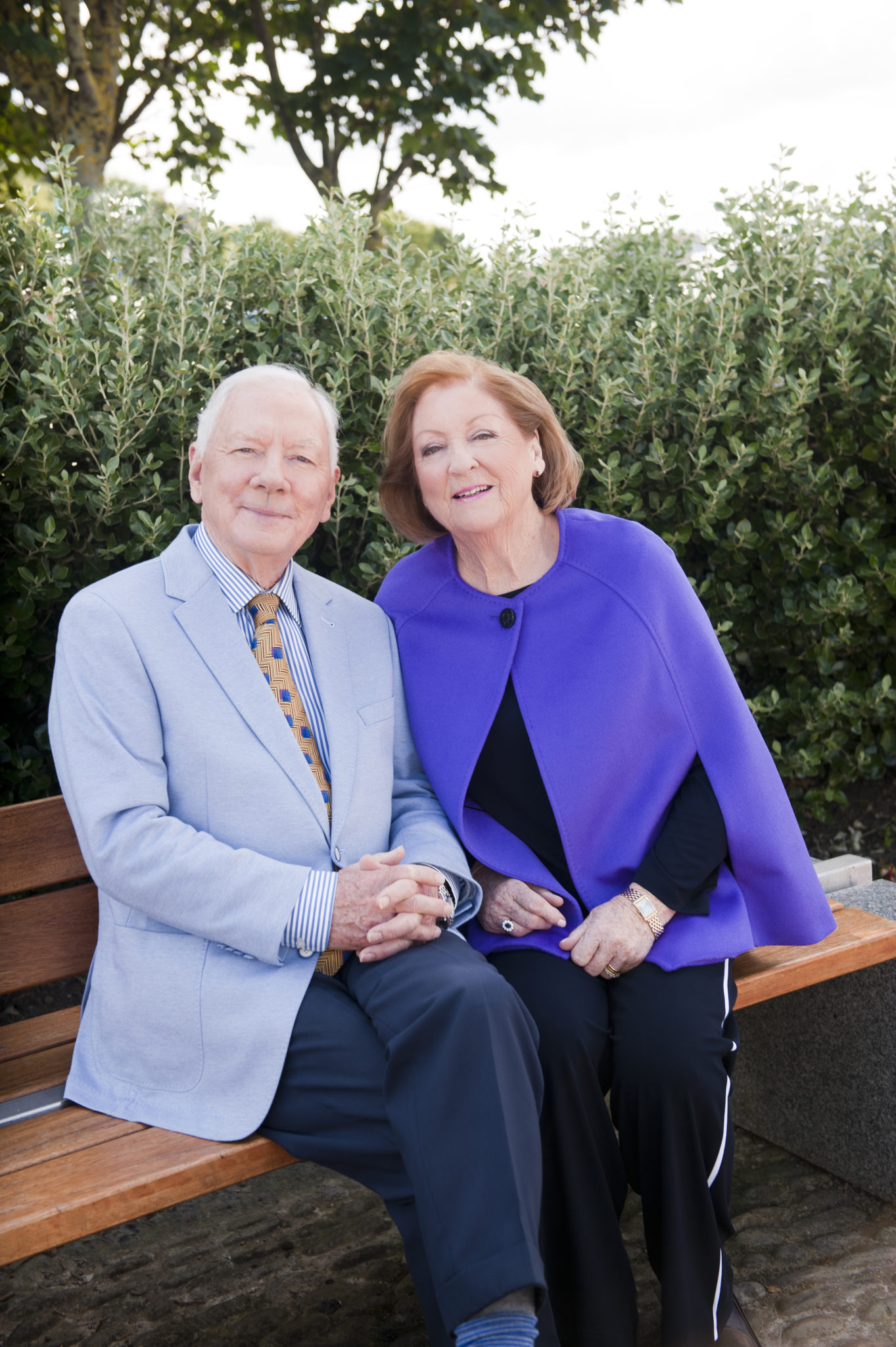 Well, look at you both still married! If that's not proof, we don't know what is!
Well, there's no sign of a divorce – yet! But you never know!
What is Gay like to live with?
Very, very quiet. Our house was, and is always, peaceful. I heard him once say when I told him I'd be out for lunch: "Oh, that's wonderful – peace and quiet." And I was like; "What do you mean, there's only two of us here?!" I suppose he means my heels aren't click-clacking up and down the floor, and the doors aren't banging, and I'm not chatting on the phone to my friends!
If there's a disagreement, who's the icebreaker?
We would agree to disagree on things. My opinions would differ from Gay's at times. It's normal not to agree – I'm no 'yes' woman.
We imagine Gay likes a strong woman because he is a strong character himself.
I am a strong woman. I am a very strong woman!
Yourself and Gay are one of Ireland's best-loved couples.
Really?! Are we?! I don't know… [laughs]
Why do you think that is though?
I think Gay is very good with people and very good at giving them time. He's also a great performer and a great showman, but my gosh he worked hard for it. It doesn't come easily, as anybody who is successful will tell you.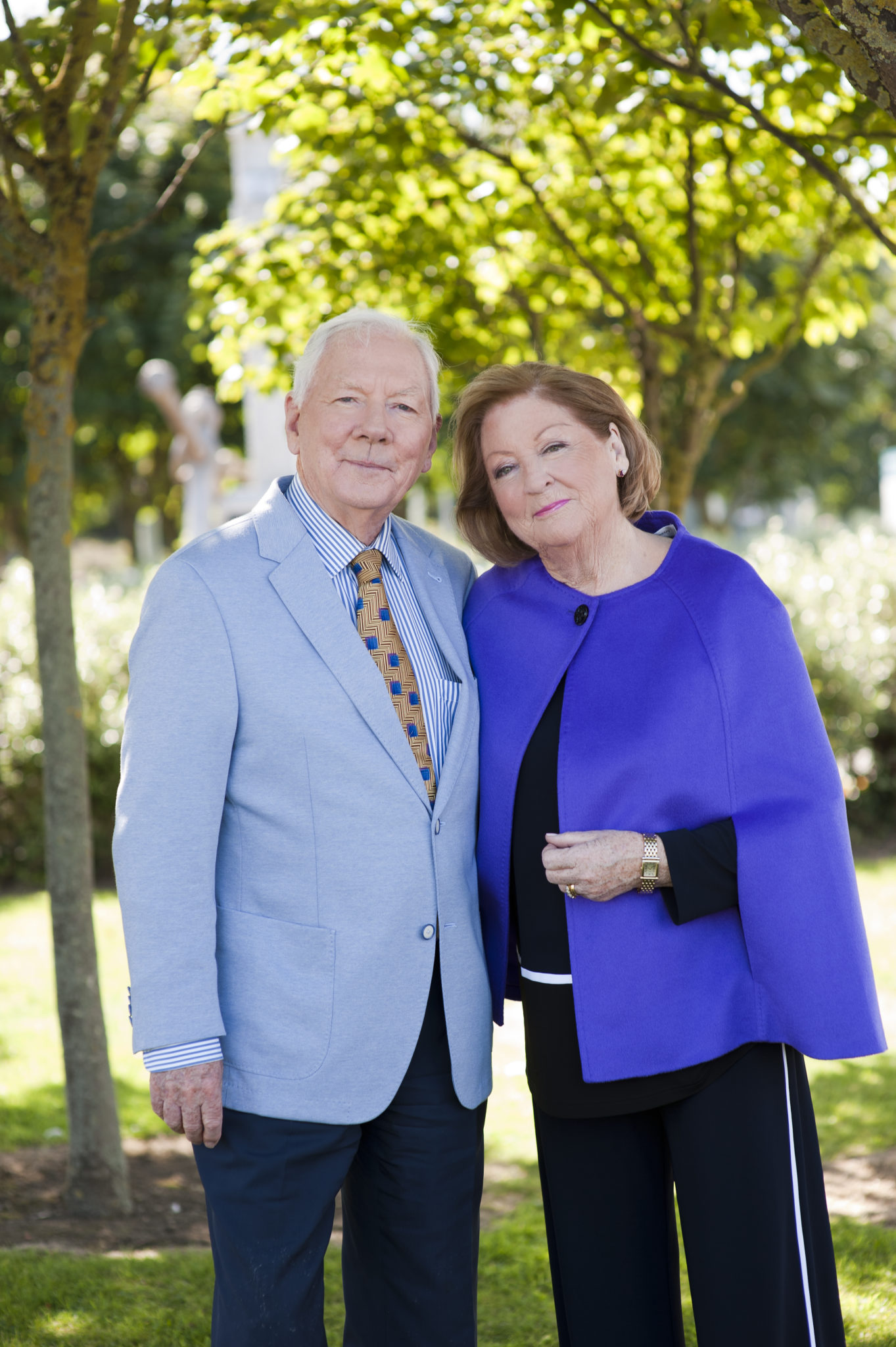 Did you ever find it difficult keeping the show together behind the scenes?
No. I just had two children. Other people have five or six. I managed perfectly well. You do what you have to do. I think it's just the behavior of a mature person.
Was it ever difficult to be married to such a public figure?
No. The only thing was on occasion if Gay and I were out for dinner, somebody might come and interrupt us, and I found that a bit invasive. But you cope with that.
What would you say is Gay's greatest trait and biggest flaw?
The girls would always say dad has his list of things and he wants to get them done quickly and efficiently, but the time mightn't always suit you. But you see if you're busy you have to be organised.
When are you happiest Kathleen?
I'll tell you when I'm happiest – when I'm going up the steps of the Royal Opera House with my ticket in my hot little fist. You can't talk to me!
Another great joy of yours is the written word.
I love what people write, but I couldn't write myself.
What do you mean Kathleen?! You have just written a children's book!
I don't consider myself a writer at all! I marvel at what Seamus Heaney did, or what Brendan Kennelly can say in a line or two that would take the rest of us 1,000 words to say. Seamus Heaney's sonnets after the death of his mother are so incredibly beautiful and they paint the clearest pictures. These days I do many public readings of poetry and I read a little bit of poetry every day myself.
We know you have many more passions: art, ballet, music, gardening…but what about your harp? Are you ever convinced to take it out, even at Christmas time with family, or on those wilder nights with your walking friends from Donegal?
We're actually about to meet up with our walking crew soon again, and there will be sing-songs and piano playing, even trumpet playing! But no, I don't really play at all any more. Sadhbh my granddaughter showed interest recently and I showed her the strings and a few things and every time she came over, she'd go to the lounge and I'd hear her plucking away. I am into the idea of children having a musical education, but I think it's another kettle of fish if they're particularly musically talented, because it's a very difficult life and they have to work dreadfully hard.
So, Kathleen, Christmas is a-coming! What's the plan?
Last year my son-in-law got a bad bug, and that was on Christmas Day. And then Gay had his heart attack two days later, so we're hoping this Christmas we'll have a little less excitement of that kind! Christmas is just family and flop time, really. Get into your rags, go for walks, and eat.
Finally Kathleen, Pigín of Howth will be in many Christmas stockings come Christmas morning. But tell us, what will be in Nanakit's?
Oh gosh, I don't know! I don't want for much! Mostly books. What else do I like? Trips to London, or the opera, or the ballet. I'm easily pleased.
Interview: Bianca Luykx
Photography: Lili Forberg; misslili.net
Shoot coordination: Ger Brady
Styling: Aideen Feely
Hair: Trevor Hynes for Peter Mark
Make-up: Dolly Buckley; thepowderroomgirls.com
Related news:
Gay Byrne's top ten TV moments 
Joe Duffy recalls moment he first met Gay Byrne in 1966
When VIP joined Gay, Kathleen and family for Christmas 2018