Ryan Tubridy has shared a letter he received from US President Elect Joe Biden. Posting to Instagram he shared a snap of the note he received back in 2016.
While on his RTE Radio One show this morning Ryan shared that they met briefly at a dinner at Dublin Castle in whilst he was visiting Ireland.
This would have been when Joe Biden was Vice President to President Barack Obama, and he as of last week is now set to be the next President of the United States.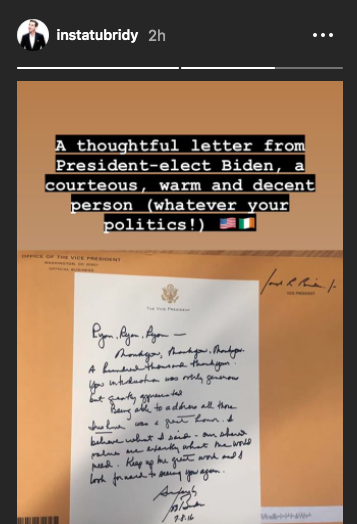 Ryan shared a photo of the letter captioned; "A thoughtful letter from President-elect Biden, a courteous, warm and decent person (whatever your politics!)"
The letter reads; " "Ryan, Ryan Ryan – Thank you, thank you, thank you. A hundred thousand thank yous. Your introduction was really generous but greatly appreciated."
"Keep up the great work and I look forward to seeing you again."
With Biden now set to take over from Donald Trump as President, this is sure to be something Ryan will treasure forever.