Yesterday our Twitter feeds exploded with joy as Joe Biden was named President Elect of the United States. After a gruelling 4 day vote count, the world breathed a sigh of relief when the results were finally called.
Counting began on Tuesday but Covid-19 meant far more mail-in ballots than usual which slowed down the process.
Kamala Harris will be joining Joe Biden in the White House as Vice President Elect, the first female and woman of colour to do so. Whatever your politics, it's a historic moment for America.
Many Irish celebs were quick to share their excitement at the news on social media yesterday too!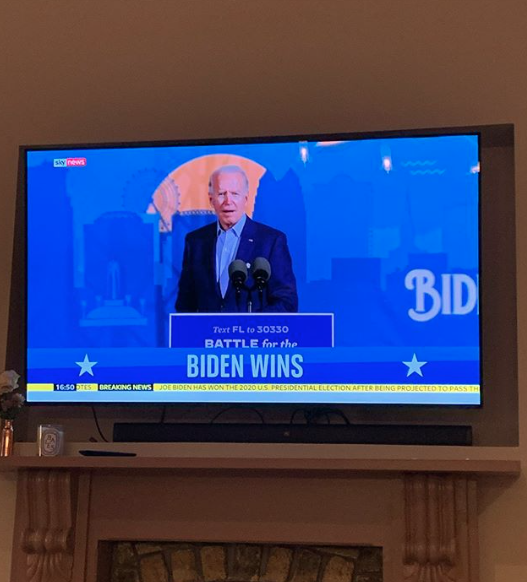 Amy Huberman was happy to hear the news, but couldn't quite celebrate how she wanted as she's expecting baby number three;
"YAHOOOOOOOOOO!!!! Party on the couch and opening a fresh bottle of Gavison to celebrate!"
The first black female Vice President. EVER. The sh*t we've had to endure this year to finally have some good news & history made. 2020 is gonna be a STORY for the grandkids – luckily I can tell them there was a positive plot twist.. I am EMOTIONAL 🥺🙏🏼💙 pic.twitter.com/AHU0AMCRhQ

— Airwrecka Codeine (@ItsEricaCody) November 7, 2020
Excuse me, hello 👋, I have a Joe Biden PUN! Stand by…

Well! You know the way he wanted to be president for 7,000 years and it looked like it would never happen?
Turns out, he was simply – yes! – BIDEN HIS TIME!!!!!!!!!!!!!
🎊🎉🎊🎉🎊🎉🎊🎊

— Marian Keyes (@MarianKeyes) November 8, 2020
I want to congratulate the new President Elect of the USA @JoeBiden Joe Biden has been a true friend of this nation throughout his life and I look forward to working with him in the years ahead. I also look forward to welcoming him back home when the circumstances allow! 🇮🇪 🇺🇸

— Micheál Martin (@MichealMartinTD) November 7, 2020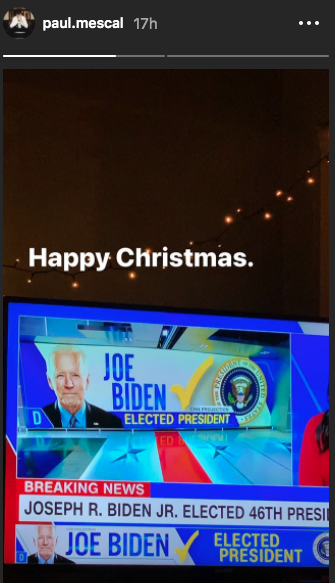 Paul Mescal simply shared a snap of his TV as the news was announced captioned; "Happy Christmas."
I don't usually like to think about people being unhappy but GOOD LORD I'm enjoying thinking about the Trump family reacting to this.

— Louise McSharry (@louisemcsharry) November 7, 2020
JOE BIDEN IS THE 46TH PRESIDENT OF THE UNITED STATES OF AMERICA! #Election2020results pic.twitter.com/gOnVcEzX6o

— Eoghan McDermott (@eoghanmcdermo) November 7, 2020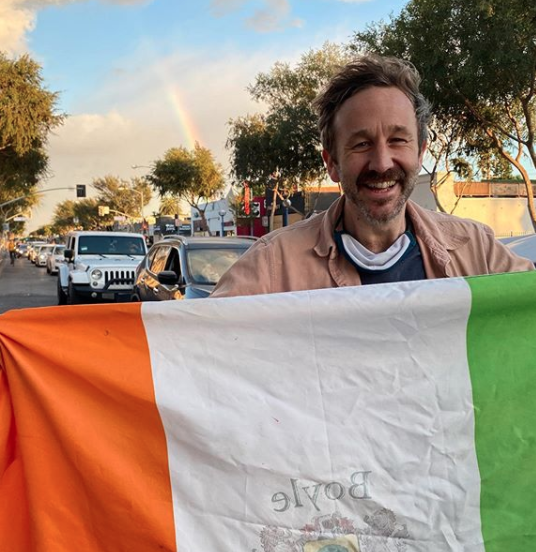 Dawn O'Porter and Chris O'Dowd went for a drive after the news was announced to join the throngs of people celebrating in the streets.
"Just as we stopped outside the fire station the rain started. We cried and cheered the fire fighters. RAIN. They looked so happy. And then, just like that, a rainbow over Santa Monica Boulevard. This is beautiful."