Ryan Tubridy has shared an adorable letter he recieved from a little girl about her love of the Toy Show.
The Late Late show presenter took to Instagram to post a snap of the sweet note and the little gift she sent to him.
Eight-year-old Elodie put pen to paper and praised Tubs and the Toy Show while also gifting him some funky Beatles-themed socks due to his love of the band.
"Ah here, I'm getting the best letters this week…" Ryan said in the caption.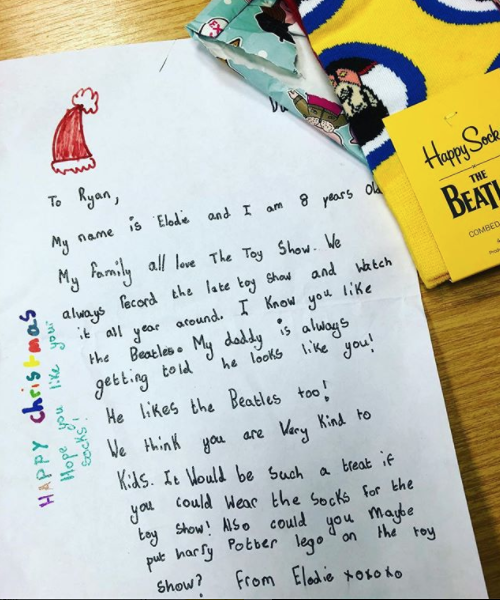 The letter read: "To Ryan,
"My name is Elodie and I am 8 years old. My family all love The Toy Show. We always record the late toy show and watch it all year around.
"I know you like the Beatles. My daddy is always getting told he looks like you! He likes the Beatles too!
We think you are very kind to kids. It would be such a treat if you could wear the socks for the Toy Show! Also could you maybe put Harry Potter Lego on the Toy Show? From Elodie xoxox"
How sweet!
Toy Show mania is well and truly in full swing with just over a week to go before the show airs.
The show boses launched a competition last week to give fans a chance to win two tickets for the show on November 30th.
All you need to do to is grab your apron and high-tail it to the kitchen to create a Toy Show inspired Christmas treat.
Then, simply take a picture, and post it to the RTÉ One Facebook page, on Instagram or on Twitter using the hashtag #ToyShowTreats. If it's good enough to impress the Late Late Toy Show team, your creation could bag you two tickets to the biggest night on Irish television.
"Is there anything better than the smell of festive baking? Maybe tickets to the Toy Show?," host Ryan Tubridy said of the competition.
Check out the sweet trailer below: