A new podcast called 'Talking Ted' is in the works, sharing all the behind the scenes secrets from Father Ted hosted by two of the stars. It is set to be hosted by Joe Rooney, who played Father Damo, the young priest who was a hilariously bad influence on Dougal, alongside Patrick McDonnell, who played Mrs Doyle's favourite singer and tv presenter, Eoin McLove.
Joe and Patrick will be reliving some of their favourite moments from all 25 episodes of the show and chatting to some very special guests, including Ardal O'Hanlon, a.k.a. Father Dougal McGuire.
Other former stars lined up to be featured on the podcast include Pat Shortt who played Tom, the man who wore the I Shot JR t-shirt, Jon Kenny who appeared in the show twice as Fred Rickwood, host of A Song For Europe, and Michael Cocheese, the Craggy Island cinema owner.
Also being featured on the podcast is Jim Norton who portrayed Bishop Brennan, Rosemary Henderson who played Sister Assumpta, and Maurice O'Donoghue, who played Ted's rival on Rugged Island, Father Dick Byrne.
They are also hoping Mrs Doyle herself, Pauline McLynn and Graham Norton, who played the iconic Father Noel Furlong, will join them for a chat.
The theme song for the podcast has even been created by Neil Hannon of The Divine Comedy, the genius behind the tv show's theme song and Ted and Dougal's Eurosong entry My Lovely Horse.
Speaking about the podcast Joe told RTÉ, "We recorded a good bit of it during the pandemic. We talked about each episode as we watched it and interspersed it with interviews with the actors from individual episodes and of course Ardal O'Hanlon and Arthur Matthews as well".
"It's like the extras that you used to get on DVDs, the actors talking as they watch".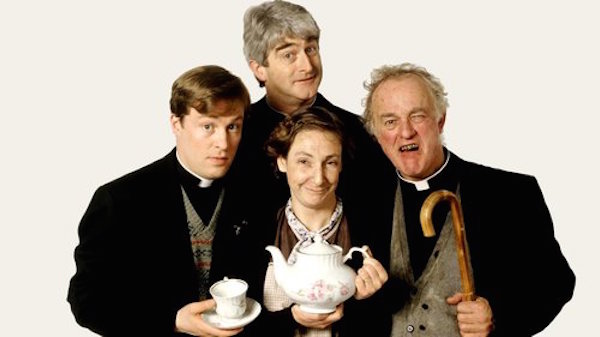 When asked if it was bittersweet to relive all these amazing Father Ted moments. He explained, "Unsurprisingly, it's as funny as ever and there's lots of details."
"I think that's why Ted quizzes are so popular because there are so many little details that you see after repeated viewings. There are so many things that aren't really part of the plot but they're just little insights and brilliant details."
The podcast comes following the return of Ted Fest. The Friends of Ted Festival, or Ted Fest, is an annual fan convention held on the island of Inishmore, off the coast of Co. Galway celebrating all things Father Ted.
While it has been running since 2007, last year it was cancelled due to Covid-19. But Ted Fest had a triumphant return just this week, running from the 3rd – 6th of March. With both Joe and Pat in attendance. You can listen to the podcast trailer here.
Words by Slaine McKenna