Pic: Evan Doherty for VIP Magazine
Martin King and Jenny McCarthy are wonderful company to be in. It's two minutes into our shoot on a scorcher of a day in the beautiful grounds of luxury Kildare hotel The K Club, and the laughter of the team can be heard as we relish in their symbiotic enthusiasm to produce a fantastic photoshoot.
Their dedication to getting it just right is no surprise given their own chosen career fields; Martin, as one of the anchors to Virgin Media's hugely popular The Six O'clock Show alongside his co-host Muireann O'Connell, and Jenny as one as one of Ireland's most sought after wedding and portrait photographers. And yet, while no strangers to the glitz and glam of showbiz, it is their own stories from this past year that we find ourselves most enthralled by.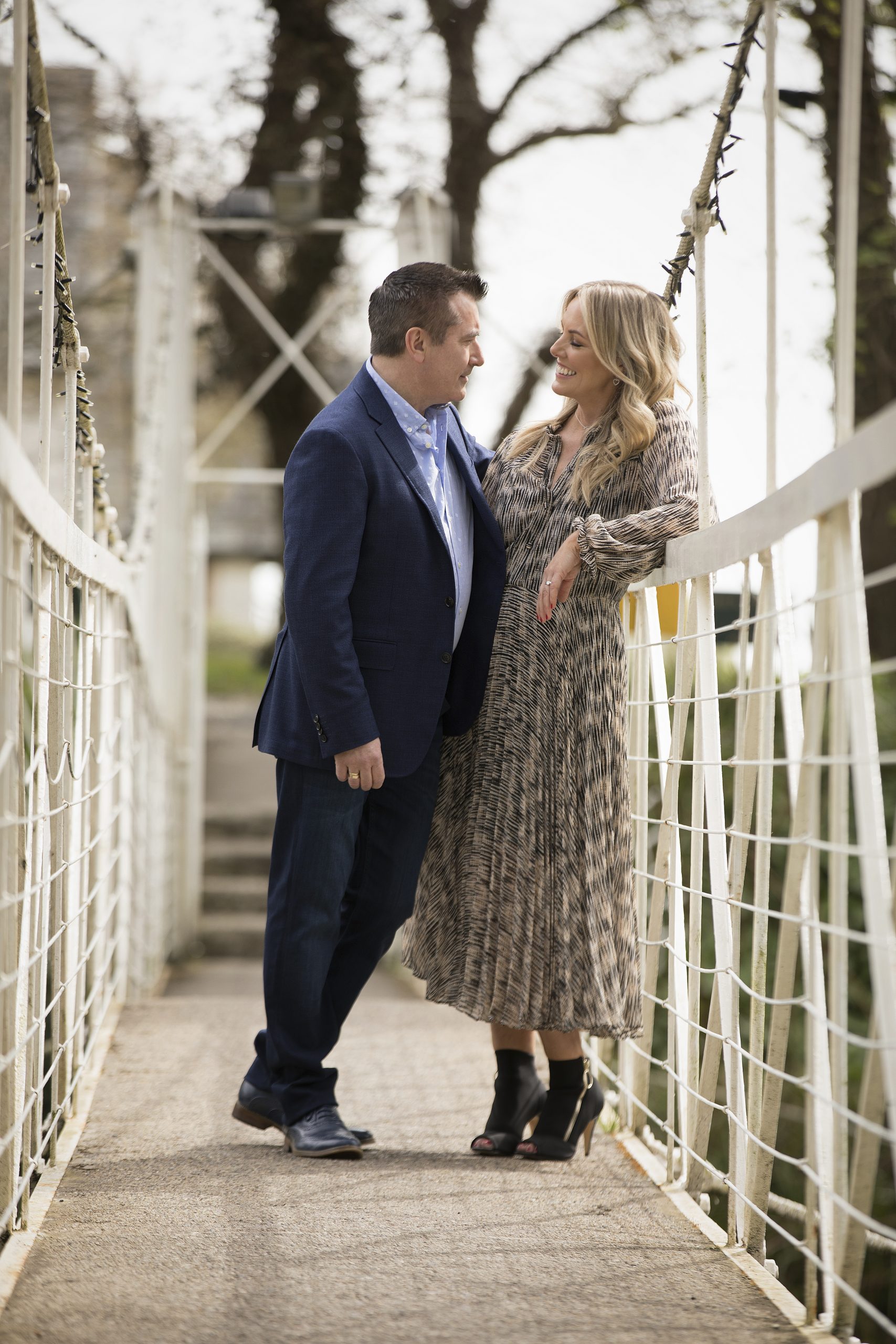 Like so many others, Jenny's business as a wedding photographer halted this year, and in, what we are learning is true Jenny fashion, she used the time to write a wedding planning book, and worked on the production of wedding products; all of which will be released later this year. Martin, has been kept busy with his day-job, but this year was also the year that he released his powerful documentary, We Need To Talk About Dementia following the passing of his Mum Christina from Dementia two years ago.
So in a time where many have felt the slower pace, we can tell these two have not and yet are loving every minute of giving what they do their all. But crucially as Martin tells us, he is "most looking forward to taking my girl out on a date." Sounds like a good work/life balance to us! We catch up with this gorgeous pair on Zoom in the aftermath of our shoot to talk career highlights, new projects, being glamorous grandparents, seeking out the positives and looking to the future with hope…
Hello Martin and Jenny. Things are truly on the up. How are you both feeling?
J: I am delighted. My business stopped on New Years Eve so I have been off for the last four months. I am thrilled to be getting back to it…meeting people again and having some sort of normality back.
Martin, you probably don't feel too much difference?
Well who knew that television, radio and media people are actually an essential service? I can hear my mother and father laughing about that. [laughs]. I should say though, Jenny has been working constantly on all the different projects and products that she is launching… so she has not 'been off'. [laughs] I am kind of glad that she is going back to work…she might actually work less. [laughs]
Jenny, tell us, you have been working on something exciting?
J: I have written a wedding book. It's just something that has been in my head to do and the pandemic gave me that chance to do it. I have been in the industry so long, so it's all the knowledge that I have gained.
M: I mean D-Day would take less planning than a wedding day.
The pandemic has been such a difficult time so it's wonderfully inspiring to hear some of the positive things that have been created during this time too.
M: It's a lesson in how you have got to seize every opportunity and find the positive in it when it presents itself. Even if it is massively negative… you have to find the positive and then go from there.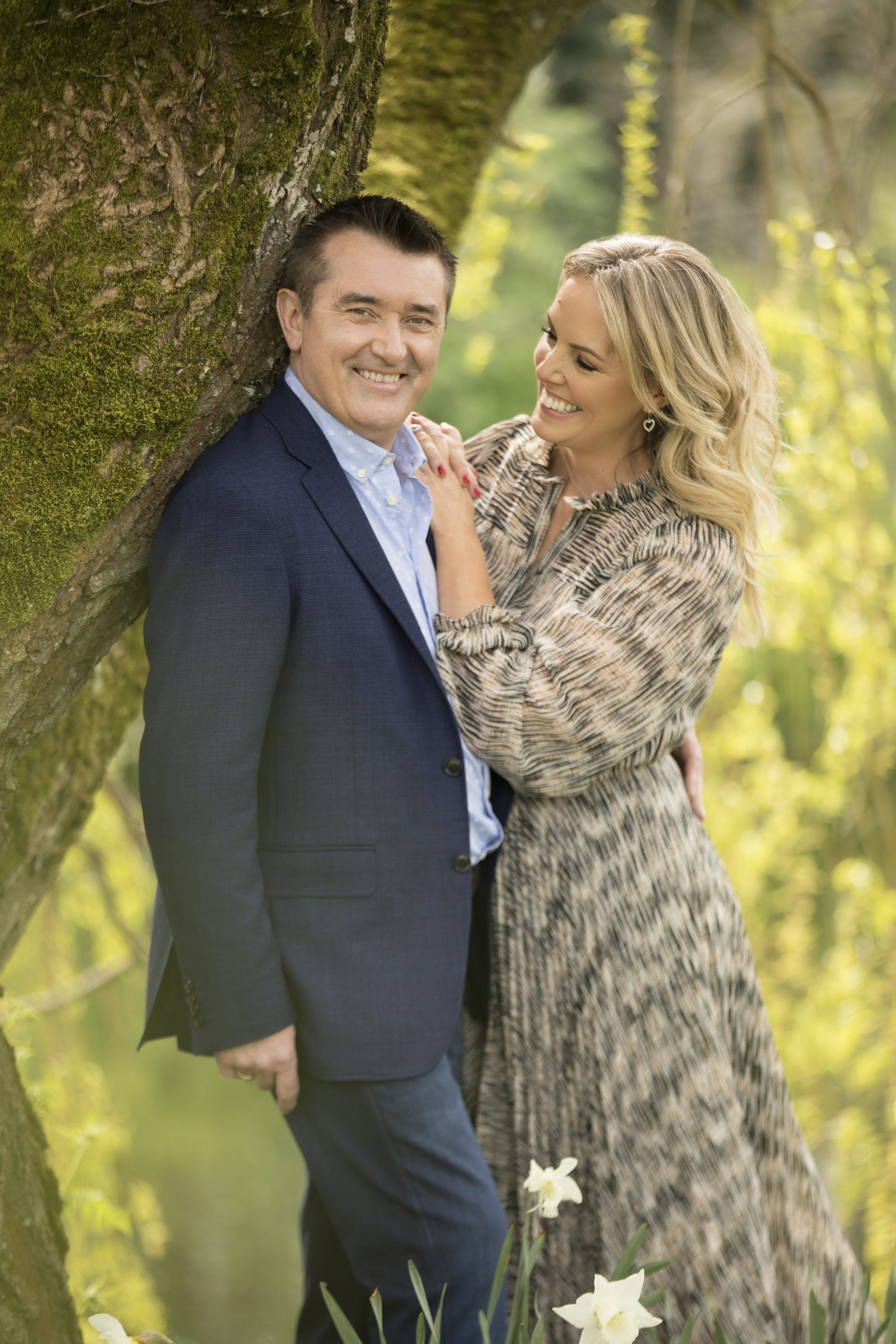 Speaking of positives Martin. You have kept The Six O'Clock Show on the road with your wonderful co-host Muireann O'Connell since we first went into lockdown in March 2020. Are you mindful of what a means of escape the show is?
I feel a sense of responsibility yes. We come on screens just after the main evening news, so we have to go on air to try and lift our viewers moods. We're always mindful that people are trying to digest whatever the latest news is. We need to be the point where people can go to put a smile on their faces.
J: And the figures have gone through the roof. People want to switch off from the doom and gloom and just have that bit of light entertainment.

M: It's funny because we moved from our old slot of seven o'clock, to six o'clock, at the end of 2016. Yet, the amount of people who have come to me in the last 14 months and said, "Jeez that's a great new show you're on… when did you start that?" And I say, "Five years ago…" [laughs] But it's only because they would have been commuting at that time and now they're working from home. It's guaranteed laughter and familiar faces.
You say the use of the likes Zoom has opened doors to interviews with people you might not have had on before?
M: Yes. As soon as Selling Sunset took off we were able to say, "Well, lets get them on the show" and they all came on the show. And of course we had Angelina Jolie on the show last year, so those people are now available to us…they don't have to get on a plane to Dublin to come talk to us, they just have to go into their front room with a laptop.
Martin, your documentary We Need To Talk About Dementia. It tells the story of your lovely Mum Christina who sadly passed away two years ago from Dementia. So many families have been touched by grief, particularly over this last year… how are you finding it?
The day we are speaking for this interview is actually my mum Christina's second anniversary. I have actually found this year much tougher than the first year. I think in a way you tend to prepare yourself for the first anniversary, you know it's coming, it arrives, and you're right back to that day again. But you are getting set for its arrival… there's some sort of preparation to brace yourself. Whereas in year two, it's different, it's quieter, nobody is making a big deal for it. It's hard.
J: My father died years ago, the day before my 17th birthday and for me I remember the first of everything. Whereas I agree that when the second year comes around… I suppose, you nearly have to remind people sometimes that it's their anniversary. You can feel a little bit lonely around it. I found with my father that when the second anniversary came, the reality really starts to hit that you're not going to see them again and it is horrible.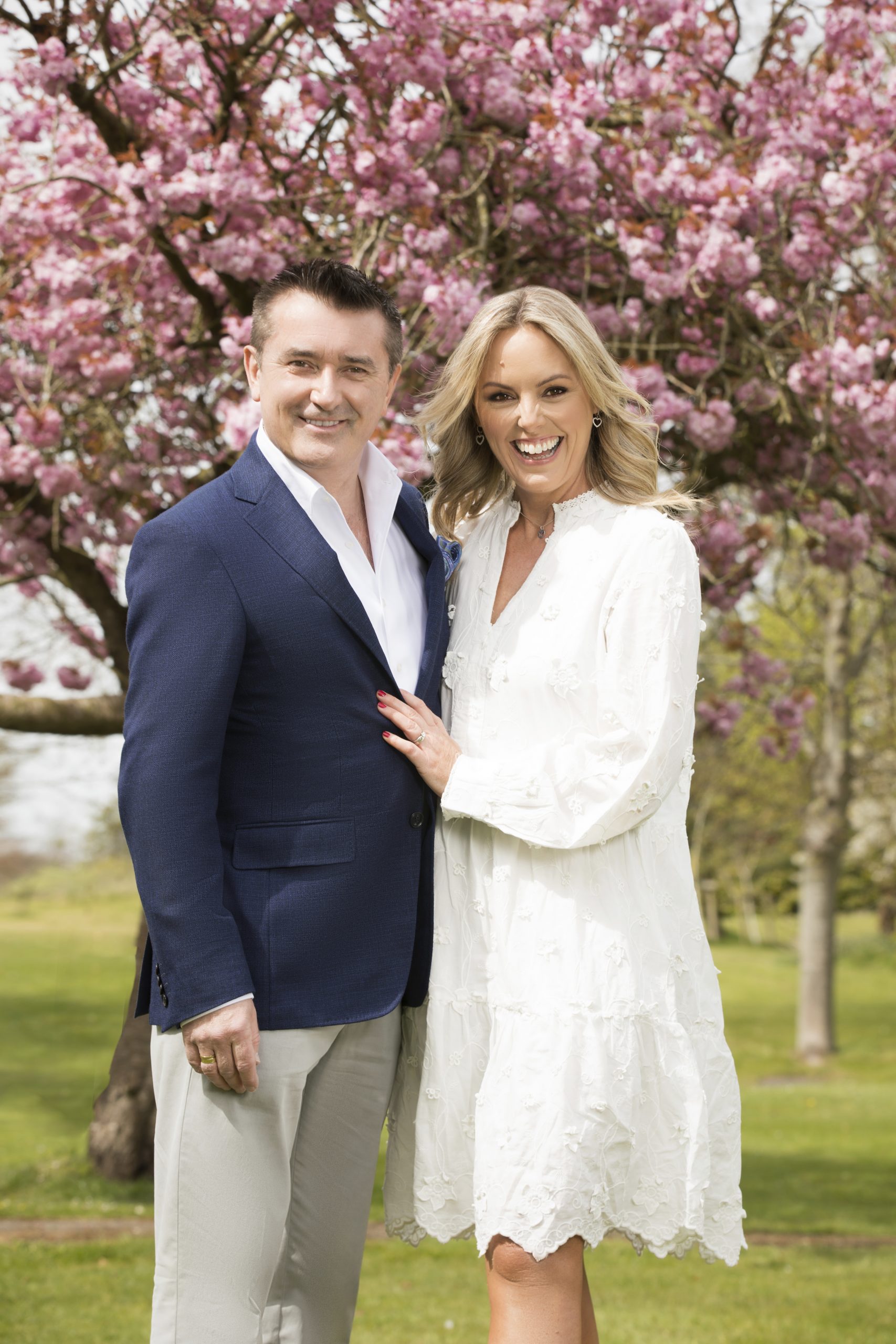 We are sure many with resonate with what you have said. And likewise we know your documentary will resonate with so many families, not just those who have experienced Dementia but those who have experienced the pain of love and loss. Was making it a cathartic process for you?
M: Well I suggested this documentary a short time after my mother passed away. The idea stemmed from the fact that Ireland is an ageing nation and Dementia numbers are constantly rising. More and more of us are going to know someone within our immediate family group or extended family who has Alzeimhers or Dementia. I just thought it would be a good idea to explore it. And then, I got the call from one of the executive producers Virgin Media whose mother was in the final stages of Dementia saying, "We're going to make this documentary."
You wanted it to be a story of hope?
M: Yes. I went to Denise McNamara the producer of the documentary and I said, "I want it to have some positivity, it's got to finish on the up," and she said exactly the same, she said, "We have got to find the positivity in this to give people hope." We wanted to acknowledge for people that yes, the end result is not going to be a good result, but there is a lot of living to be done from the diagnosis. That is was what we wanted to convey.
People were really moved by it… you must feel so proud?
M: Well…I am immensely proud of the work that we have done on The Six O'Clock Show, it has grown and the figures are incredible. But I think this documentary that we made is the thing I am most proud of in my career. It was great to make…heartbreaking, but great.
And you mentioned that it answered a lot of questions for you as well?
M: Yeah. Like a lot of people, I would have wondered… is this what is waiting for me? Is this thing hereditary? And so I got answers to those questions and it was good. I remember going to my mothers grave on Mother's Day and I just said, "Jenny I don't want to let her down… I don't want to let her memory down."
J: And Martin you didn't let her down one bit. She would be so proud of you.
M: Two of my sisters got involved in the making of it as well; when I rang the family and told them we were going to do this, they really felt that telling her story would open peoples eyes and create greater awareness of Dementia.
A huge goal to accomplish.
M: I compare something like this to the structure of a band. I was the singer but no singer in a band is any use unless he has got a great band behind him. I had a fantastic team working with me on this.
J: Martin is very humble.
M: I had a brilliant band. A fantastic producer and director and we were very lucky with the crew that we had. That's what made it.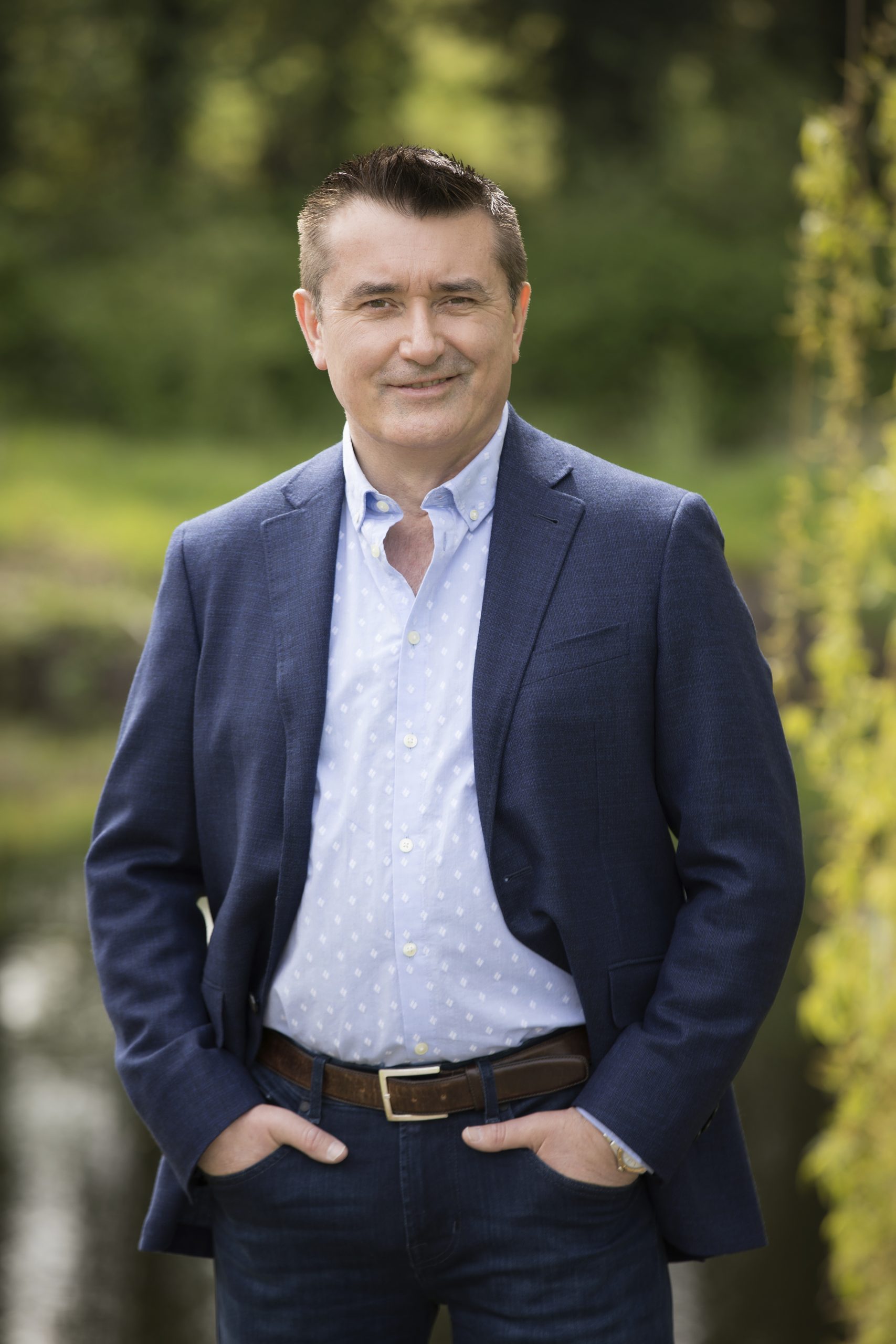 Was it a process you will never forget?
M: Definitely. It was about showing that there is tons of living to be done, and we had so many inspirational people on it and it was wonderful to tell their stories.
Speaking of stories to tell. Yours is a love story. We witnessed firsthand today you two looking happier than ever… what's your secret?
J: We are ten years married this coming November. Our wedding was actually in VIP believe it or not! For us, it's been about not taking each other for granted and having respect for each other. I think if you don't have those two ingredients it can be a bit of a disaster. Now I am not saying that we don't have our quarrels because we absolutely do… [laughs] but I think it's all down to respect and of course, having fun.
M: We like each other.
J: No we don't really Martin! [laughs]
M: You have chosen this time to tell them!?! [laughs] I think it's… we're very much in love with each other. We love each other. And I am very proud of Jenny, of everything she's done so far, of her ambition. She is a constant inspiration to me.
Your have five children… they must be adults at this stage?
M: We have one teenager left!
J: The oldest is 31 and then the rest are, 29, 27, 21 and our youngest guy is nearly 18. So three have kind of flown the nest and then there's still two left.
M: And then there's our grandchildren. Our granddaughter Sophia is 1 and she has to watch The Six O'Clock Show every evening [laughs]. She knows that the show is on because she'll be having her tea. She will give out until my son puts the show on and then she's grand. [laughs]
J: She starts clapping her hands and getting all excited. It's lovely.
M: I couldn't believe it until my son filmed her to show us.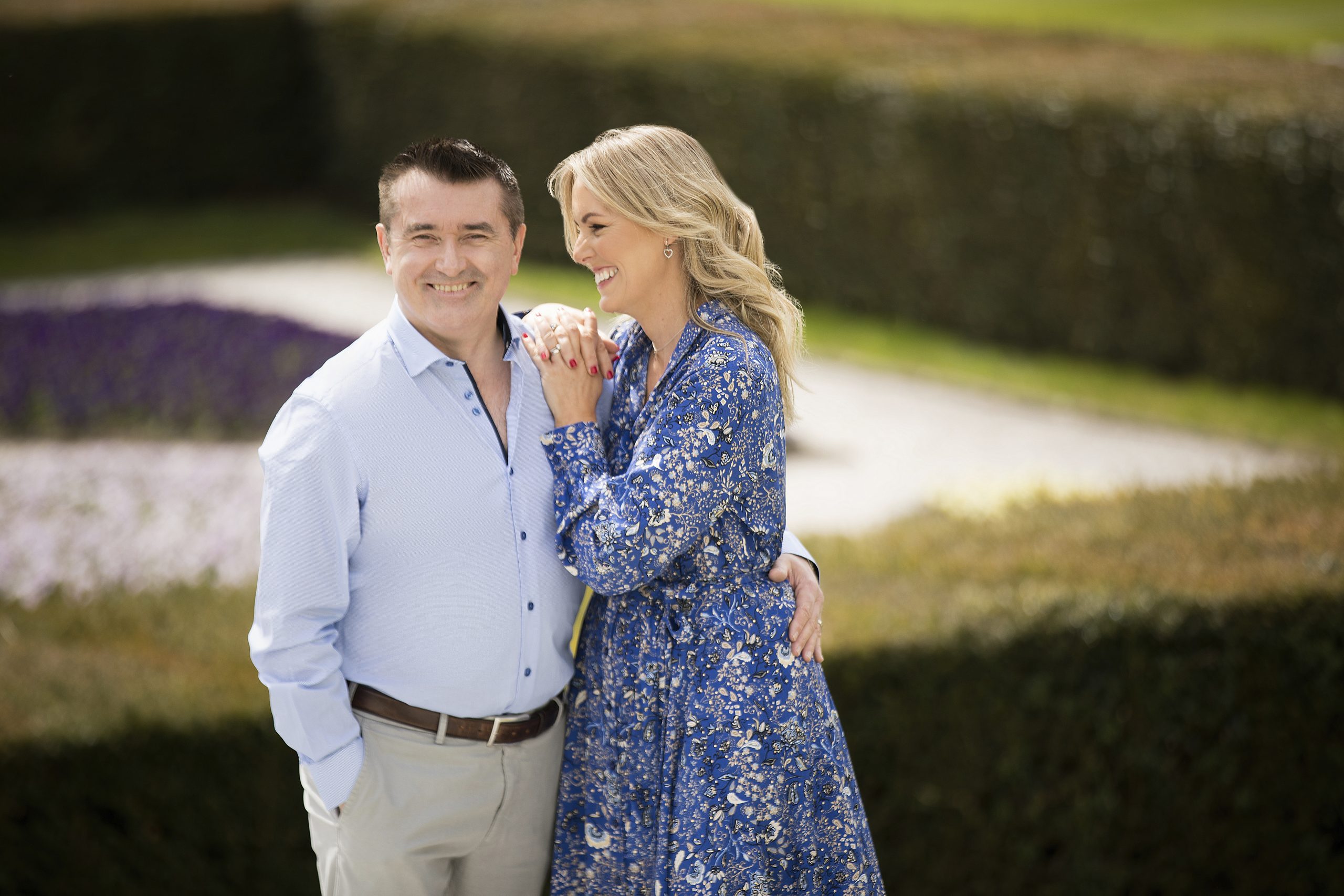 Well, we can't believe you are grandparents!
M: [laughs] We certainly are. And we have another grandchild Aaron who is ten.
J: I can't believe it either… I only feel 21!
Do you thinking coming out this side of it all now… has the pandemic changed you?
J: I suppose for me I have been looking at how I work. With everything that has happened it got me thinking about, "God what's it all about this rushing around about?" I hope to find more balance with my working day.
M: What I have learned is that I don't need all the stuff… clothes and things.
J: So, does this mean you are going to clear out your wardrobe? Because I swear to god Martin it is bulging at the seams! [laughs].
M: I suppose… I need less stuff now. Saying that, something that hasn't changed is that I am itching… itching to get back to a football match [laughs] They [Dublin] are playing this weekend and I am a bag of nerves. And both of us are just looking forward to a change of scene, to get away to somewhere… even just a hotel break.
Us too. Did either of you take up anything new this year?
M: I will tell you one thing we never did and never will do. We never baked banana bread! You don't put fruit on pizza and you don't put bananas in bread. [laughs]
We quite agree. What are you most looking forward to?
M: The thing I am looking forward to most is just taking me girl out on a date. Getting dressed up, ordering a taxi and heading off somewhere lovely.
J: Yes, I am kind of done with the date nights at home now… we're ready for out.
M: And we want to get to the Style Awards again of course.
J: It'll be the most successful and glamorous year to date! We can't wait to get dressed up.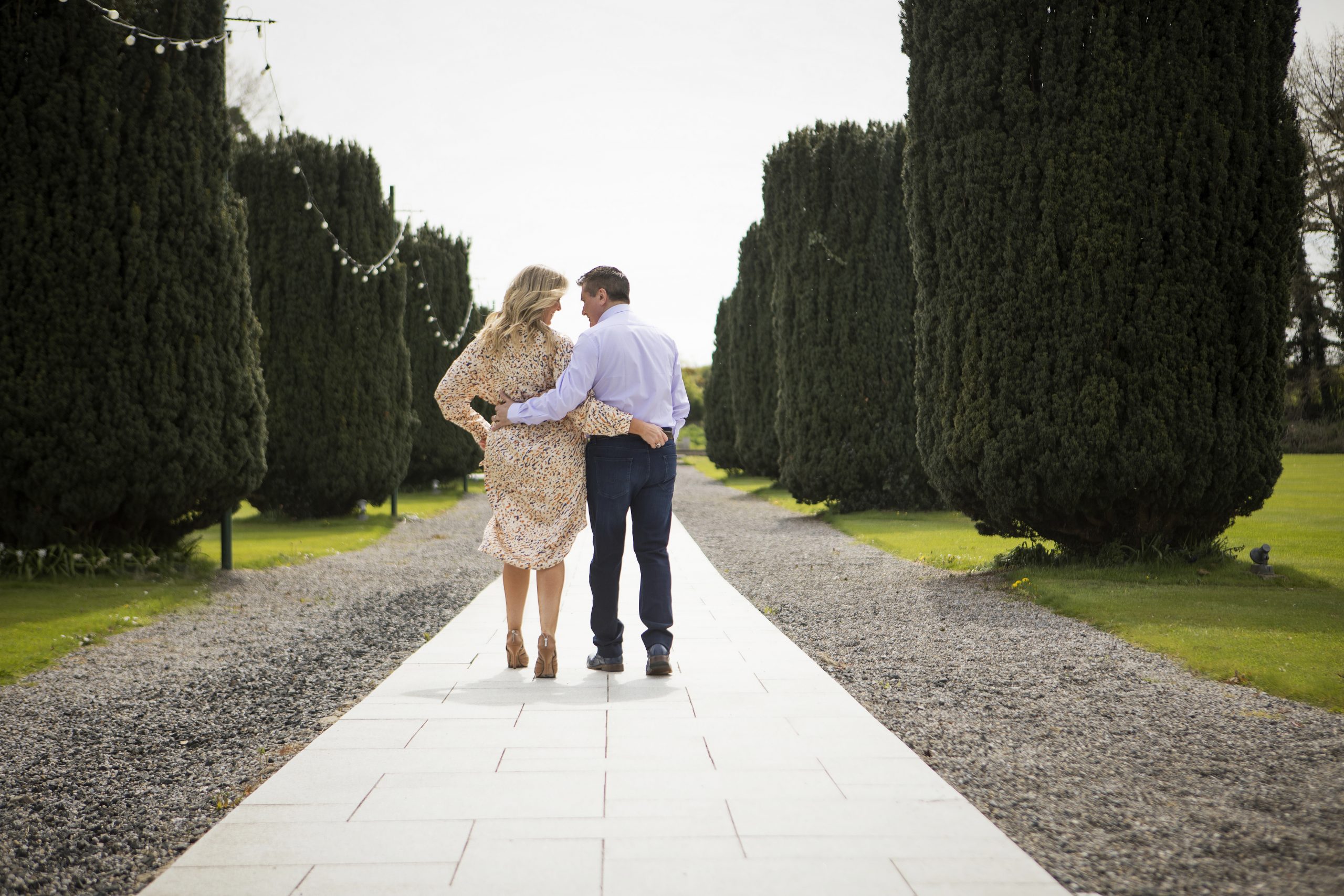 Interview: Elle Gordon
Photographer: Evan Doherty
Location: The K Club
Styling: Megan Fox
Hair: Normajean O'Reilly
Makeup: Michelle Field