Anyone who has ever had a pet will understand the heartbreak that comes when it's time to say goodbye to them – something which Martin King and his wife Jenny McCarthy are currently experiencing.
Taking to Instagram, Jenny shared that their dog, Junior had recently passed away.
Alongside an array of adorable photos of Junior with the family, Jenny posted a touching tribute to their beloved pooch.
"The most emotional 24 hours," she began her post.
"Today we said goodbye to our Junior. I can't begin to explain how heartbroken I am," she continued.
"Junior was with us for 14.5 years. He has lived through so much, our wedding 12 years ago, most of the kid's special occasions, he was my Little Rock when I was unwell last year, he was just the best.
"I'm going to be absolutely lost without him."
Jenny's post was then flooded with people wishing their condolences including friend Rosanna Davison who wrote: "So sorry Jenny, losing a beloved pet is so difficult. Lots of love x."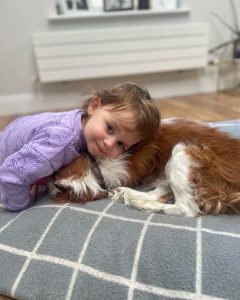 "I'm so sorry to hear this pet. I dread the day. Thinking of you all," commented Lorraine Keane.
While Lucy Kennedy added: "Oh no!!! Jenny and Martin, I'm so sorry to hear this, it's so hard. I'm thinking of you all. Lots of love Xxx."
Martin also shared Jenny's post to his story followed by an array of broken hearts.
So sorry for your loss guys!