Last night saw the Ray D'Arcy Show tackle a subject close to the hearts of a lot of Irish people, and viewers had huge praise for the segment!
Ray invited guests on to speak about the 25th anniversary of Barretstown camp for children with serious illnesses – including a former camper who had gone on to become a pediatric nurse, a current camp goer and his parents, as well as Hollywood actors Aiden Gillen and Jonathan Rhys Meyers who support the camp.
Author Benji Bennett was also on the show to talk about tragically losing his four-year-old son, Adam.
The purpose of the piece was to launch Barretstown's new 'Press Play' campaign – which aims to raise 5 million in the next five years to care for as many children as possible.
With stories of the camp and the impact it mad reaching thousands of viewers at home, everyone had high praise for how the segment was handled.
No words listening to the stories on @RTERayDarcyShow show except to say these families are amazing & awestruck at the role @Barretstown has played in their lives #Barretstown #raydarcyshow

— Mags Murphy (@margaretb2010) January 26, 2019
Very strong segment about Barrettstown on #RayDArcyShow. Ray is the perfect host for this sort of item.

— Eithne Shortall (@eithneshortall) January 26, 2019
Fair play to Ray Darcy for giving so much time to promote Barretstown. A magical place that brings so much joy to many. #raydarcyshow

— Robert Norton (@meithealkandle) January 26, 2019
Love this photo I took earlier and was blown away hearing about the amazing work @Barretstown does #raydarcyshow https://t.co/FPj7k8Yt3h

— Molly O'Dwyer (@Molly_odwyer) January 27, 2019
I've volunteered in Barretstown the last couple of years. It truly is a magical place#raydarcyshow #barretstown #pressplay

— Paula Tierney (@Paula_Tierney) January 26, 2019
#Barretstown It's what we all want , children to dream, smile and have funOmg tearing up , beautiful singer and song Joyce#raydarcyshow Well done to all involved

— Dorothy Molloy (@1dor) January 26, 2019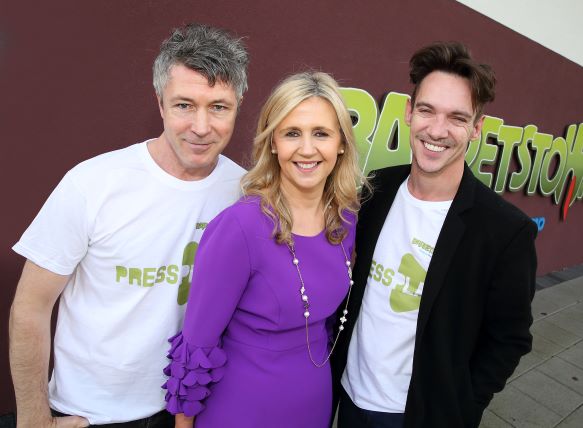 Barretstown ambassador Jonathan Rhys Meyers said:
"I have visited Barretstown and it's clear to see that the children who attend camp, leave it with an increased sense of confidence, self-esteem and independence.
"Their experience at camp allows them to enjoy childhood again after the hardship of their illness and treatment. It also allows parents, and the whole family, gain a deeper understanding of the experience of serious illness.
" It's such a worthy cause because the healing process wouldn't be complete without it."
To more information, and to find out how you can help the campaign, log on to www.barretstown.org