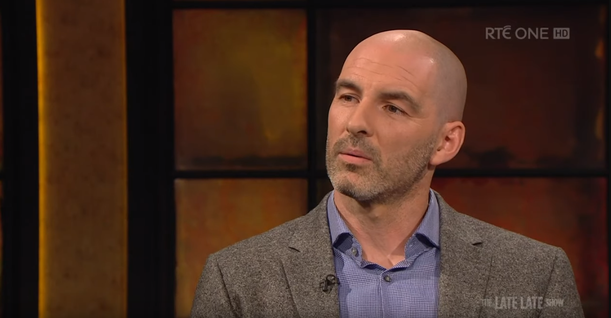 RTE soccer pundit Richie Sadlier made an emotional appearance on The Late Late Show last night, as he recalled being the victim of sexual abuse when he was 14 years old.
The well loved former Ireland international player spoke honestly to host Ryan Tubridy about the events that changed his life, and viewers had high praise for the Dubliner's honesty.
"I was sexually abused when I was a young lad. I was 14 years old and it was over a period of about six weeks," he said on the RTE show last night.
"I would play along with his little nice guy act afterwards," he said, adding that he didn't tell his friends or family at the time.
"My interpretation of what happened was, this was my failure.
"I almost gave him a free pass and this is a weird thing to explain. "My thoughts were completely bonkers about the whole thing."
"My life back then, football was everything for me. I never really caused any bother to anyone."
Oh @RichieSadlier what a courageous soul you are, talking openly, honestly & eloquently about the biggest hurt. You model hope for others who walk in your shoes. Now that's generosity. I wish the very best for you & your wife as you start a new chapter in life. #LateLateShow

— Niamh Fitzpatrick (@NFitzPsychology) October 5, 2019
Watched @RichieSadlier #latelate interview back.
Not a shred of self pity or anger.
Instead, courage in accepting that he did nothing wrong – evil just happened to wander into his young life.

Am privileged to call him a friend.

— Sarah-Jane Murphy (@sjanemurf) October 5, 2019
A huge amount of respect for @RichieSadlier, he has shown so much bravery tonight speaking out about his horrible experience.

Hopefully this will inspire more people to speak up, and seek the help and support they need and deserve.#LateLateShow

— Harry McCann (@TheHarryMcC) October 4, 2019
Very brave of you @RichieSadlier to talk about what you went through. One minute never mind 6 weeks of abuse must have been horrific. Your interview tonight will help others feel validated and believed #LateLateShow

— Samantha Long (@SamanthaELong) October 4, 2019
Fair play @RichieSadlier 🙌🙌. Cannot be easy to talk about this! #latelateshow

— Dan Finnegan (@fino316) October 4, 2019
The 40-year-old's bravery in telling his story is sure to resonate with other abuse survivors, and he recounts his personal journey in new book, Recovering, which is out now in Ireland.