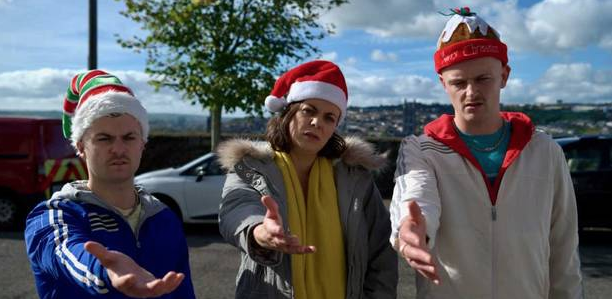 The hilarious trailer for The Young Offenders Christmas special has landed, and it's just as good as we thought!
Dropping on BBC today, the trailer for the Cork-based shows gives us a look at what the gang are getting up to this Christmas, in true Conor and Jock form!
The plot centres around the residents of the estate where Conor, Jock and Mairead live and have been fighting off an eviction from the council for over a month. The residents have created a barricade to show their determination that they won't be moved to make way for the estate to be renovated.
While all this is happening, Mairead has been sick for weeks and has to be taken to hospital. The situation proves to be more serious than thought and not knowing how to help, the lads ask Mairead if there's anything they can get her. The two friends set off on a chaotic adventure to try make her wish come true and in the process find out something about themselves and the value of empathy.
"Christmas is a time for giving. But when you've got **** all, it's also a time for taking."

The Young Offenders Christmas Special, on BBC Three this Friday. pic.twitter.com/1SGdjHB9Ki

— BBC Three (@bbcthree) December 12, 2018
The one-off festive episode is available now to watch on BBC player, but will air on RTE One television on Christmas Day.
Will you be tuning in?