James Patrice has been our saving grace over the last few months, making us laugh each and every day through the antics of Malahide Woman. So of course, we couldn't have been happier to spend a day with the social media star and his family; mum Veronica AKA Fron, dad Jim and sister Vanessa, for a gorgeous family shoot and catch-up. Enjoying a beautiful sunny day in The Grand Hotel in Malahide, we spent the afternoon giggling away while the family poked fun at each other both in front and behind the camera, and shared tales of life in lockdown. And what a busy few months it had been for them!
As well as making hilarious videos online with the help of his loved ones, James spent his days working on a brand-new series for the RTE Player, Battle of the Food Trucks (more on that later), plus, there was a gorgeous family wedding. Vanessa, who's now expecting her first child, tied the knot with her partner Sean during an incredibly intimate ceremony in Cabra Castle with only a handful of guests in attendance – and while it wasn't the huge day they expected or planned – it was perfect. As the country begins to open up again, we caught with James to discuss his plans for the coming weeks, hopes for future presenting gigs and of course, how he feels about becoming an uncle for the first time this winter.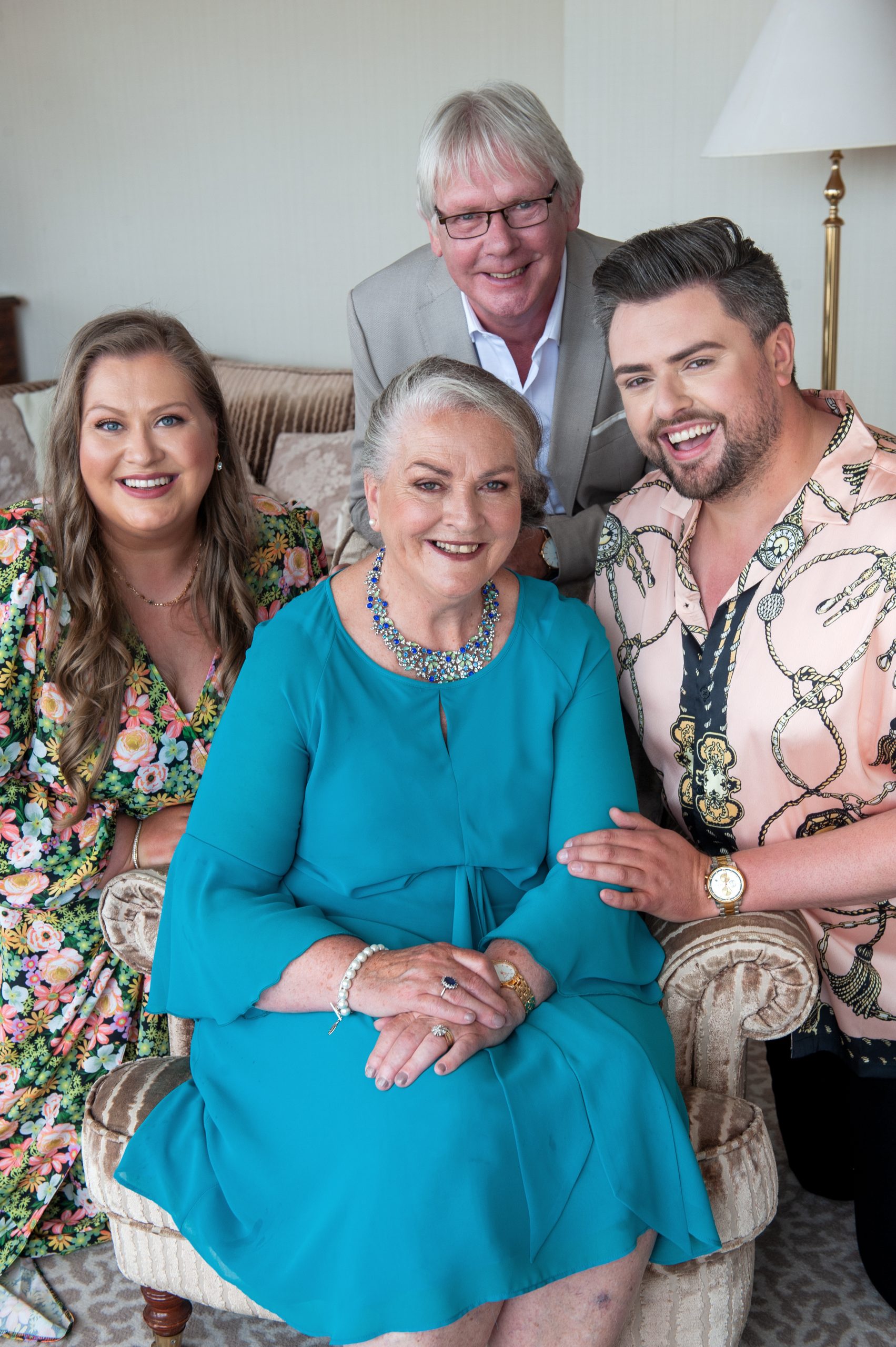 James – this weather is glorious and restrictions are easing. Have you been able to get out and enjoy some newfound freedom?
Definitely! It's so good to just get out and about and meet up with friends who you haven't seen in quite literally, a year. It's lovely and so nice be able to enjoy some outdoor dining, have a beverage and a catch-up. It's been a tough year for so many people, so this is all very nice. And to be able to travel outside the 5km, well I may as well be going to Las Vegas any time I go into the city centre!
You've spent the last few weeks in Bray shooting the new show RTE show, Battle of the Food Trucks. That must have been exciting!
Yes! It was shot at the start in June. I spent some time in a beautiful field in Bray surrounded by sheep. It was like something out of the Sound of Music to be honest with you, all these beautiful hills and mountains, with animals roaming around. It was great fun though, a really good experience. It was so safe. We shot outside, we all kept our distance, got Covid tests and remained very guideline compliant. It also looks lovely too and I felt like Tyra Banks or Dermot O'Leary with the envelope in my hand.
So, tell us about the format.
Well we have six chefs from around the country and they're battling it out to impress the judges; Eric Matthews who's the head chef in Chapter One and Gina and Karol from The Daly Dish. They're not being judged on their produce alone, but how they adapt to a new challenge each week. It's eventually whittled down to one winner and they go home with €5,000 which is a lovely boost to any business.
As well as this, you were busy working on RTE's Today Show before it wrapped for summer…
Oh, I love, love, love the Today Show. It's so much fun. No two days are the same. Dáithí, Maura and Sinead are great. They're very nice people. They always give 100 percent to everything and they make everyone feel so welcome. It's two hours in the afternoon and nobody really mentions Covid; it's cookery, fashion and fun. I think people enjoy that escapism.
They've had a number of guest presenters over the last few months – would something like that ever interest you or do you prefer being a roving reporter?
I'd never say never. I was joking with Dáithí telling him that Malahide Woman would have been great in there and he said "absolutely… or yourself", which was lovely to hear. I thought the guest presenters were brilliant. Where else would you get Una Healy sitting beside Dáithí Ó Sé singing a bit of The Saturdays? Heaven! I think I'd give it a good go if it was to come up and it would be a bit of craic. I know I'd be in good hands either beside Maura and Dáithí or Dáithí and Sinead.
Could you see yourself getting into a presenting role like that full time?
Yeah, absolutely. I'm always a firm believer in not planning things too much, except my haircuts [laughs]. I'd love to get something more permanent in the future but at the moment I'm just taking each day as it comes. I'm just saying yes to everything – well within reason- but if the opportunity arose I'd give it a bash.
You also work alongside Dáithí Ó Sé at the Rose of Tralee most years – will you miss it this summer?
Like there's no tomorrow! It's such a lovely experience. I think I worked on it five years in a row before it took a hiatus last year. It's such a shame because it's so good for Tralee and tourism in general, the amount of work it creates and brings so much money into the economy with people travelling into Kerry. The craic is phenomenal too. You're exhausted by the end of it, but it's brilliant. The atmosphere is like nothing else. And it's the ultimate second-screen viewing. People will have the telly on and lap up the tweets. Irish people are very funny and excel on social media during shows like that; they're sharp and witty. You get the odd person writing bad things, but sure you ignore that.
Speaking of which, have you ever been subjected to trolling and how do you deal with any nastiness that comes your way online?
There's always going to be some bit of trolling, absolutely. I'm quite fortunate in the fact I don't get too much of it but it's still there. It's always anonymous accounts too. I could post something as Malahide Woman and get replies with people saying "that's disgusting" or I hosted a picnic for Pride in Malahide Castle and there was a poster for that and someone replied saying it was vile etc. If something as silly as me dressed up as Malahide Woman with a beard offends someone, then it's important we keep conversations going and keep chatting about it, educating people.
I'm so thrilled social media wasn't a big thing when I was in secondary school. I was bullied in school, called everything under the sun, but when I'd come home, I'd shut the front door and that was it. I was in a safe haven then, but for it to be 24/7, with social media, it would be horrendous. People need to speak with family members and friends, reminding everyone to be considerate before writing anything.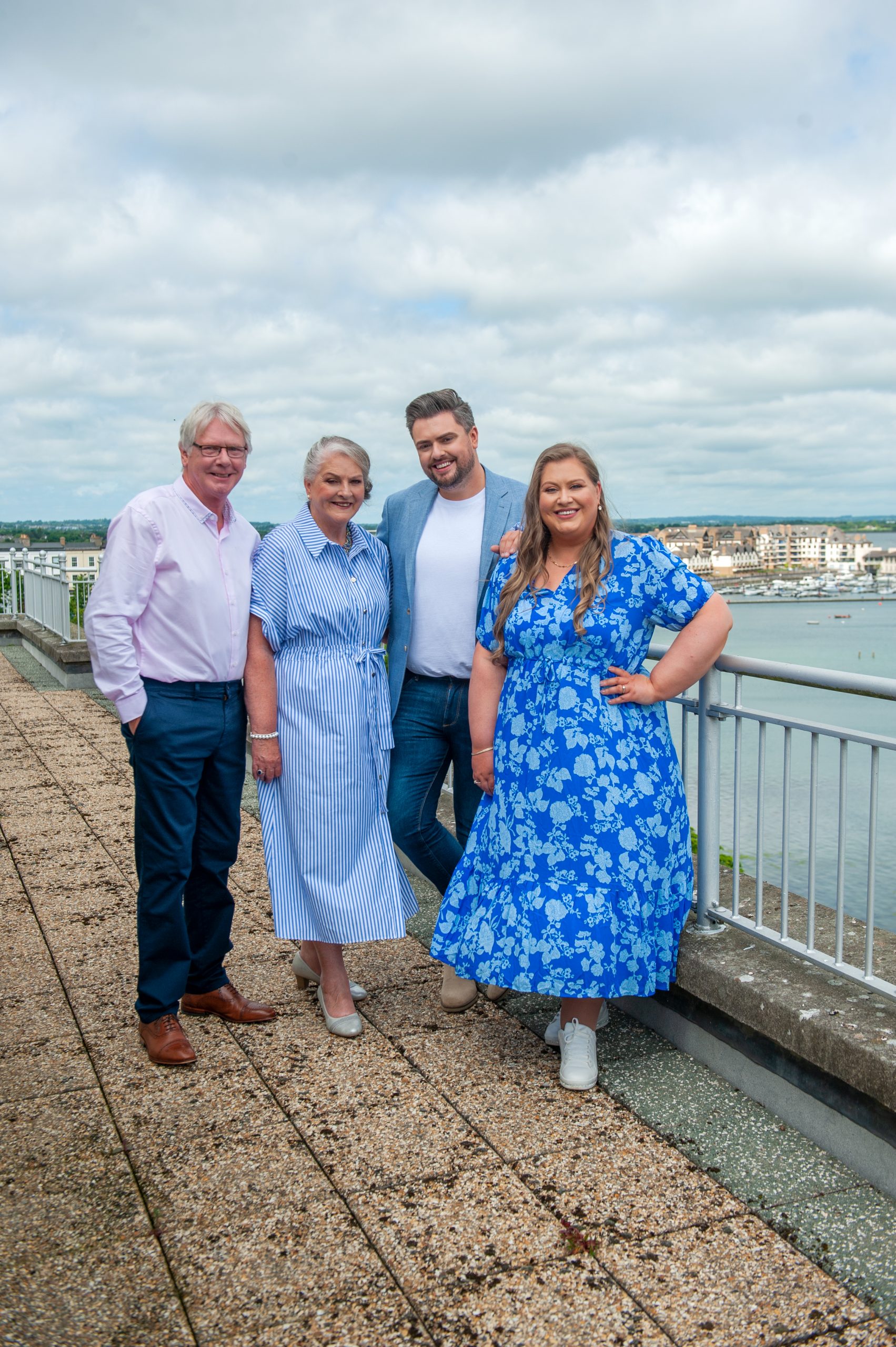 You've been so positive online especially throughout lockdown lifting everyone's spirits, but how have you found the last year?
It hasn't been easy, at first especially. I love my work and enjoy it a lot, and when the first lockdown started, the phone started ringing, all work was cancelled, and I thought "What am I going to do?" but things went virtual and you learn to adapt. You find ways to work around the situation. I think everything happens for a reason and maybe mother nature was telling us all to slow down and reset. I tried to put a positive spin on it. I grew much closer to my family, really learned to appreciate my friends too. It was a weird year and one we won't forget.
You just mentioned spending a lot more time with your family. What was that experience like?
Vanessa lives with her husband so it was just mum, dad and myself most of the time. We get on very well, we're easy-going and I was thrilled that I wasn't renting somewhere alone or with someone I didn't know very well. I imagine it would have been very isolating. It was a blessing to be at home.
You kept us all entertained with Malahide Woman and got them involved too. Did it take much persuasion to get your parents to take part in the videos?
Mum was fairly good, she's a natural performer and loves to have the craic. Dad was a little bit more apprehensive. Initially he'd just stand there, then before we all knew it, he had dialogue and costumes. I started these videos when I felt a bit lost and knew I needed to be creative, so when he saw how much joy it brought, he was like, well why wouldn't I do it?
They seem like they're up for anything and so much fun.
They are! They're certainly up for the craic. Life is too short to be serious all the time. We had nothing else to do, so why not go hell for leather and have a bit of fun?!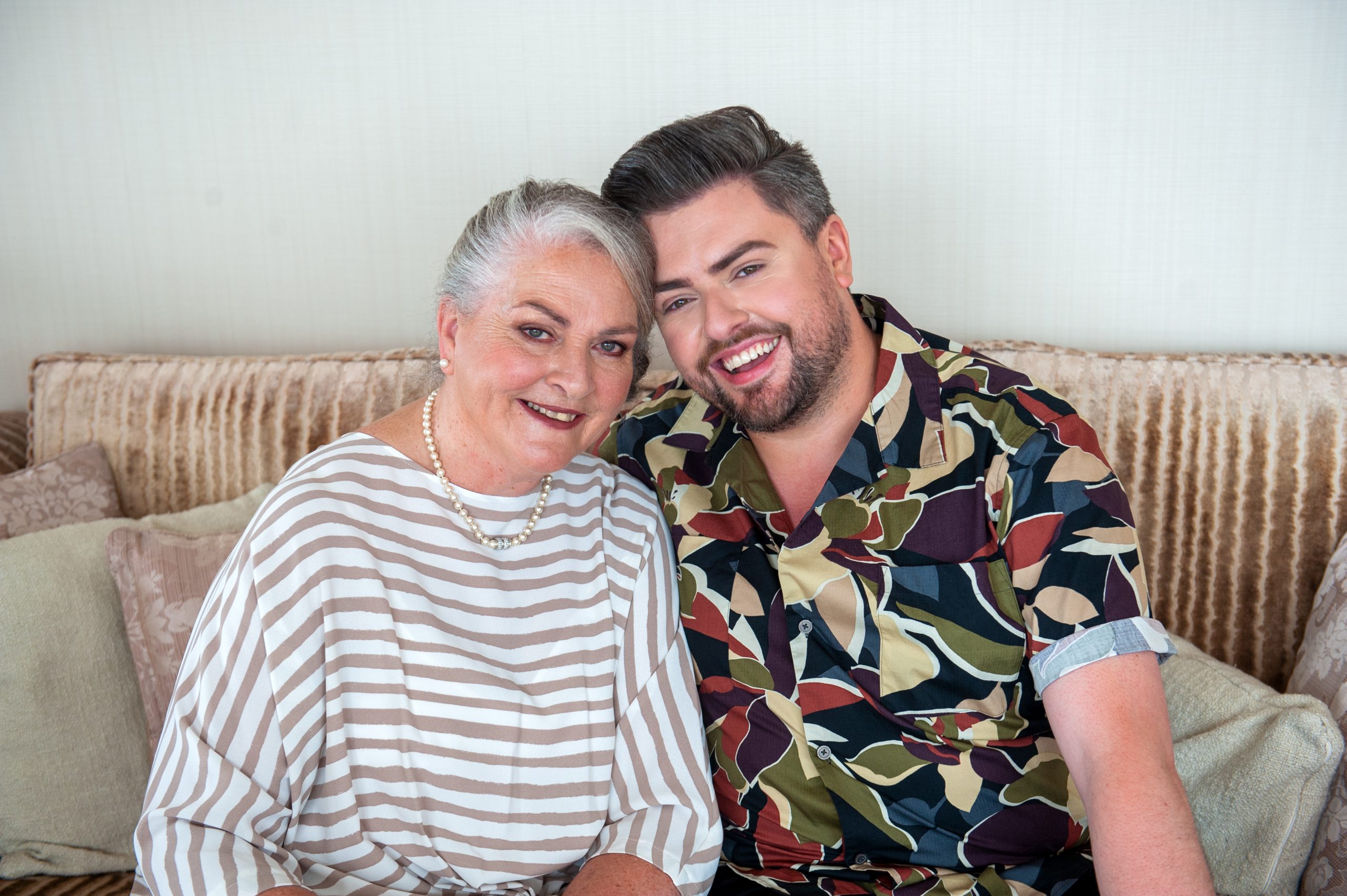 Your sister Vanessa tied the knot recently and while it was small and intimate, it looked like a gorgeous day. Can you tell us some more about it?
Oh, it was a day we'll never forget. The weather was phenomenal. It wasn't what Vanessa and Sean anticipated but they've since said they wouldn't change it for the world. It was just the Vanessa and Sean, his parents, his brother, mum, dad and myself. We had a ball, and just spent the entire day together chatting, exchanging stories and having a laugh. It was a gorgeous day.
Now Vanessa and Sean are expecting a little baby. How did you feel when she first told you?
When Vanessa told me, I was dressed as Malahide Woman. I was filming something that day and she came in and was being really coy. Sean followed afterwards, they told us and we burst out crying. I was in a red and pink jumpsuit with mascara going 90 down my face. It was amazing, and such a lovely thing to be told. We're so happy Sean and Vanessa got this amazing news, especially after they had to move the wedding and adjust things so much. We're so excited and November is going to be a magical month. I'll have a whole host of festive ensembles ready for the month of December.
And it's the first baby in the family too – your parents must be overjoyed.
They're just beside themselves. They can't get over it. It's their first grandchild and they're living for it. They're so, so happy. It's a nice, happy, positive thing to have in our lives. It's something we can get excited about and it's so special.
How long do you think it'll be before the baby makes an appearance alongside Malahide Woman?
I'll have to ask Vanessa how she feels about her unborn child's future in online comedy but I presume something could happen. Vanessa's character is Geraldine so I'm sure I could work her pregnancy into one of the storylines and Malahide Woman would no doubt be furious because it means Geraldine won't fit into the sequin smock dresses. There'll be war with that! I'm sure there'll be some scope for a baby to feature.
What's next for you James… have you anything else in the pipeline?
It's brilliant that events are back in some capacity, be it virtual or outdoors. I'm hosting a few different things and writing for Malahide Woman and sure before we know it, it'll be September again and the Today Show will be back and of course the Olympia Panto at Christmas too, so fingers crossed we'll get some bums back on seats. It's great that things are getting back to some sense of normality, and I hate that word but things haven't been normal. It's nice to have that bit of hope again and for businesses to open back up.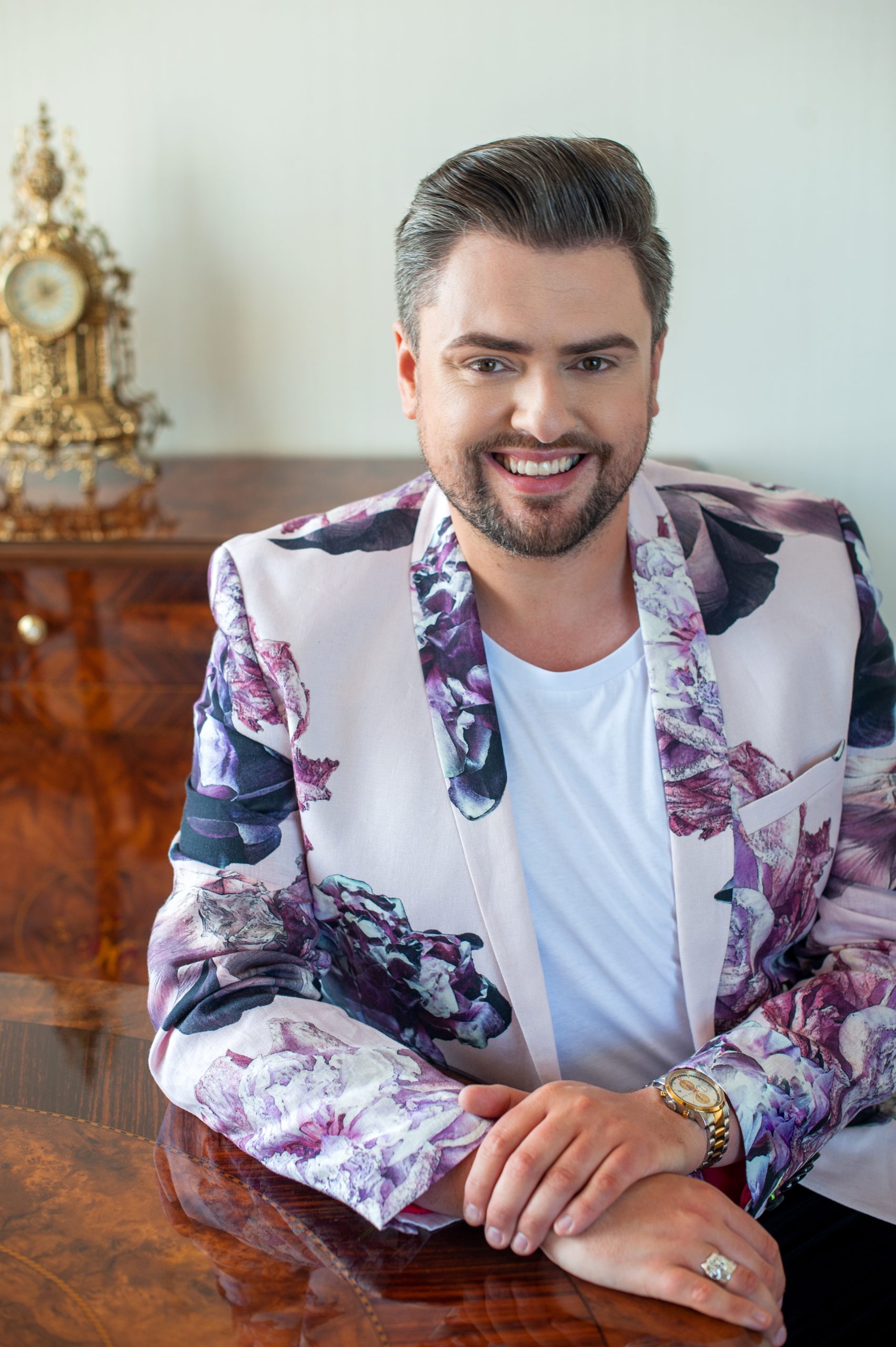 Catch Battle of the Foodtrucks on the RTE Player now.
INTERVIEW: Michelle Dardis
PHOTOGRAPHY: Lili Forberg
MAKEUP: Michelle Kinsella
HAIR: Beverley Cappara, Peter Mark
STYLING: Megan Fox
LOCATION: The Grand Hotel Malahide