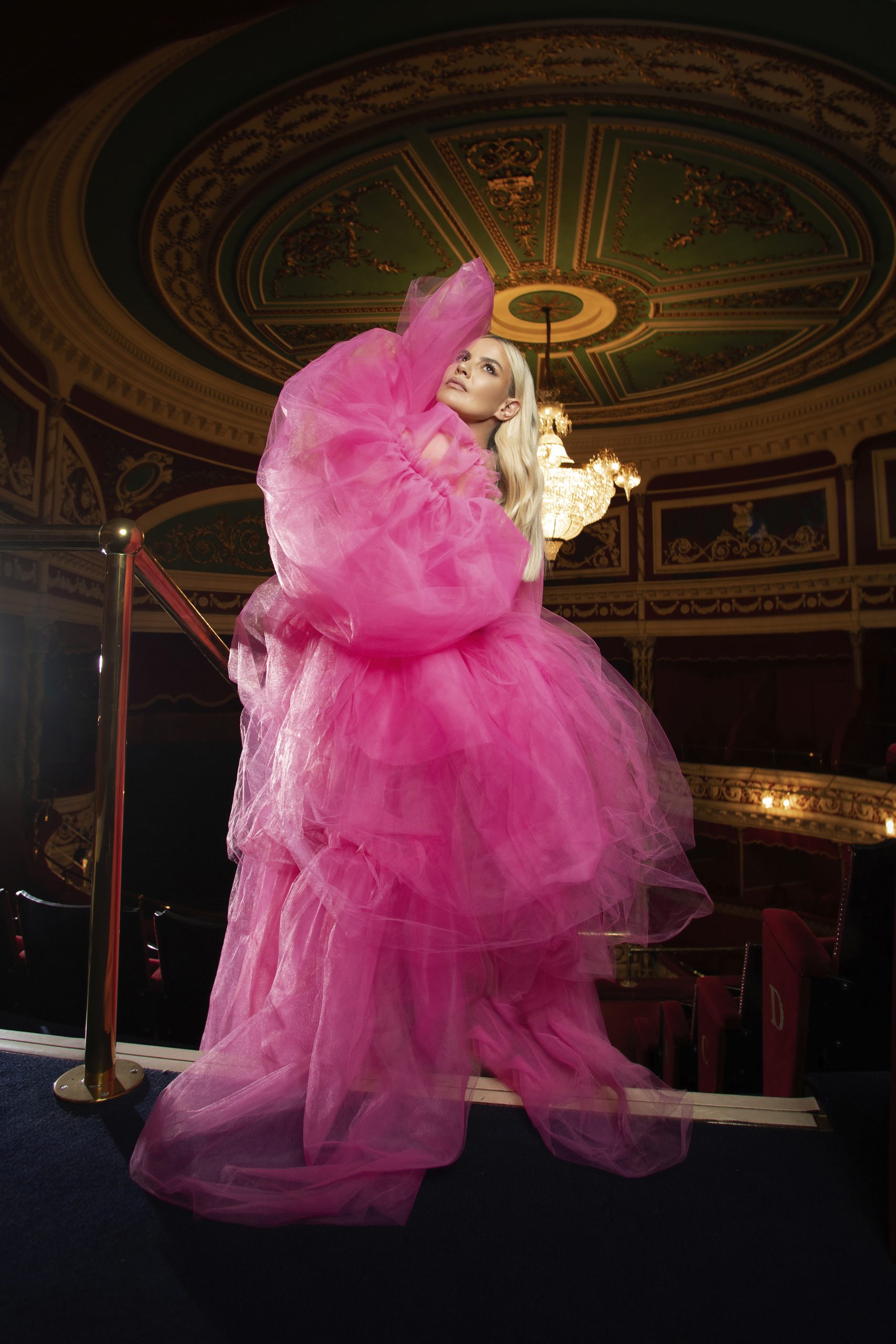 We're stood on the iconic stage of an empty Gaiety theatre, and Cork musician Lyra looks as though she's stepped off the red carpet for the Met Gala. Glittering in a floor-length gold gown, she looks every inch the star she is – with the dynamic, infectious personality to match. The singer/songwriter has not had the easiest of times lately, with her industry left floundering and without answers for too long. But now, it's time for Lyra to shine again. She may have had to press pause when lockdown began, but the play button has been firmly pressed. Life is a whirlwind of excitement and dreams coming true again.
As well as being a judge on huge new Virgin Media show The Big Deal, she has a song on the new Riverdance movie, is recording new music and is back playing live gigs. Yep, the future is bright for this star. And she deserves every ounce of her success. As well as her incredible, unique voice, she writes the kind of songs that unites a crowd, and has an eye for stand-out style; the kind that is the mark of a true, once-in-a-blue-moon pop star. Then there's that aforementioned personality; warm, down-to-earth, quick-witted and smart, she really ticks all the boxes of someone who's name will be in lights. Here, we talk childhood extroversion, lockdown introversion, and more…
Lyra, you've been busy lately! Isn't it great to be busy again!
I know, I love it! I've been booked in for so many things lately; my label were like, "you must be exhausted, is it too much!?", and I'm like, "no! Bring it on!" Last year I would have given anything to do even half of what I'm doing now. So, everything's a 'yes, yes, yes' at the moment!
It must be so exciting being back on stage – but you said it's been emotional, too…
Yes, after I did the pilot festival (in Royal Hospital Kilmainham, Dublin) I came offstage and was overcome with a massive wave of emotion. I just started balling crying, I couldn't even bloody control it! I think I was just so happy and relieved to be doing what I've always wanted to do again, because for a while there I felt so lost and knocked down. I was thinking, "have I missed the boat? Will that momentum I had going come back for me?" So to perform again, and to see everybody so happy and enjoying themselves, was amazing.
Most of us are struggling with resuming our social skills, but you're getting up in front of crowds of people! It must be daunting!?
Yeah, I was very nervous at the first gig back. Normally, after the first song, I'm like, "Okay, this is grand. This is where I want to be, I'm fine" and I'd be chatting away to everyone in between the music. But I didn't know what to say! I felt really awkward! I was very reserved, which is not usually like me [laughs]
Being back in a studio must even be surreal?
It is! I found it so weird, being back, because I spent so long at home writing by myself and sending it over to people. Then suddenly I'm back at a studio singing my ideas in front of everyone! So it's been strange, because I'm normally a very outgoing person, I love socialising, I love meeting new people…but Jesus, it's taken me a bit of time to get back into things!
As positive as things are now looking, the past 18 months have been crippling for the Arts. And you were a leading voice in your industry in seeking answers from the Government.
I just thought…enough is enough. We had stayed quiet for a long time, giving them the benefit of the doubt that something would change and they would realise they'd forgotten about us. But there was nothing. I was sick to death of not saying anything because y'know, this is my livelihood. It's my career, my future, my passion. And I've felt like our industry was just disregarded and disrespected. It kind of made me feel like when I was growing up, and people would say, "are you going to get a real job?". It felt like I'd been transported back to when people thought it was a hobby. It's not a hobby, for us. It's our job.
The ironic thing is that the Arts is what kept us sane during lockdown. Without live streams of music, and movies, and theatre – we would have struggled so much more.
Absolutely! We did all these things to entertain the Irish public while they stayed safe indoors, and the Government was all for us helping them out, and even using our lyrics in their speeches…but then they just left us hanging. They didn't show up for meetings about it. That kind of said it all for me.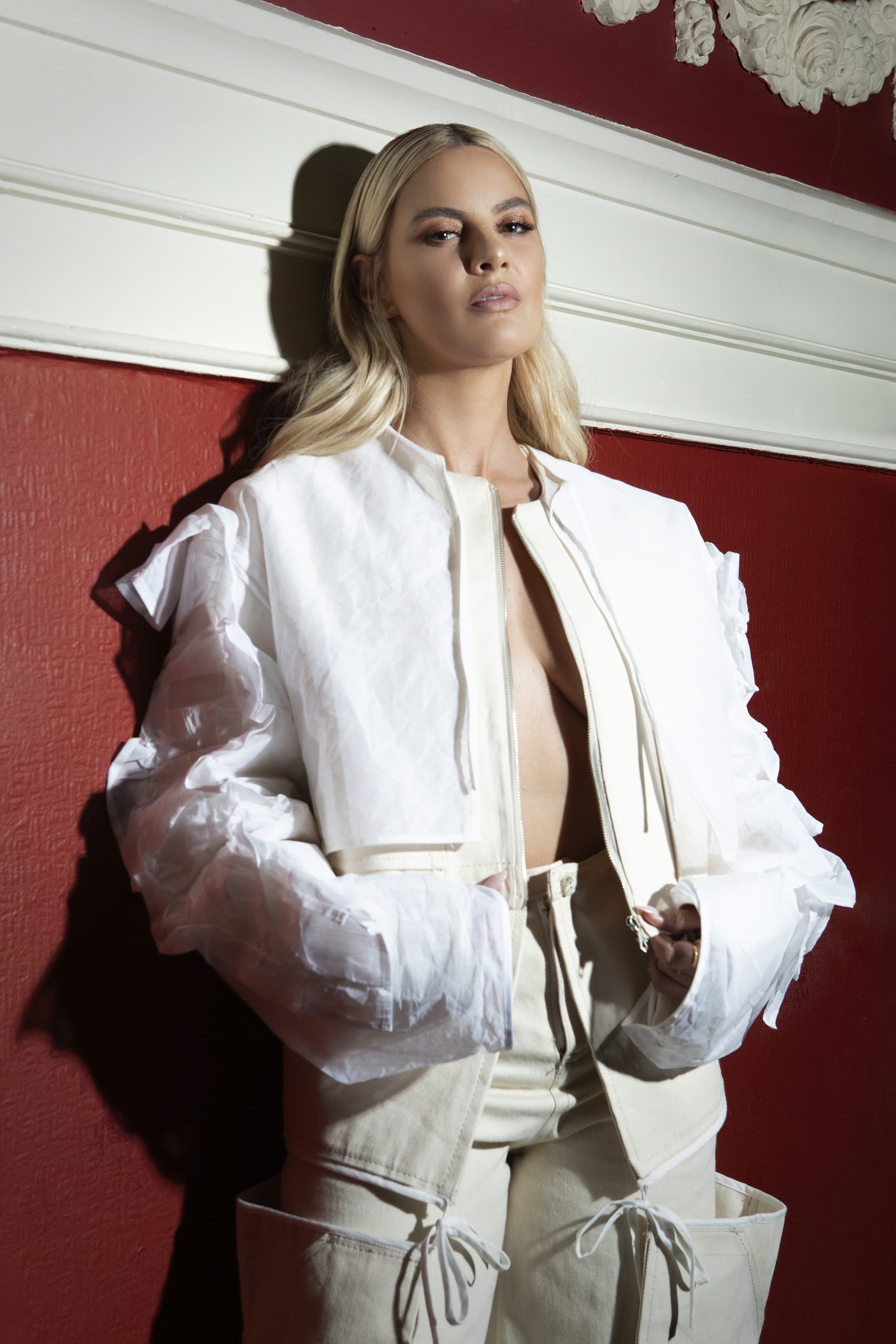 You have a new song coming out soon, called 'Lose My Mind' – can we take a guess as to what inspired the writing behind that one?!
[Laughs] Yeah, I think it might be obvious where the inspiration came for it! No, it's actually from me going on a night out, which I don't do that often because I have so much on and always overthink everything, but I just thought, "I don't care, I'm going". I came into the studio a bit hungover the next day and thought, I want to write about that feeling of being out and feeling totally carefree…but now anytime I sing it now I do think of the restrictions [laughs]
You also have a song on a movie soundtrack! Riverdance: The Animated Adventure, starring the likes of Pierce Brosnan and Brendan Gleeson…how cool is that!
Very! I met the brilliant Bill Whelan (Grammy-winning Irish composer) before lockdown, and he told me about the film, and asked whether I'd be up for writing the final song. The score is Bill and Riverdance, but for the end they wanted something a bit more pop-y. I went home, I wrote the song on my iPad and I sent to him, and said it's the first idea, it's ok to say it's crap or the wrong vibe. And he replied to say I nailed it! So, I finished it and went into his studio, the most amazing studio in the world and recorded with him and his son. It was such an incredible experience!
Would you like to write more for movie soundtracks?
I would love to. Some of my songs have been used for tv or adverts, like 'Falling' or New Day' and I think I can write those anthemic, cinematic type songs. I love that element to my music.
A potential Oscar for Best Song in the future perhaps!?
Can you imagine! I'd die! I think I would actually die on the stage [laughs]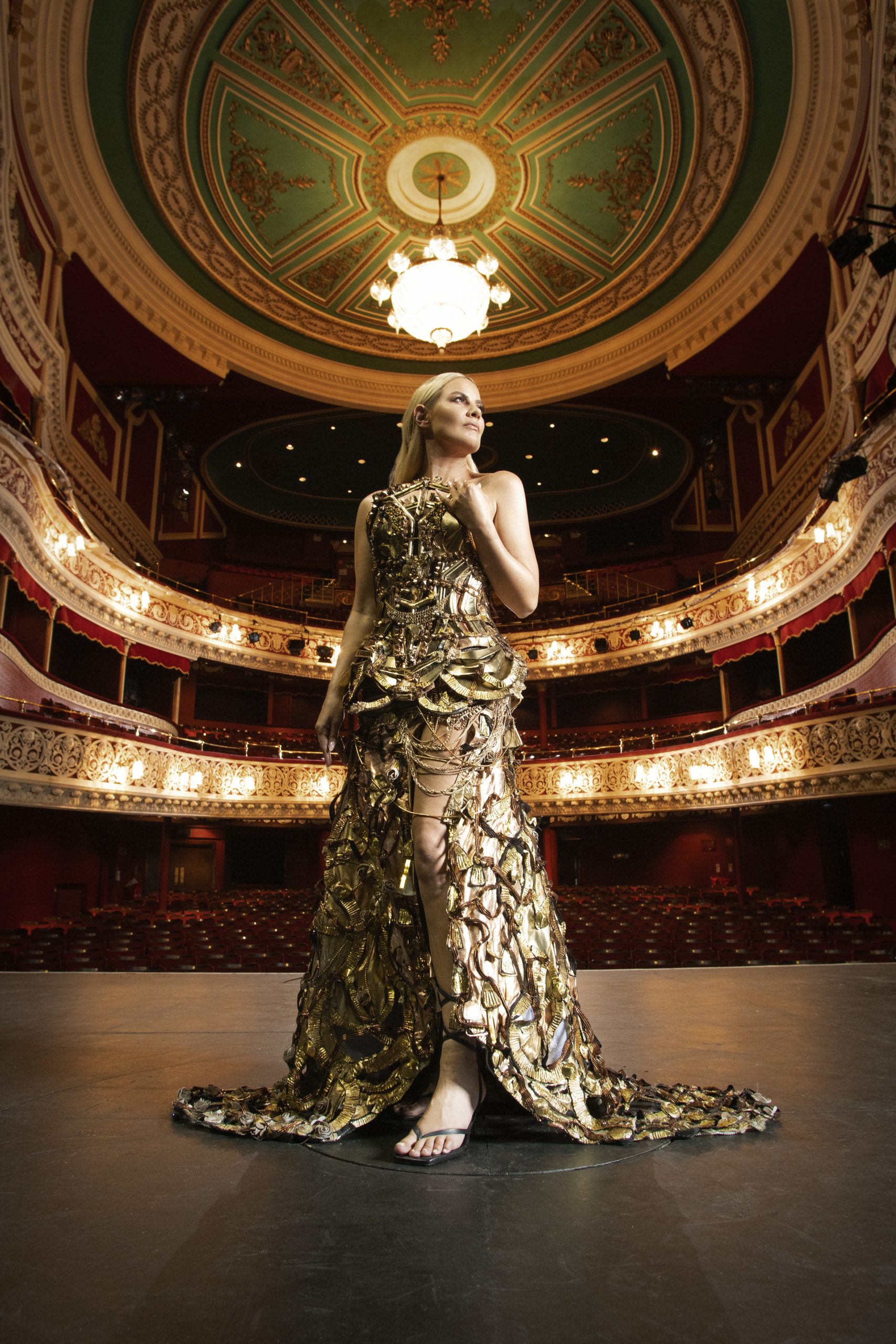 You're currently on our screens for The Big Deal. It must be a big deal for you! To see yourself as a talent show judge!
Oh, it has been so much fun. When I was asked to do it, I thought, "do I have the right to be a judge!? Am I wise enough?" And then I copped on to myself and thought, "I've worked my way up through the industry and have been asked for a reason. Just do it!" It was the best decision I ever made. I've thoroughly enjoyed it, the other judges were such fun to be around, and Boy George's words of wisdom were mind-blowing, I've learned so much from him. And he said he's going to make me some earrings! I wore a pair that had an African feel to them when filming; he was obsessed with them, and said he'd make me a pair. They haven't arrived yet, but I'm holding him to it! When they do, and if I ever go broke, I can sell them off and make a mint [laughs]
It's a very different talent show to the ones of the past, where contestants were actively humiliated.
Yeah, they are crazy to look back on and I think that era is just so done. I always said from day one on the show that I wouldn't be the person to make negative comments in a hurtful or harmful way because who does that benefit? I had that as an artist starting out, and my confidence was shot. It took me a while to build it back up and believe in myself. I was told I should dye my hair black and have pale skin and be able pronounce my 'th' properly and that my diction was awful. It didn't help in anyway, and I knew I wouldn't be that judge. You can be constructive in a positive way, with kindness.
Absolutely. We're glad you didn't change yourself for anyone, because you look incredible as you are. Your style is truly one of a kind – you must love playing dress up for work!?
I adore it. I probably won't want to get up in thigh high latex boots in a few years, so for now – I'm enjoying every minute of it! I want to feel good, and put a performance for people and visually, I think my style matches my music. Some days are better than others; I had to literally tuck my bum into my leotard recently! Some people might be like, "oh maybe you shouldn't be wearing it then" and I'm like, "no! I'm not letting this massive arse dictate what I wear!" If I have a day where I think I can't wear something because I've put on a bit of weight, I just go, "F*** that, you're a woman, you have curves, and you're owning it!" It's only now that I'm like that, though. I just don't care about cellulite and all that anymore!
Where did the boojie style come from?
I was always OTT when it came to clothes! All the family photos of me growing up show me wearing big clip on earrings and plastic high heels with a handbag and sunglasses. I've always been that way. Now, during the day I'll tone it down a bit, but on stage; I go wild. Because, why not!?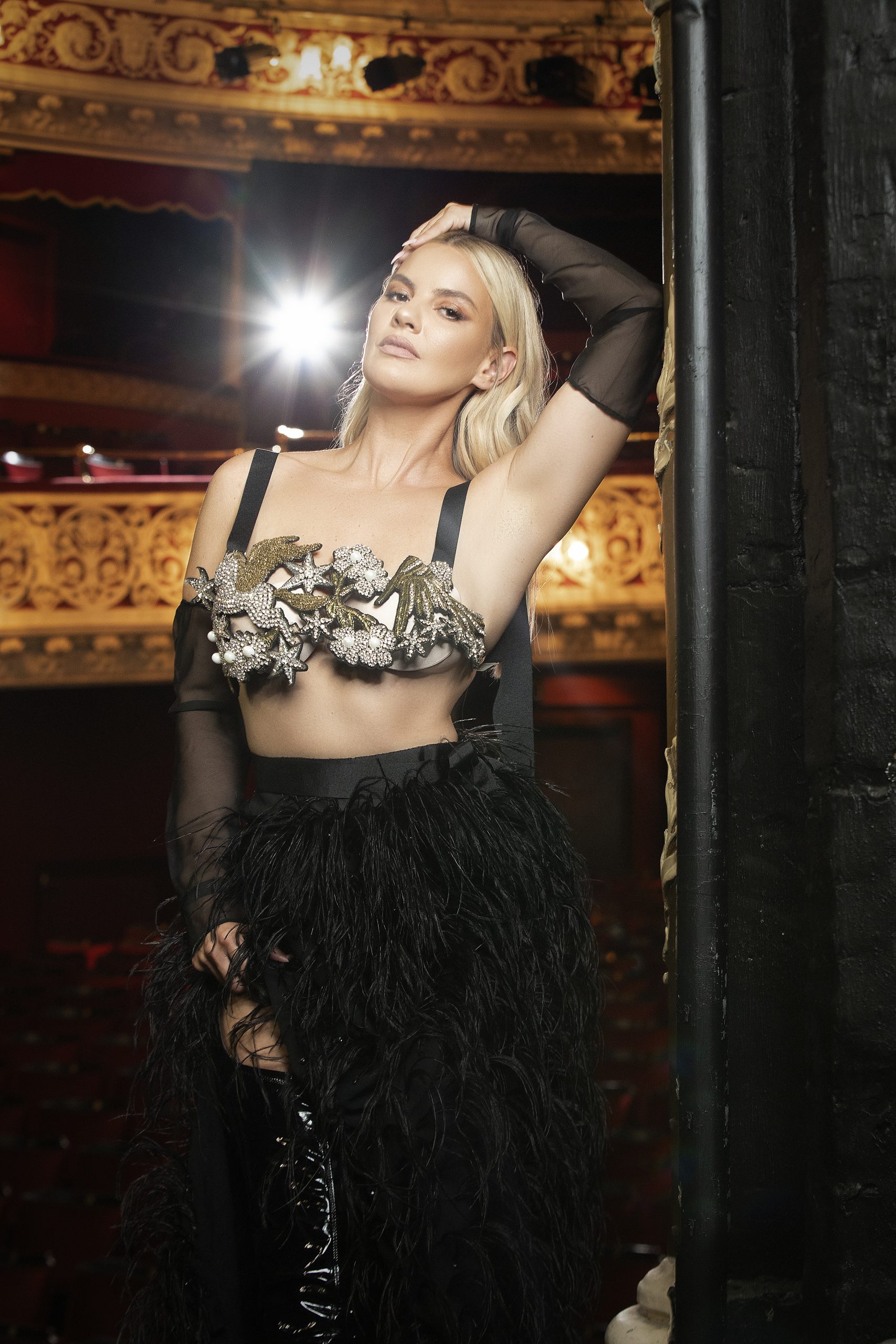 Going forward Lyra, with a New Day Dawning (see what we did there?!), what are you manifesting for your future?
I want to do as many live shows as I can, because it's where I really come alive as an artist, and it's when people really 'get' me. It's so different playing my songs on Spotify and seeing me perform! I'm hoping to do a headline Irish tour in November, all going well that will go ahead. Then I've this new track coming out, the track from Riverdance, too, and I'm hoping more music coming out because I have it coming out of my bloody ears!
Interview: Niamh Devereux
Photography: Evan Doherty
Styling: Megan Fox
Makeup: Paula Callan
Shot on location at the Gaeity Theatre
Special thanks to Chantal Houlihan from Universal Music.