We're used to pared-back homes being the house that has the judges going crazy on Home of the Year.
So we were delighted to see a house packed with knick-knacks make it straight through to the finale this week.
Even if Amanda wasn't sold on it entirely.
The judges headed up to Down to visit Sara and Neil Austin's Victorian property.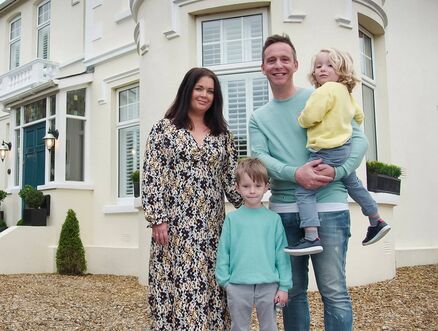 The house was built in 1896 and is a double-fronted Victorian property. The family of four moved into the home in 2019.
The couple completely modernised the home and turned it into their own with their gorgeous sense of style.
All the while keeping the original aspects of the home. As Sara worked hard to restore the remaining classic features such as the stained-glass windows and the original fireplaces and cornicing.
"I just loved this home; I thought it was a sheer treat and I gave it a big ten," Hugh explained.
The home was awarded 25 points.
They then headed to the other side of the country as they visited Mags and John Phelan's home in Cork.
They took "a gamble" on the property which they bought without seeing it in person in 2015. However, it definitely paid off.
The home is a farm building conversion, made up of a barn at one end, cow shed at the other and a stone cottage. The couple feels like their restored home is "a sanctuary and a wonderful family home".
And the judges agreed giving the home a 23.
Finally, they headed to Dublin to visit another family home. Roisin and Stephen Whyte live in a new-build with their four children.
They obviously needed to create a home that is perfect to their needs.
Roisin says that Stephen was really passionate about the build process, putting his heart and soul into it whereas her enthusiasm lies more with the interiors, which she wanted to make sure reflected their family.
The judges ended up scoring the home a 22.
Home of the Year airs on RTÉ One on Tuesdays at 8.30pm