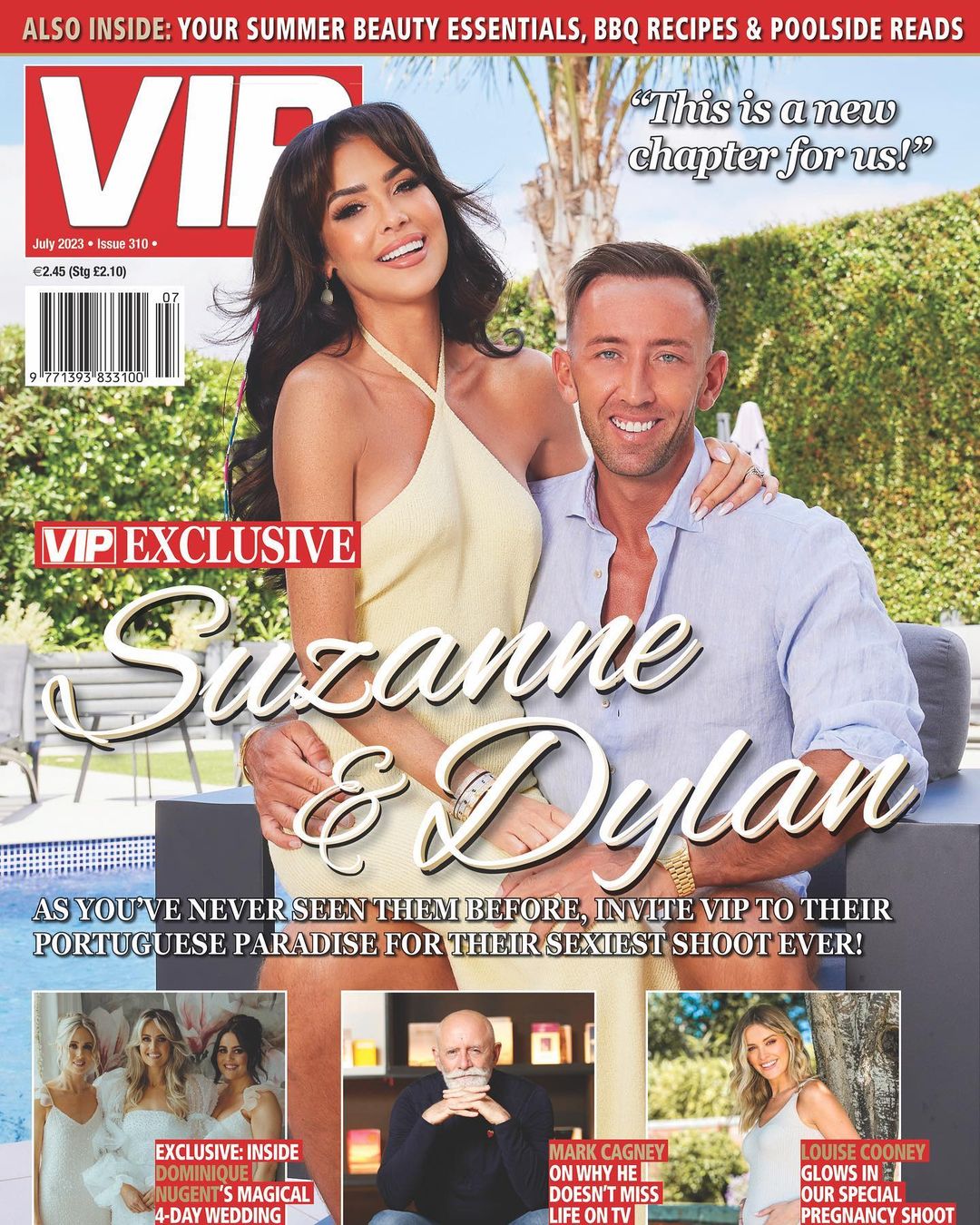 The newest issue of VIP Magazine has finally hit shelves. We can't wait for you to take a look at all the fabulous fashion and beauty content, as well as some incredible interviews all about love, pregnancy, new beginnings and the future.
This month's cover star is none other than Ms. Suzanne Jackson alongside her husband Dylan.
After a Team VIP sleepover in the beautiful Algarve (they were the best hosts) we got to chat to Sue and Dylan all about life in Portugal, control and losing it and Sue's newest passion project, Talking is Medicine.
The savvy business woman left VIP in complete shock when she revealed just how much her companies SOSU Cosmetics and Dripping Gold turned over last year and apparently last year "was a bad year," if you can believe it!
Sue got candid with us regarding her happiness saying: "No one is happy 100 percent of the time and nothing goes swimmingly all of the time either – that's life."
She revealed like any of us she has things going on behind the scenes – personal stuff and family stuff – that nobody knows about and never will. But she says: " I try to always see the silver lining, that's just the way I'm programmed."
The stunning couple are celebrating their six year wedding anniversary this August so decided a sexy shoot with VIP, their first since their VIP wedding exclusive in 2017, was the best way to introduce themselves six years on.
Sue revealed: "It's funny I've really come into the sexy side of Sue since doing Dancing With The Stars! I've changed!"
Having just moved to Portugal, Sue is attempting to build a new sense of community for herself from spin classes to lunch outings and nail appointments, she's getting there slowly but surely.
"When we broached the idea years ago of moving here I was so scared because I loved having my family down the road."
Chatting to us all about the recent changes in her life from moving countries to stepping down as CEO, Sue jumps straight in stating she's a control freak through and through.
"My dance partner [on DWTS] said it to me too. In fact that whole dancing blunder was part of me struggling with the lack of control. Because in the moment when you're dancing you can't control everything: people make mistakes, you miss a beat, it happens."
She added: "Handing over the reins of my business which I ran for eight years, was hard. But the business needed to change and bringing in Caroline with a fresh set of eyes was that change it needed."
We also got the chance to chat to influencer Dominique Nugent as she tied the knot in Boyne Hill House. Dominique dialled in from Santorini where herself and her new husband Paddy had just woken up on the first day of their honeymoon.
The pair, who originally met back in 2012 at a hostel in Brisbane and sadly fell out of contact before reconnecting years later, revealed the theme of the wedding was 'written in the stars'.
Dominique said: "I have no doubt in my mind that we were meant to be together".
Having chosen a stunning venue for the end of June, the happy couple were expecting to have their wedding outside in the secret garden to the point that the guests had taken their seats, Paddy and the groomsmen had arrived and his sisters Caoimhe and Siobhan had set up their instruments to intro the bridal party down the aisle. But then… the heavens opened.
"My dad was upstairs in the bridal suite giving a blow-by-blow account of who was soaked to the skin. I was trying to hold back tears thinking of everyone outside, their hair, make-up and outfits destroyed."
For anyone wondering where the fairytale dress is from Dominique revealed all saying: "My sister Sarah actually found it on Instagram and sent it on. It was a Christie Nicole dress from The White Gallery in Newry."
Mark Cagney sat down with VIP Magazine's Editor Bianca Luykx to discuss his new chapter post stroke and why he doesn't miss a day on the job one bit.
Mark was only delighted to be back on the Ireland AM couch, recently revealing he even managed to catch up with a few old colleagues who he hadn't seen in a while. "It's like going back to a house you lived in for 20 years; very comfortable and familiar."
Discussing whether he would ever come back to our screens Mark says as a life rule you should never say never! "But, I would probably say never."
He also delves into the topic of his health which he reveals is all good at the minute. "I was signed off by Beaumont Neurology Department just before Christmas, so bar something unforeseen, I'm all clear."
He also discusses Ireland's most common genetic disorder, Haemochromatosis, in detail, a condition which he has himself. He speaks some very interesting facts regarding the condition." In Ireland they reckon one in five have the single gene and one in eighty have the double gene which is when you're in trouble."
Influencer and entrepreneur Louise Cooney is expecting her first child in November revealing to VIP she is the happiest she has ever been. Earlier this year Louise discovered she was pregnant with her boyfriend Mark Sweeney, who she met at the beginning of the pandemic and they are more than excited to start the parenthood journey together.
"We're so lucky and it's such a blessing," she tells us. "I can't believe that it's happening now, it's so exciting and surreal. This is the first time it's really starting to hit me."
Now halfway through her pregnancy Louise has plenty to keep her busy until her bundle of joy arrives in November as Louise and Mark are also moving house next month. The Limerick lady revealed she was stepping away from her gorgeous duplex apartment and moving across the city into a house in North Dublin, which they hope to turn into a family home.
"As sad as I am to leave my current apartment behind, I know it's totally the right choice. It's lovely to be starting the chapter somewhere new."
We also have a whole host of beauty, fashion and lifestyle content for you to enjoy including your summer pins survival pack and some top tips from Ireland's top MUAs Charleen Murphy and Keilidh Cashell, to all the stunning wedding guest outfit inspo you could ever need, so make sure to pick up your copy in-store now!