Last month, we went searching for some lucky brides-to-be to offer them the makeover of their dreams in the run up to their wedding day – and now we've found them!
We're teaming up with leading aesthetician Dr Emma Cunningham to give VIP readers Katie, Lauren and Lisa a customised course of treatments for three months, as they prepare to say I Do!
We popped into Dr Emma's clinic to meet the lovely ladies, and find out what's in store for them on their journey to looking their best selves for one of the most exciting days of their lives.
Katie McClorey
Katie is 26 and from Co.Down. She's getting married in June 2024 to her fiancé Aaron.
When coming in for her consultation with Dr. Emma, Katie's concerns were her skin texture and scarring from acne she had when she was younger. Katie was put on systemic roaccutane, but still feels unhappy with her skin on a surface level.
For Katie's consultation, Dr Emma did a scan which showed that Katie has redness and scarring, and some open pores and pigmentation. Her plan is to get Katie onto a strong home skin care routine, and then to do a Hydrafacial.
That will improve her skin health overall initially, and then they'll build on the progress with their new laser. Following this, Katie will get some needling to resurface her skin where she has scarring on her cheeks.
Finally, they'll reassess just before the wedding, so that Katie can look like her most gorgeous self just in time.
Katie tells us that she's "really, really excited".
"I've had acne since a very young age, and now it's cleared up but there's still these last bits of scarring and texture, which would be so nice to get cleared up too. I can't wait to start this journey!"
Lisa Brody
Lisa is from Leixlip and is getting married to Ciarán in December.
She had no idea she would be coming to meet Dr Emma until a week before the consultation, when her cousin confessed she had signed her up without telling her!
"It was such a shock – there was lots of emotions!"
Dr Emma tells Lisa that she has great skin, but as part of her treatment she wants to focus on getting her to really glow with a Hydrafacial. They'll also use some anti-wrinkle injections to target Lisa's frown lines.
She also wants to do an ultrasound to see if there may be some residual lip filler from when Lisa had it done before that has migrated. If there is, they'll work to spot-dissolve it.
"Dr Emma was brilliant. The scan was a shock to the system!" she laughs. "I'm so excited now".
Lauren Ryan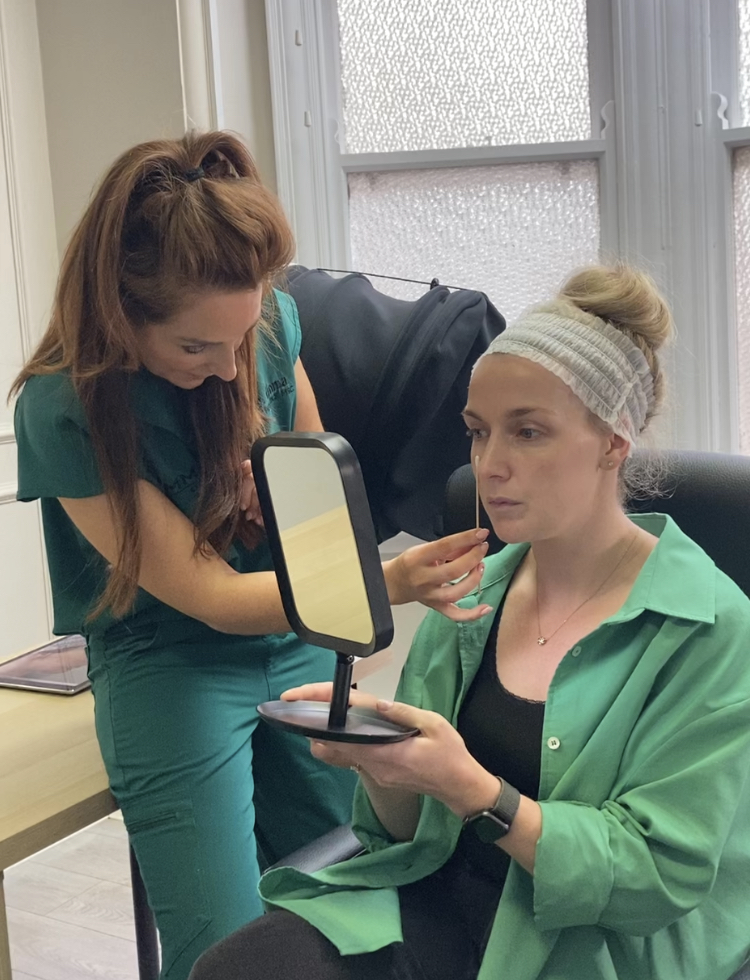 Lauren is 36 and from Limerick. She'll be marrying her fiancé John in March.
Lauren's main concerns were fine lines, wrinkles and ageing, but after speaking to Dr Emma she found out that it's more about pigmentation. "It was amazing to find that out!" she tells us.
As part of her treatment, Dr Emma wants Lauren to use a strong retinol to increase skin cell production and help her skin to look more even and youthful. She's also going to use some filler on Lauren's under eye area to bring more symmetry and volume to her face.
Lauren says she's "really excited and looking forward to what comes next".
Over the next few months we'll be providing updates on these beautiful brides' progress with their treatments as they look toward their big day.
See more of their first experience at Dr Emma's clinic here:
[Insert Reel]