Jake Carter and Karen Byrne are busy, busy bees. They're delighted that they finally get back out and at 'em after almost two years of lockdown.
Jake tells us that he is currently working on his first EP, which he promises will be released this year. He's ready to spend the rest of his summer touring.
Karen, meanwhile, is back in the dance studio. Although there's been no conformation just yet, she is hopeful she's getting ready for a sixth season.
"Obviously back in the dance studio, hopefully I'm preparing for Dancing with the Stars season six," she tells us on the red carpet at the Platinum VIP Style Awards.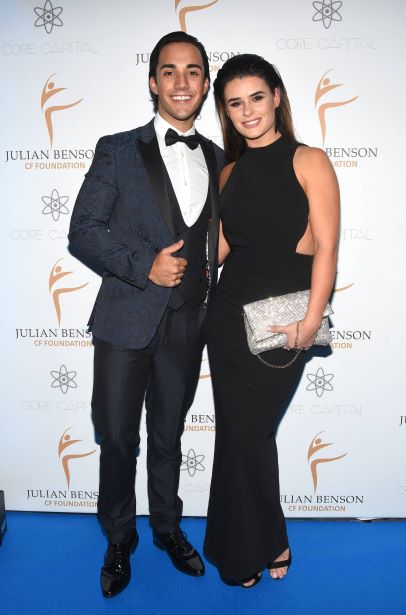 "That's mental, I've been there since the beginning!
"We haven't heard news if it's back but fingers crossed it is. It's one of those shows that hasn't reached its peak or that people are fed up with it. Even when it gets to the end people want to see more."
While Jake is excited to be back touring and Karen is ready to rumba on the dance floor, they admit there is someone who is less than happy to see them so busy.
Their dog – Lenny.
View this post on Instagram
"We're getting a dog behaviouralist in because he has full separation anxiety. He goes to the dance studio with Karen, he goes to the recording studio with me," Jake admits.
"We're at the stage now where we have to try to leave him for a little bit."
Karen then adds that Friday night is the first time that they've had a night out without their dog. She jokes she actually has mammy guilt leaving him at home for the evening.
"People say it's sad but we're happy to bring him everywhere. I'm devo. I feel like he's not going to be talking to me when I collect him now from my mam's," she says with a laugh.