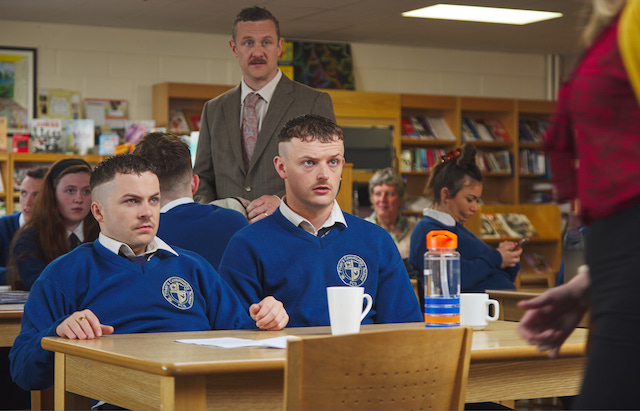 The newest season of popular Irish comedy show The Young Offenders will be back on our screens later this year, and one of our favourite characters is back with a bang!
Principal Walsh, played by comedian PJ Gallagher, will be joining favourite characters Conor and Jock when the show returns, and the funnyman is now opening up about filming the hugely anticipated second season.
"The hardest thing about filming is wearing this moustache and this ridiculous haircut for a few months," PJ tells The Herald.
"It's all my own hair, thankfully, although with this haircut sometimes I wish I did go bald!  It's totally normal to go around bald.  My hair and this moustache is not normal.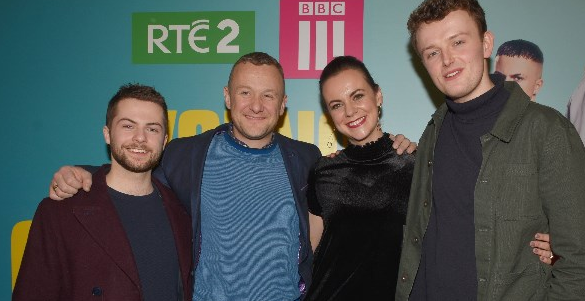 "As soon as I start to forget about it someone says, 'What the hell kind of style choice is that man?'. It just looks stupid."
"It's gas because it's 20 years since I went into drama school when I was 23 odd years old and in my first acting job I'm playing a granddad.  Talk about waiting a long time to get going!" he laughs.
Speaking previously on their ideas for the second series, stars of the show Alex Murphy and Chris Walley said: "I wouldn't mind another big road trip, like we had in the film. In Season one, we didn't leave the city a whole lot."
While a trip outside of the city for Conor and Jock is not yet guaranteed, what has been confirmed is the return of many of the show's most beloved characters.
These include: Conor and Jock (Alex Murphy and Chris Walley); Mairéad (Hilary Rose); Principal Walsh and his wife Orla along with their two daughters Linda and Siobhán (PJ Gallagher, Orla Fitzgerald, Demi Isaac Oviawe and Jennifer Barry); Sergeant Healy (Dominic McHale) and of course Billy Murphy (Shane Casey).
We can't wait for the show to return!