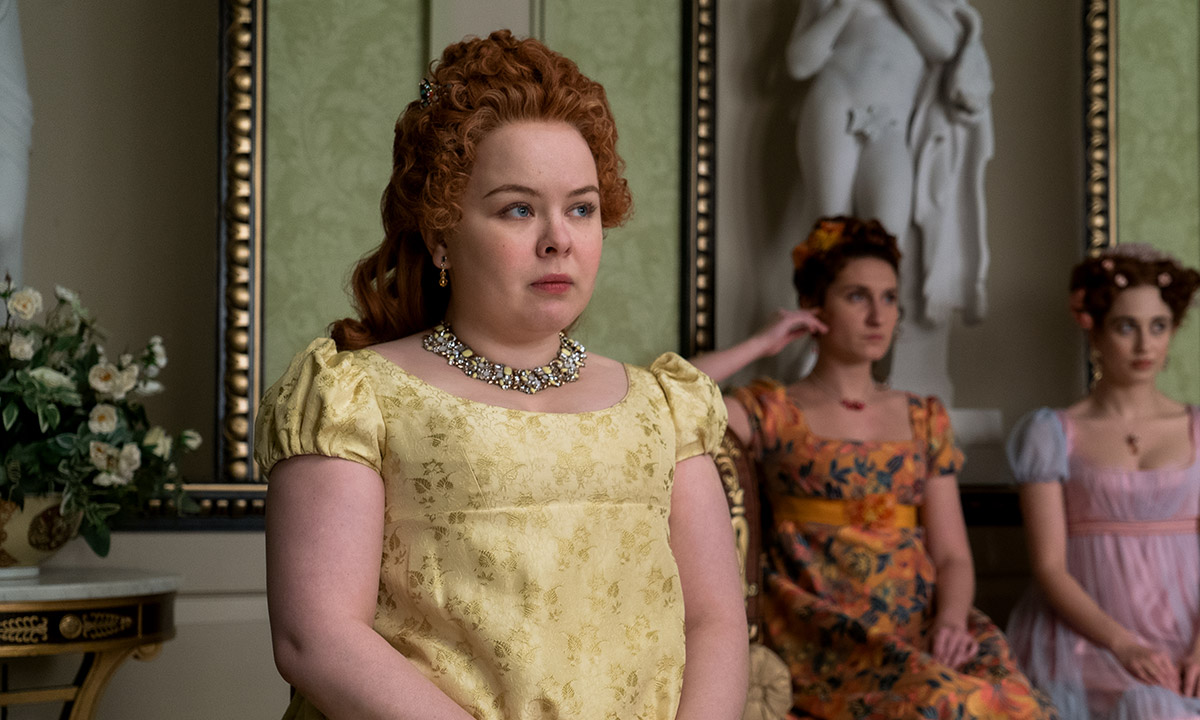 Nicola Coughlan will be leading Netflix's biggest show ever when Bridgerton returns for a third season.
With filming underway, we're wondering what exactly can we expect from the third season of our favourite show. Especially with our Nicola in the leading role.
If you've also been left wondering as to what you can expect, then worry not as we have all the answers!
What is Bridgerton season three about?
This time around Nicola Coughlan's Penelope Featherington is on the lookout for love and the object of all her desires is none other than Luke Newton's Colin Bridgerton.
Season three is actually based on the fourth book in the Bridgerton series, Romancing Mr Bridgerton. However, we know that the series likes to take liberties with what they do and don't take from the books.
Thankfully, we won't have to theorise as Netflix realised an synopsis which reads: "Penelope Featherington (Nicola Coughlan) has finally given up on her long-held crush on Colin Bridgerton (Luke Newton) after hearing his disparaging words about her last season.
"She has, however, decided it's time to take a husband, preferably one who will provide her with enough independence to continue her double life as Lady Whistledown, far away from her mother and sisters. But lacking in confidence, Penelope's attempts on the marriage mart fail spectacularly.
"Meanwhile, Colin has returned from his summer travels with a new look and a serious sense of swagger. But he's disheartened to realize that Penelope, the one person who always appreciated him as he was, is giving him the cold shoulder. Eager to win back her friendship, Colin offers to mentor Penelope in the ways of confidence to help her find a husband this season.
"But when his lessons start working a little too well, Colin must grapple with whether his feelings for Penelope are truly just friendly. Complicating matters for Penelope is her rift with Eloise (Claudia Jessie), who has found a new friend in a very unlikely place, while Penelope's growing presence in the ton makes it all the more difficult to keep her Lady Whistledown alter ego a secret."
Oh, we cannot wait!
Who is in Bridgerton season three?
Obviously Nicola and Luke are returning as well as most of the cast including Phoebe Dynevor (Daphne), Claudia Jessie (Eloise), Luke Thompson (Benedict). Thankfully our Anthony and Kate will also be back in the form of Jonathan Bailey and Simone Ashley.
Hannah Dodd will join the Bridgerton cast for season three taking over the role of Francesca Bridgerton from Ruby Stokes. Ruby exited the show to lead another Netflix series, the upcoming Lockwood & Co.
And we have three new cast members!
Daniel Francis has joined the cast as Marcus Anderson, a charismatic presence who lights up any room he enters, attracting the notice of certain matriarchs in the ton and the ire of others.
The Crown's Sam Phillips plays Lord Debling, a genial lord with unusual interests. But with wealth and a noble title to back up his eccentricities, he'll have no shortage of interest from young ladies this season.
And James Phoon takes on the role of Harry Dankworth, who lacks in wit and intelligence, which he more than makes up for with seriously good looks.
When is Bridgerton season three out?
Unfortunately, we don't have an air date just yet, but watch this space!
Do we have a first look?
Well, sort of! The cast shared some behind the scene videos to announce that filming on season three had kicked off.
Do we have a trailer?
Not yet, but we'll definitely let you know!
How many seasons of Bridgerton will there be?
As of right now, Netflix has confirmed that there will be four seasons of Bridgerton. But we want eight seasons for each sibling!
Season one focused on Daphne's romance with Simon while we saw Anthony and Kate fall for each other in season two. We'll get Colin and Penelope's love story in the upcoming season.
Now that Netflix has moved away from the book order we have no idea who we'll see in season four!
We're also getting a limited prequel series on Queen Charlotte which is currently in the works at Netflix.
Bridgerton season one and two are currently streaming on Netflix