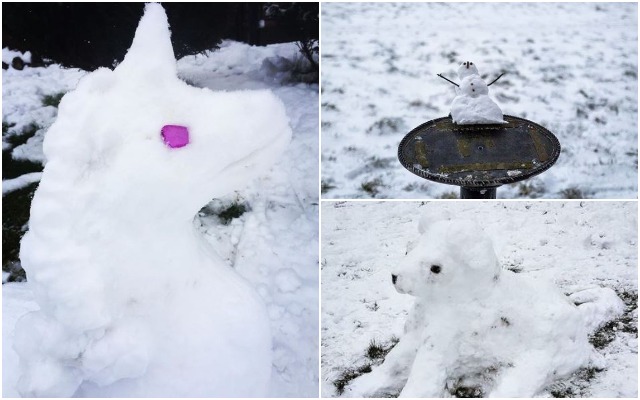 With Storm Emma and The Beast from the East continuing to affect Ireland, many are getting creative with the snow.
Families and friends have come together to build snowmen big and small.
Whether it's an imaginative snowman, a tiny one on your windowsill, or a record-breaking giant, we love the white statues all over the country.
Here are some of the best ones that have been shared on social media.
This dizzy snowman built by 5-year-old Jacob!

TOPSY TURVY The Snowman☃. Sums up what's happening in the country over the past couple of days!
Designed & built by 5yr old Jacob Walsh@deric_hartigan @rteweathergirls @rtenews @thejournal_ie #beastfromtheast #StormEmma pic.twitter.com/8rO4n4o4sd

— RHP Events (@RHPevents) March 2, 2018
This giant Snowman who made it very clear who he supports!
Alicia and Ella Coyle from Caherlistrane in Galway with their Mayo snowman……. two of the Green and Red's biggest supporters…!!! -SM. #mayogaa #sneachta pic.twitter.com/OAJXdSG2P6 — Mayo GAA Banter Page (@mayogaabanter) March 2, 2018
This very pensive looking snowman resting on a bench in Islandbridge.
A one-eyed snowman in the Memorial Gardens in Islandbridge this morning pic.twitter.com/B4xIK2v2kZ

— Sarah Bardon (@SarahBardon) March 2, 2018
This very hungry snowman!
Let's build a snowman she said … pic.twitter.com/FO4VT2hGMj — Mathieu Norry (@Mathieunorry) February 28, 2018
This lanky patriotic snowman…

@JOEdotie Find a better snow man than Dev. I dare you. pic.twitter.com/mX7h7yzDqf

— Peter Benson (@Benson123abc) February 28, 2018
This majestic snow unicorn.

This very cute snowdog!
And the equally creative snowcat!
This teeny-tiny snowman in Pheonix Park.

The most creatively named snowman/octopus hybrid.
Is it a #Sneachtapus or the #BeastFromTheEast!? Lots of unusual #wildlife spotted here in #Longford with all this #sneachta! #snow #biodiversity #sneachtageddon #StormEmma #biodiversityinschools pic.twitter.com/xvOt4J36kH

— Biodiversity Schools (@BioInSchools) March 1, 2018
Have you built a better snowman? Send it our way on Facebook, Instagram or Twitter!