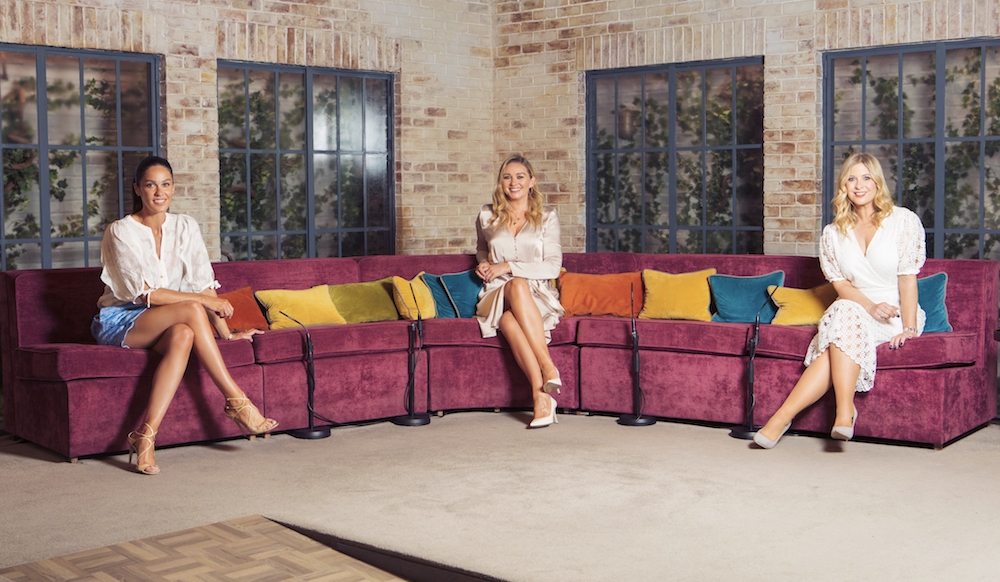 We don't know about you, reader, but we've been clinging to the likes of Ireland AM like a life-raft these past few months. There is something so deeply comforting about tuning into familiar friendly faces in a time of such uncertainty; the ritual of turning on the show each morning to find out what's going on in the world, and to switch off from what's going on, simultaneously. The figures are reflecting that we are far from feeling alone on this; in fact, its viewership is soaring, and we are thrilled for who we officially deem the nicest people in tv.
VIP decided to celebrate the women of Ireland AM with this socially-distant photoshoot – two metres apart at all times, of course – in their second home, the Virgin Media television studios. In this Irish exclusive, Anna Daly, Brianna Parkins, Ciara Doherty Glenda Gilson, Karen Koster and Laura Woods share their collective experiences of this new, strange life. They open up to VIP about DIY disasters, dinner-time raves, using makeup as warpaint, homeschooling, and in Glenda's case, dealing with a pregnancy during a lockdown. Put on the kettle and cosy up for a conversation with these six fabulous women…
Hi everyone! Well done for continuing to bring Ireland AM to our screens in such testing times. How have you all found working in such strange circumstances?
Karen: I've honestly really enjoyed it! I really appreciate actually having a reason to leave home for a couple of hours and see the gang. Ciara is my therapy in the morning. I'd be feeling even more frazzled if I didn't have her to vent to!
Brianna: It's strange how fast we've all adapted. As a journalist I've covered big unexpected events like natural disasters before, especially back in Australia, and I find I'm able to adapt well because I know in two or three weeks it will be over and things will be normal – but this doesn't have an end in sight. It's strange but also a privilege to have a job and one that lets me come into people's sitting rooms to let them know what's going in the world.
Laura: It certainly has been a transition! We're used to operating in a busy environment with plenty of guests and a buzzy atmosphere in studio. All of that seemed to change overnight, as Skype interviews have been introduced on air and team meetings now take place over Zoom! I'm very proud of our production team who continue to create many hours of content for the show all while working from home.
Glenda: It's been great, I've found! I've been mostly doing everything from home, the cameras are sent to my garden. I'm doing yoga and exercises then Skyping in my showbiz news – your heart is in your mouth doing Skype calls though, for fear of technical issues! [Laughs] It's not what I'm used to, but I'm grateful we are able to make it work!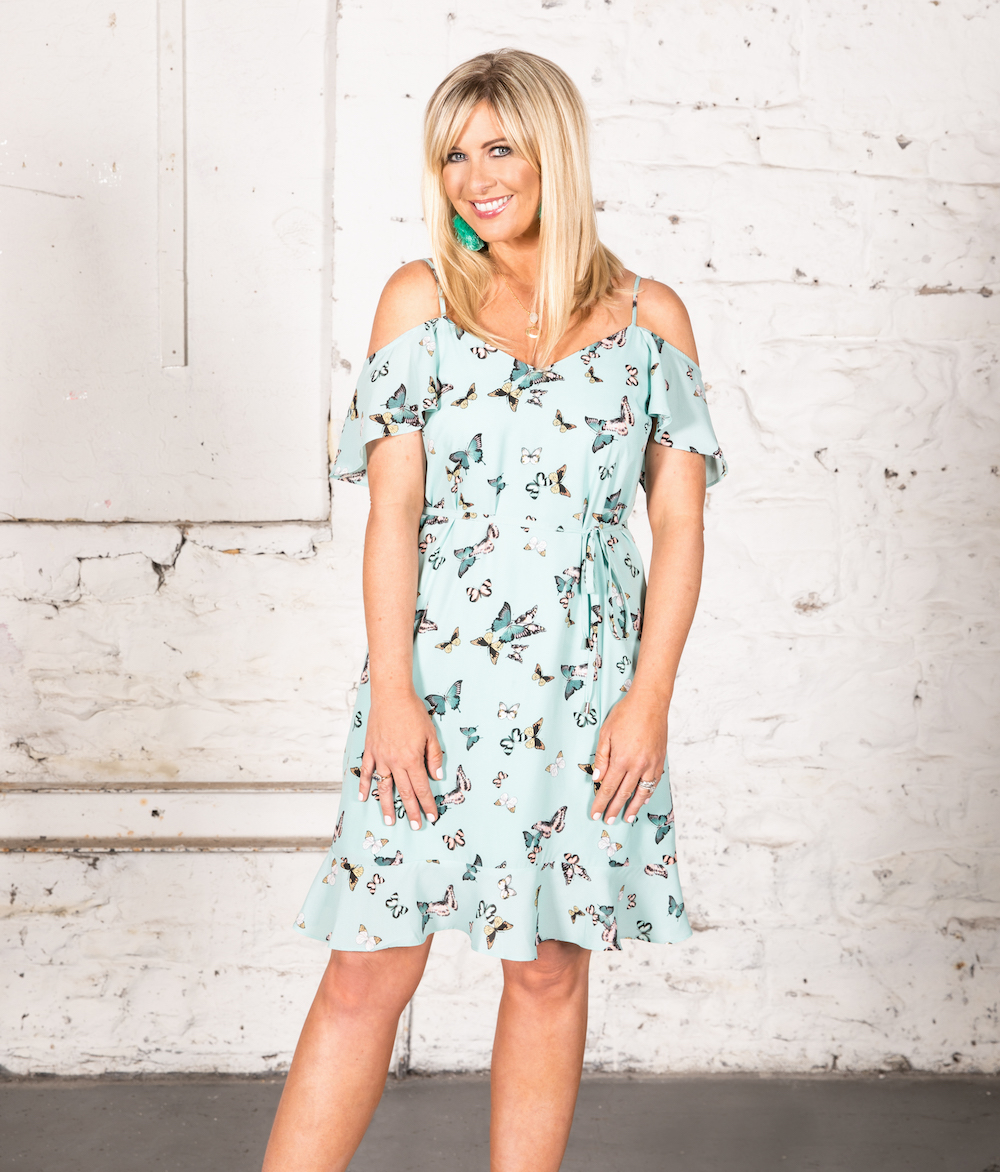 What do you each miss from before all this kicked off? And… what don't you miss?
Anna: Apart from the obvious, like time with loved ones, I'm very excited about getting highlights done (hopefully viewers have been understanding about us all going from blondes to brunettes!) and eating out in a restaurant. What a treat that will be!
Karen: I miss freedom. I miss looking at kids and asking them, what would
you like to do today? Swimming? Playground? Now its the same trip to the park every day. I don't miss making the school lunches and racing to get to the crèche and school on time. That lack of scheduling has been lovely.
Ciara: Yes, I don't miss the treadmill, the fast pace of life. I know in the future there will be days when I yearn for the slow pace of lockdown.
Glenda: I'd love to be bringing Bobby over to his Nana and Grandad's, and to visit my brother, who just had a little girl, she's just six weeks old. You do feel like you're missing out on stuff like that. I don't miss running around having to be somewhere for a certain time though. This has given us all a shake, I think, a lot of people probably needed this for the body and the mind. You have to find some positive in it all.
Television brings us great comfort in times that we need it. It's no surprise that ratings are up for your show. What has helped each of you to find comfort or switch off?
Ciara: For me it's my daily walk along the canal with baby Renee. I'm most grateful to the swans, ducks and dogs of the area who provide a constant distraction for us! It is very simple but I leave the house feeling exhausted and come back feeling energised. That and daily chats with my family and my Ireland AM crew keep me sane.
Anna: The weather has helped hugely too and I've found myself doing some gardening and including the kids which sometimes works and sometimes doesn't. My husband's margaritas have taken the edge off too!
Brianna: We bought a disco light and have Friday night lounge room raves while we cook dinner! I now expect mushroom pasta at every techno gig I go to post-Covid! I've also become what I've always hated – I do yoga and meditation every day. I find even just 15 minutes is better every day than the one 90 minute class I was doing pre-Covid. And also in complete honesty a drink or two on the weekends. I've been getting experimental with cocktails; I made a Gin and Jam Collins and ruined perfectly good gin and a jar of jam much to the disgust of the house!
Laura: I've gotten back into reading, something I used to turn to all the time when I wanted to switch off and relax. Like so many others, I was feeling overwhelmed initially when all the changes occurred and restrictions were put in place. I was on social media too much and felt I needed to turn off the phone and look for a bit of escapism and there's nothing better than a good book to take your mind off reality for a bit. At the moment it can sometimes feel even stranger than fiction!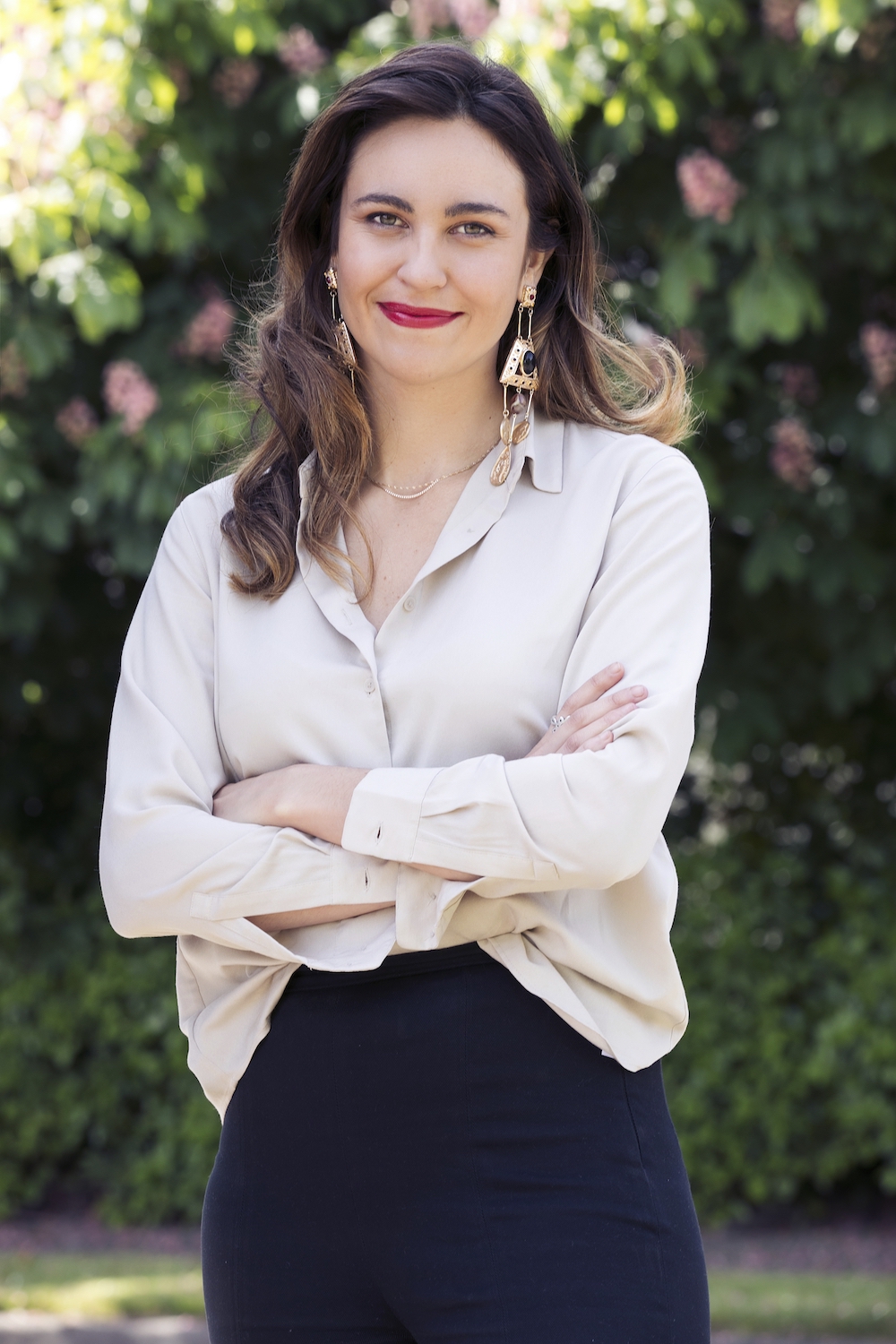 As well as the silver lining of boosted ratings, there have been exciting opportunities for
the show, such as Good Morning America getting in touch about Matt Damon's exclusive interview with Spin 1038. Anna, what was that like?
Quite surreal! When I was the reporter on Ireland AM a few years ago we had been talking to them about me doing an exchange with my equivalent, the GMA reporter in the US, but between one thing and another it didn't work out. However they kept my details and got in touch – with two hours notice – to get an Irish voice on Dalkey (where Matt Damon has been staying during lockdown); they wanted a description of the village by someone who lives in Dublin. As you can imagine I was delighted to be that Irish voice, even it was a panic filled couple of hours wondering whether it was best to do make up or research! I did both (simultaneously!) and it all worked out in the end. It was amazing to discover their resources too; I spoke to three different producers before I did the interview. A long interview for seconds on air but hey, that's entertainment! It was a wonderful opportunity to get and hopefully there'll be more!
Have you found inspiration from your segments, such as tie-dying your t-shirts, or making your own hanging baskets? Or have you found that once you're home, you're wrecked and can barely summon the energy for Netflix!?
Karen: I've done a few items from home with the
kids on the show, like baking, TikToks, making bonnets for Easter…they're now brilliant moments that I can watch back with John. I've scaled back on the ambitious projects though, as the kids lose interest too quickly, and I'm left trying to finish it knee-deep in Pritt Stick!
Ciara: It depends on the day, there are days I want to do absolutely everything and days I want to do absolutely nothing and it's an ongoing conflict. I've heard it described as the 'collective weary' and I really
think that's an apt description of the days you just can't be bothered. I do try to fight that feeling.
Brianna: I have gone from a graveyard of dead house plants to the proud owner of an herb garden, a strawberry plant and some other sprouting veggies. Between this and the yoga, I've become insufferable.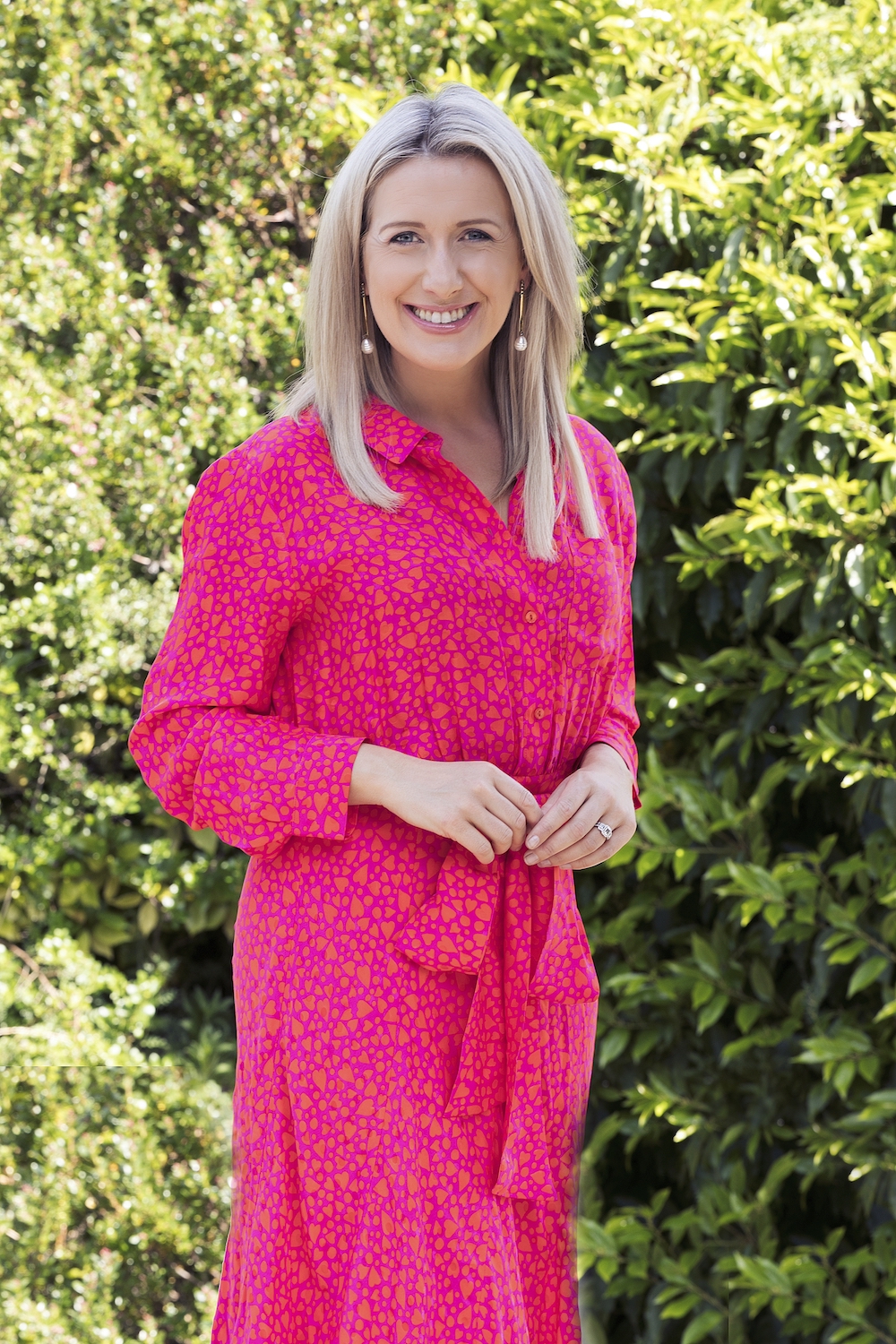 Food is a big part of the show, and as Miriam O'Callaghan told us last month, all she feels she is doing lately is chopping and cooking. Tell us your go-to lockdown dish, and what you might order in, if you can't face the kitchen that night!
Ciara: Meet your sister Miriam. I hear you. Food is a major highlight of my life these days but the constant cleaning is tedious! Saturday is steak chimichurri with
smoky beans, a sort of 'congratulations you've made it to the end of another week' kinda dish and it's an Ireland AM recipe. For takeout it's got to be Neon Thai or Zakura sushi. In fact I'm having takeaway tonight, I refuse to fill that dishwasher again.
Laura: I 100 per cent agree with Miriam! All four of us are eating breakfast, lunch and dinner at home each day, I feel like I'm operating a mini restaurant from home! When I've had enough of cooking I definitely turn to take-aways, especially as there is so much to choose from now with loads of restaurants offering delivery service.
Anna: Yes, I have loved the BBQ boxes from the likes of Asador, Woodfire & Green and the 'Heat at Home' menu from the Cliff Townhouse. Plus doughnuts from Butler & Barry in Bray. You've got to take your hat off to all the Irish businesses that have been creative during this unprecedented period and it's great to see them continue to employ staff and trade under such challenging circumstances.
Glenda: It feels like all we're doing is eating and going to the fridge! We ordered in Fade Street Social At Home, by Dylan McGrath, which was fantastic; such a delicious treat. Barbecues are definitely the way forward at the moment with the weather, but I don't touch it, it's all Rob! I am no cook!
Brianna: We've been trying to order from local Dublin 8 pubs, cafés and restaurants to keep them afloat. Coke Lane Pizza donates to frontline workers so it's a double win. But Supermacs has also been getting a good amount of business from me.
Ireland AM has brought us some big laughs over the past few weeks – our favourite being Alan Hughes' DIY haircut! Has anyone or anyone's loved one had any similar at-home disasters!?
Laura: I cut my youngest son's fringe and did such a terrible job nobody will let me near them with
a scissors now… I badly need my own hair cut but am not brave enough to do an Alan on it! I will just have to wait 'til July!
Karen: I went so far as to do a patch test with home colour, but it was far too brassy so I'm just going to have to wait it out. My roots will be down to my ears by July.
Brianna: My eyelash extensions have left me looking like a sick bird that's losing feathers. There's about three hanging onto dear life on one eye. My boyfriend has barred me from cutting his hair. And he'd be right.
Glenda: Ciara Lambert does my hair and sent out a DIY dye kit which has been a huge help! I did have a near disaster on one of my live Skype calls on the show though; Bobby walked in and got onto my lap and when he got down off me, he opened the buttons on the front of my dress. I had to duck under the kitchen table to fix myself!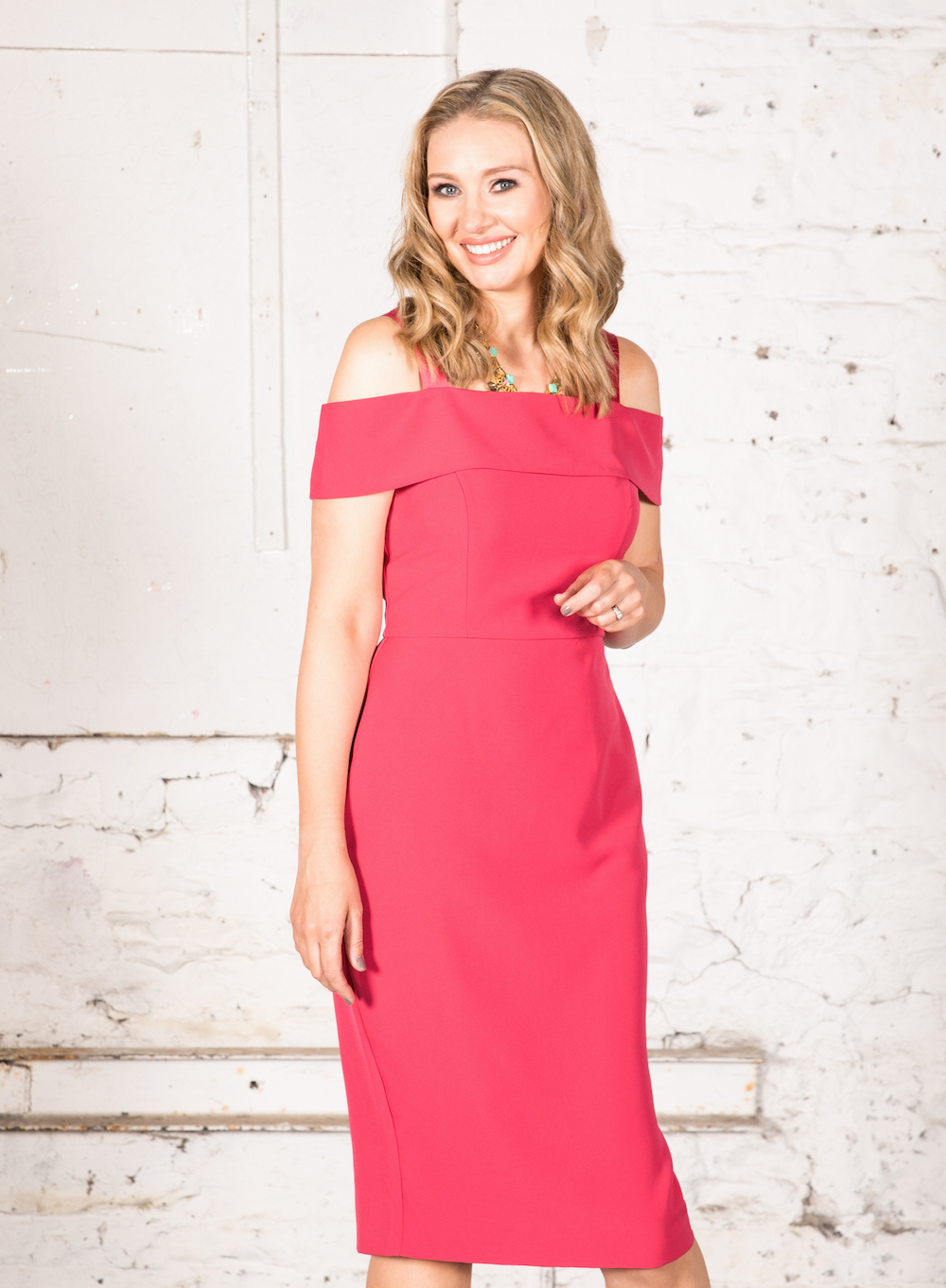 You all look so glam presenting, while the rest of us try to resist the allure of sweatpants…! It must be nice to have an excuse to dress up for work?
Karen: Makeup is called warpaint for a reason, I'm ready to do battle when I've my mascara on! I just feel like I've more energy for the kids if I'm up early and dressed, ready for the day.
Ciara: Believe me we're all back in our activewear by 10.05am [laughs]
Anna: It's a joy! Although I do have a new respect for the hair and make up department and my own hairdressers, Hessions. I've been doing my best to get camera ready at home before the show but nothing beats the gloss the pros can create!
Brianna: I feel like all the girls are naturals at pulling together outfits. They're so glam. I find it a bit stressful sometimes picking what to wear, especially with the shops shut. Sometimes I wish I was a bloke on telly and could wear the same suit everyday. But luckily people get that it's a pandemic and they understand why I'm wearing the same two coats every morning.
For those with kids, how are you managing the madness of having them in the house 24/7? It's very tough on them missing their pals and school, especially when they're young and don't fully understand all of this.
Laura: In a way I feel lucky because my boys are nine and seven, so academically, there were no major exams on the horizon for us this year. They're also that bit more independent now than when they were smaller so they knuckle down to their homework each day and when they're done, they know they have their afternoons to play. Having said that, I have noticed my eldest son getting a little frustrated; he misses his friends, his sport, his routine. I think he would probably jump at the chance to go back to school if he could. The younger guy is having a great time though.
Ciara: Renee is still very young but I am conscious that she hasn't played with another child in nearly three months and I'm sure she misses that company. She's a fantastic distraction and is developing and growing so quickly that I feel really grateful that I've so much additional time with her. Because of lockdown, my husband and I were both there in the house when she took her very first steps. It was really special.
Anna: In one sense it's lovely for them to have both parents around so much and there's been lots of happy family time, however the homeschooling has been challenging. 'My teacher doesn't do it like that Mum' is a line I've heard far too many times! Like every other mother, I'm not trained for this so I'm doing my best and some days are longer than others!
Karen: I've found the homeschooling really hard, as with John and myself working full time, and with two younger kids, its so hard trying to get Finn to focus in the short amount of time we have in the day to do the homework. I'm a little worried I'll have held him back because we can't keep up with the exercises. His teacher has been brilliant though at reassuring us that all the kids will catch up regardless. Eve is thriving and really coming on as she's constantly copying her two older brothers.
Glenda: It can be tough; I feel like Bobby is bored! Of course he is doing great, but the days are long when you have an 18 month old, put it that way. [Laughs]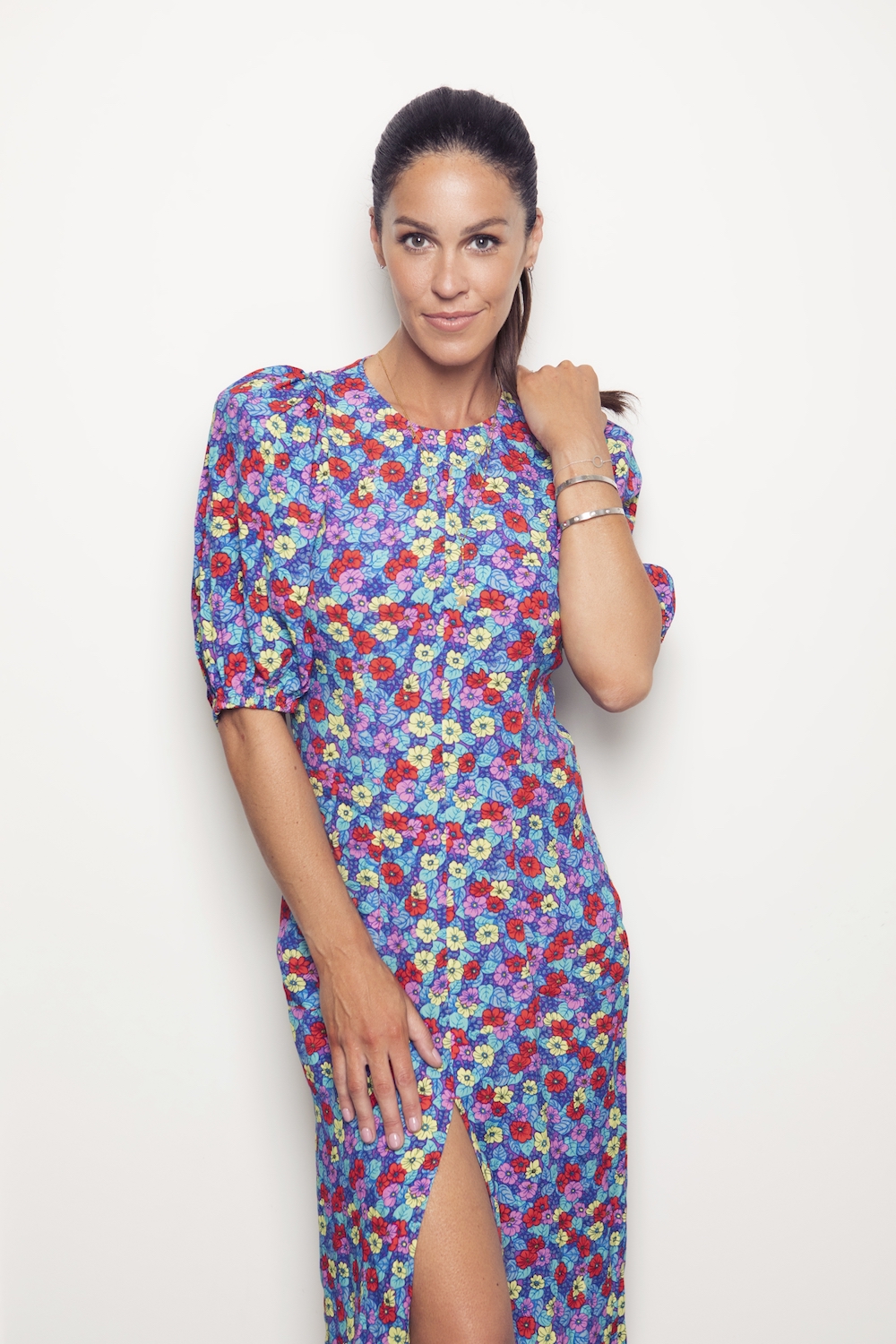 Glenda, huge congratulations are in order as you are expecting your second child! You and Rob must be over the moon.
We're absolutely thrilled! I'm more than half way there now, and it's all been very exciting. We just can't wait. Poor 'ol Bobby doesn't know what's going to hit him [laughs] but we can't wait for him to be a big brother and to have a little pal.
How have you found being pregnant in lockdown? It's very different circumstances to when you were expecting Bobby.
Yes, but I'm thankful it's my second and I know what to expect; I feel for the first-time moms, who can't have their partner in the hospital with them for their scans and so on, but look, it could always be worse; at least it's possible to see a doctor. As long as we're safe and healthy, that's all that matters. It is odd though; I come out of my scan and meet Rob in the car to tell him all about it…I filled him in the other day that the doctor told me the baby in my belly is very lively, and he said back, "That's great, at least our fella at home is nice and quiet". Obviously sarcastic!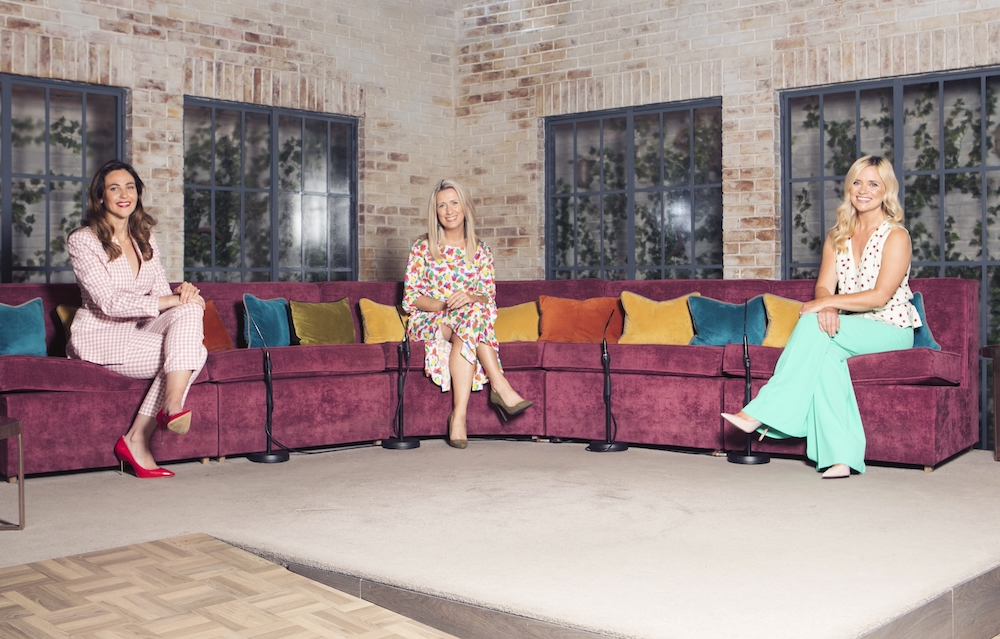 Ladies, your show is a beacon of positivity during a time of doom and gloom. As well as informing viewers, you provide the light relief we all need. For all those people who tune into you for company and to feel connected; what message of positivity and solace can you share with them?
Ciara: My Grandmother used to always say, "This too shall pass, shall pass and be no more" and I remind myself of that often.
Brianna: Everyone is struggling, no-one has it 100 per cent together. I love that all the women on this show keep it real. They're all honest about trying to Zoom with kids going mental in the background. All of our roots are growing out and we need haircuts. But we're doing our best and we're here with you every morning until we come out the other side.
Laura: Throughout the past couple of months our viewers have been so engaging, and have entertained us with their poems, stories, photos and chat, so I really feel it works both ways. I really think it's made us feel more connected to our viewers, which is such a positive thing to take away from this experience. Karen: I try and tell myself its ok to have a bad day, the next day will be better.As mums, you always have the reserves in there even when you feel the tank is empty. I tell myself good enough is good enough. There will be impatience, there will be tantrums, but we always end the day with "I love you" and knowing just how lucky we are.
Glenda: We'll all take an awful lot from this lockdown. I'm delighted to be bringing a bit of fun showbiz news to cheer people up from the doom and gloom, and to encourage them to get out into the fresh air and to move around in the garden. I want to help people forget what's going on every now and then, to switch off and join in with me for a bit of fun – pregnant or not!
Anna: Thank you for staying with us and being so incredibly loyal to Ireland AM and it's presenters firstly. I think our team, led by Brian Foley and Celine McGillyCuddy, our executive producers, have been so creative in terms of getting the balance right between information and commentary and then some frivolous lightness to escape from all the desperately sad statistics. Hopefully we've given viewers what they need and want and hopefully plenty of laughs too – even if they are at our expense!
Interviews: Niamh Devereux Photography: Evan Doherty