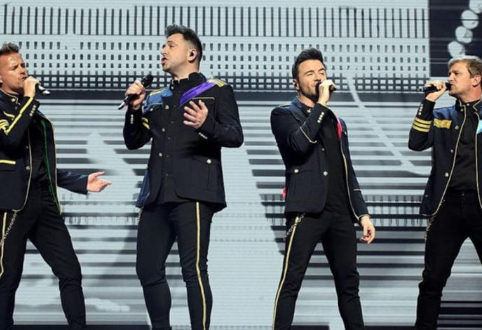 Westlife have been back on tour for their 20 year reunion, which kicked off in Belfast last month, and are now continuing the shows across the UK.
The Irish band, who's eagerly awaited comeback tour has included some amazing sold out concerts thus far, last night added a sweet touch to their show at the Utilia Arena in Newcastle.
Singer Kian Egan sadly lost his father Kevin ten years ago, and last night the four lads played an emotional tribute to him while singing their hit song, You Raise Me Up.
The band performed the stunning song together at Kevin Egan's funeral in 2009, and last night asked fans to raise their lights up for Kevin on what would have been his birthday.
Taking to Instagram after the show, the 39-year-old posted a video of the beautiful moment, along with a message to his late father.
"Happy Birthday Dad… It's hard to believe your gone nearly 10 years. We all miss and love you so much xx" he captioned the post.
Fans were quick to show the well loved Sligo man their support, with one commenting "He is always watching upon you & beaming with pride," while another added "Your dad is always with you Kian."
What a lovely way to remember his dad on his birthday.