Well, this is a pairing we didn't know we needed!
Ahead of Hozier's release of his highly anticipated third album, Unreal Earth, today, the musician decided to release the official music video for his new single De Selby (Part 2).
And low and behold, it stars fellow Irish man Domhnall Gleeson.
The actor stars as multiple versions of a man, De Selby who is traversing deserted landscapes but is unknowingly dead.
View this post on Instagram
Fans of Irish literary might see some familiarity in the blood-splattered, shovel-wielding man as he's based on a character from The Third Policeman by Flann O'Brien.
Filmed in black and white, in the video, we see Dohmnall wake up in a field only to discover another version of himself, whom he promptly strikes over the head and then buries alive – which he continues to do for quite some time.
However, in a recent interview with EW, Hozier revealed that there is a method to Gleeson's madness.
"It reflects on this darkness where you can't see where one person begins or where the other person ends.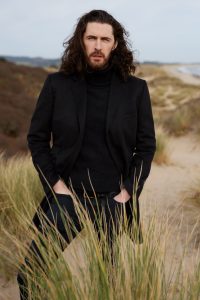 "It moves into the romantic space where, along that thinking, you feel part of the same whole," he continued.
Speaking about the video on Instagram, Hozier admitted he was very proud of his new collaboration, adding: "Working together with such creative talents toward this piece was a pleasure, and I'm honoured that Domhnall Gleeson would bring his remarkable skills and this stunning performance to my work."
Domhnall's appearance in the new video follows cameos by Saoirse Ronan and Natalie Dormer in previous Hozier promo clips.
You can watch De Selby (Part 2) the music video here.