When Kate Winslet walks into a room everyone, and I mean everyone, stops what they're doing and looks at her.
She can hold the attention of an audience with just her arrival. So it's no surprise that she has been acting for over three decades.
Her latest turn on the big screen is in James Cameron's Avatar sequel – The Way of Water. When VIP Magazine caught up with her in London she is buzzing to discuss the highly anticipated film.
Hi Kate, how are you?
Very good thank you!
Tell us what drew you to Avatar: The Way of Water.
Well, every character I get to play offers something different. Of course, this was the motion capture and the breath-holding and being Avatar itself, these are all very unique. But the thing that I was most surprised by was the freedom to move around as an actor I didn't expect I would have. In this we had all the room in the world, you're free to go wherever you want. As an actor, it's a very freeing experience. It gave me enormous creative freedom. I didn't expect that.
Oh, so do you expect this method of filmmaking to be more common in the future?
No! No I don't! You have to be extremely good to know what you're doing and Jim [James] Cameron is the best. I wouldn't expect it to become the norm. There was a panic about AI actors taking over. But there's nothing like what an actor can do in terms of manipulating your feelings and making you feel a certain way. It's the actor's privilege to do that. There's nothing like that. We really need that escape, to join in conversations and to be educated.
You are still so passionate after three decades of working as an actor!
It's a really exciting time to be in this industry because the power of storytelling is really important. And it's not just because we want new stories and new narratives. But because as storytellers we are able to use our voices in wise, mindful and responsible ways that can be impactful in the conversations that people are having more and more. Even to add to conversations that people find difficult to have. It's an industry that is becoming much more open, much more diverse. I think we're seeing some really interesting changes that will be here to stay.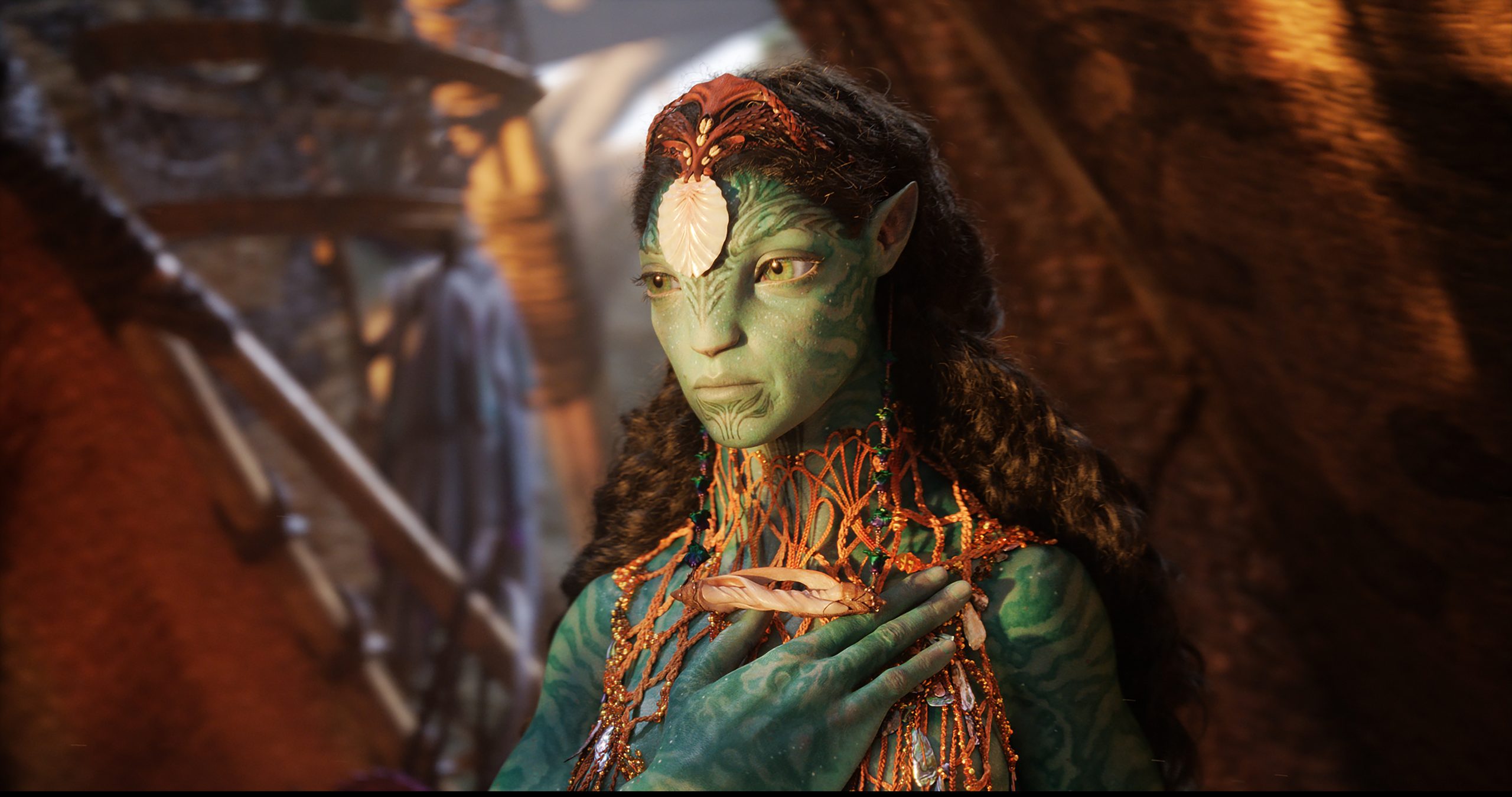 You obviously were in Mare of Easttown in 2021, what is TV like versus film?
Television is very, very technical and specific. You have seven or more pages to shoot in a day. You have to be really on it if you want to do the best job possible. It's a lot more challenging. There was quite a lot of physical work in it as well. And I love that. I'm proud of my physical self.
You also have beaten Tom Cruise's breath-holding record in Avatar! How did you prepare for that?
The physical side of my character, Ronal, is very like me. I'm very intuitive with my body. It was lovely to be that person as Ronal and really use that. The physical side of it was really exciting. On top of the breath-holding, I got to learn how to use weapons and learn how to ride a flying fish. [Laughs] It's pretty difficult! It's tricky to stay on it. As for the breath-holding, I didn't know I would have to do so much of it. But I knew I would be comfortable with it and I knew I would be good at it because I love the water. I certainly didn't imagine I'd be just as good as it.
You said you're like your character physically. But do you take after her in that leader of the clan role?
Well, my clan is my immediate family and my extended family, I have a lot of nieces and nephews and cousins. And on my husband's side, he is one of five boys! I guess my role in that clan is not very dissimilar to Ronal because it's often me who is problem-solving and fixing things. And with my siblings, if a big decision is being made we all have to be there. You would expect that. You wouldn't think of me as the quiet little sister in the corner. I like to give my opinion! I come from a big family of very big-hearted people. We share in a family way, I'm lucky to say we do actually do that. We care about tradition and we care about rituals and rhythms and all the stuff that combines families together. We uphold things in a clan-like way, I mean there are songs we sing and chant. We'll burst into song in public and people are like, "What is that?" And then they'll be like, "Oh it's the Winslets!" So we are a little bit like that. There is a lot of banging, slapping, whistling. It's hilarious.
In your filmography, you've always played strong female characters without sacrificing their femininity. Is that something you seek out or is it happy coincidence?
Actually, I had no idea what Ronal was going to look like when I was playing her. She looks totally different to what I was imagining. I expected her to look very severe and physically composed but in a way that felt restricted. And while she is composed, she is very sexy and elegant. She's curvy and full – the power comes from that. That's wonderful. Also, one thing that Jim said to me that I thought was incredibly impressive was that because it was all motion capture he didn't care how we turned up physically. Anything goes. I really appreciated that. I know what he was saying to me was don't worry about going off and doing a bunch of working out or long-distance swimming. He gave me permission just to bring the heart and soul to it.
You and James Cameron obviously have a strong bond. What was it like going back to work with him again?
He's very detailed about the work but he's really good at just listening to the actors. Actors are remarkable people and when they're invited to show someone what they think they'll always do something interesting. Even if 90 per cent of it is crazy, there is 10 per cent that will bring you down a corridor that you never imagined. And Jim is very open to that and to see that. It's completely amazing. As for returning to the water with him, you can't really compare Titanic to Avatar. It was a completely different experience. The water in Titanic was really unpredictable because we were filling a set and we didn't know how it would react. So it was a bit scary. But in Avatar everything was 100 per cent safe. When you're working under the water like that you can't rush, you have to listen. It's really extraordinary. And it was totally amazing to be part of something that required everyone to be respectful of everyone else and to look out for everyone else. It was a completely brilliant experience. I just loved it.
Avatar: The Way of Water is in cinemas now