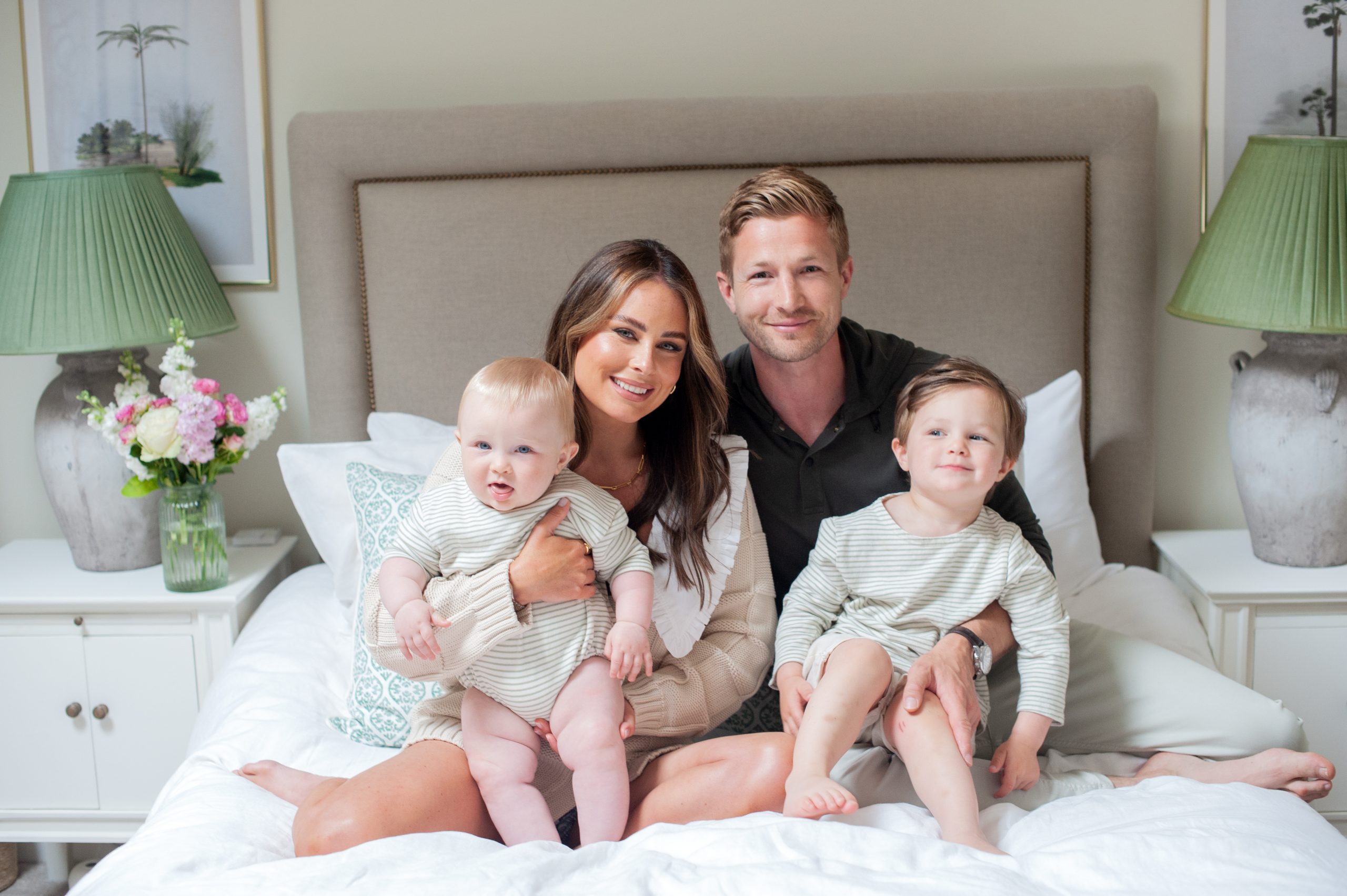 Following an idyllic summer in Marbella, Spain with her partner Will and their children Milo (3) and Noah (1), we met up with Jodie Wood and her family at their gorgeous home in Bray, Co. Wicklow. A quaint little cottage nestled away within gorgeous greenery and the beach just a stone's throw away, it's the perfect place to gather their bearings again after three months abroad.
Following over a year in various lockdowns, the couple decided it was time for a change, and knew there was only one place for that. From childhood holidays to romantic getaways and their gorgeous wedding five years ago, Marbella holds a special place in Jodie and Will's hearts. Wanting to experience the area with their children, the couple decided to pack up their belongings and make the big move for a few months. "We were hoping to be able to go permanently this year but Will is British so with Brexit, he has restraints from a visa perspective in terms of how long he can stay," Jodie told us. "We decided to stay for three months, come home for a while and then hopefully when he gets his citizenship, we can move back full time next year."
After they had some time to unpack and get reacquainted with their Wicklow abode, we caught up Jodie to hear all about their gorgeous summer, the importance of looking after her health, welcoming her second child to the world during a pandemic, and the exciting new brand she'll be launching this winter.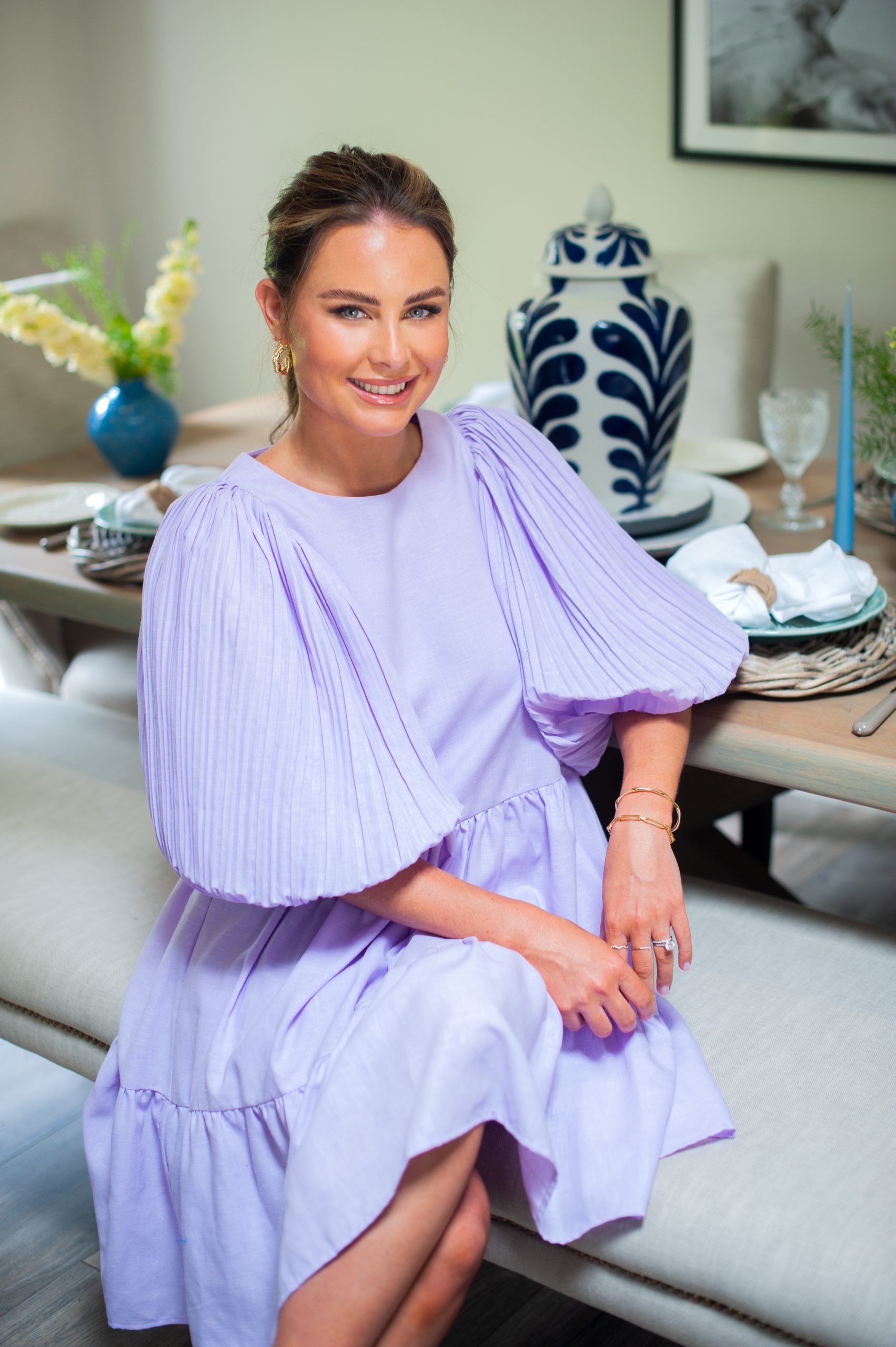 Jodie, how does it feel to be back home in Ireland after a summer in Spain?
I've very mixed emotions. It was such a nice three months, but it's also lovely to be home for a little while, to try figure out what we're going to do on a more permanent basis. It's great to back to a bit of sun too, and no rain just yet.
How did the kids find the experience, was it a big adjustment for them?
Noah is so young but was very happy and Milo started in a new school over there which he loved. He learned a little bit of Spanish. Every morning when he wakes up the first thing he says is 'buenos dias' and then he says 'hola' to people walking down the street. He picked up a couple of phrases, it's so cute.
Why did you decide to go to Marbella over anywhere else?
My parents have a house there so I have been going there my entire life, and Will has been coming too for the last ten years. Over the last couple of years we've been talking about moving there. Will was working from home and I can work remotely too, so we just thought maybe it was the time to give it a go. We went for three months to figure some things out and see if we definitely want to go there and now we're looking at moving more permanently in the new year which is exciting. Will's in the process of getting Irish citizenship and an Irish passport so I'm hoping that will go through soon and we'll be able to move over.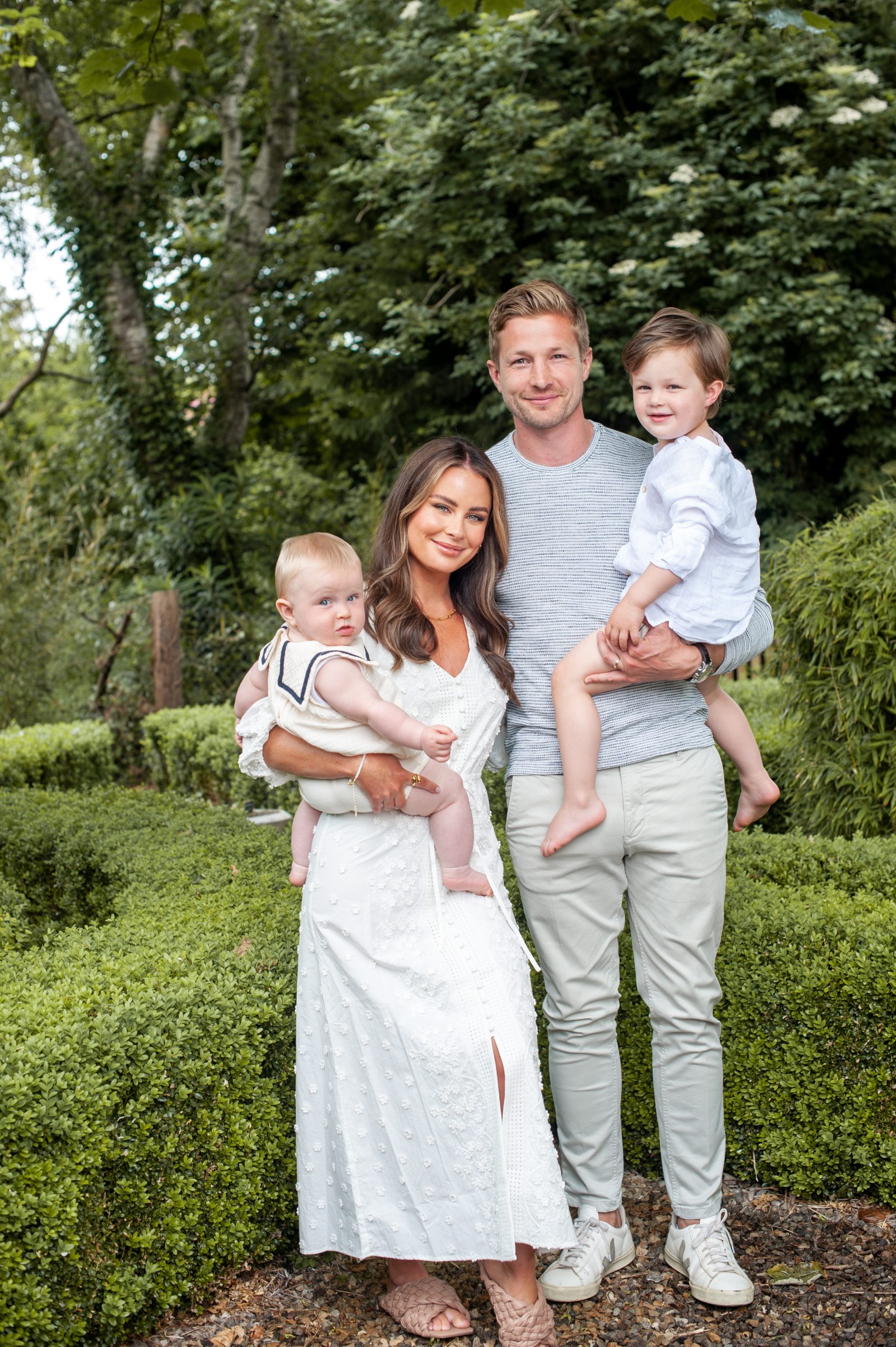 You mentioned working remotely, but we hope you took some time to enjoy it as a holiday too….
My plan had been to take a few weeks as holiday but it didn't end up happening because in the world of social media, you can't really take a holiday or you just fall off the face of the earth. We both worked remotely, but it was a lot harder than we anticipated because we didn't have any childcare there. Milo went to childcare for a few hours, but trying to work from home with two kids under the age of two is chaotic.
Will used to coach rugby there in Marbella, did he go back to that this year?
Yeah, he did. He worked with them for half the summer while the season was still on. He just loves being involved in rugby. It gives him an instant group of friends, plus he just loves the sport so much. He's such a social person, he could walk down to the local supermarket and come home with five new friends. We're totally different in that respect. I feel like it's always good to have him with me because he's so out there and I'm very reserved. He has no problem going out to meet people, making new friends and that would help us form a new circle if we're going to make a move abroad more permanent. We're going back in October for a month and then in the new year we'll probably go back again after that and look at finding rentals to move into.
Would you ever consider buying a home in Spain?
I think we'll probably rent for a year or two and then see if we definitely want to commit to buying there. I don't want to sell our house in Ireland, I love it so much and I don't think I'm ready to part with that yet. We need to suss out what area we want to live in over there, and if it'll suit us long term.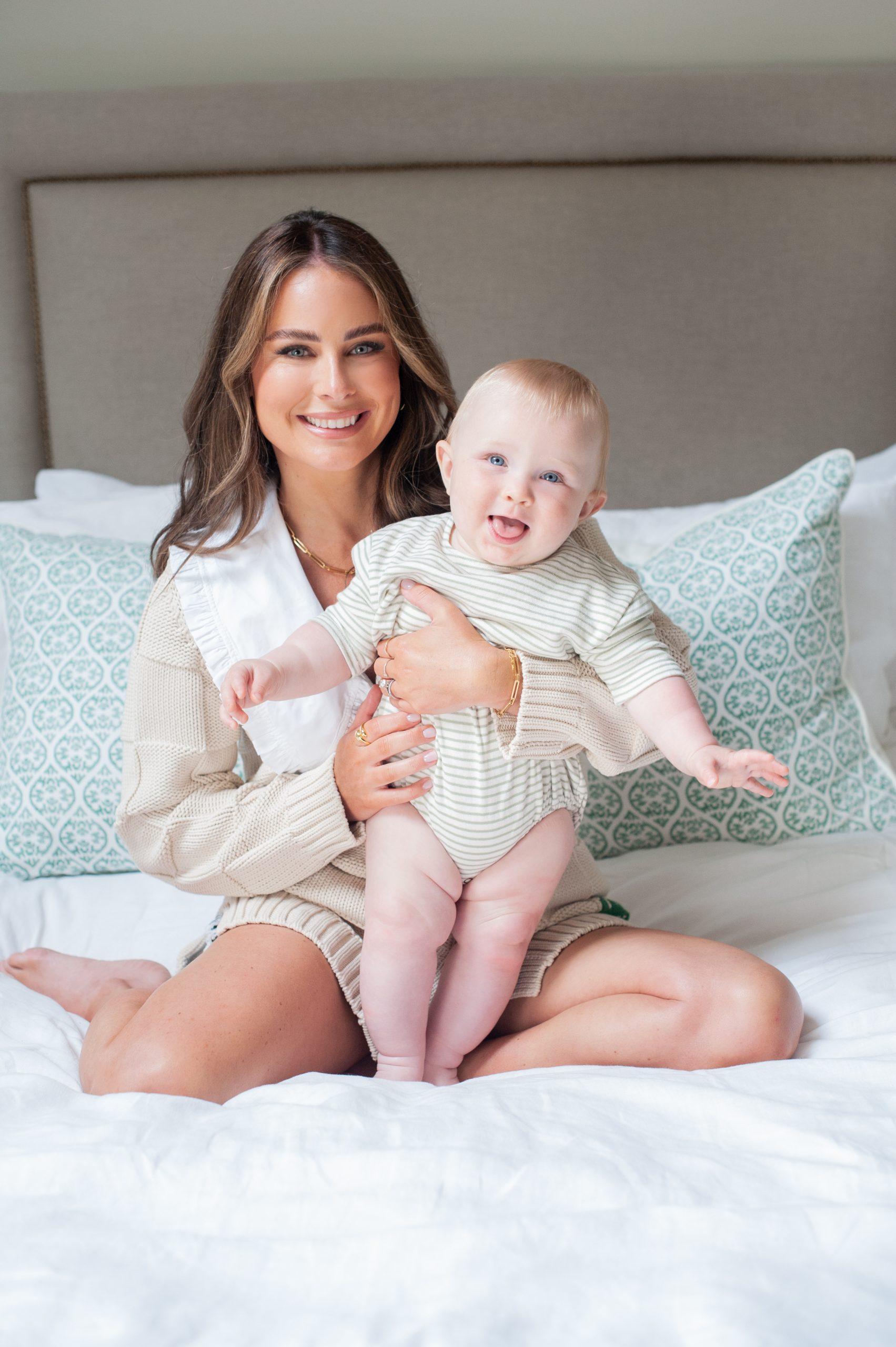 It's been all go for you recently. Has the recent travel, life as a busy mum and the pandemic made you more conscious of staying on top of your health over the last few months?
Yes, definitely. I think everyone has started paying more attention to their health and wellness. It was a year that I also got into meditation and practicing mindfulness, which helped my mental health and then from a physical side I wanted to make sure my immune system was in top shape too so my partnership with AYA supplements came at the perfect time. I'm a brand ambassador with them but I'm also a nutritionist. This year I just wanted to make sure we were in the best health possible incase anyone got sick.
Have you noticed much difference since you started taking AYA vitamins?
Yes! Running around after two young kids is exhausting. Milo is so cute but so chaotic. I've noticed a big difference in my energy thanks to Vitamin B. My skin and my hair took such a hammering when I was pregnant. During those first few months after having a baby, you're just shot but I've definitely noticed a difference now and I feel so much better about myself.
Speaking of your pregnancy, you welcomed little Noah to the world last September. Did you find it a big adjustment of going from the one child to two?
I actually found it harder going from none to one. When you go from having a child-free life, doing whatever you like to suddenly planning everything, it's a big shift. Noah is such a chilled baby, we're very lucky and he has just slotted in. It's been tiring, but nothing massively different. Lockdown was really hard in winter when nothing was open and the weather was bad. There was nowhere to go and we were all confined to our homes. It was hard. As we came into summer, we were lucky we had a garden so we could all play outside and things started to open up again. I think once you have some hope on the horizon, it makes such a big difference to your spirit and frame of mind. Things did get better, but I did find it challenging having the two of them in a total lockdown.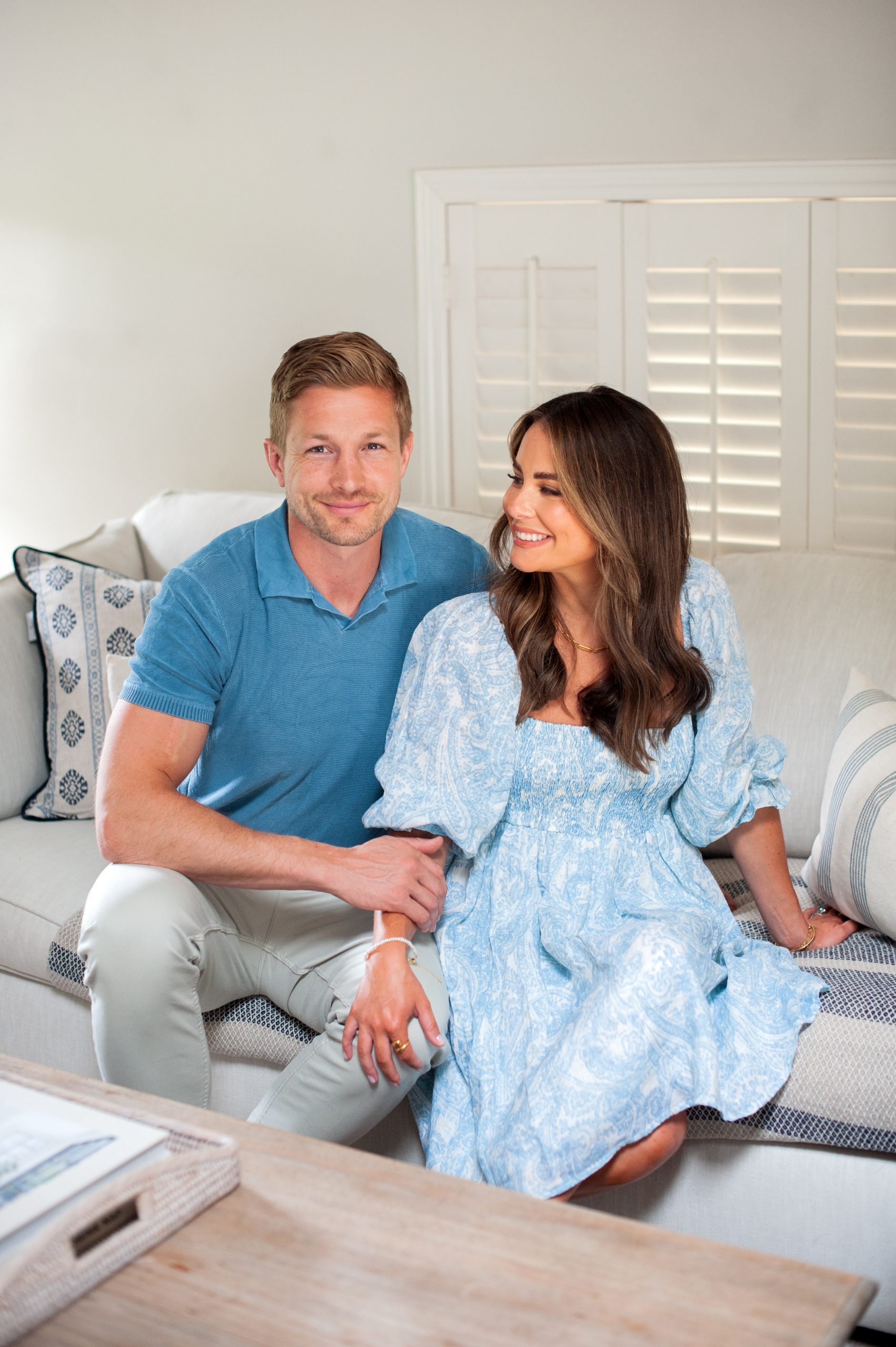 You had a difficult first birth with Milo, how did Noah's compare?
Yeah, Milo arrived seven weeks early. I had in the back of my mind that Noah might come early too and my consultant felt the same. We were on alert from two months before my due date but he made it to 36 weeks and I was delighted to get that far as he was pretty much fully cooked. It was a much nicer delivery and as I had a C-section before, I knew what was coming and Will was able to be with me this time. He wasn't in the country when Milo was born so it was totally different. I enjoyed both births, but this time especially. It was during lockdown and the staff were under such stress, but it was a lovely experience in there.
Will must have been overjoyed to be with you this time…
He was overwhelmed in the surgery, he didn't know where to look and it was all really new to him because he didn't see it last time. But he loved it. He was so happy he could be there this time. He was devastated he missed Milo's birth so it meant a lot to him.
How did you find the hospital experience throughout your pregnancy? Were you worried going into scans as you had to be alone?
I wasn't. I think if it had been my first pregnancy I'd have felt a lot more anxious and a lot more upset about it but because I had done it all before, I knew my doctor and the team, I felt really comfortable going in. It was obviously really disappointing that Will couldn't go in to any of the scans. During my pregnancy he couldn't come to the 20-week or anything, I know that has changed now, but the first time he stepped foot in the hospital was for the birth. It was sad for him, but at the end of the day, I understand the restrictions were in place to protect the mum, baby and staff.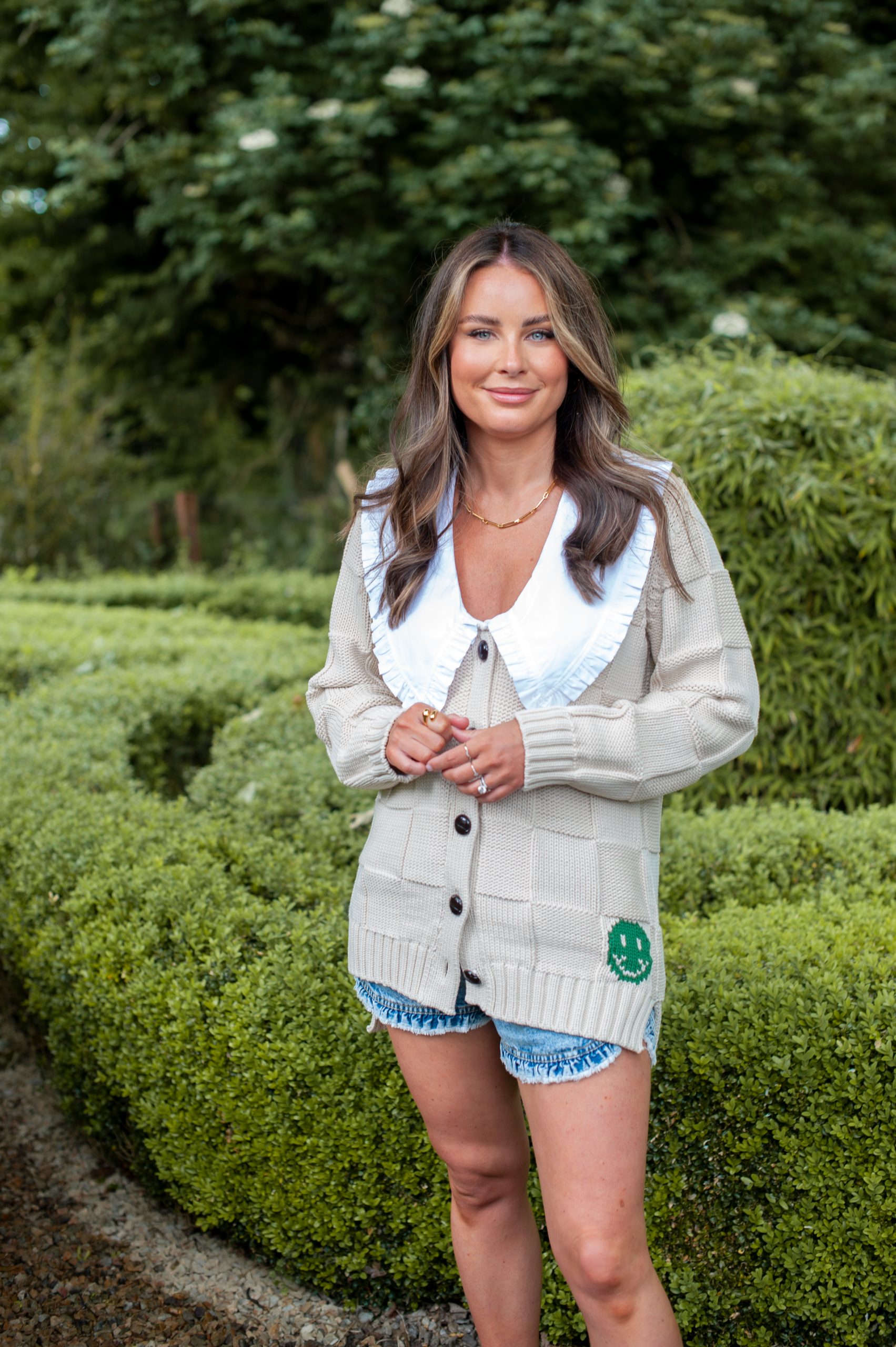 Did you find the experience of life with a newborn much different this time around given all the restrictions?
I liked it in a way because I loved being able to stay home with him and not feeling like I had to rush out anywhere during those first few months. I didn't have to go anywhere, show him off to family or friends or go out places, meet people for coffee etc. I just got to be at home with my core family and I enjoyed it.
Tell us about Noah and Milo's relationship.
Milo had no interest in Noah for the first few months [laughs]. Now that he's sitting up and playing with toys, Milo is learning to share. They're interacting a lot now and Noah loves it. I think they're going to be best pals.
Can you see their little personalities forming?
Yes, absolutely! Milo is crazy little toddler in the middle of the terrible twos but he's so funny and full of life. Noah is the total opposite, he's a very chilled baby, happy to sit and take it all in and I suppose he's got his brother as permanent entertainment but they're definitely different babies.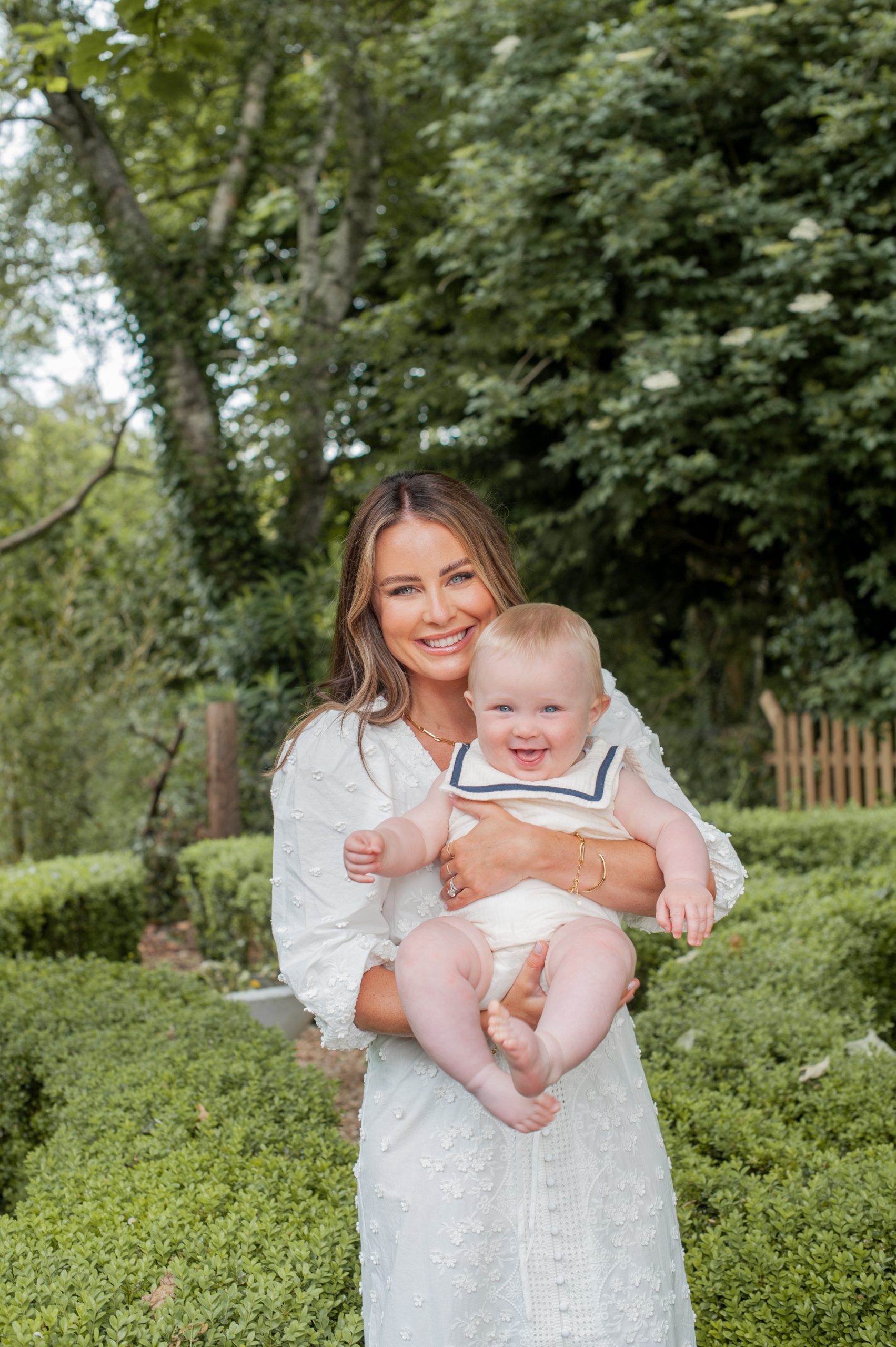 Would either of them take after you or Will specifically?
I hear that Will was absolutely crazy when he was small, so I'm guessing Milo follows him. Noah though… who knows what he'll turn out like? We're not quite sure yet.
Do you think you'd like to add to the brood at some stage?
We probably have another one or two in us. If we're able to, I'd love more kids and I've always wanted a big family. But I don't think we'll do it for another few years. I need to recover and rest [laughs].
How did you and Will find the last few months, did it bring you both closer or were there any trying times?
Will has loved it. He's thrived being at home with us. He's such a good dad, he's really hands on with the kids. During the pandemic things went online so I became a lot busier in work as he was quietening down so we could balance each other out. He now works remotely full time with his sister running their family wedding venue in the UK. This is our new normal. I think we went on a total of two date nights throughout the year and a half. We are not great with them [laughs]. We're the same as everyone else, put the kids to bed, tidy the house then collapse on the couch for an hour before going to bed and the next day starts again.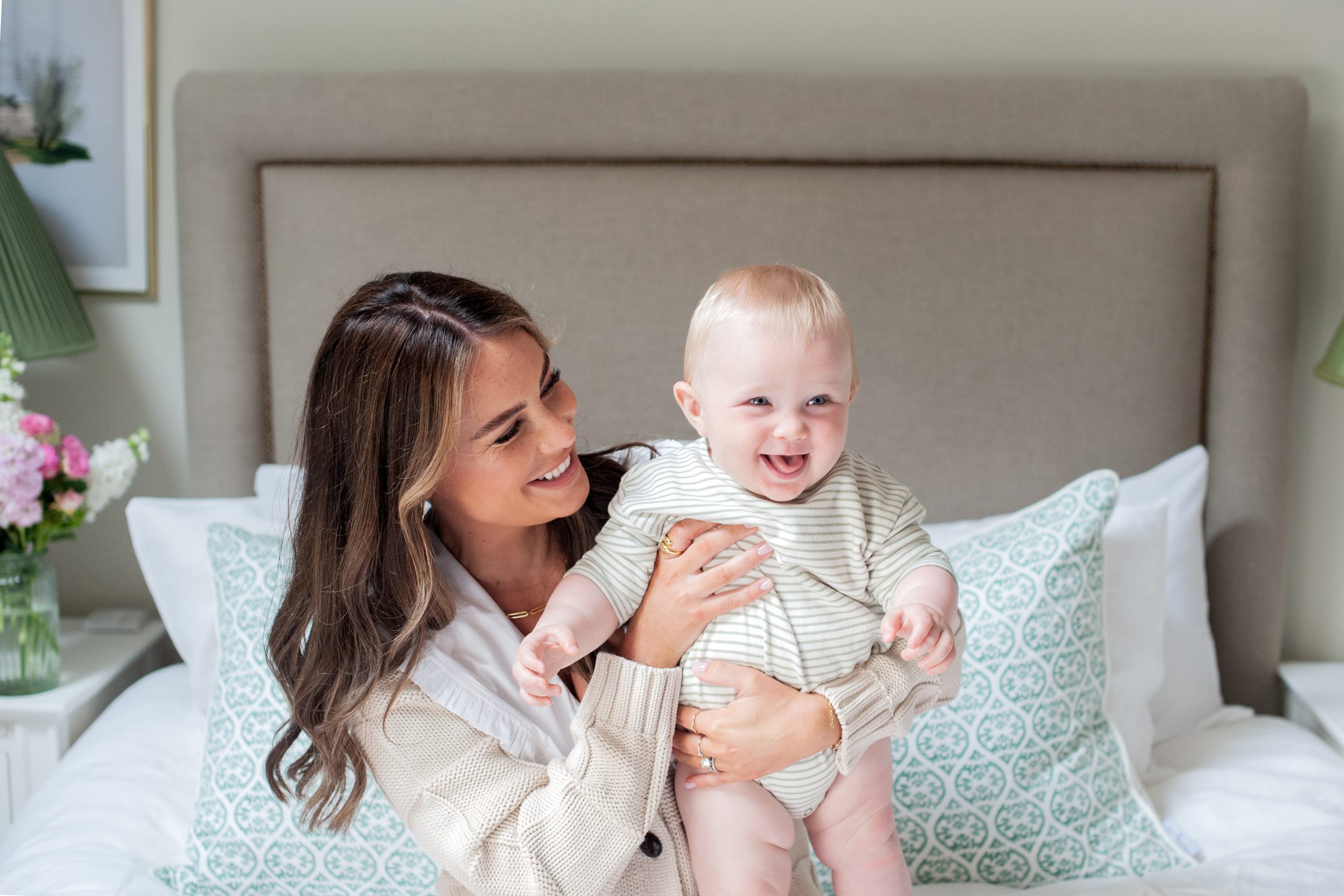 Finally, what are your hopes for the future now Jodie?
I'd love to see us getting to spend more time in Spain and settle down there for a year or two and just continue to keep working. I'm very lucky that I've been able to work and I hope it continues that way.
Speaking of work Jodie, you've a very exciting project about to be released. Tell us about that!
I'm launching a sustainable baby and children's brand which comes out at the end of November. I'm really excited about it. We've been working on it just over a year now. It started at the beginning of the first lockdown. I've been working on it with a friend and we've been doing lots of Zoom meets but we're finally in production now. I'm buzzing for it to come out and to hit the market. It's very exciting.
INTERVIEW: Michelle Dardis
PHOTOGRAPHY: Lili Forberg; misslili.net
MAKEUP & HAIR; Sue Brophy; suebrophy.com
STYLING: Jodie styled herself with clothes from Brown Thomas. Jewellery from her own collection with Crystals & Co.
Jodie is a brand ambassador for AYA Supplements, available in select pharmacies nationwide or at www.ayasupplements.ie