How are you feeling about your new role, Uruemu? It's been an exciting few weeks…
Ah, it's just brilliant to have this opportunity. It's funny, when one has a goal in mind like this, there are so many other things that you don't consider – like the reaction, or what it might mean to other people. And the response has been mind-blowing, you saw the people coming up to congratulate me on the street during our shoot; it's just been so positive.
Yes, it was lovely to see the local support – that must feel good.
It does. And I'm so fortunate to be in this community because I've always had a positive experience, all through the time I've spent in Ireland so far. It's not everybody's experience, I acknowledge that, which makes me even more grateful that the people I encounter are warm and embracing. It makes me want to work even harder for this town!
Your appointment as Lord Mayor has made history: you are the first black woman and first person of African descent to be elected as Mayor in Ireland.
It's a major achievement for me, and I'm blown away that I've made history in this way…it's just not something I could have ever expected. I'm thinking, "little ole me?!" [Laughs] I couldn't have dreamt of it. And the impact isn't lost on me; for my grandkids or mixed race kids in Ireland, this might encourage them and inspire them to keep working hard and chase their dreams in whatever field that may be. So yes, this is the gift that keeps on giving. And then to be in VIP Magazine too! Pinch me! [Laughs]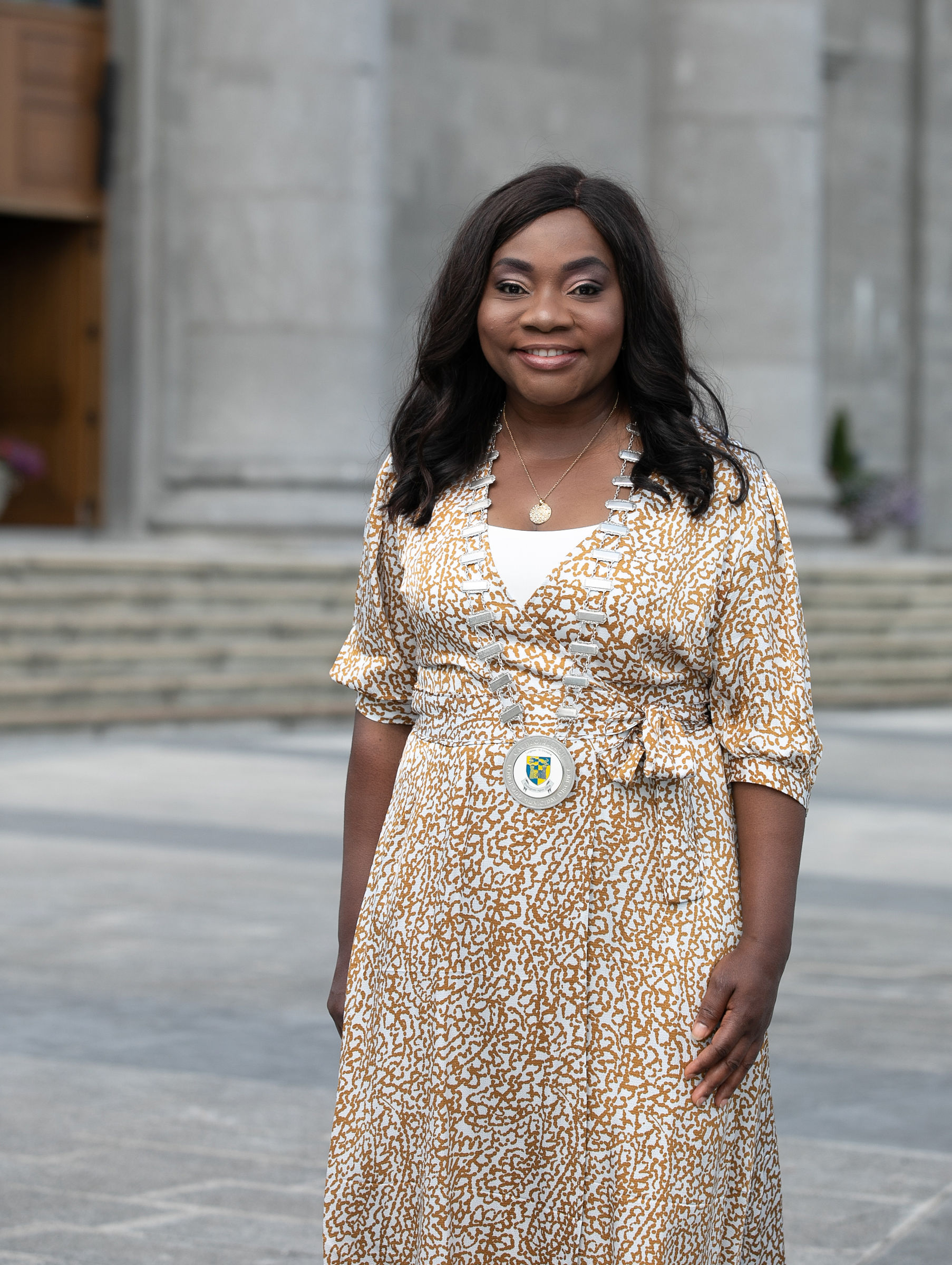 As someone who immigrated to Longford from Nigeria, you're representing people on this big platform who may not have felt represented before…
Entirely! And that's why I always highlight the importance of representation. It makes people feel seen and feel part of what is going on. We saw over the past year how important it is to come together, to protect ourselves, our loved ones and our communities. And we need to continue to work together as one. There needs to be care taken to ensure everyone in that community is represented. If you look on the tv and you don't see anyone who you can identify with, you probably won't be as invested, and that's a problem.
So, encouraging migrants to get involved with politics is something you feel passionate about.
Absolutely! There are so many challenges that migrants face when they come into a totally new community, one that is so different to the place they grew up in. And I think a position of authority is one way to ensure that migrants' concerns are being addressed and that policies, legislation, procedures are all being reviewed to make sure they consider everyone in the community. I'd love to see more migrants consider becoming politically active, because we can only make these strides when we are involved.
Of course, you're also very passionate about Longford! What do you want to achieve for the people of Longford during your reign?
I want to see more houses being built, and more people getting into homes. I want to work on this newly developed bill about affordable housing options, because to me, more home-owners means more people settling into the community and contributing to the socio-economic growth and development of Longford. Another big one for me is jobs; a lot of jobs moved on from Longford after the economic downturn in 2008. And there are also a lot of people commuting because of the lack of jobs, and that has a big impact on families and quality of living. It's important to me to look for industry to come into Longford and set up locally, and also for more remote desks so people will not have to commute so much.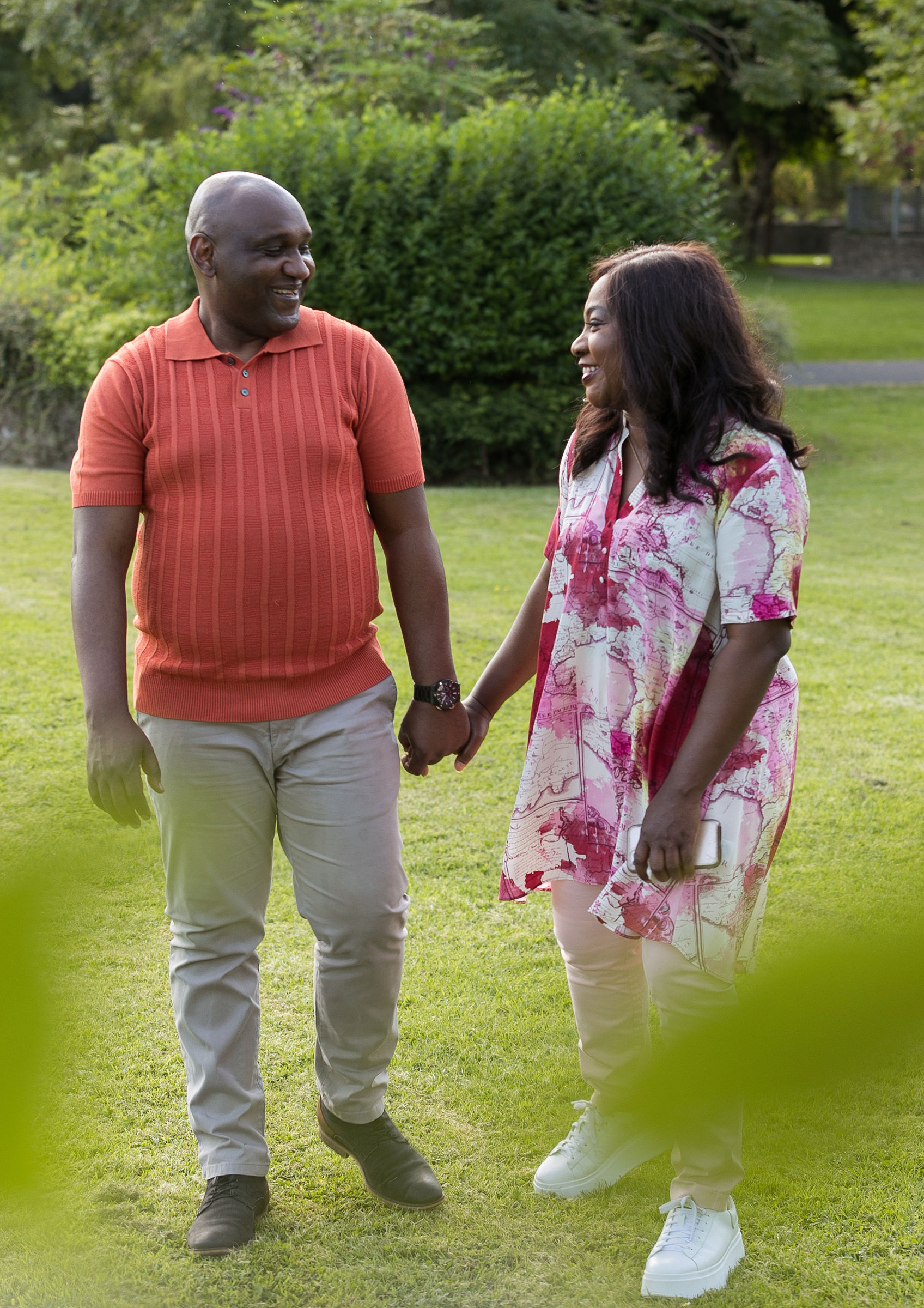 Where should one go when one visits Longford?! Hit us with the insider tips!
Well, we have our magnificent cathedral, which is a glorious building that people travel far to come and see! And there are countless beautiful trails, like the Royal Canal Walkway for example, and Newcastle Woods or Derrycassan Woods. There are so many great traditional pubs too! And great shops, like Unique Boutique who dressed me for this shoot. They've been open 40 years and there is such a personal  touch when you shop there, it's hard to find that kind of experience anywhere else!
You've lived in Longford for 18 years now, your three children have been born and raised here. Looking back, it must be such a different life to the one you had in Nigeria…
Totally different! I remember when my son needed help with his Irish homework, and I said to him, "Sorry, I can't help you there". And he looked at me puzzled and said, "Did you not do Irish when you were my age?!" [Laughs] But yes it was so different – I grew up in a large family, there were seven children, but it was a good life, and I had a good education. I went to boarding school which I think built my confidence and helped me to be independent. I think it helped me to thrive when I moved so far away from home. The weather was something I really had to get used to in Ireland! Although you'd think I would have loved the heat wave recently, but I was struggling with it too!
What made you choose Longford to move to when you came to Ireland?
I was looking for accommodation, and found it in Longford! It's that simple! And I've had no reason to go anywhere else since I moved here. My husband Kenny says the same, that he wouldn't live anywhere else. I think it was fate in the end… when you look at where I am today, I'm so happy it's where I ended up!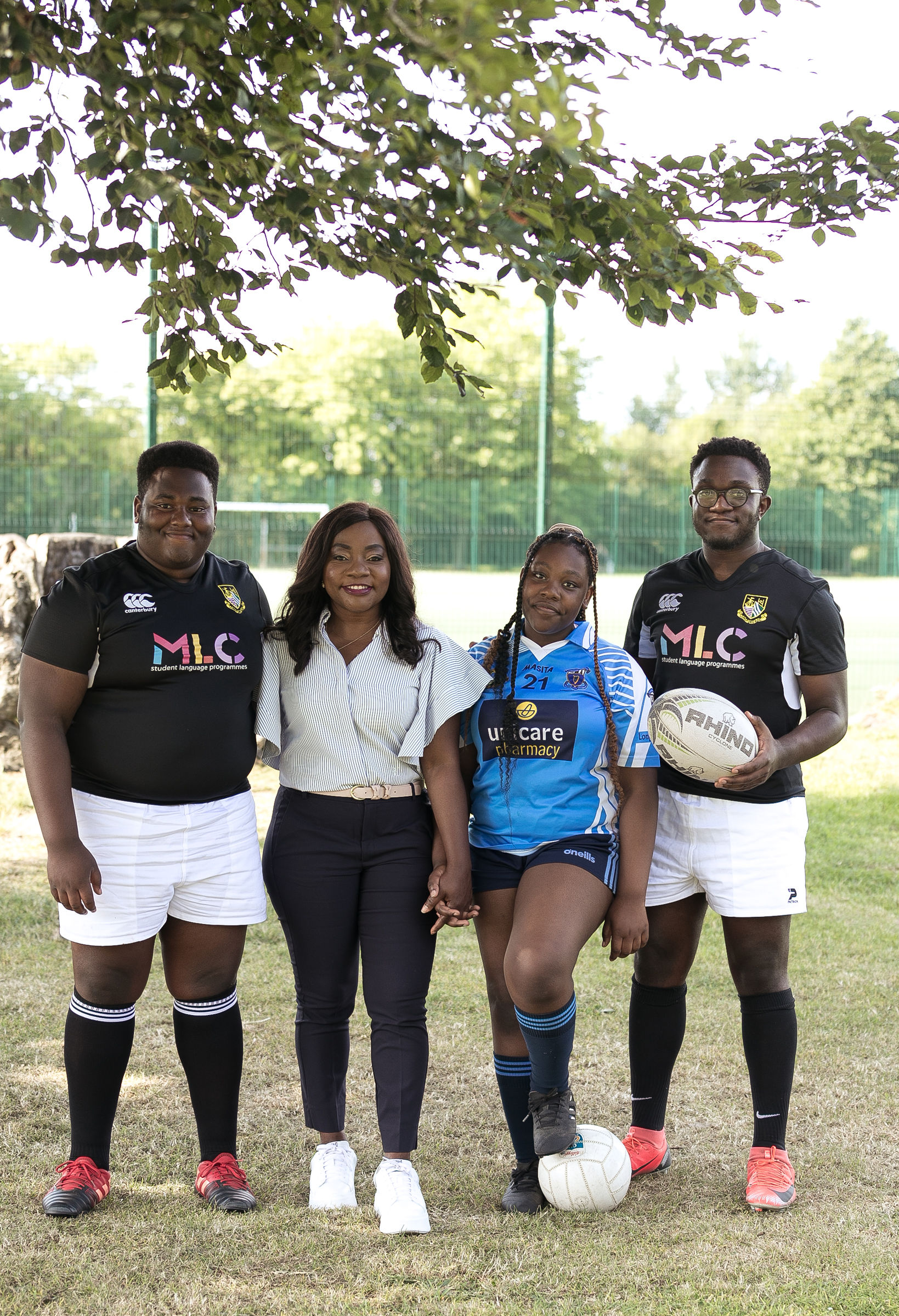 You identify as both Nigerian and Irish; what ways do you blend these two cultures in your lifestyle?
We listen to Nigerian music, eat Nigerian food and have our Nigerian friends here that we meet up with often. In terms of Irish culture, for me it's about getting involved in lots of community activities, whether it's a fundraiser or reading at Mass, and spend time with Irish natives. It's funny, you always notice the difference; the Irish are a lot more conservative and quiet in comparison to Nigerians! We speak a bit louder in how we communicate! It's also funny using Irish slang in front of Nigerian people, they don't have a clue what's going on. Stuff like "yer one" or "sure look!" [Laughs] I put that slang in a Facebook post and my Nigerian friends were like, "what do you mean?! What are you talking about!"
Your story is one of hard work paying off. Could you have ever imagined when you moved to Longford back in 2003 that you'd one day be doing a photoshoot wearing the Lord Mayor chains?!
Oh my god. Never! The last thing a migrant would be thinking as they emigrate to another country is, "I'm going to become a politician here and blaze trails!" No way. All I wanted was to settle, integrate into the community, raise my kids and have a quiet life. I'm so appreciative of how things have turned out for me, and for all the support I have received. I can't wait for the journey ahead!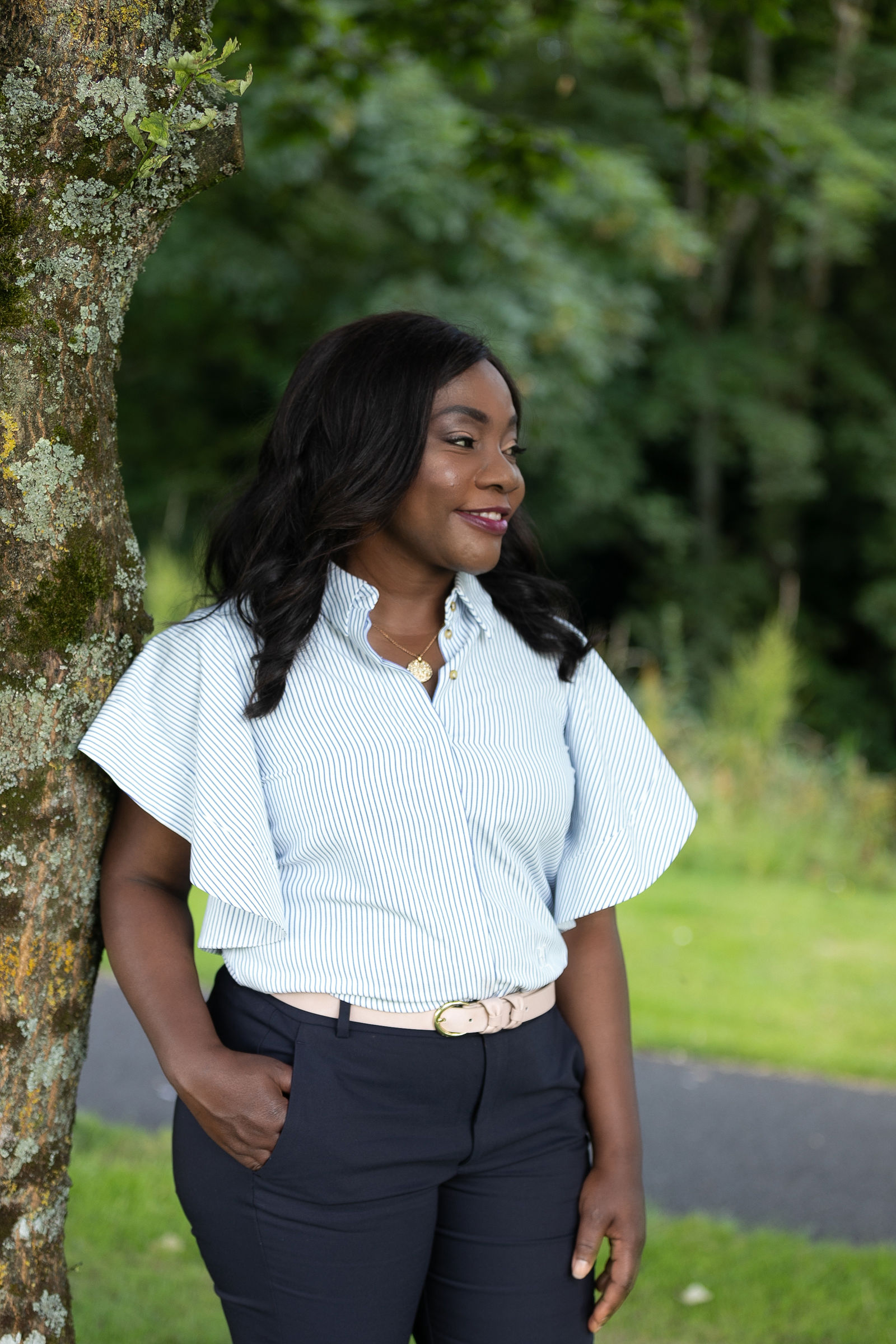 Interview: Niamh Devereux
Photographer: Clare Frances; cfphotographer.com
Styling: Geraldine and Ursula of Unique Boutique, Main Street. Longford; uniqueboutique.ie
Makeup: Kelly O' Dowd; kellyodowdmakeup.com
Hair: Zara Fallon from House of Style Hair Studio, Harbour Row, Longford
Thanks to the Annaly hotel for accomodating the team on the day, and to Tara from Longford Tourism (longford.ie)