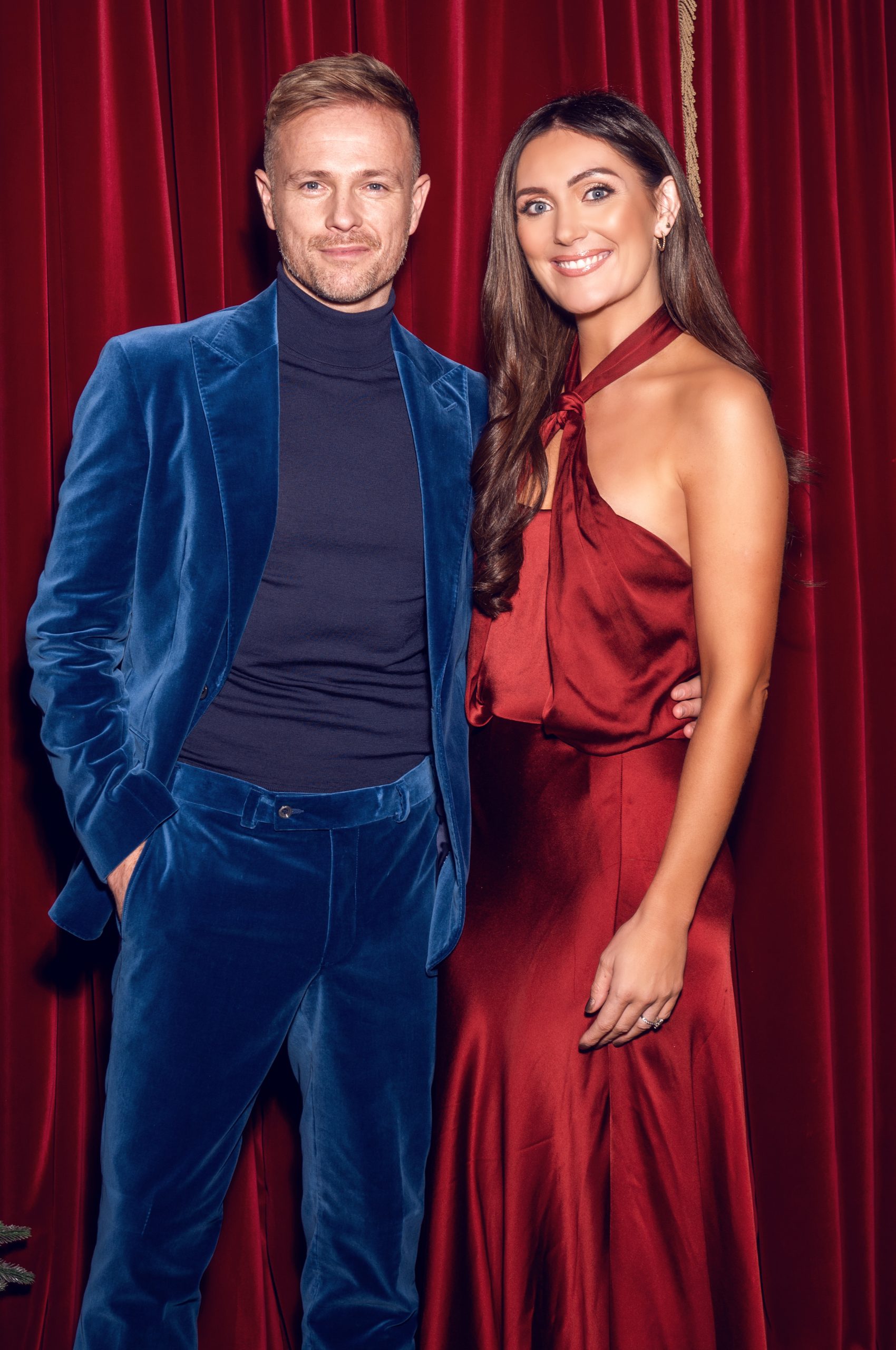 A shimmering grotto of couture is laid out expectantly by stylist to the stars (and to DWTS!) Fiona Fagan in the sumptuous and elegant cocktail bar of the Stella Cinema, in Rathmines, Dublin 6. Freshly delivered for Nicky – by world-renowned LA-based stylist David Thomas – is a blue velvet suit. This suit – also worn by actor Jamie Dornan on a recent Conan O'Brien Show – got held up in Fed Ex HQ (with all our Christmas pressies!) for days. But thanks to a pal Nicky knew (shout out to Jay!) he managed to get his hands on it at 7.30am this morning, before this, our exclusive VIP shoot.
We are waiting in the grand foyer for the grand arrival of Nicky, Georgina and their youngest, 8-year-old Gia (their twins Jay and Rocco are now 14). They appear at the door on the nose of 10am, and in with them rolls three wheel-along suitcases. Never let it be said that Nicky Byrne goes anywhere unprepared. Two decades+ in one of the biggest boy-to-man band's in the world assures that no bag is ever not properly packed; no stone is ever left uncovered. It's Nicky's attention to detail Georgina will later tell us, that has been the secret to this 43-year old north Dublin lad's success. He says he hasn't got the Midas touch, (Georgina thinks he has). But whatever he touches, be it a soccer ball, a wedding certificate, a microphone, a DWTS glitter ball, even this photoshoot today, Nicky Byrne gives it his all.
In our very, very special Christmas shoot from 2021 we talk about the secret to their happy 18-year marriage, about Christmas' at the Byrnes and about lockdown lessons learned.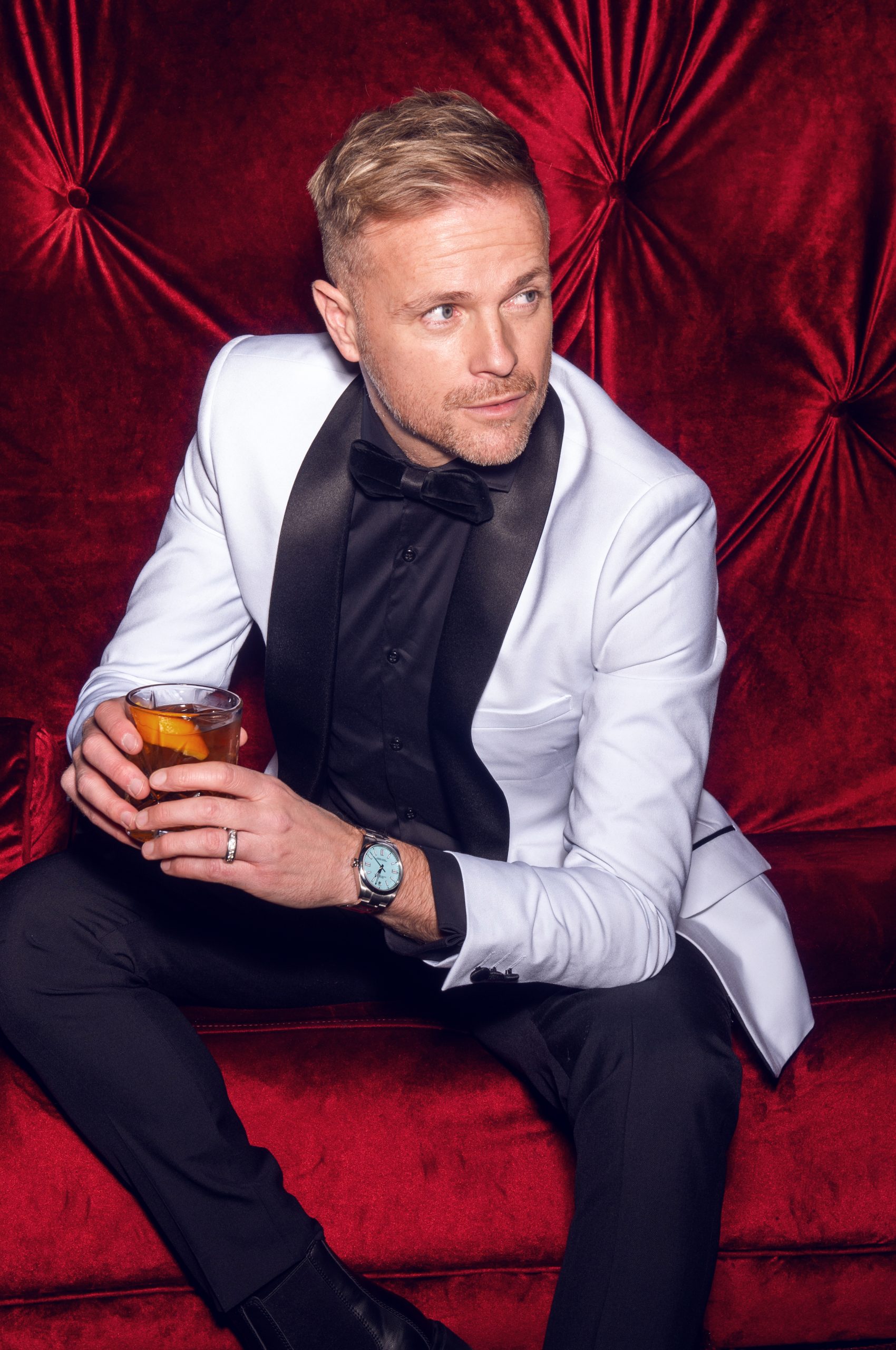 This is all very glam! And very Christmassy! Are you feeling the festive vibes or is Covid ruining the buzz?
Nicky: We're okay, given everything. I think for everybody life has been so strange.
Georgina: So strange and so scary. But hopefully we're on the good side of it now…but yeah we are feeling the festive vibes!
Nicky: Restrictions depending, we're hoping to have both sets of family with us. We've a little bar in the house, we always get in Guinness for my late dad; we've obviously got Bass for Bertie (Ahern, Nicky's father in law) over the years. But it's always family. We've never been away for Christmas.
A big dining table then!
G: Yeah a table to fit 20! This is our 19th year in our house, we were 23 years old when we moved in and neither of us wanted to be without either of our parents or siblings so we invited them all and the tradition has stuck. My dad takes us all out on Christmas Eve, we all go to Nicky's mum for Stephen's Day, my sister does another day…
You must be cool and collected hosts at this stage? We're already flapping about our stuffing balls!
G: When I first started doing it all those years ago I did do everything, but nowadays I have more sense! Really it's all about us being together. It's simple food but with nice trimmings. And we get others to give us a hand…
N: My mum brings a vegetable soup, my sister Gill brings potato gratin, I'm a stickler for mushy peas…not that I make them! Yeah it's a busy house but it's a casual sit down. Everyone is there to help and the kids are running around.
Then it's feet up St Stephen's Day!
N: I really look forward to Stephen's Day because my mam does it and we can wake up after the chaos and watch a movie and kick back! But we love hosting, even when we first got married we always wanted to be able to host our families. And that's how it started. We were lucky enough to buy our beautiful house and we wanted everyone there all the time.
G: The year we moved in, Nicky proposed on Christmas Eve so it's also another reason why it's special! I never want Christmas Day to end!
Now, what about you guys? 18 years married and still so loved up. How?
G: Time flies when you're having fun! We are very lucky to have each other.
N: It is a lifetime ago but at the same time it doesn't feel that long ago.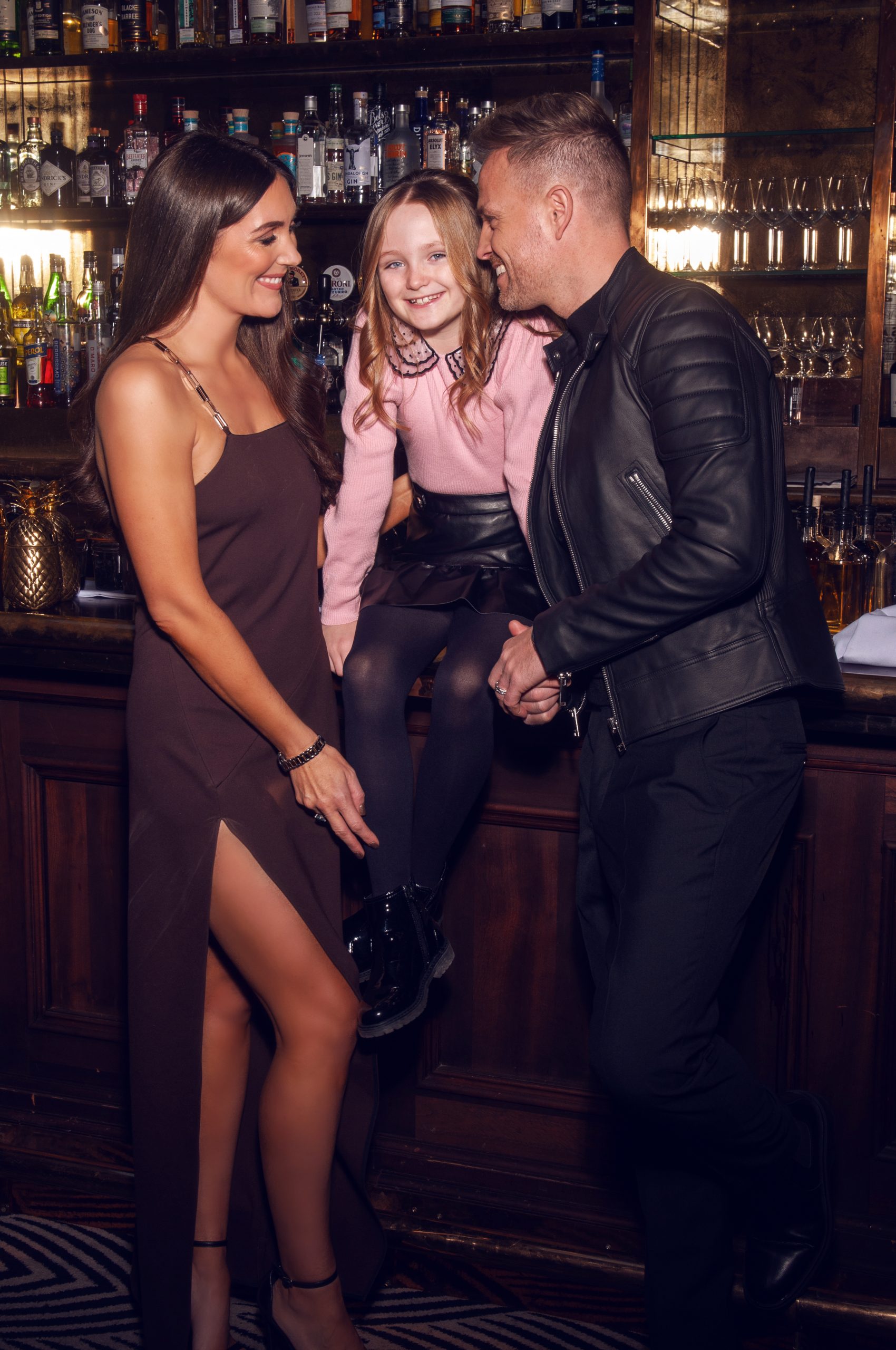 Is respect the secret of your happy marriage? Because you do seem to really respect each other.
N: I think we've just evolved. We love each other, obviously; we have three beautiful children and family always come first. That's the way I was brought up. My parents always taught us respect and if you don't have respect in life, you're in trouble.
G: I think there's a real deep friendship there as well because we got together so young.
Throughout the planning for this shoot, all Nicky was concerned about was you, Georgina.
N: Would that not be any guys' worry?!
Not necessarily…
N: Nicky is very caring, that is very true. Plus he's more experienced in areas, such as these [photoshoots]. Obviously I know what I like but I may not see it from the angle he sees it!
Are you the boss at home, Georgina?
N: Yes!
G: I think it's shared.
N: But sure isn't marriage a team effort anyway?
G: It's all about negotiations!
Nicky's work schedule must be pretty erratic, meaning you must run the home?
G: I like to live my life quite regimented, that's how I best function! But equally if Nicky is home, he is full-on as well.
N: I was really conscious when Westlife ended that the kids didn't see their dad lazing about the place so we are so both busy. Georgina is so busy every day. And then when I am home I want to be the same. When I worked on 2FM the timing I was on air was brilliant (10 – 1pm) each weekday). I was up at 7am with family for breakfast and then out the door at 8.15am. I loved the routine.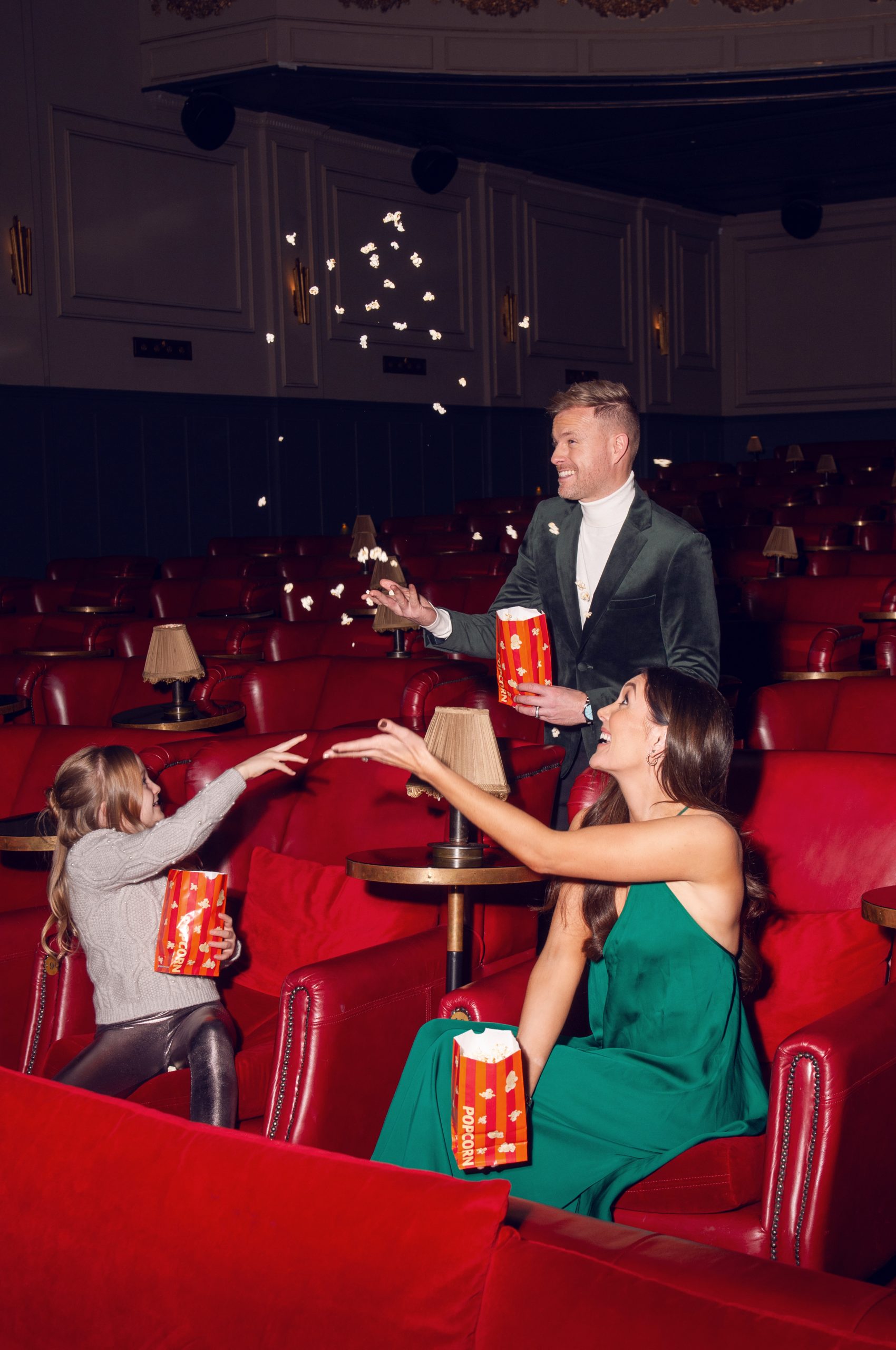 What's the work schedule like now?
RTE's Last Singer Standing is in the bag, we filmed 12 days straight through, and with Covid and not much happening it was kinda easy to find those 12 days. DWTS comes in January but that's only weekends – for me! Now, if you're taking part in the show it's three months of your life and I've also done that with Strictly Come Dancing in the UK! It's a big show and it does take up weekend family time but it's a great show to do. Westlife's tour, in the meantime, has been postponed twice because of Covid. Touring is a logistics disaster with half the world opened up, the other half closed. But hopefully it will come good.
Covid has taught us all a lot. Even how to record albums from home. How did Westlife do it?
Before Covid we would have thought recording an album from home would be impossible. But when lockdown dragged on we decided we had to do something so we started to write something, even though it wasn't planned. It was very handy, we were able to write and record, be it at 10am in the morning, or 12 at night. It got the creative juices flowing because we weren't under any time constraints. We invested in a mobile studio in lockdown and it travelled from house to house.
We're trying to visualise the recording process – paint us a picture.
I used one of our sittings rooms which had a piano. You're talking about a mic stand with a microphone and this box that goes around your head. Then two laptops, one on Zoom to the producers so you can hear them, one to link in the audio feed and then you have the engineer and maybe the songwriter too so we're all talking. Now there were loads of interruptions: the dog barking; the delivery driver; the Wifi dropping; the kids coming home from school – it all happened! The boys might be upstairs having a disagreement over something and I'd be in the middle of [he sings a couple of lines] but all that added to the experience because we all were in the same situation.
So the album, Wild Dreams, is inspired by the experience we were all going through?
N: Yep, it was.
G: And Nicky wrote one really good song…
N: I hooked up with the band Picture This and I'd say I've written 5 or 6 songs with them. They didn't all make the album but one that did is a song called Alive, which you love [he looks to Georgina]…
G: It is amazing. It is exactly how you would imagine a first concert after Covid, when the world comes alive again.
N: It's a real dancey song! The Picture House lads love it, I love it and I remember exactly where I was when I wrote the chorus. I even have the scribbled lyrics still…and again that was lockdown because we had the time and the want to do more.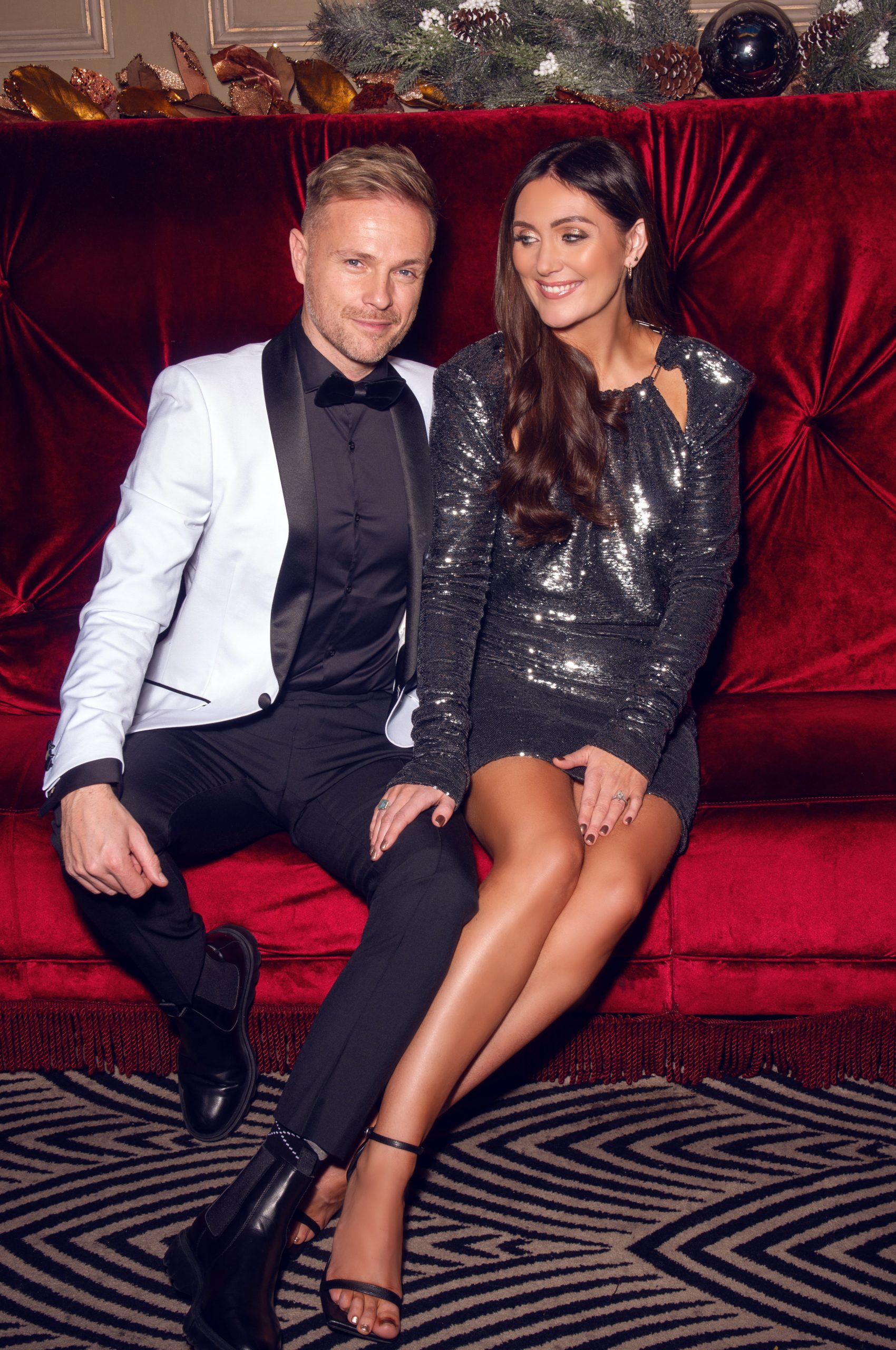 It's a bit of a wild dream that Westlife are still all going strong two decades on…
It is! 1998 we got together. The break that we announced in 2011 did us good though. And it felt right at that time to stop. The wheel had stopped a little, we were all at different levels of hunger and energy to keep going. And a bit like a boxer, we saw One Direction coming up in the wings and we saw the whole team that had been with us for 14 years, Syco, Simon Cowell, all the marketing team, they literally shifted from us to them. And we just thought we don't have this fight in us anymore. Not that we were old, I was 34 at the time, but we were too old to take on a young audience again. And we had done so well and we couldn't complain. We were also very confident in our legacy: 14 UK No.1's, we'd sold loads of album and done loads of tours and we genuinely felt, 'this is it'…
But it wasn't.
It's weird how it works. I had all the boys on my 2FM radio show for different reasons, be it to promote their solo record or books or whatever, and then the conversation started. One day we all secretly met in my house and Shane and Mark knocked into the next door neighbours by accident so that gave away the game! In my kitchen we talked about everything: how would we do it again and under what rules and regulations…
And what were the parameters?
Without getting into the nooks and crannies of it I think everyone needed to be on the same page. We agreed on the style of music, whether it was an album or a tour, or both, and if I had to leave 2FM, stuff like that…
Your fans have grown up with you. Ceira Lambert, the hair stylist with us today, posted a little story on Instagram earlier about this photoshoot. And within seconds it had been reposted by fans all over. Mad isn't it?
N: It is mad. I still can't comprehend it.
G: I don't think he can think about it…
N: No, I don't think I can. It's a bit too surreal, we don't see ourselves in that way…
The Wild Dreams Tour is logistically tricky with Covid. But is the plan for 70 worldwide dates starting from the Aviva on the 8th and 9th of July?
It was meant to be starting here, but now we've doing some dates in Norway, Sweden, Denmark, Holland, Germany, Belgium, hopefully all pre-Aviva…
Ah! We were thinking you might do it over the summer holliers and go off en masse as one big happy Westlife family with partners and kids and mammies and daddies in tow?!
N: That is a good idea! But we break it up into weeks on and weeks off. The tour starts around May in Europe, then the Aviva in July, Páirc Uí Chaoimh, Cork and Wembley Stadium in August, September is South Africa, October is Asia and November/December is the UK and then into the following year, which is still not confirmed, but the US. But it's three weeks on, three weeks off or ten days on, ten days off. And we need to do that for our mental health and because we have family and kids.
G: I'm just sitting here listening thinking about my diary now! Obviously the kids can't miss much school but we will go to a few and it is such fun. For me it was obviously part of my past and there's great friendship and kinship there between all the families.
It sounds so exciting. But what a nice balance Nicky that you have another career outside of Westlife, too.
That's important. The first 14 years of Westlife it was only Westlife. And I was always conscious that it wasn't going to last forever. And no matter how much money you make or don't make, you still have to do something. And I'm a worker, a grafter, I need to work.
You say that you found leaving your 2FM radio job in 2019 really hard…
There wasn't one day I didn't go on national radio and feel honoured. I'd grown up listening to the Gay Byrne's of the world and had become friends with Gerry Ryan and in my mind I'd be thinking, that is somewhere I'd love to do in another lifetime, when this Westlife thing slows down. So I had my mind set and when I did get the opportunity I grabbed it and I loved it and still love doing it. I still think I've much more to do and develop. But Westlife is such a steam train that I can't do everything. But you can easily be forgotten in both businesses. If I go away from presenting for five years to focus on Westlife, it's harder to get back in.
You're very ambitious, very determined and that has been the secret to your success. Would we be right, Georgina?
Oh yeah, 100 per cent. Everything he dreams and wants, it happens. But it happens not by fluke, but by hard work. He makes sure he puts in all the hours. He'll never get tired until he achieves. I really admire that. He believes in himself as well.
And that's really crucial. Manifesting is important because we lead life, it doesn't lead us.
G: I may have an idea and I may be as motivated but then I'll have a bit of doubt, a lack of belief…Nicky doesn't have that.
N: But in anything you do you also need a huge amount of luck.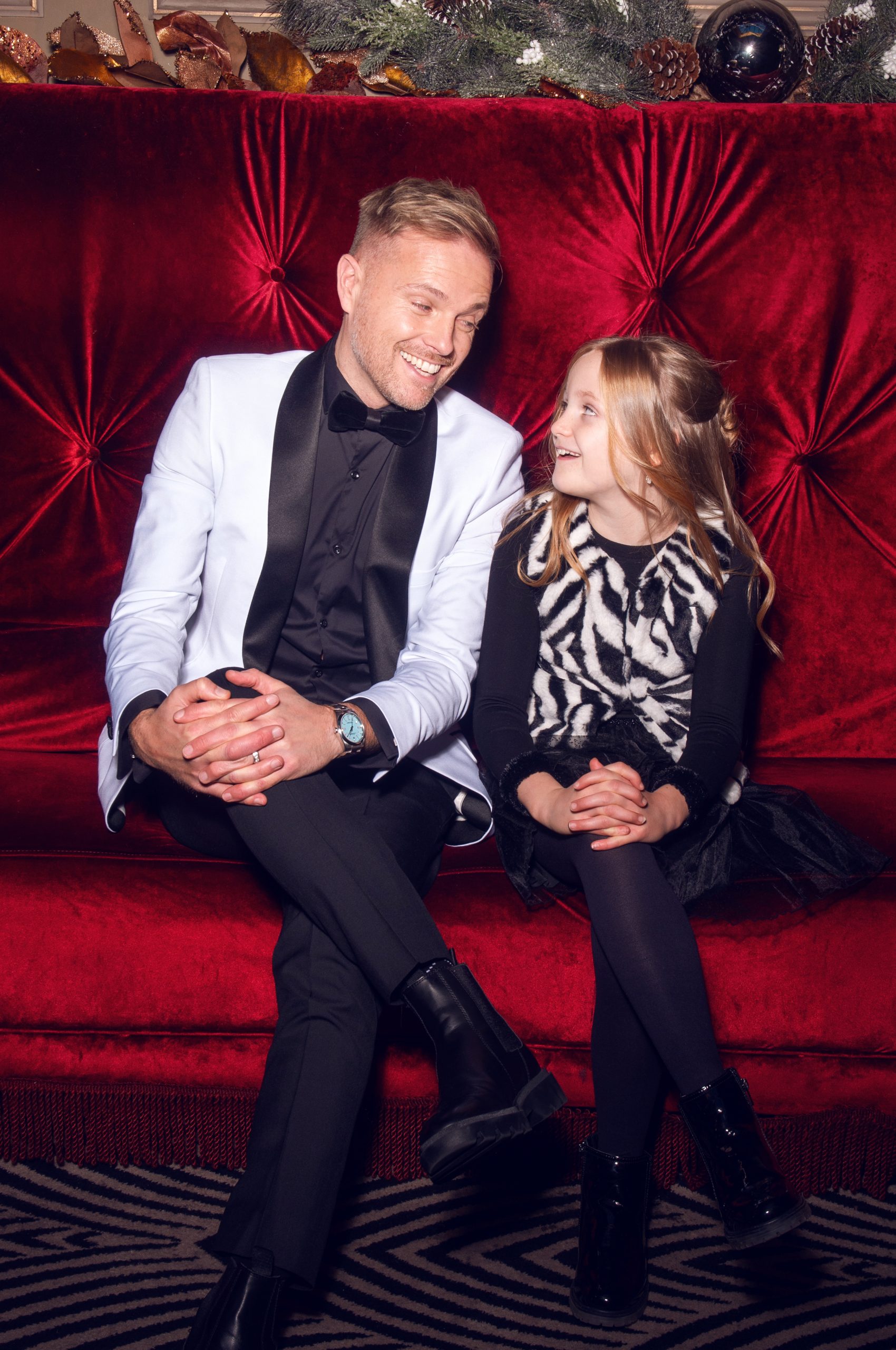 Do we not make our own luck?
N: Things have to fall your way as well. My background from sport proved useful too. You're losing games and you have to find ways to win. I would look at the psychology of the sports people in the business and I would really admire the likes of Roy Keane who would just not settle for second best. I would do things differently my way, but for example on a Westlife tour I will not go on stage without knowing that show back to front. That doesn't mean I won't make mistakes. Of course I will. But I will recover from the mistake quicker – muscle memory
So you rehearse a lot?
Yes. The lads kill me but I will be the last one out there.
Georgina, in lockdown you also applied yourself and qualified as a reflexologist while the rest of us baked banana bread! There's plenty of determination there too!
G: Aw, I don't know but yeah I did qualify as a reflexologist through training centre, Golden Egg Holistic! I focused on mum and baby reflexology because I thought it would be most suited to me. I may in time do something with it, as opposed to opening a practice. I'm enjoying doing a few hours in a small boutique in Howth called Maggie & Me; I love fashion as well.
And never say never to your kids – and all Westlife kids – following in your footsteps! Did we read they'd set up a band of some sort? Gia who has been entertaining us for the day is full of personality and born – maybe – to be on stage!
Gia is amazing, she's a great little singer, in fact all the kids are brilliant in their own right. Healthy, sporty, busy, fun and keep us on our toes as kids do. We are very lucky.
Speaking about kids, before we leave you we should mention that you guys received no monies for this photoshoot but instead VIP made a donation to a charity of your choice, The Children's Health Foundation at Temple Street…
G: It's been nice to be able to that. We were in Temple Street this time last year with Gia. Thankfully nothing serious, she just needed a few stitches, but still you're reminded of the incredible work they do. Because Gia was taking part in this shoot today we thought it would be nice to make this donation to a charity that mattered to her.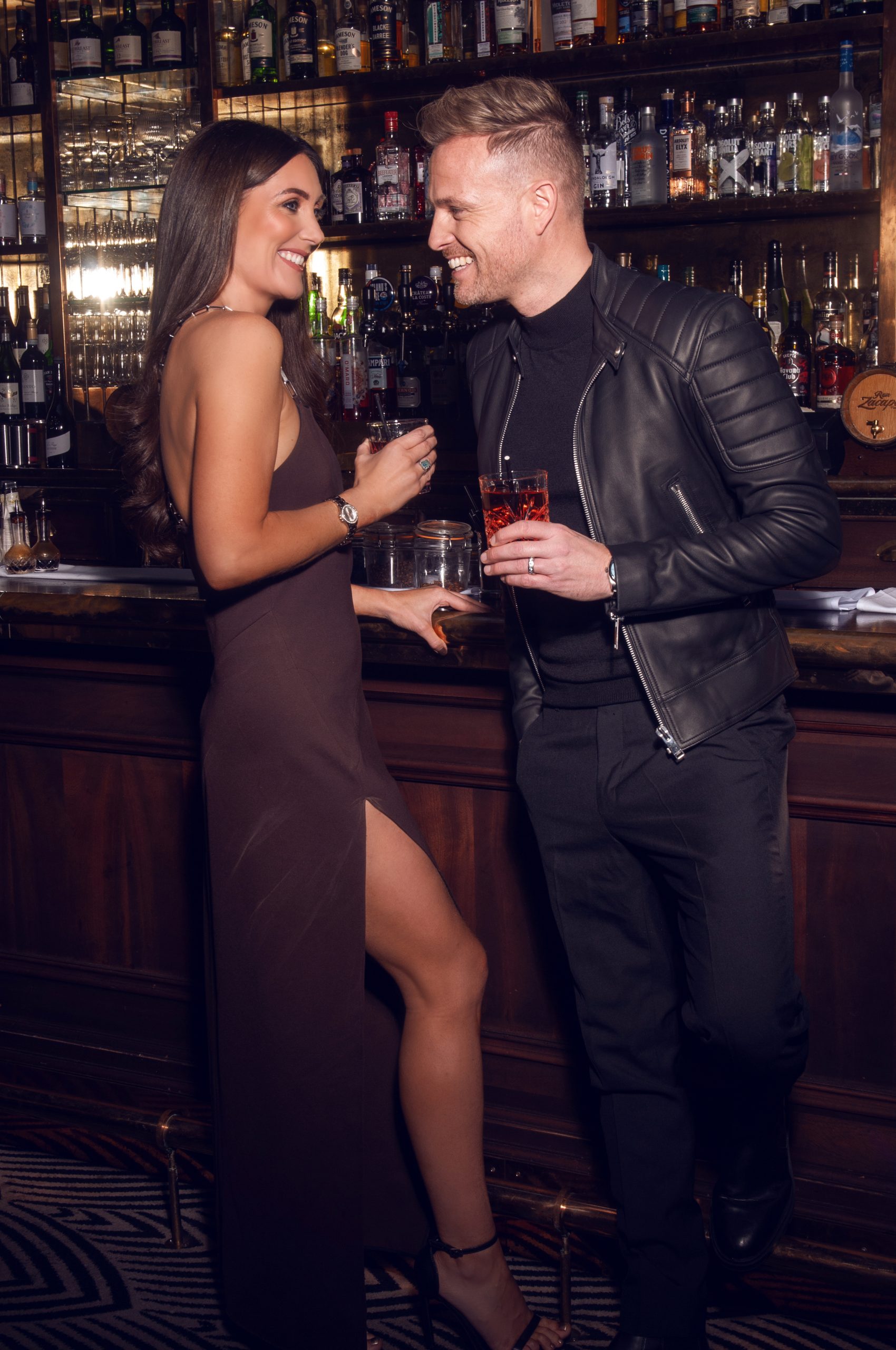 INTERVIEW: Bianca Luykx
PHOTOGRAPHY: Lili Forberg; missili.net
STYLING: Fiona Fagan: @fionafaganstylist
MAKEUP: Sara K Golding; saragoldingmakeup.com
HAIR: Ceira Lambert and Becky Knowles for ceiralambert.ie and Stephen Burke for Alpha Barbers
Special thanks to Joanne Byrne at Presence PR and Amy O'Shaughnessy at The Stella
Shot on location at the beautifully restored Stella Cinema, an iconic cinematic landmark in the heart of Dublin 6; stellacinemas.ie
If you would also like to make a donation to the Children's Health Foundation at Temple Street, Tallaght, Crumlin and Connolly click to: childrenshealth.ie/donate/