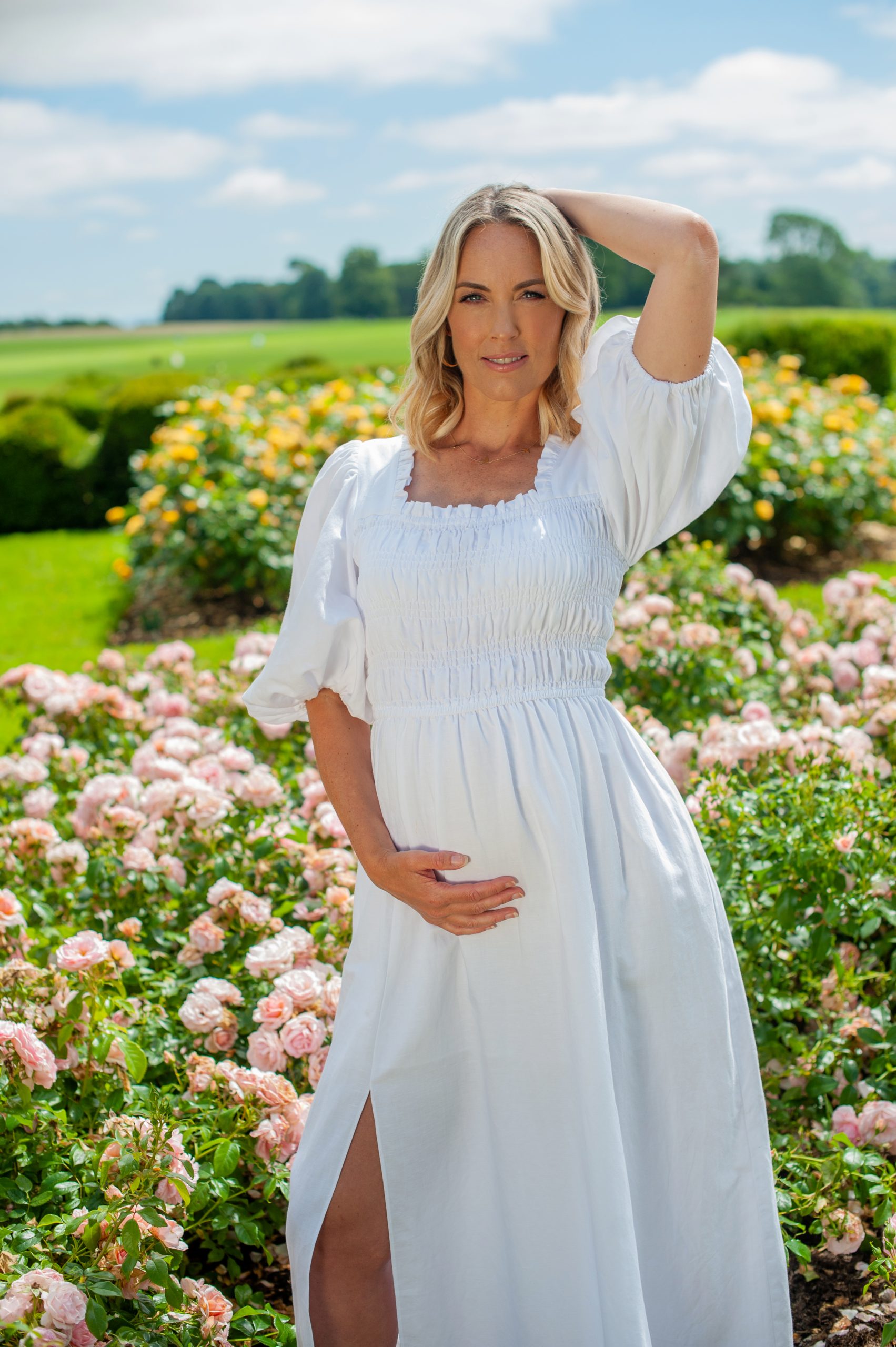 It was bare feet all the way, bar one shot where she wore Birkenstock's. And this is how it should be for this down-to-earth Carlow girl. Let her feel the grass between her (brown) toes, and Kathryn Thomas (42), is at home. Our Mother Nature (and we say "our" because after nearly two decades shooting her we feel like a proud mum!) has joyful pregnancy news to share, making this shoot today, a particularly special one. It also happens to be a scorcher and, we're in a completely re-imagined Carton House, now a Fairmont Managed Hotel, and it is, we can confirm, absolutely divine.
Aligning calendars with Kathryn is always a challenge. Permanently busy, her phone never stops. Today she's taking calls between shots because yesterday she arrived home from Donegal, (where she'd been shooting her new travel series with Ellie, who's now three-and-a-half), No Place Like Home. And, in the melee of it all (the melee being a toddler, a filming schedule and a growing bump) she lost her computer – yep, headwreck. Currently she's retracing steps, but with little joy so far. And there's no rest. After our shoot today it's straight to a house action with her husband Padraig (they didn't get it, she tells us after) and then it's home to Inchicore to pack her bags – again – for another road trip to the Aran Islands, which she leaves for tomorrow. This series (it starts on RTÉ One on August 22nd) has taken her from Malin Head to Mizen Head on the most famous Irish road trip of all. It would be some craic to be on it with her.
We talk about her due date, which is fast approaching (end of October), about how she's happiest being busy and how these images from her first pregnancy shoot on baby No. 2, are framers for sure!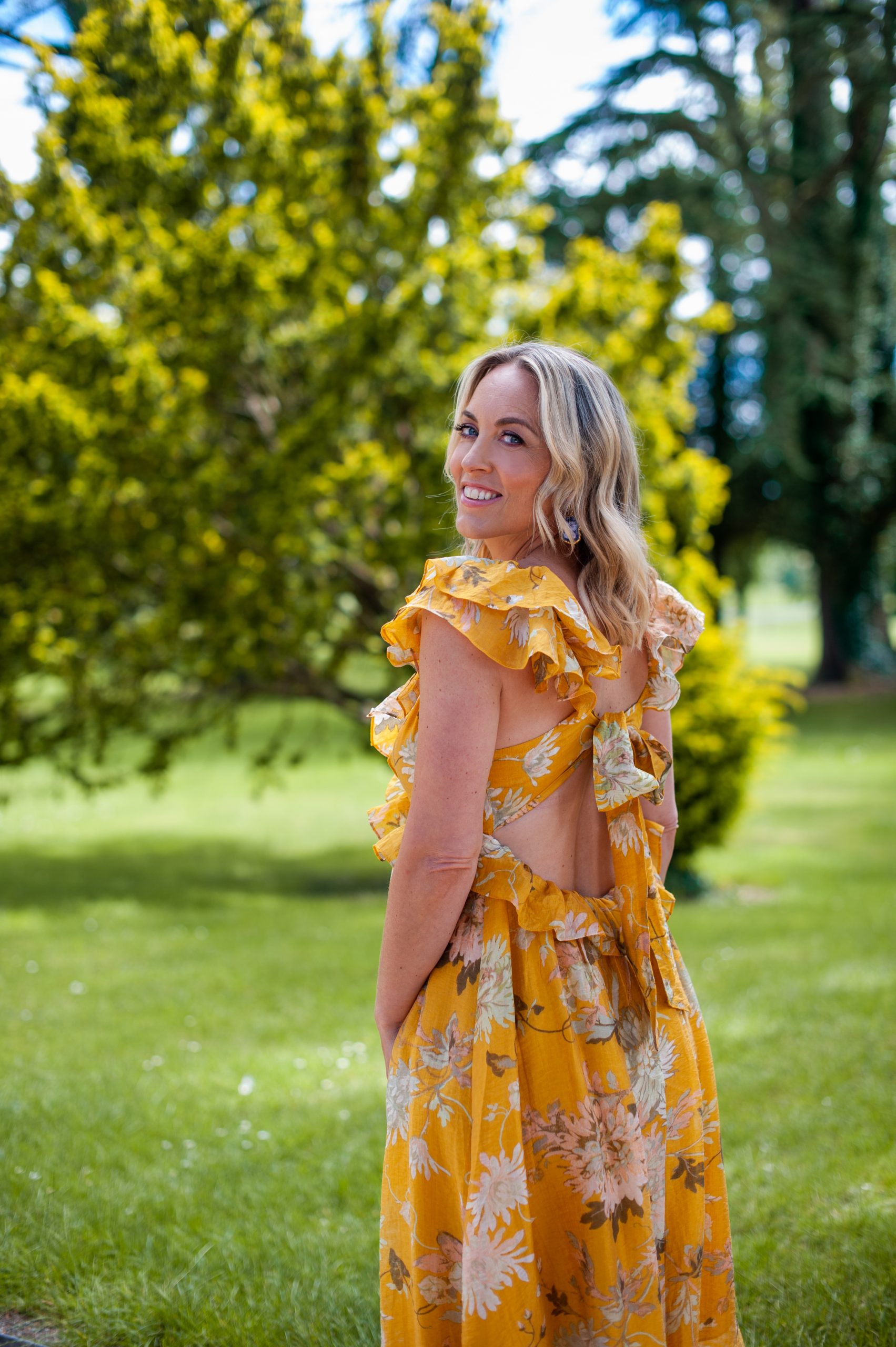 Kathryn, we are so over the moon for you.
Thank you! We are too! For us to have this opportunity to have a second child we do not take that lightly at all. But I'm definitely more relaxed this time than last time. Like anything, once you have done something you kind of know what to expect. Last time I was very much rabbit in headlights. I was so anxious and as the weeks passed by it felt like so momentous considering all we had gone through. This is by no means any less momentous, but I just feel more secure. This time we only told people after our 20-month scan, but last time I had to break the news earlier because I was out and about. Because of Covid I wasn't out as much.
You're six months gone…so…lockdown was good for something then, wasn't it?!
[Laughs] Lockdown was good for something! There just seems to be babies all over the place! It wasn't necessarily a straight forward journey this time round for us but we got there.
You would have been around four months pregnant when you watched Sile Seoige's groundbreaking documentary on miscarriage. How did you find that?
I think it's a very positive thing that women are now being more open about their fertility journeys and child loss journeys and, I think the documentary Síle did was so amazing, and so brave, because I knew what she was going through at the time, and she knew what I was going through at the time. We had each other's ear! I knew she was pregnant and she knew I was pregnant in the very early days. So I was so proud, because that was a difficult documentary for her to make. I thought it was so inspiring because it was so honest.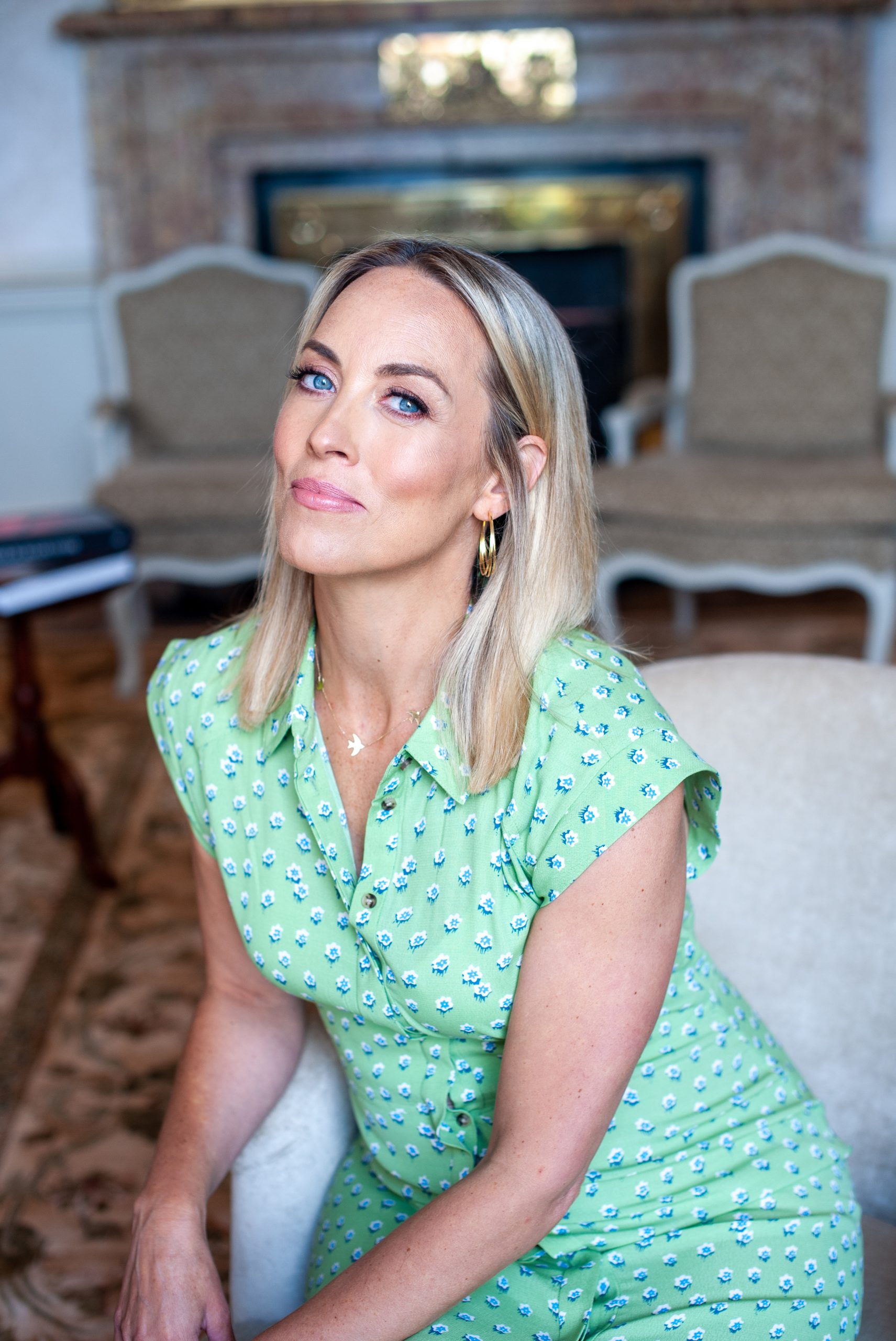 What was your, and Padraig's, reaction when you found out? Were their tears?
Because of what we have experienced I was very calm, very pragmatic, almost disbelieving. It was a weird one…we didn't celebrate, you don't want to celebrate… I was guarded, I would say. You're not optimistic, not pessimistic, you're kind of just coasting is how I'd describe it. As the weeks go on and the scans go on you are slowly able to breathe a little bit easier. It's kind of a self protection thing.
Is Ellie being showered with all the one-on-one hugs before the whirlwind of a newborn rolls in?
Nothing has changed there because she has been the centre of our lives, and still is. She's so excited, she's talking about being a big sister and understanding why mum can't pick her up all the time, which to be honest, never doesn't happen. And that's the other thing you sort of forget – last time round I was doing pregnancy yoga and I was going for afternoon naps, like hello! It's a different kettle of fish now when you're running around after a three year old. Scooters and bags and bikes and shopping and into the car and out of the car…
And really busy with work. You've been filming for the last month with Ellie in tow, up and down the country, then onto Ray D'Arcy's show for August and then Pure Results bootcamps land in in September. You're flat out. But that's you. You don't really ever stop.
Yeah, and I'll say last time round I went for naps, but Padraig will argue and say that I did not take naps! I'd be like, I did, and he'd be like, you didn't, you would do one yoga class a week but you would have done a workout before you got there! Yeah, romantically you look back but I probably was the exact same last time. There's just more pulling and dragging with her this time. But I love being on the go and I love being active. And I love doing the travel show with her, yes it's more difficult having a three-and-a-half year old on the road, but it's just great fun. I suppose I do need to be conscious that I'm growing a human. But I'm happier being busy, doing stuff.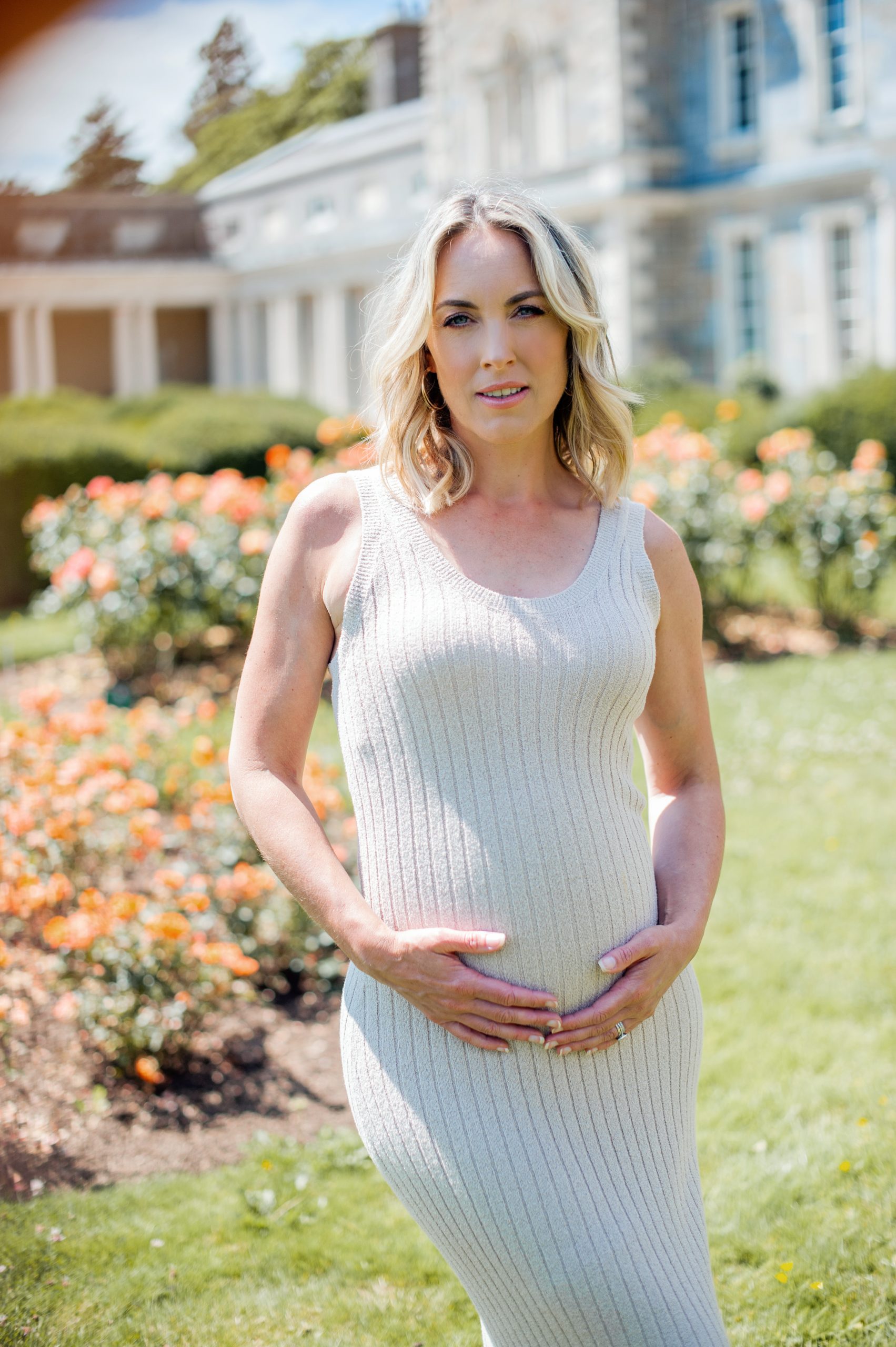 You need a holiday!
People ask me do I ever switch off and when I'm here I don't really but when I go abroad, I do. I love that empty-head feeling when you're on a beach or reading your book and you lift your head up and it's that sort of hazy sea and sand and glass of wine at four o'clock feeling! I am longing for that!
Keep longing, it will be a while! (Her due date is the end of October and her work schedule is packed 'til then).
I know, I'm thinking maybe March or April – by myself!
Good luck there! The prep beforehand will be so exhausting it will be hardly worth it!
I know! We've had two birthdays with Ellie in lockdown. She's gone from a baby to a little girl since all this sh*t started. And by the time we come out the other end of it we'll have another little person in our lives. Holidays will be…different. I saw two couples the other day with tiny newborns. And I was like, oh sweet Jesus. Why are they so tiny? And the little wobbly heads…you kind of forget [laughs]! You forget how to do everything…
Like riding a bicycle, Kathryn!
We got rid of all of our baby stuff, we were so convinced we were going to be our little unit and now here we are… Ellie is so sturdy and so independent and we're going back to tiny little beautiful smelling bundles of fat! We can't wait, but I hope I remember what to do!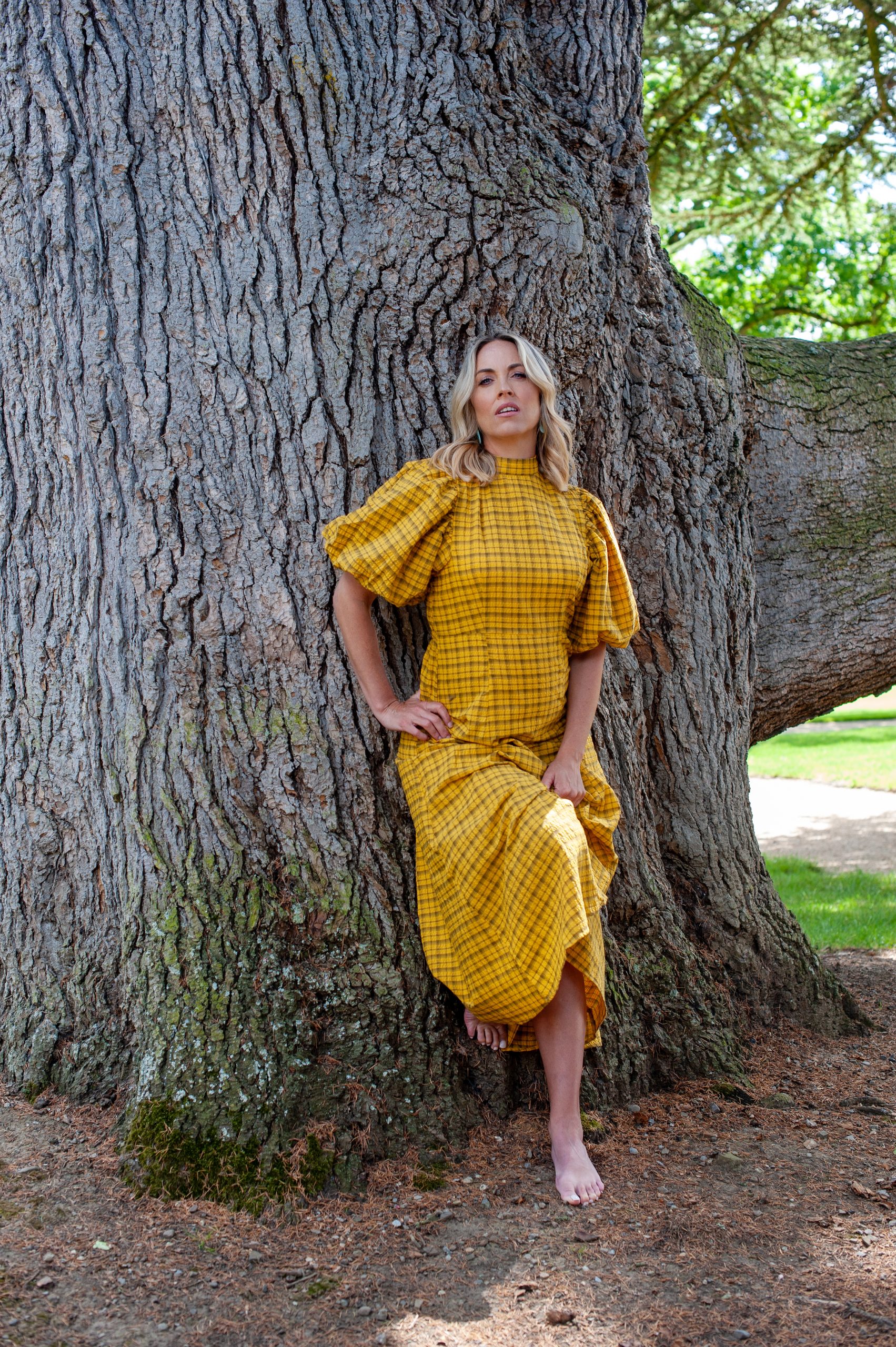 Of course you will! We're here today at the beautiful Carton House in the middle of a heatwave. On a day like today there is no place like home!
When it's 25 degrees Ireland is really magic. We're off now to the Aran Islands for the next leg of our adventure. This year on No Place Like Home we are going from Malin to Mizen Head, probably the most famous road trip in Ireland, and we are taking in different sights along the way. Last year it was people reimagining and appreciating Ireland again, this year people need the escape. To be able to travel Ireland this summer, and in this way, has been amazing.
You recorded the first series last year just as we came out of the first lockdown when we thought we were all home and dry! What was the mood like this time round?
We shot everything outdoors so that has dictated a lot of what we covered. Because we were in the van we didn't have to do a lot of hotels or accommodation. It is the great outdoors and that is the traveling experience. For the time being the mood is good, the mood is positive, but obviously as the numbers increase everyone has the same concerns. It's bringing the kids into restaurants question, it feels like we are the start of that uncertainty again. It feels like it's the vaccine versus case numbers race, and that will dictate where we will be soon.
We all end up talking about Covid these days. And it's not a conversation ice breaker, like the weather. It's a topic we'd love to get away from but can't.
It's so draining talking about but it's kind of unavoidable, it has permeated into all our lives.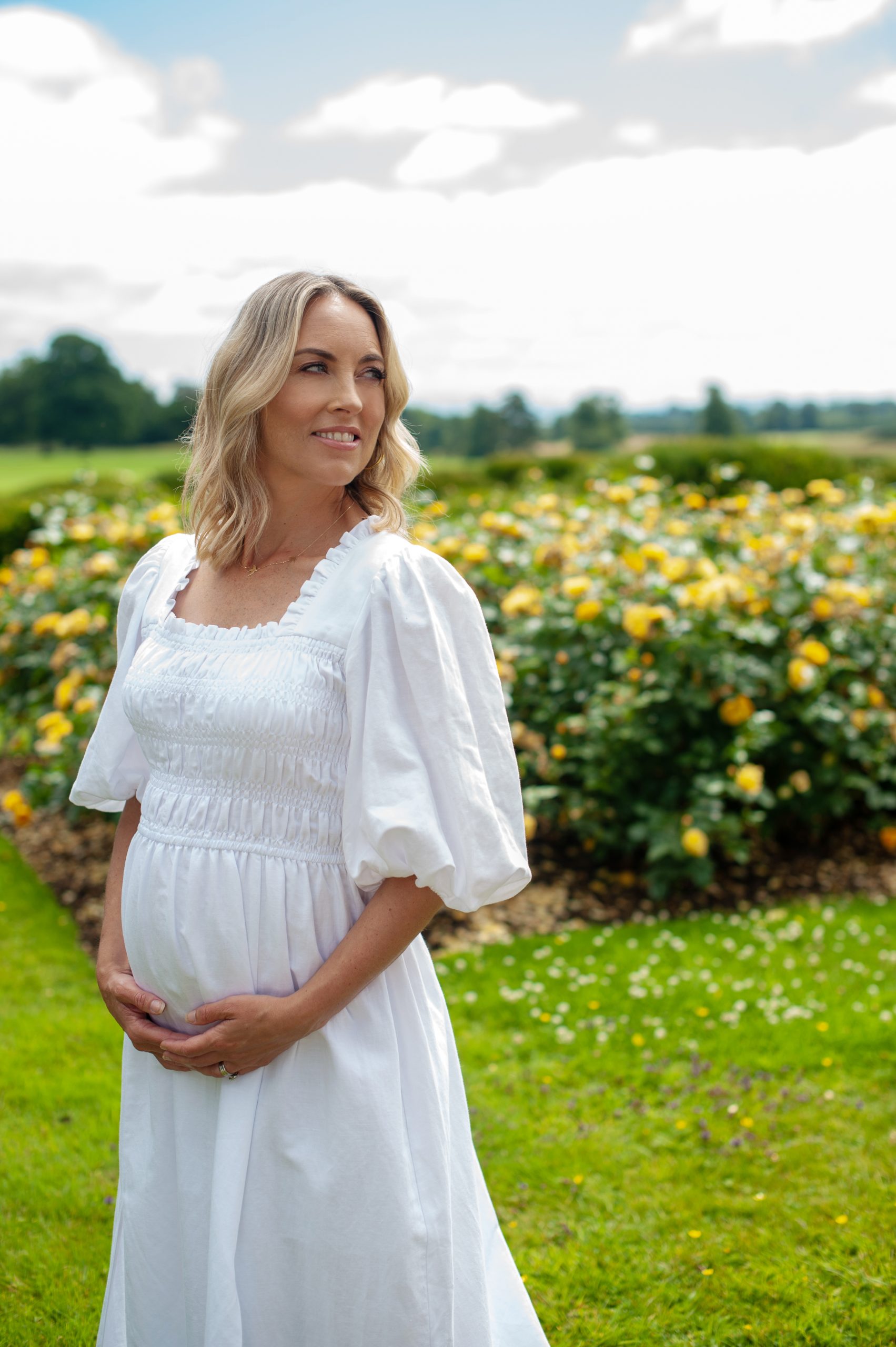 Trying to pretend everything is normal is exhausting.
I think that's why everybody feels exhausted. We were exhausted with Covid, exhausted with lockdowns, we were exhausted trying to ignore Covid in terms of not talking about it, exhausted with the announcements, exhausted with what's happening and not happening. And then with the vaccines and it all being so up in the air with the figures and now Delta…it's just relentless. And I'd be somebody who I think is fairly positive and can keep the flag flying, and work wise I've been fine, and our retreats are back up and running, but it feels like it could all end tomorrow. It's normal to feel exhausted now because there's just this uncertainty all the time.
Something familiar is that you'll be back on RTÉ One for the month of August filling on for Ray D'Arcy again.
Yep, it's a lovely show, they're a lovely team, I was on there for a couple of weeks in July and we did a little travel item every day. I love it but you are still driving someone else's ship so you have to be mindful of that. But listenership for radio since Covid has been up so that's been a great outcome for radio, I suppose. People want to feel that reassurance and familiarity and entertainment, and as much normal life and conversation as possible. For people who are isolated, or isolating, to have someone familiar there with you every morning or every afternoon, I think, it helps.
We know you're a savvy business woman. Keeping a residential fitness bootcamp afloat, and not only during a pandemic, is no easy job. But do you know you're business smart?
I don't know if I'm good in business, I would say I'm resilient and that I believe in what I do. I definitely make mistakes, I definitely face challenges and I now know I could have done things differently and acted quicker recently, and maybe a bit smarter, in terms of finances. But I think what makes you good in business is being able to realise those things after they have happened so you don't let it happen again. It's definitely tough and a challenge, but to be back up and running again is amazing.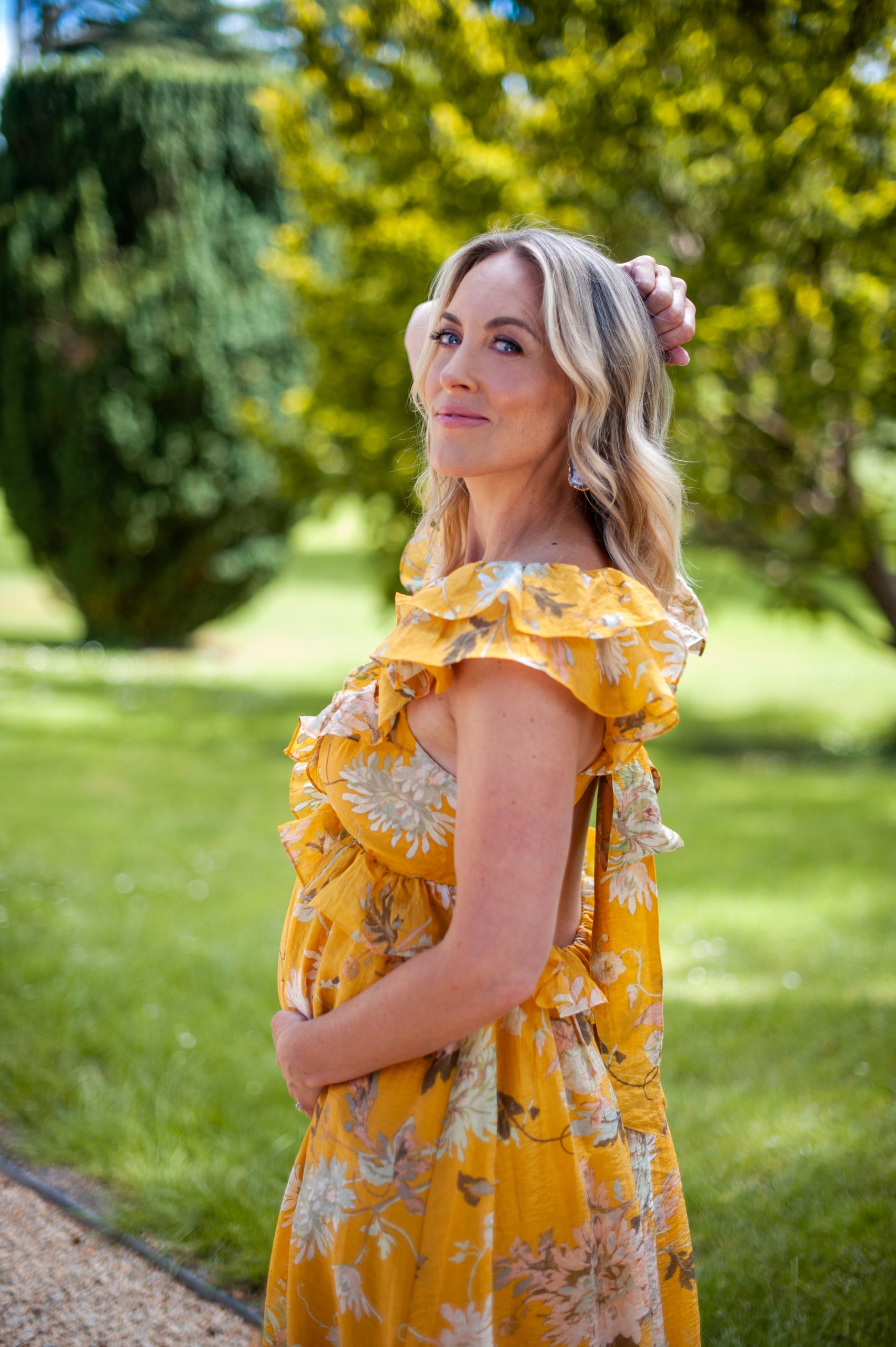 You've had to change the Pure Results model slightly in line with restrictions, tell us how you've done it.
We now stay in luxury hotel rooms over self catering. The hotel chefs at either Powerscourt Springs in Wicklow or Seafield Hotel and Spa Resort in Wexford partner with us to cook our menus, so we can sit safely in pods, so it's hotel policy for our retreats and that was a big change for us but the only safe way to do it. The feedback is that people are just so glad to be out. They're eating food they didn't have to cook! Guests are told where to go; when to go for a swim; what to do in class; they have their breakfast, lunch and dinner served, and when they go back to their room it's made up! They don't really have to think; they just leave their brains at the door and we think for them! Because people worry that if they go to a fitness retreat that it won't be like a holiday.
Anything feels like a holiday nowadays!
Yes, it does! And not having to cook dinner or listen to mammy what's for dinner, again, or make a bed, or think – that's a total winner!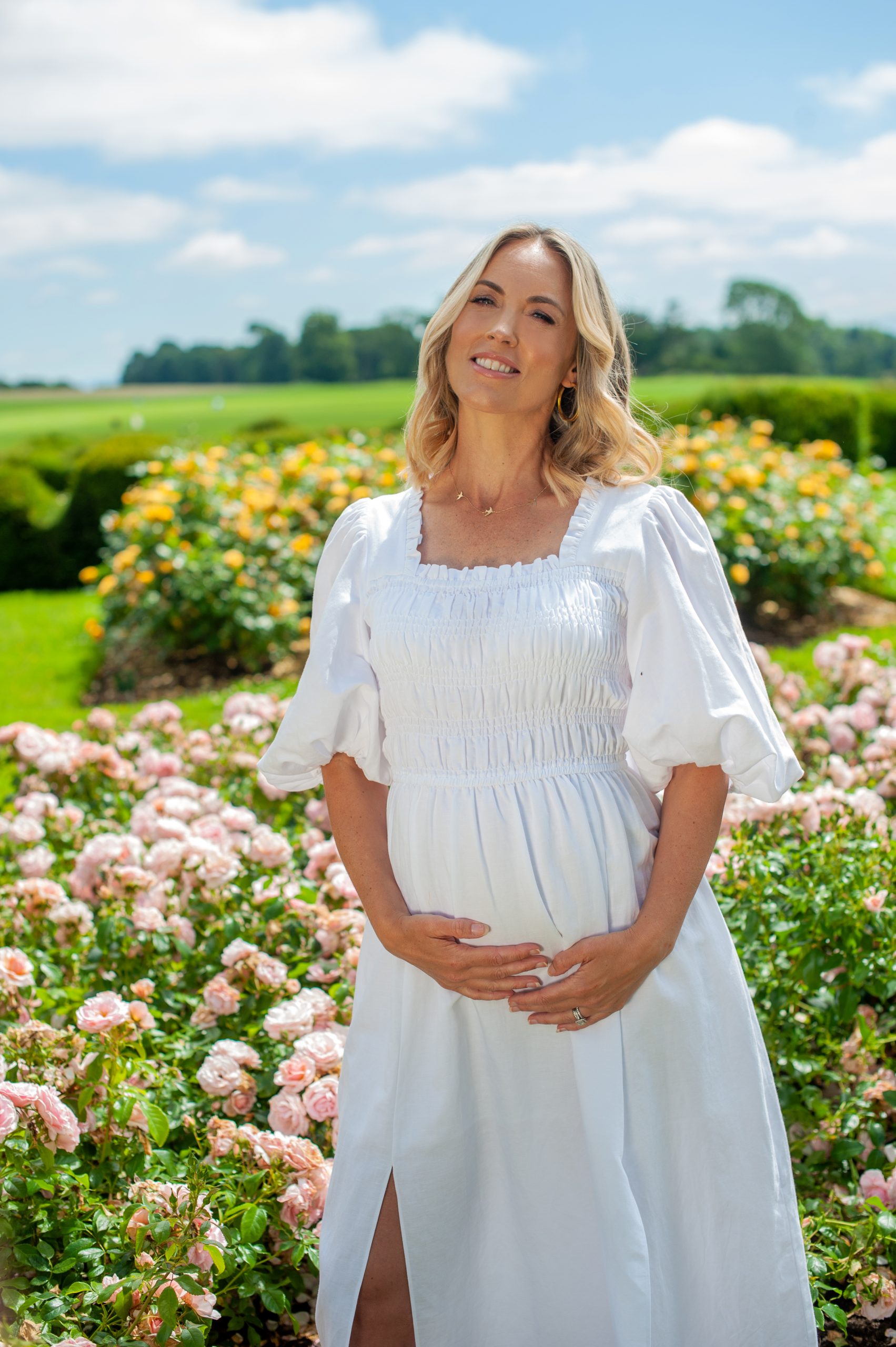 INTERVIEW: Bianca Luykx
PHOTOGRAPHY: Lili Forberg
STYLING: Zeda The Architect
MAKEUP: Michelle Field
HAIR: Norma-Jean O'Reilly