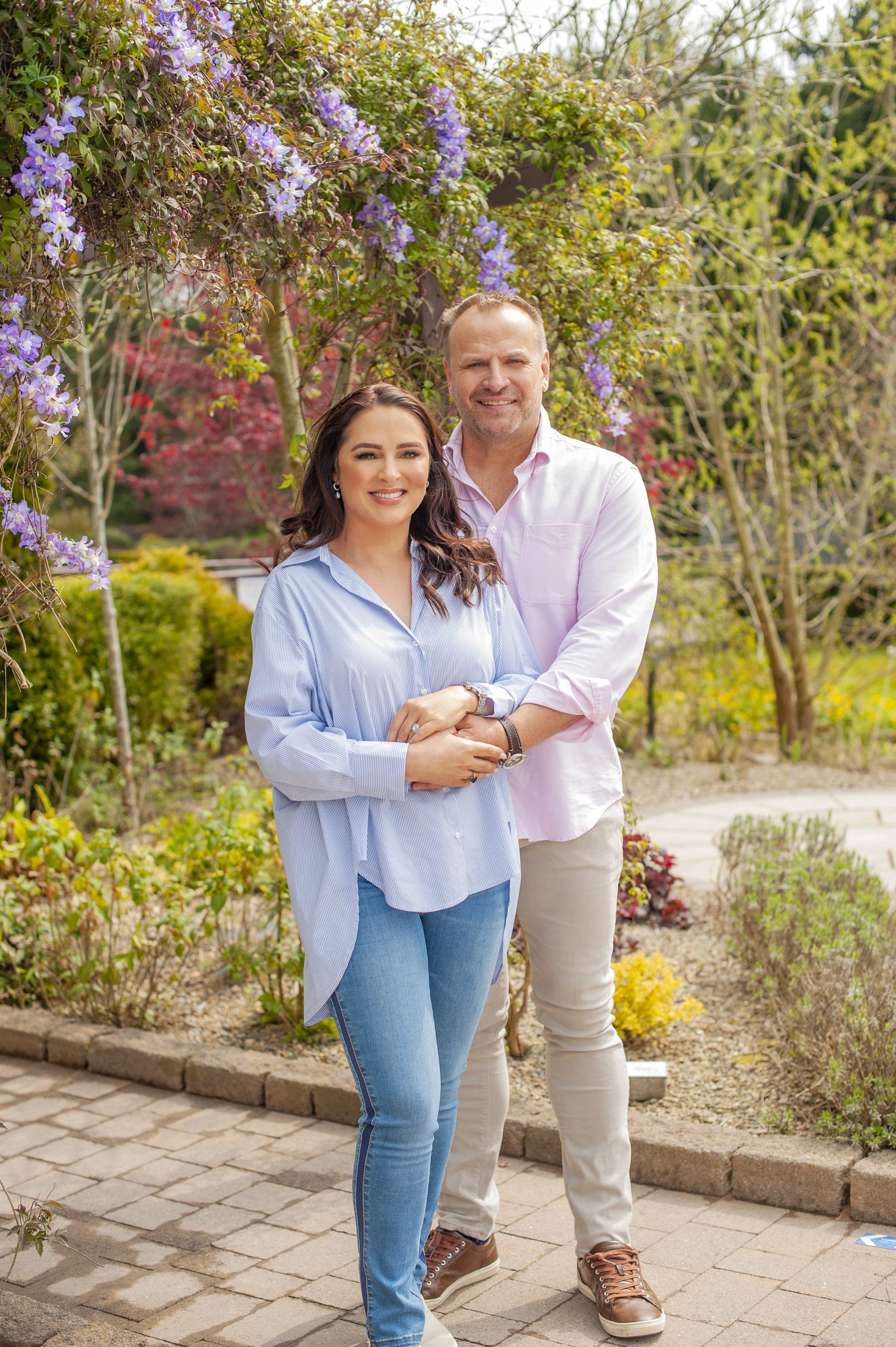 Timing is everything. In business especially so. Being able to jump on something when opportunity arises takes planning. Mostly though it takes luck. When an opportunity lands you run with it. It's the mark of a successful entrepreneur. That and being able to predict the market. Of course, no one could have predicted a pandemic would force us all outdoors. But when it did, Gráinne Seoige's husband Leon Jordaan (they married in 2019 at Cliff at Lyons) was ready with new business Fireboks, which sells premium barbecuing equipment and whose aim is to bring a little bit of South African culture to the homes of Ireland by introducing the year-long concept of the Braai.
As we're now all in the throes of elevating our outdoor space since life has moved outdoors for the foreseeable, Leon's timing couldn't have been better. Gráinne is very proud of what he is doing. He's relocated to Ireland and is making a go of it here, just as five years ago she relocated to Pretoria, South Africa and made a go of it there. It was five fun and fascinating years she tell us in this exclusive interview, but the timing was right to move home to be with family and to run her diamond and gemstone business, Grace Diamonds, here. So, last December, Gráinne and Leon landed back in Galway to start their next chapter.
We meet at Kilsaran Showgardens in Dunboyne, Co. Meath where Leon sweats over the coals while Gráinne puts the feet up! We talk life, love, how her journey has brought her home, and we listen in awe as one of our most talented multilingual broadcasters – who we want back on our box, just saying! – talks Irish to her mum, English to us and Afrikaans to Leon and their handsome Staffordshire bull terrier, Murphy! Respect.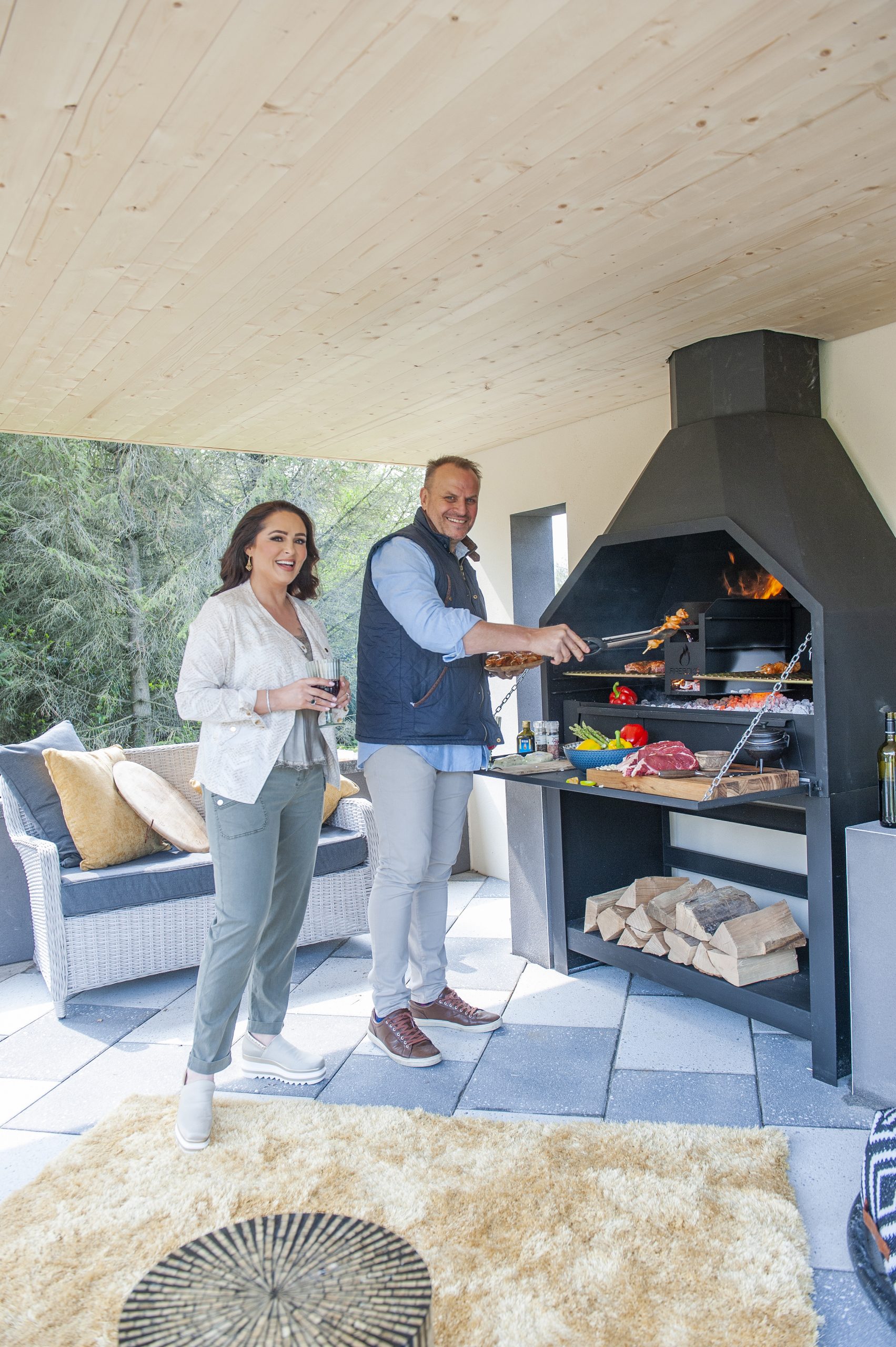 Life is like a book. It's full of chapters. And this, for you guys, is another chapter. How's it been unfolding so far?
Well, it was a bit of a whirlwind trying to trans- continentally relocate during a pandemic! And, I had no idea how it would work out. But it's turned out to be so busy for both of us. Lockdown has been flying by as a result!
Gráinne, you left Galway in '98 and say you never imagined living back there again. Now you're a 20 minute drive from your parents in Spiddal! It's come full circle.
It really has. I left Galway over 20 years to go work on TV3 and I really never saw myself back in Galway again. Now that I'm here I am so happy. I absolutely adore being home.
On the subject of TV3 (now Virgin Media), you watched Channel Hop, The Story of TV3 last night and it brought back loads of memories, you say…
Yeah, the minute they played the signature tune for the news I could feel the hairs on the back of my neck stand up! It was like my body was remembering the adrenaline! It was lovely watching it and it made me very proud of what we achieved. It really was a big part of broadcast history in Ireland and it was wonderful to be part of it.
Life is so different for you now. That other life must seem like a world away.
It absolutely does feel like another lifetime, another existence, which it was. I was a 24-year-old news anchor and now I'm in my 40s, a businesswoman and in a completely different place. But I think most people nowadays realise that there's no such thing as a job for life. Very few people stay doing the same job. We are in a far more unpredictable world than our parents' generation for example, where a job was for life.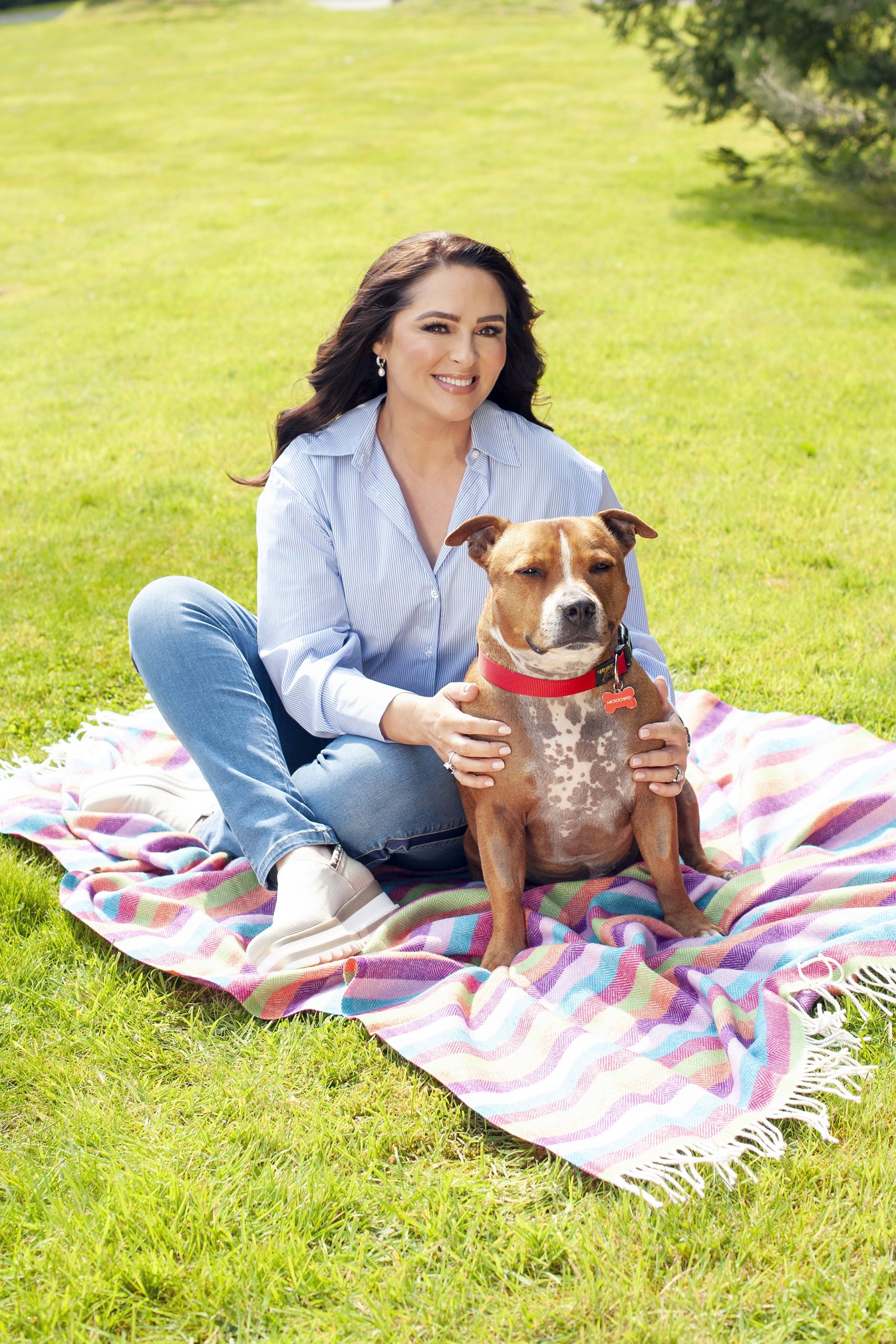 Having spent the day with the two of you we have to say that you do seem very much in love. That's very cringey of us to say, isn't it?!
Yes! But, sure, we do love each other! We're mad about each other! We celebrated our first anniversary in December but are together nine years…we are very happy.
Leon, we know you're very at home in Ireland after spending ten years here before coaching rugby. It's, of course, also where you met Gráinne. But still, to move here permanently is big. And, there's our weather!
I have to admit that the last winter of my ten year rugby stretch nearly broke me! But that said the weather and the people are what make this country great. There are a lot of similarities between the Irish and the South Africans in their outlook on life and how they approach things. Both nations are kind of no-nonsense people. I love that.
Well, if a pandemic winter hasn't broken you, nothing will!
True! I also think I've been groomed from a very young age to adapt; to just go with the flow and make the most of what you're handed.
Who was responsible Leon for teaching you such adaptability?
As a child I moved often. It was new environments, new friends, new schools all the time. Because of sport I made it into a good school but I was definitely out of my depth in terms of income and family. I was surrounded by posh and rich people and I definitely wasn't either of those. Coming from a divorced family – I had to make the best of that as well.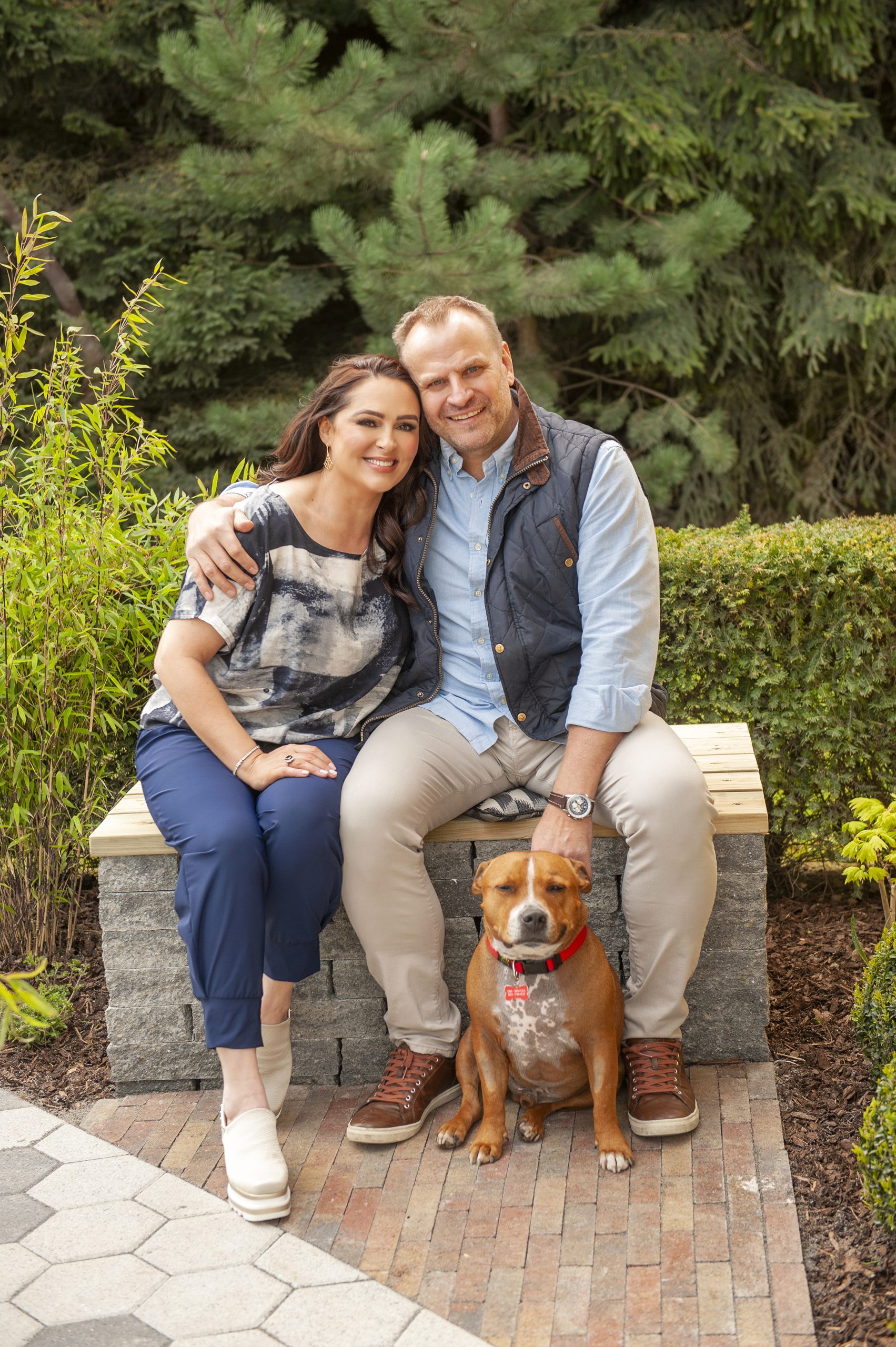 On the subject of adaptability, you are now hoping to help us adapt to outdoor cooking by bringing a little bit of South African culture to the homes of Ireland by introducing the year-long concept of the Braai. We're keen to learn…
The pandemic has forced a complete paradigm shift from pub culture. It's unfortunate for the pub trade but great for the likes of ourselves. People have gotten the taste for entertaining at home now – and outside too – which is mainly the culture in South Africa. We all entertain at home. They are our social events. And they are day long events too. What we're trying to show is that barbecuing is not for three weeks in the summer; our slogan is: Inside. Outside. 365. With something as simple as a roof over you – as you can see from our set-up here today – you really can do it anytime of the year.
Braaing is in your blood so, tell us: how do we avoid the dreaded burnt-on-the-outside-raw-on- the-inside effect?!
Plan ahead and eat when everybody is extremely hungry or when the charcoals are ready. Enjoy it, be social, have fun. A bit of garlic, chili and pepper sauce and you can make most things edible – even if they're burnt!
Your business partners are fellow South Africans Darin Claasen and Ireland rugby legend, CJ Stander. You're in good company.
CJ is a proud South African but he really adopted the Irish in the same way that they adopted him. I wanted to get somebody on board that the Irish people trusted and respected and it also happened that CJ knew a lot about Braaing. I pitched the idea to him and I was so busy talking I didn't hear him say, "I'm in!" There wasn't a lot of convincing! Between myself, himself and Darin my other partner – who I brought over to play rugby 15 years ago – we literally have done thousands of Braaing hours between us. It wouldn't be unusual for us to do it two or three times a week. It's a nice little trio. I could not have stumbled across two nicer guys.
We loved watching the Braaing process today. We also loved how you did all the work while Gráinne sat down, drank wine and chatted!
L: Well, fire and meat – if I can generalise – are quite macho aspects and so by default the men usually lean towards it. Usually what happens in South Africa is that the men take care of the Braai and the women would sort the sides and salads. It's a nice synergy.
G: And because of this division of labour not one person is sweating it in the kitchen. It's also quite a cost effective way to entertain too, because your guests bring something. I think it will work for Irish people in this way as well.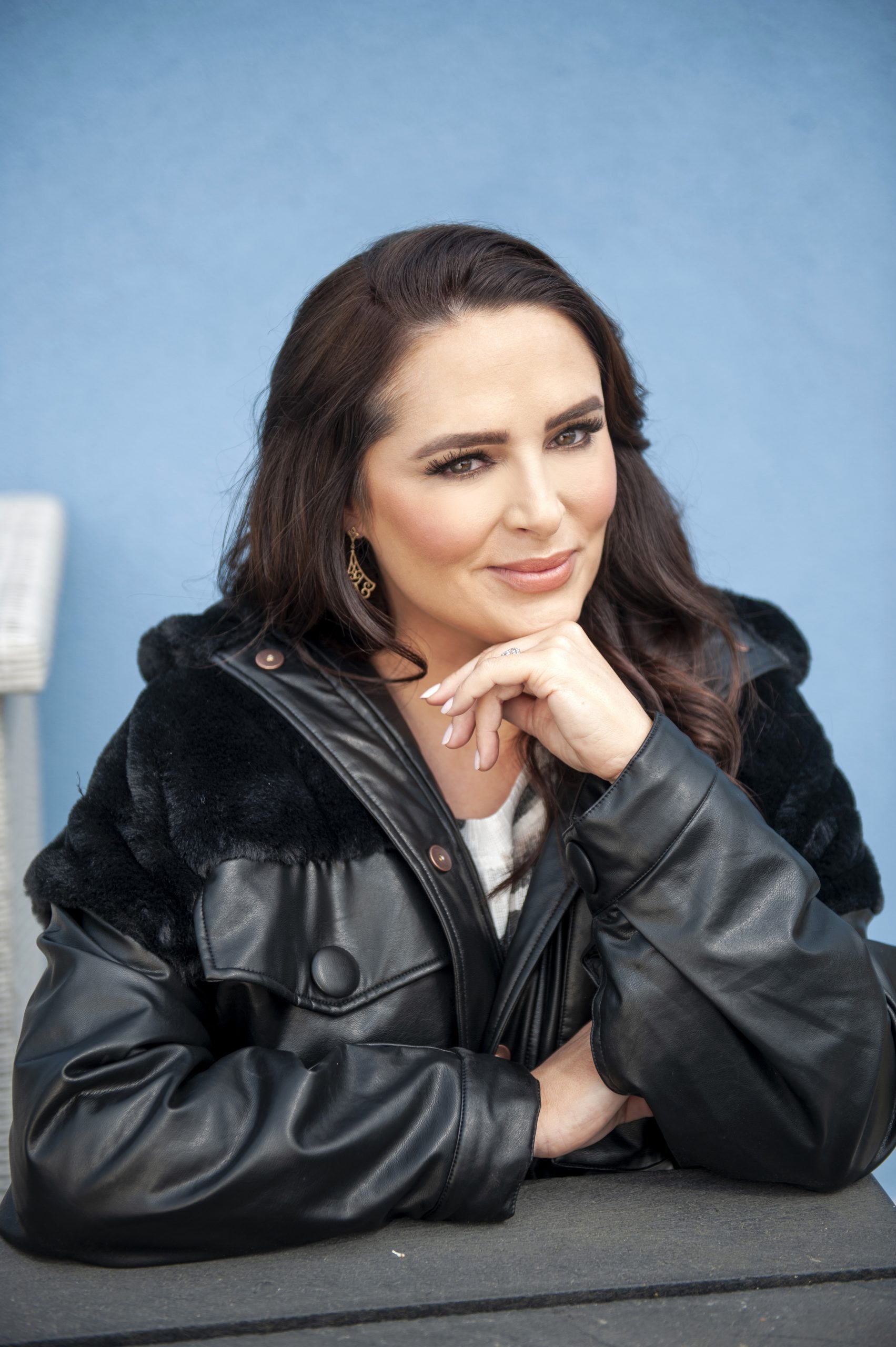 You are painting a lovely picture of life in South Africa, Gráinne…was it so?
Yeah, it was a fascinating time for me. To move to a different place, immerse yourself in a new culture and to learn a language is so good for you, even though at times you miss home and are lonely for what is familiar. It gives you an appreciation of what you have at home and it teaches you about the world. It improves you as a person all round. I definitely felt the improvement in myself.
We have been listening to you today speak Afrikaans to Murphy the dog, Irish to your mum, Phil, and English to us. It's quite the gift.
Yeah, I speak Irish to my family; Irish and English to my Bichon dog, Abby, and Afrikaans to Leon and Murphy! Leon always says I have a natural gift, but he is also bilingual. I think if you grow up in a bilingual house and you have a musical ear, it does make things easier. And yeah, I am interested in languages; I love them.
With weddings cancelled left right and centre, business must be tough, Gráinne, for Grace Diamonds?
It's been a year of two halves since the first lockdown. Things did go quiet for a little while and I remember turning to Leon and going, "Oh dear!" It was scary [laughs]. But then funnily enough other clients started emerging because birthdays were still happening, as were anniversaries and babies were still being born. Instead of celebrating those events with a holiday or a fancy dinner or a party, the money put aside went into a piece of jewellery that would last a lifetime. I've also had a lot of husbands get in touch saying things like, "We've been married eight years and until now I never realised what she did at home! I want to celebrate how amazing she is!" And so was born the Covid ring!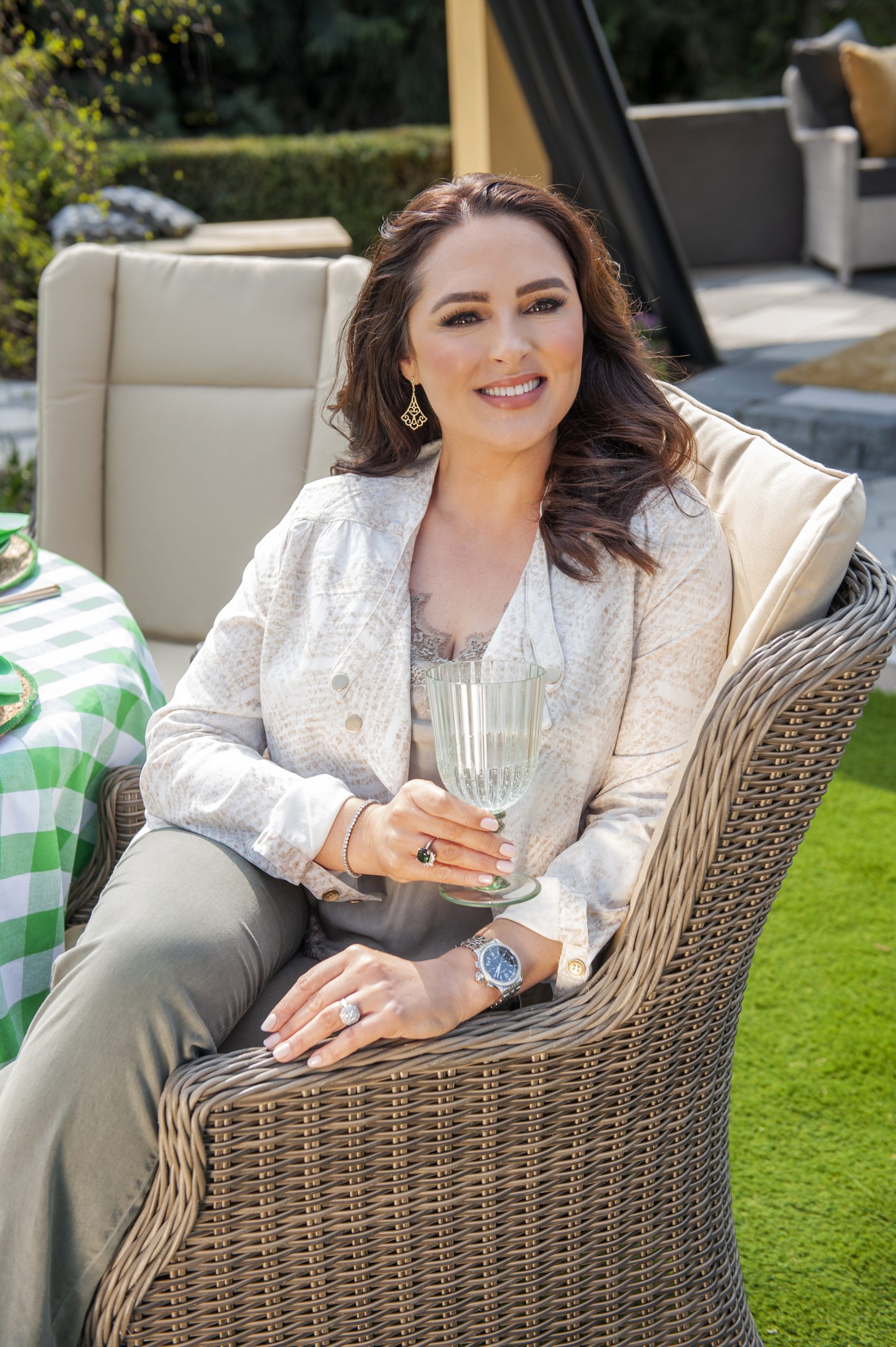 We like that! Having your own business brings great freedom but, clearly, huge responsibility, too…
There are great advantages to working for yourself. It's easier to make decisions and to change tack. But yes, the responsibility is on you to grow the business. And, of course, when you work for yourself it's not 9-5 – you work all the time.
As happy as you are doing what you're doing, we kinda do want to see you back on the box though!
Aw…[smiling] that is one thing I don't have control over! I can't wave a magic wand and create a show for myself! TV has suffered in recent years in terms of advertising so it is harder to make it work right now. And if I was to do tv again it would have to be something I really loved and believed in. But I suppose now that I'm home there is a possibility…I mean I love tv and I would love to do tv again. This whole conversation is about how life takes you down different paths so let me say this: I am open to all possibilities!
Talking about the right project – what about your little sister Síle's recent TG4 documentary, Deireadh Tochta, around the heartbreak of miscarriage…you must be so proud of her?
So proud. I was so taken with the documentary…and I was following some of the Twitter reactions on the night and it was almost like she had uncorked a bottle in Irish society that we didn't even know was corked. People seemed free to talk about it and, not just women, but men. I think she has done an amazing service to Irish society. She is so talented. She's another lady who should be on the screen.
Totally. Do you listen to every new drop of her Ready to Be Real podcast?
I save them up for my walk on the prom in Salthill – that's usually around the length of the podcast! I just think her style is so easy going and she allows people to speak.
Another podcast we're loving around the area of authenticity is The Diary of a CEO by Steven Bartlett. In one episode Steven talks with Elizabeth Day about how failure is a by product of social expectations and how if we measured success by different metrics the world could be a far different place. Real food for thought…
That almost sounds like the Dalai Lama quote about how in the western world we spend all this time working, putting our health in danger, and then all this money trying to reclaim our health later. It's a really good point, especially if you use those new metrics to measure success: the amount of walks you get in in a week compared to hours at the desk. I think we are all copping on to that fact that the things that give our life real quality are generally free.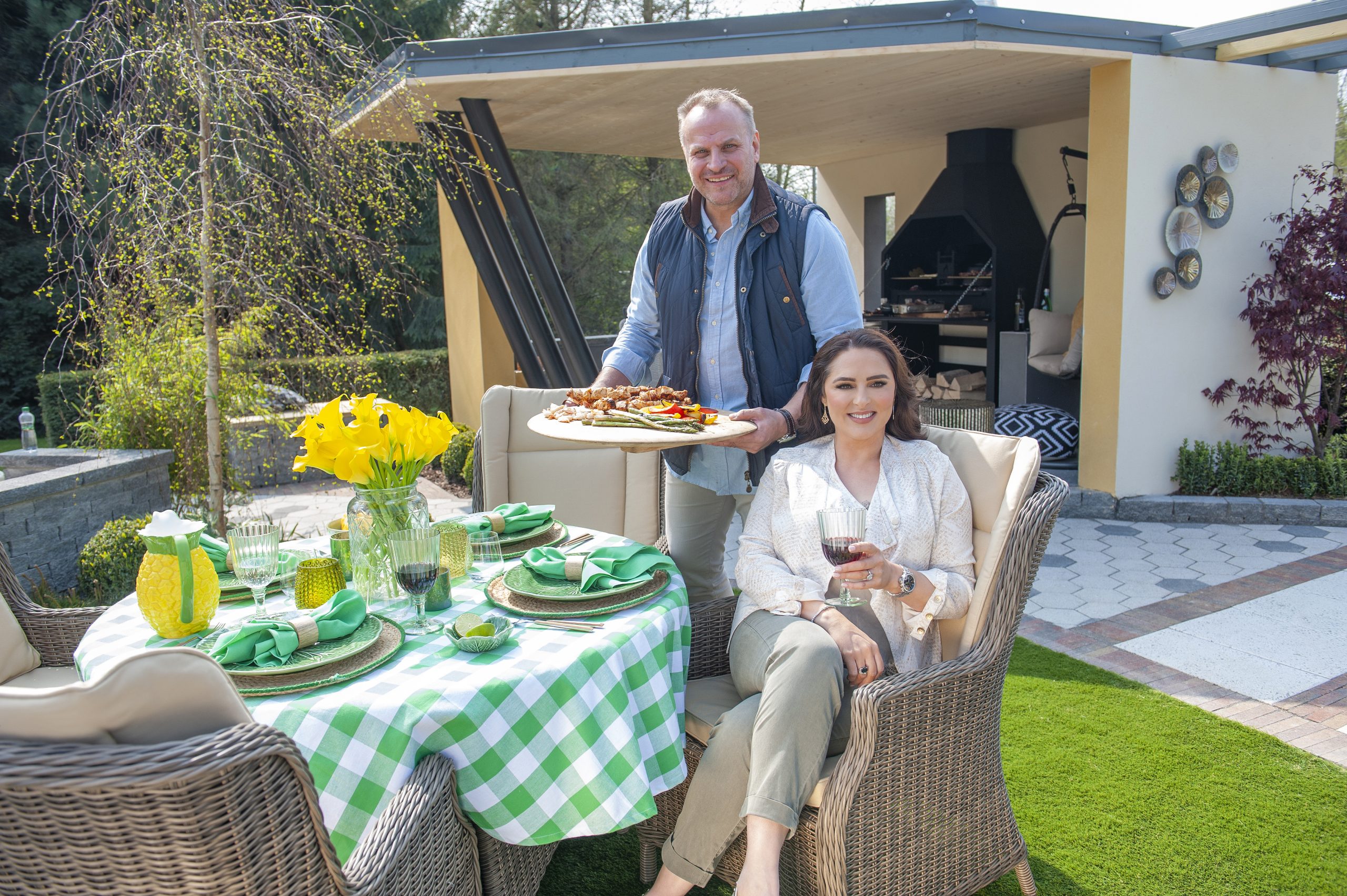 You seem so content, Gráinne. Would it be fair to say that this chapter is your happiest yet?
I really am lucky that I met the love of my life a little bit later. We were both 38 when we met and, at that age you are not game playing. And I'll go back to the above point too: if you don't have love in your life how successful are you really?
I am so proud of Leon. I had to go to SA and integrate and make it work, now he has come to Ireland and is having to integrate and make it work. We've almost switched roles. Of course, I don't live in the clouds, life is real, I have good and bad days like everybody, but I am very contented. We are both healthy; we are both building something together; I am home where my family are; we're in a new phase – happiness is very much there.
Ah. Well, guess what? Netflix records are showing a dramatic slowdown in subscribers. We must be over the worst of this pandemic. Or, maybe, we're all planning on being out in the garden Braaing all summer long!
That's the stuff! [Laughing]
Have you been, like the rest of us, out elevating your outdoor space?
G: We have a small garden in a semi detached house in Galway and we have just built a roofed patio. I also have a request in with fireboks.ie for a Braai! I am way down the list though! [laughs]
L: Money talks! If you buy one, you can have it tomorrow! [laughs]
G: I'll wait! We have also been painting the patio the last couple of weekends. I'm really looking forward to a long summer sitting out on the deck, hopefully together in a wee while. My parents are nearly vaccinated!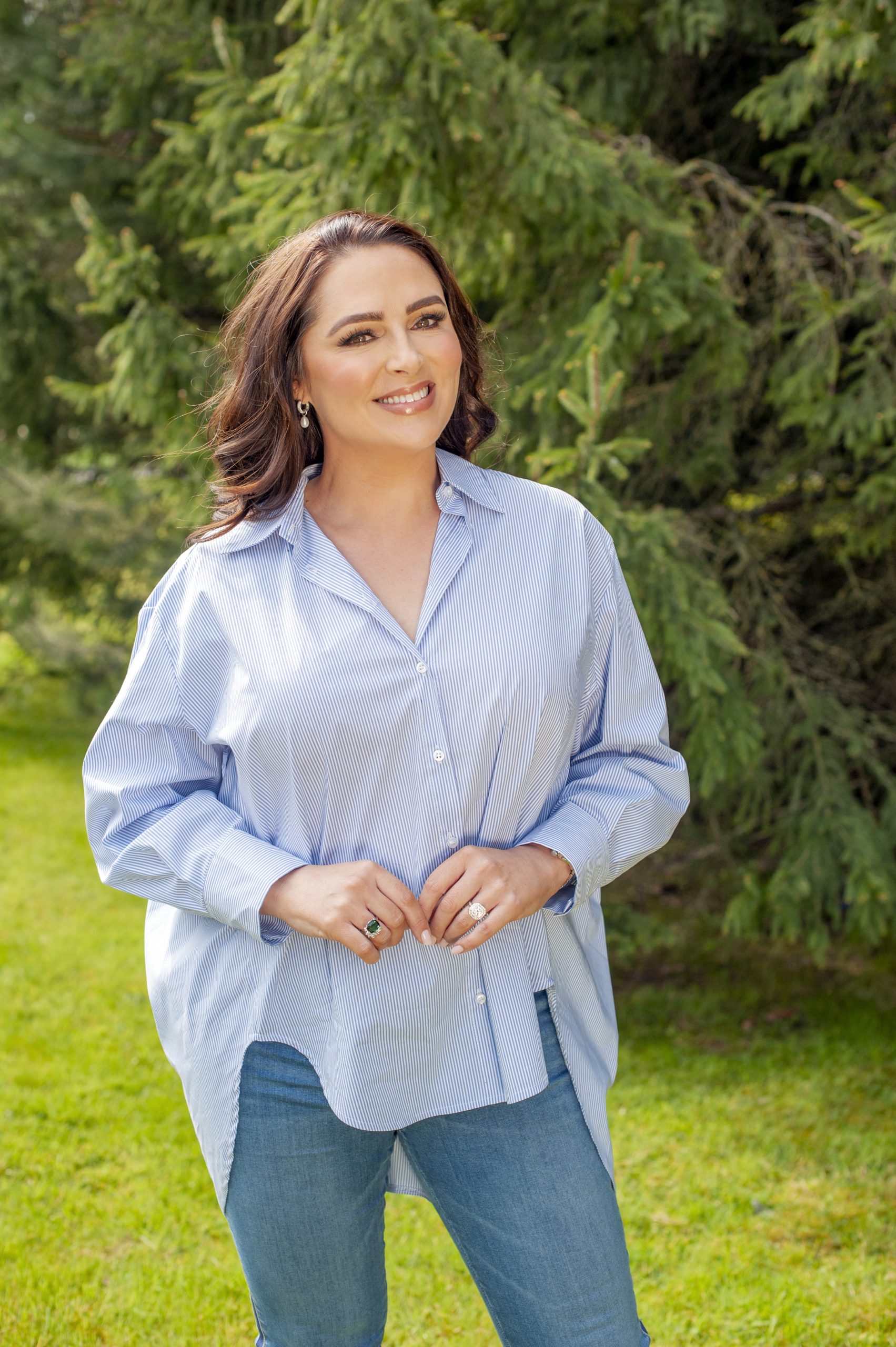 INTERVIEW: Bianca Luykx
PHOTOGRAPHY: Lili Forberg
STYLING: Megan Fox
MAKEUP: Sue Brophy
HAIR: Aidan Darcy