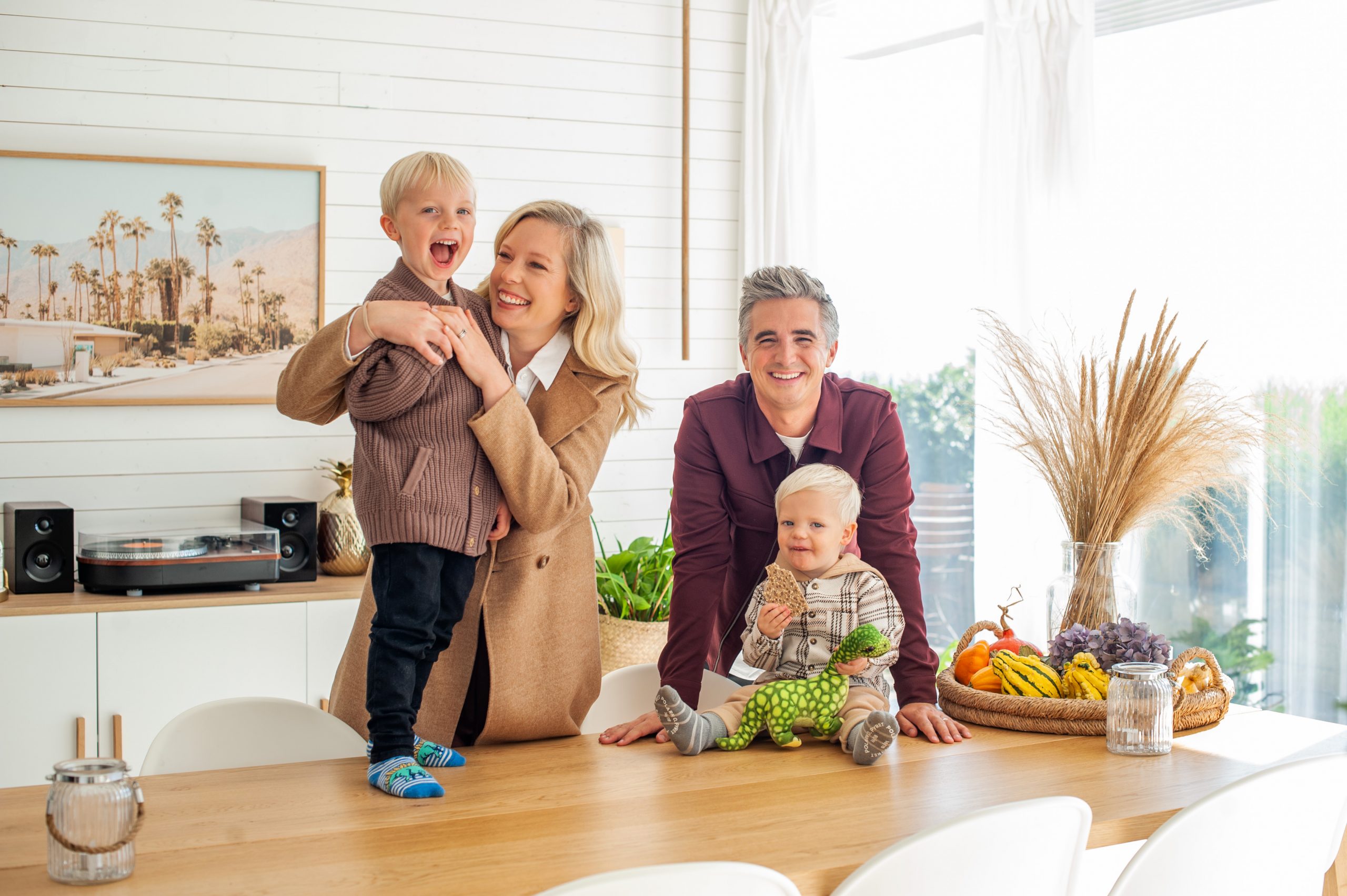 10 books, 100,000 recipes, 1.5 million followers (on social media and YouTube), countless tv shows (the current Donal's Family Kitchen is on RTE One at 7.30pm on Wednesday), one wife, two young kids and – in the last 18 months – four house moves. No wonder Donal Skehan is exhausted.
Nothing new here though. Because this is how the 35-year-old best operates. Even when on holidays (which is never!) Donal doesn't stop. Because he can't stop. ""Nobody ever hands me my next job. I have to always be thinking 'what next'. I have to have ideas", he tells us in this very honest interview. So, much to Sofie's exasperation, it will be notebook in hand on holidays scribbling ideas down ideas when they come while simultaneously chasing after Noah (nearly four) and Oliver (nearly two).
The years have taught him, however, that he cannot do it all. And that when he does try to, the wheels come off. And when the wheels do come off the head goes down the rabbit hole. "Slapping on the smile" is something Donal has always done. And it's a good cover. But he has learnt recently to let go a little. Letting the hair go grey was one step. Not beating himself up trying to be the best dad while running a food empire was another.
But all these steps cannot be taken without his wife by his side. Swedish born Sofie is the equilibrium to Donal's dynamism. She is, possibly, the coolest, calmest lady – and she is such a lady – VIP has ever met. The day after our shoot in their spectacular third rental in 18 months, the Skehan's packed up their bags, boxes and life once more and moved further up Howth hill. But do you think Sofie looks stressed here bearing in mind she's about to move house? Not a bit. We talk cheeky spice bag orders of a Friday washed down with Negronis,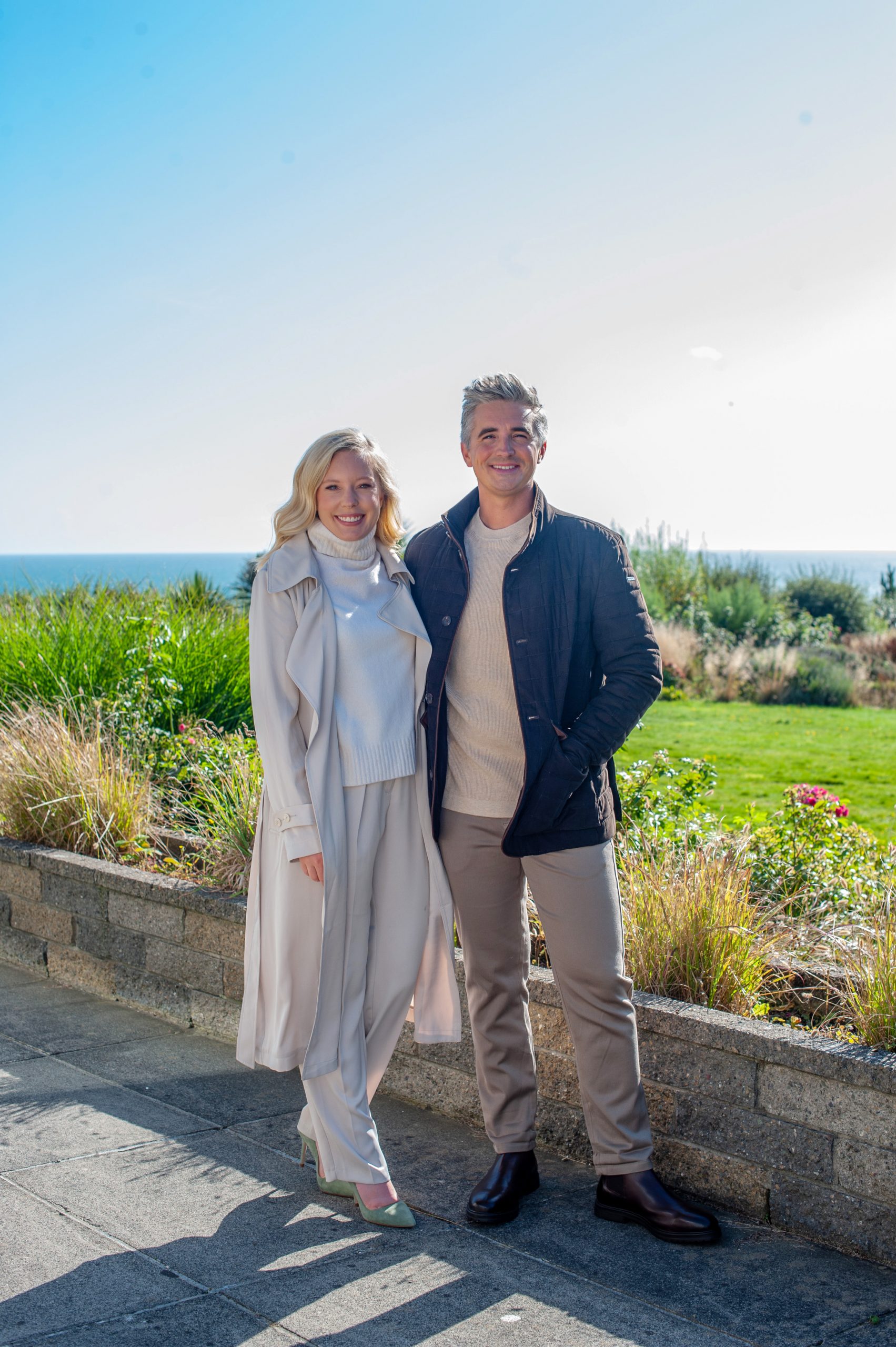 Donal, you make it look easy, not just the cooking, which we'll get to, but life. And yet life is hectic. You've been in London all week, you ere in Leeds yesterday, your 10th cookbook is just published, you've a new tv show and you moved house, again, last week. How are you keeping the head?
Over the last couple of years I've had to learn the hard way that I have to  make time to stop. Because once I'm on the treadmill I keep going but it's when I stop that I crumble. I have to consciously time for me, to do something that serves me. So for example I've just come back from a bit of walk and a chat with my dad. These are the types of moments that ground me in a wild week and the trick is finding those moments more often. These moments are the only things that keep my head on my shoulders [laughs]
We're thinking about Sofie now – she is possibly the most Zen person we have ever met. How does she do it?
It is true! She's so chill. She has her moments, of course, [laughs] but in most cases I'm the one running around like a headless chicken and she's the one keeping it together. Even in the face of me disappearing for three days while moving house she'll keep the show on the road. I think we compliment each other well. I'm the dynamo and the mad thing and she's the one who keeps it all running behind the scenes.
In the acknowledgements at the back of the book you say she has the patience of a saint, which with two very young boys and a very busy husband can't always be easy. What infuriates her most about you? Do you annoy her?
Do I what?! Where do I start [laughs]?! We can drive each other absolutely crazy, but for a long time we have worked together and that functions really well. There's definitely love there too, of course, but I think more than anything it's that feeling that we support each other. Over the last couple of years I definitely think we have both been challenged quite significantly. But I do feel now like a new chapter has opened. The boys are getting a bit bigger and with the new house it does feel like we're finally coming up for air.
You are the face of your own food empire. But Sofie seems to be the backbone. What is her role in your business partnership?
She's very much the money side of things; I put a lot of energy and creativity into the business while she is very good at the accounts. But more than anything she's a support for when I do come up with a new scheme. Like we would never take on a new project unless we had both discussed it and that it made sense for where we are and where we're going.
But I'll be really honest with you, I have found the last couple of years quite tough because her focus has been elsewhere with the boys. I haven't had her full attention the way I had before and trying to run a business without her full attention, sometimes, has been hard. I have missed having my partner in crime [laughs]. She's an amazing mum and that's the most important thing, of course, but I have missed her.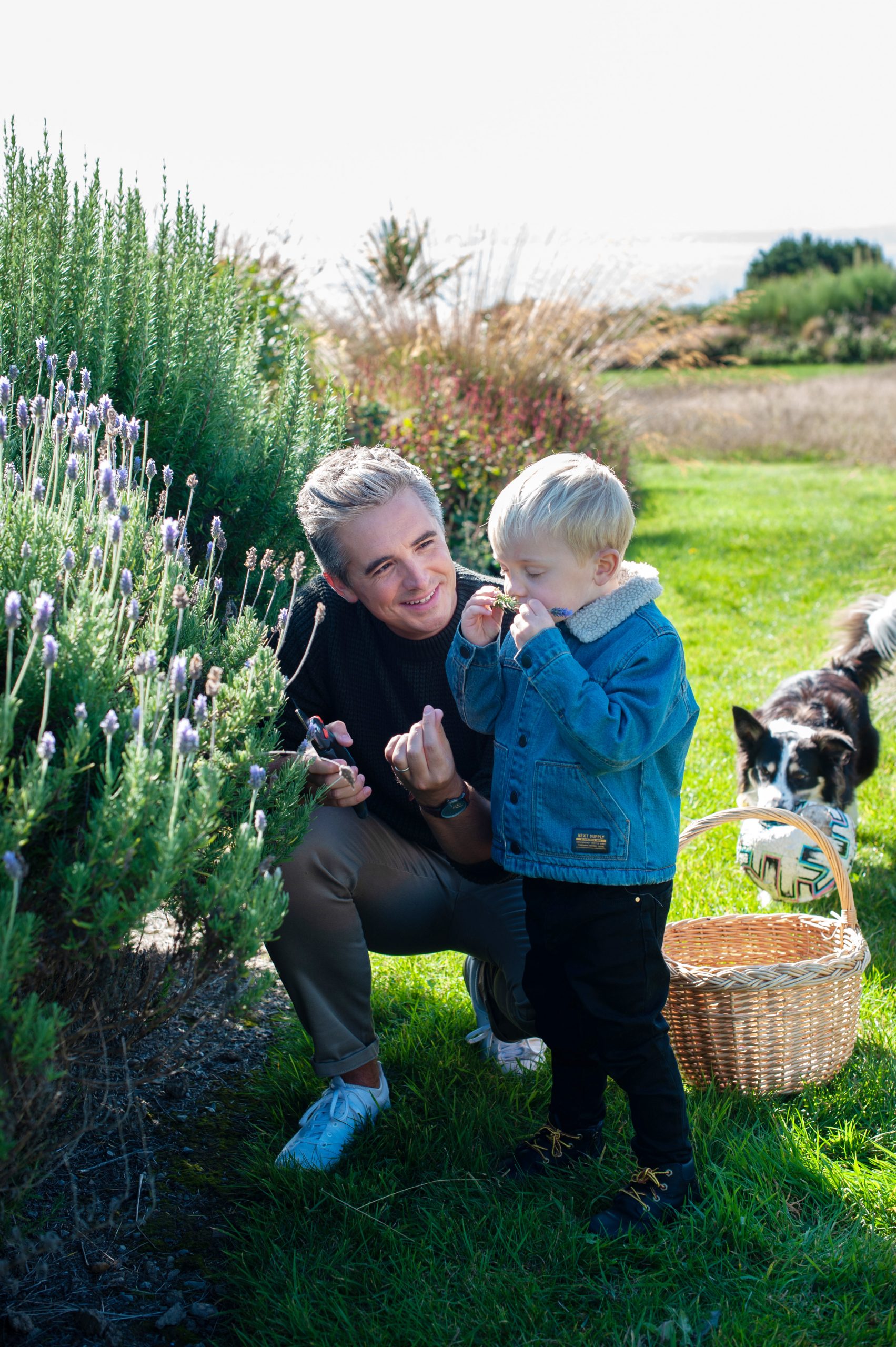 You are a very hands-on dad but with so much going on you must be pulled a lot. That dad guilt – how are you with that?
It's something I am coming to terms with. When we lived in Los Angeles, I was away  a lot. But then when I did get home I would be less on and I could work from home. But in Ireland, my studio is in Glenageary, which is on the other side of the city from where we are now living in Howth. I definitely want to be a hands-on dad and I really want to part of the decisions that are made at home, but in truth it is hard to do both. Sofie says the bigger wins are being there for the significant moments, rather than every moment. So I've managed my guilt that way. It's better the kids get the best of me rather than me spread too thin.
We remember all the way back when you started your food blog, doing your own photography. This food empire is all of your making. Must you always be "on" for the fear of it slipping away?
Yeah, it certainly does come with it's pressures. But I am a creative. And so the role of creating new content: new recipes; new cookbook; new tv shows – all of these things are creative processes that I thrive on. Like even if we ever get to go on holidays, I'll carry a notebook and be constantly scribbling down ideas. It drives Sofie mad; she just wants me to relax. But I think it's just my makeup. It's how I am. That excitement of a new idea, a new recipe – that's what drives me.
Is that not the essence of a entrepreneur?
I guess so… a lot of people think, 'Oh he's employed by RTE!' But I have been a freelancer for the majority of my life. And nobody ever hands me my next job. I have to always be thinking 'what next'. I have to have ideas.
It must be really hard to be creative on your tenth cookbook!
I found it much harder in pandemic times because travel gives me ideas so the loss of travel did somewhat inform this cookbook. After the last 18 months we've all had all I want is celebration food, dinners that will put smiles on peoples faces and that's what this cookbook is about. But after 10 cookbooks and 10,000 recipes you do have to make sure you are not going over the same old ground! I'm 35 years old now, and bar Jamie Oliver, the majority of chefs only start their cookbooks now. I hope there's still some lot left in me! I hope I haven't blown it all in the first ten years!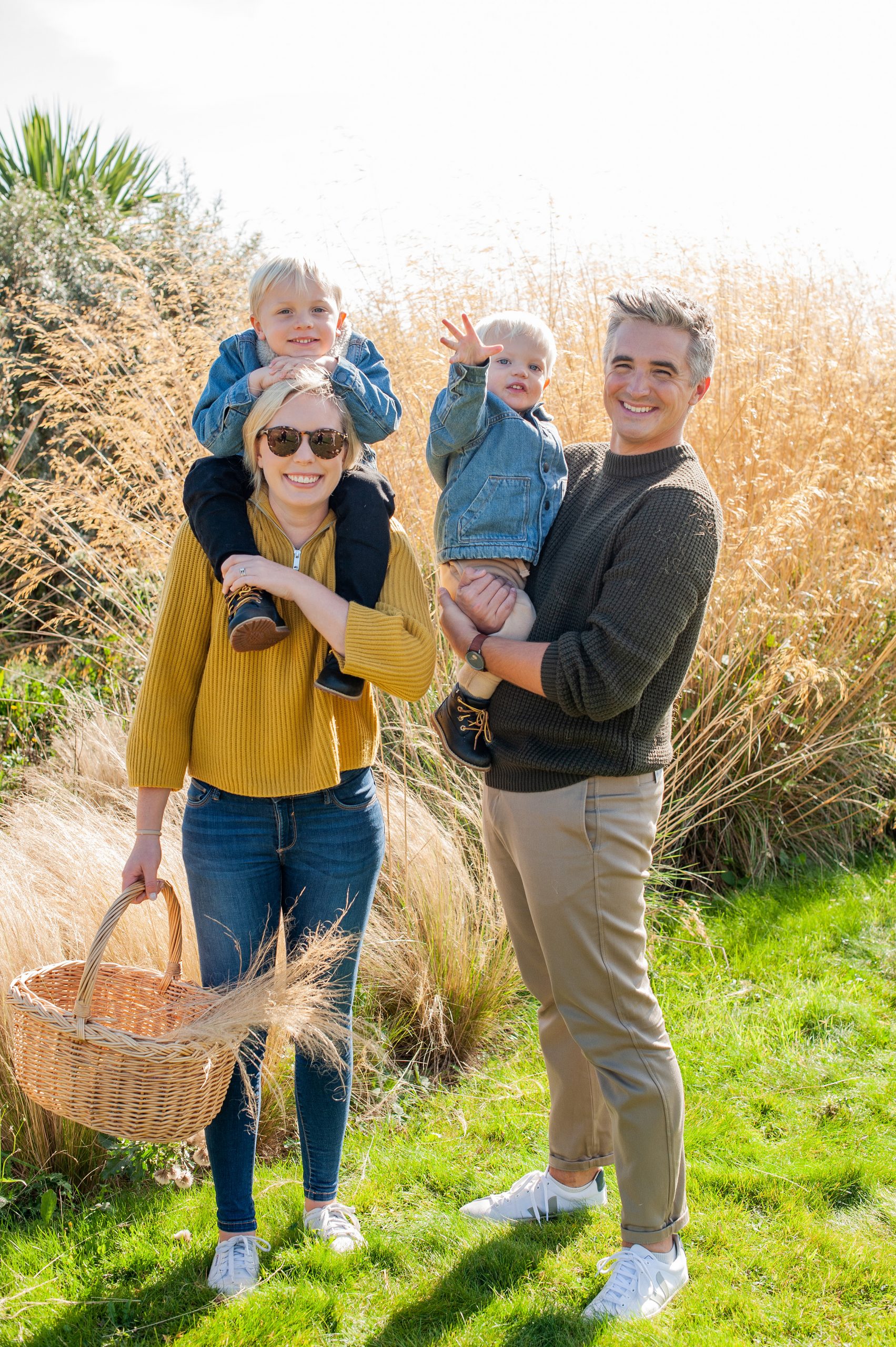 If all books are inspired by a phase in life, where did your meal-planning website concept (donalskitchen.com) come from?
Meal-planning has always been there, but the reason I came up with a website dedicated to it was because I was trying to get my life in order. I mean given the job I do I should be organised for mealtimes, but because I'm so busy I often didn't have the ingredients I needed and then I'd be wracking my brains for a meal and then I'd get annoyed that I didn't have it sorted. I used to do my meal planning on a Sunday and then I'd do a shopping list after and it would take me nearly three hours. I just decided a dedicated website that organised it all would be easier.
We have said this to you before and we're not lying when we say it, your cookbooks are our favourites. And do you know why they are? Because their methods are so short! A method that runs longer than a page has lost us! We don't like turning pages!
[Laughs] I think there might be one or two in this book [cringes] that require page turns! But yeah, they are mostly all short. The last two books have been very much ten ingredients or less and I have really liked that challenge. On a Saturday you may want to take longer and take time over a dish, but you know, as much as I love a speedy dish the one dish people remember is the dish that takes a little time, like the shepherds pie, or the lasagne. But I do think the goal should be to keep it simple.
The goal must also be to not put on a tonne of weight! How do you not eat everything?
Well now, I am not as slim as I used to be! But it's part of the job, you have to taste. If you're not tasting there's no authenticity to the recipes. I do struggle trying to find time to do exercise. And exercise is key for me. I always ate, and ate well, but exercise was the balancer. The lack of exercise has done me in recently.
A lot of the images in the new book were taken in that amazing rental, which you have now left. You have, in fact, moved three times in 20 months since landing back in Ireland just as the pandemic closed down the world.
Four houses in the space of 18 months – yep. But until we decide to settle and buy, moving is just always going to be part of the deal. But the new house is lovely and I think that's a huge saving grace, also that we've managed to stay in the area where my family are. If we'd had to move back to LA that would have been so traumatic. I think initially we did plan on going back to LA. But now that we are here, and that the kids are getting nearer school going age, we've reassessed, and if in the future I have a show to do in the US we can just take a month and go and do it.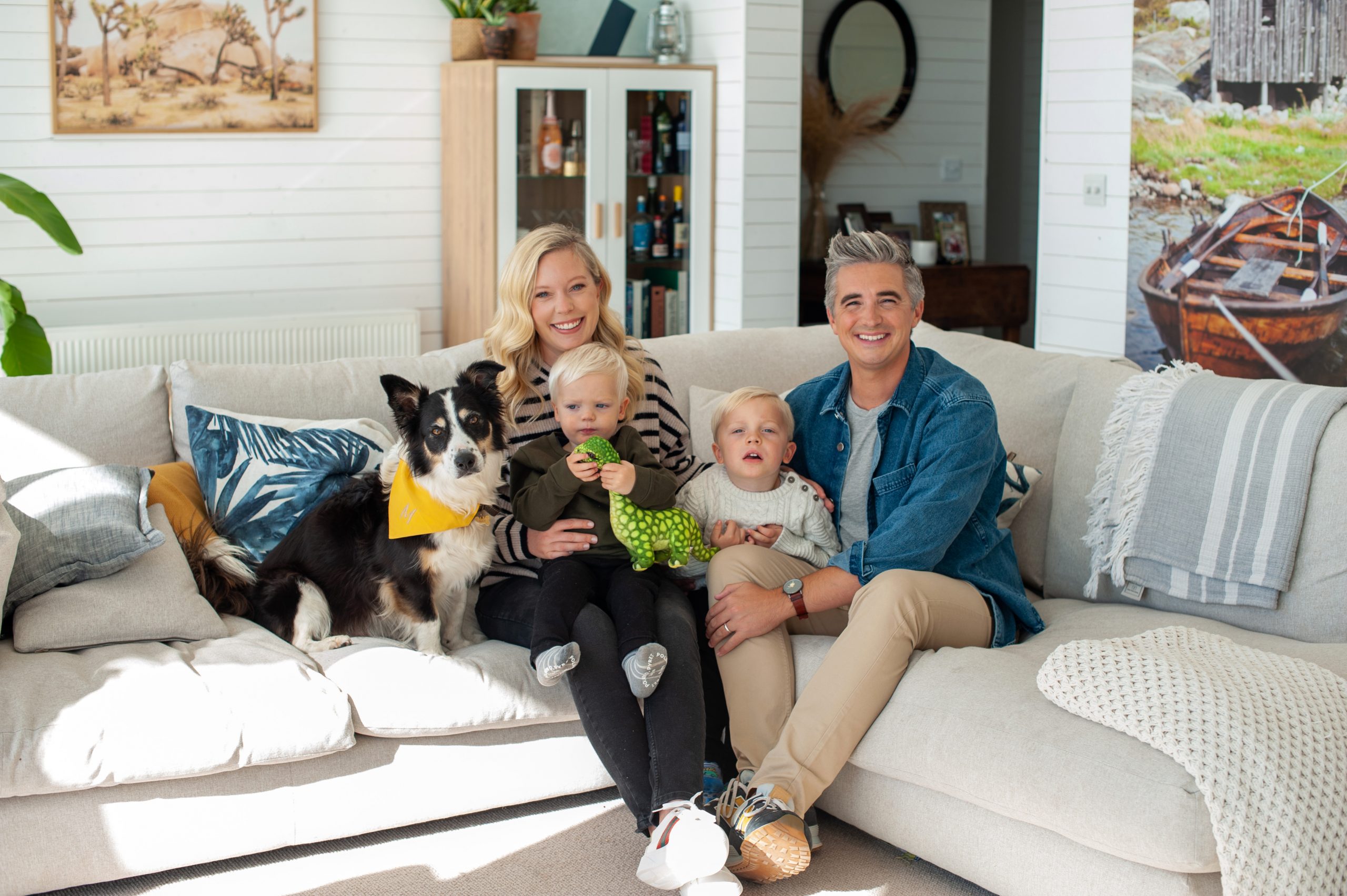 You must miss the LA lifestyle and the anonymity it gave you?
The anonymity was nice and not having to slap the smile on was, on bad days, a relief! I did love LA. And we both absolutely loved the lifestyle. We do miss that. But the advantages of being home are so far greater. It was a great time for us to move there, we had just got married, we were full of adventure and were all about making new friends and meeting new people. But the time is right now to be home.
What about friends? You talk a lot about friends in LA and about family here. Have you still friends in Howth where you grew up, that you still get to hang out with?
I have friends from as far back from when I was 4!  I always had a really great support network here, which was another reason why we wanted to move home. The only thing I would say is that not everyone is two kids down so while they may still be up at 2am, Sofie and I have faded at 10pm!
Has Sofie found ours to be a welcoming community?
Oh, yeah, she has more friends than me! I think the mommy world has such a great support network. I think from a male perspective you don't get access to that as quickly and easily. She has all types of friends, she's always going for walks every five minutes! I can't keep track of her! Maybe she's making them up …[laughs] nah…I have met a couple off them!
You have spoken a little recently about darker times. That must have been hard to open up about?
I am not as well-versed talking about mental health as I am about recipes. It's a subject that is new to me, and is ongoing. But it is really important that people do talk and that were have these conversations. For me the last few years have been hard, but I have such a better handle on things now. I think for anyone who suffers, acknowledging and accepting is the first great step. Then learning to take a moment to step out of the madness and to give yourself space, is the second. We all have to actively find moments that lift us up rather than push us down.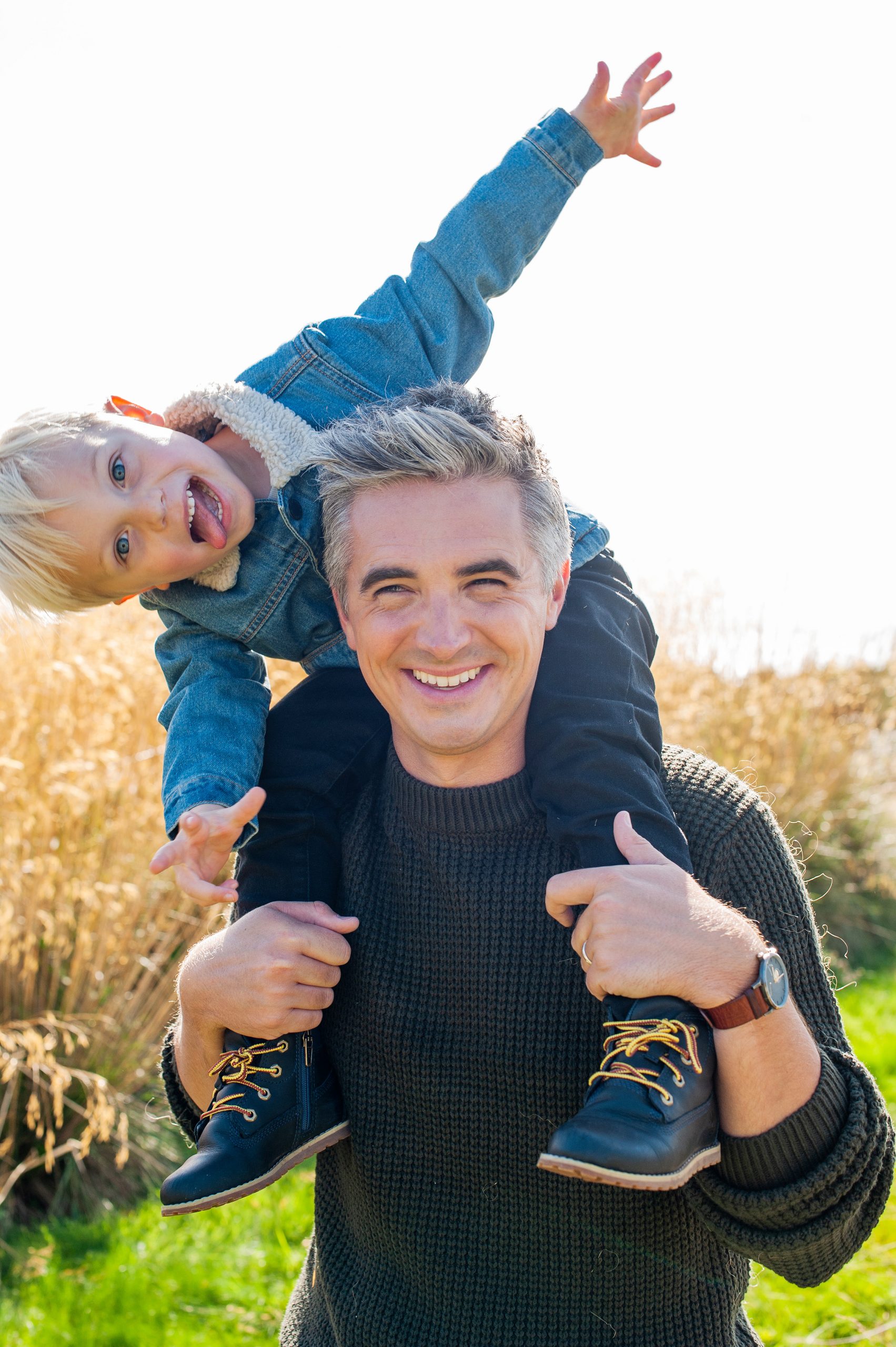 Accepting and letting go have been the lessons of the decade then! Even your hair says it…!
The amount of people that talk about my hair! It's a hot topic! I've always had this baby face so it's a bit weird when you have the grey hair, but yes, dying it and covering it up almost made me feel like I'd something to hide. Not anymore.
At the end of a long day talking, thinking and posting about food, how do you have the energy to cook?
On a sneaky Friday night a spice bag has been ordered! And a nice bottle of wine is the new rock 'n' roll! Because you need to keep it real!
We can't imagine you ever drunk!
It happens very easily! Every year I have a new cocktail and this year it's Negroni, which are like three drinks in one. It doesn't take too many of those to get me going!
Will there be a few Negronis tonight (it's Friday)?
After the week we've had – absolutely! Coming through Duty Free yesterday I bought two bottles of Campari because they were 15 quid each! I won't drink them all tonight!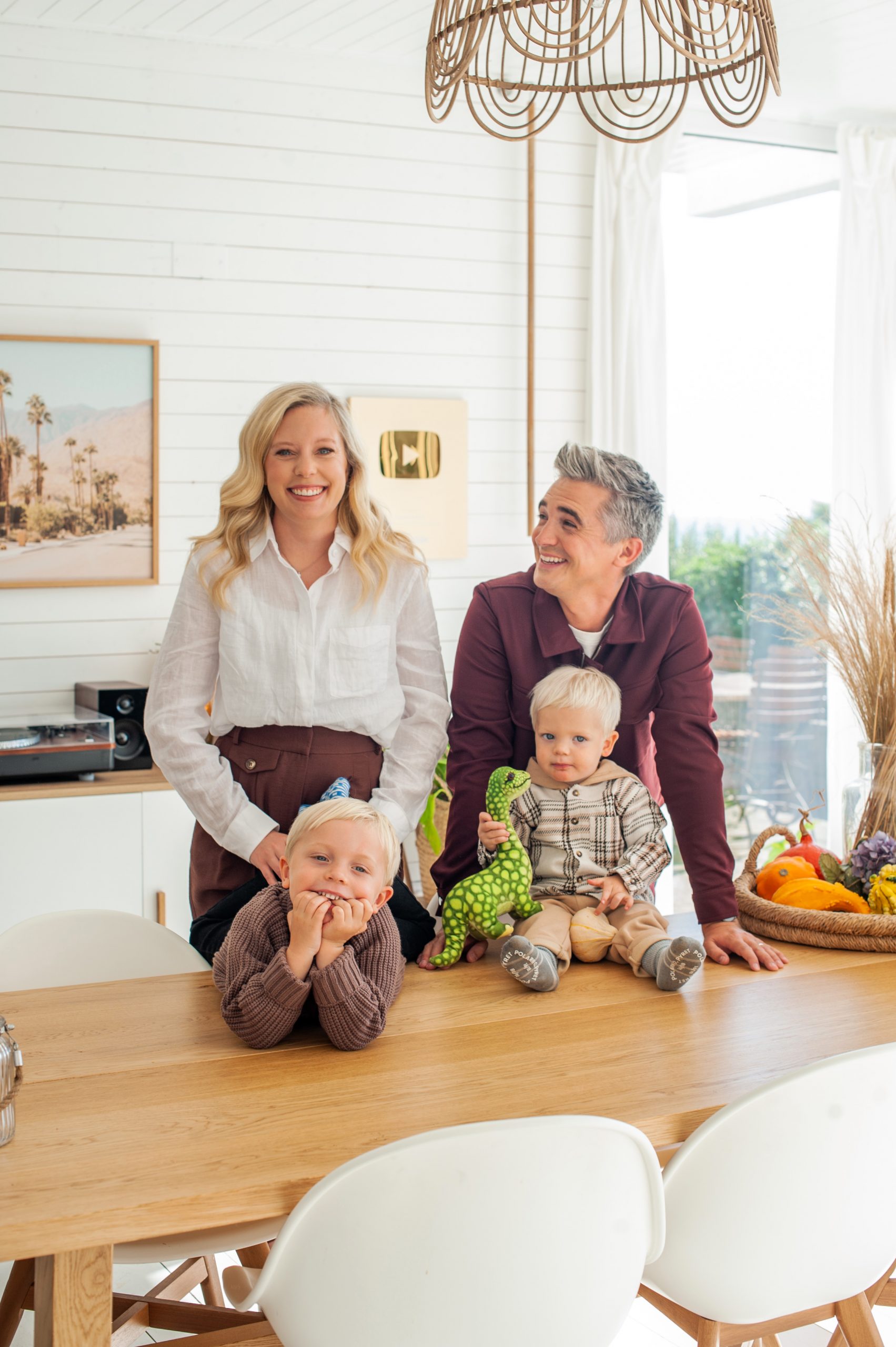 INTERVIEW: Bianca Luykx
PHOTOGRAPHY: Lili Forberg, misslili.net
STYLING: Zeda The Architect
MAKEUP & HAIR: Jennifer Hennessy; jenniferhennesy.com
Donal's Family Kitchen, filmed in his home kitchen, is on Wednesday nights at 7.30pm, on RTE One, sponsored by Spar. His new book, Everyday Cook, is out now.