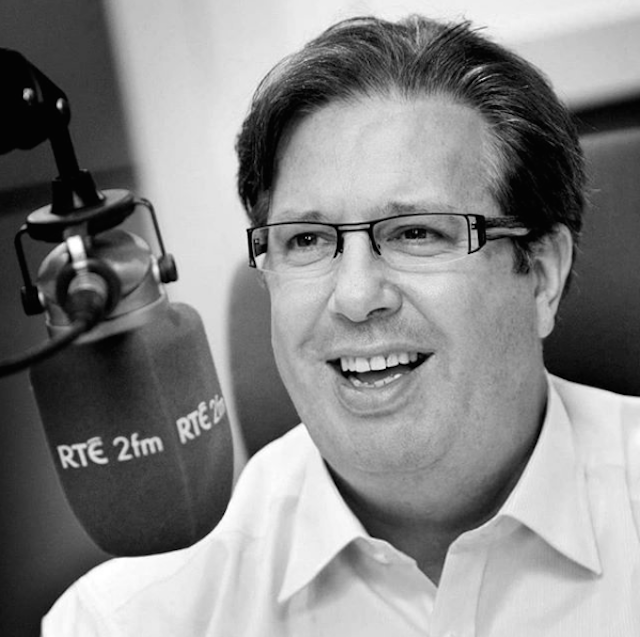 Last night RTE's highly anticipated documentary on Gerry Ryan aired. It was made to mark the tenth anniversary of his passing, following his sudden death at the age of 53 in 2010.
While his family didn't appear in the documentary, Lottie Ryan revealed they're happy for it to go ahead, and gave it their blessing.
Speaking to the Irish Independent, she said, "I know that people like Dave Fanning and lots of his friends and people who would be very, very close to family are taking part in it. It's nice of them to mark it."
The response online was overwhelming, with Twitter inundated with people sharing their opinions on the show and their memories of the late presenter.
Here's to my old pal #GerryRyan
He was such great fun and always very generous to me with slots on his radio show.10 years on and he is still greatly missed on the airwaves.He was a true one off with the gift of the gab like no other. 😘
@RTEOne @RTERadio1 pic.twitter.com/5KPajehsnG

— Jack Lukeman (@jackllukeman) April 26, 2020
God imagine #gerryryan during the corona!!

My mother had him on from day 1 from 9 til 12.

She even left the radio on going to the shops so his voice was always in the house!

— CROSSY (@CrossyTweets) April 26, 2020
Some of our greatest people were charming, complex, flawed, loving, vulnerable, egocentric, charismatic, human and ultimately mortal. #GerryRyan was no different. May he rest in peace.

— declanhiggins (@declangsh) April 26, 2020
God I miss Gerry Ryan. Irish radio never filled the void he left. Morning radio is still very lacking, I think. #GerryRyan

— Claire Brady (@ct_brady) April 26, 2020
Gerry Ryan was taken too soon. Fantastic DJ and broadcaster. #gerryryan

— Oliver McGovern (@Olliemac) April 26, 2020
What a great tribute to him on RTE. I loved School Around The Corner as a child. Great memories. ❤️ #GerryRyan pic.twitter.com/YHU8YUq2Xa

— Caterina Foley (@caterinafoley85) April 26, 2020
Nice documentary. I used to listen to Gerry every morning for years as I traveled around the country for work. I loved listening to him. Don't think he'll ever be equalled. I still miss his voice on the radio #gerryryan

— Richard Sheehan (@risteard69) April 26, 2020
There is a real nostalgic comfort to hearing Gerrys voice again while watching this programme. I really miss listening to him. He was brilliant. #GerryRyan

— Shay Mulhare (@mulhareseamus) April 26, 2020