Rosanna Davison has shared a message of encouragement to any couples currently going through the surrogacy journey, as she reflects on her own experience pre-pandemic.
The Irish model, who welcomed a little girl, Sophia through surrogacy in late 2019 has been incredibly candid about their experience with her followers. This week she posted a throwback on social media to a very important step on their journey.
Sharing some snaps from her time in Kiev with her Mum she said; "A little throwback to this week three years ago. We had just arrived in Kiev, where we spent 3 weeks for the egg retrieval part of our surrogacy journey to have Sophia, and we're lucky that it was a very positive experience from beginning to end."
Continuing, Rosanna shared a special message to anyone about to undergo something similar; "Just wanted to send my love and support to couples planning to travel to Ukraine to begin the process or welcome their new babies in the coming days and weeks."
"My thoughts are with you during what must be a considerably stressful time."
For Rosanna and her husband Wes their journey to parenthood was a complicated one. After suffering 15 devastating miscarriages the couple opted for surrogacy which is how they welcomed their first chid, Sophia.
However, the couple later went on to have twin boys in 2020 and the former Miss World recently shared that it was after suffering her 15th loss that she fell pregnant with the twins.
"I was just shocked, I mean to go from the girl who couldn't have a baby, who needed to rely on a surrogate, to being pregnant with twins… it was just the most extraordinary feeling."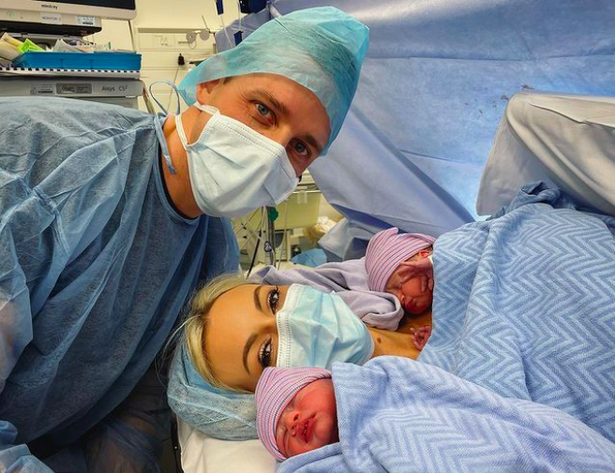 Since then Rosanna has penned a book about her experience which goes into more detail what she went through.
Speaking about writing the book she said; "My aim in writing this book about our struggles with fertility, from being told I wouldn't be able to carry my own baby, to the long & challenging surrogacy journey we undertook to have Sophia, followed by the joy of welcoming naturally conceived identical twins less than a year later, is to help normalise the conversation about infertility & pregnancy loss & to examine the stigma & silence that can still surround it."
"I feel that sharing my story about the frustration & loneliness we experienced will help to contribute to the growing awareness of miscarriage, an experience sadly shared by so many."
Continuing she said; "I also write about their birth, my C-section recovery, breastfeeding, maternal mental health, life as a working mum & how we've adapted to the chaos at home with 3 under 2!"