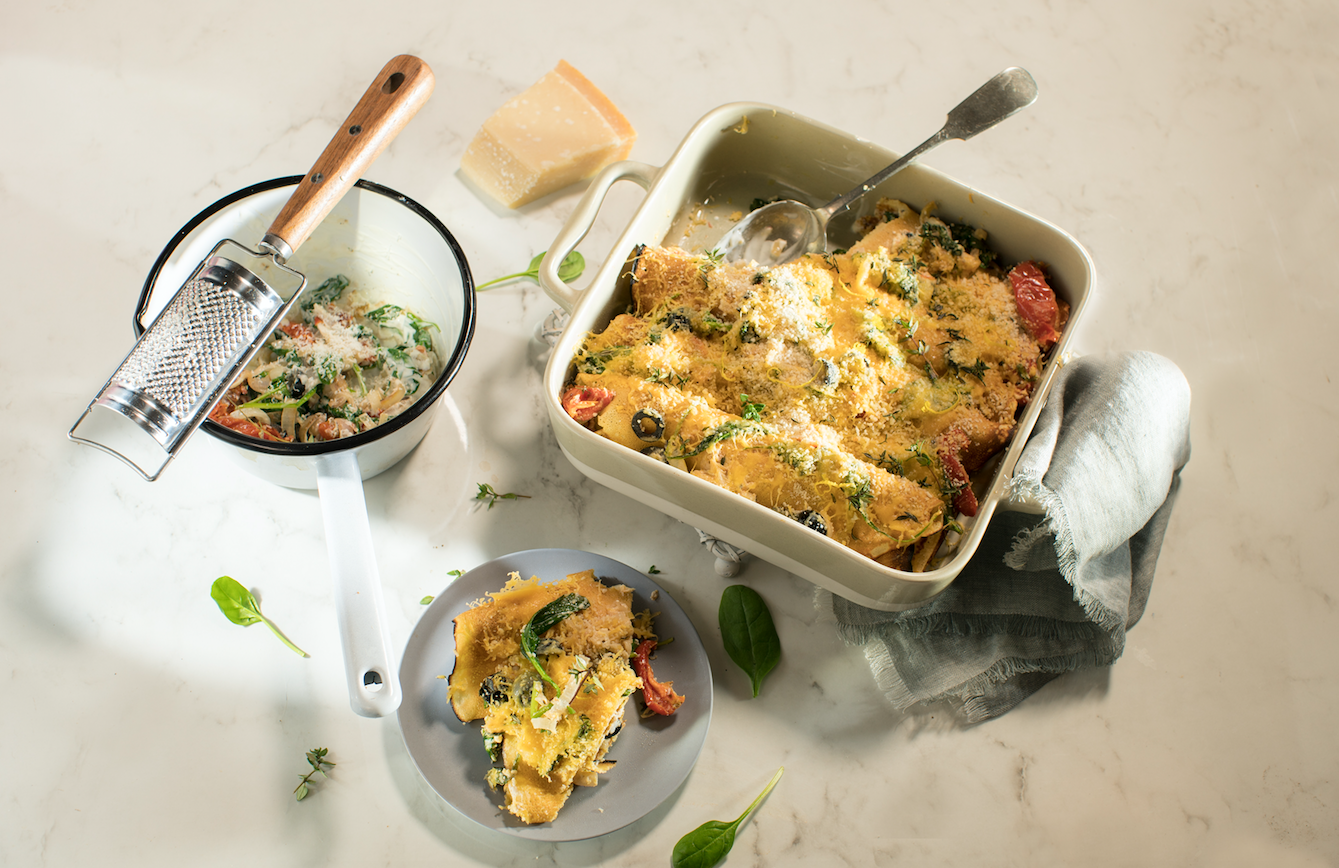 Looking for something different to serve this Pancake Tuesday? Not a fan of sweet treats? This delicious Tomato and Olive Pancake Bake from Siúcra & Catherine Fulvio is absolutely perfect!
Quck, easy, unique and delicious, why not give it a go!
Serves 4 people (depending on the size of the pancakes).
Ingredients
For the pancakes
200g gram (chickpea) flour
4 tbsp plain flour
2 tbsp. Siúcra Caster Sugar
2 eggs
350ml milk
3 to 4 tbsp water
For the filling
4 shallots, thinly sliced
2 garlic cloves, finely chopped
6 sundried tomato halves, chopped
3 tbsp black olives, roughly chopped
80g baby spinach
1 tsp chopped thyme
120g quark
3 tbsp grated mature cheddar cheese
2 tbsp grated parmesan
½ lemon, zest only
3 tbsp cheddar cheese, for the top
2 tbsp breadcrumbs, for the top
1 tsp chopped thyme
Sprigs of thyme, to garnish
Method
To prepare the pancakes
Combine the gram (chickpea) flour, plain flour and Siúcra Caster Sugar in a bowl. Beat together the eggs and milk and slowly whisk into the flour mix. Leave to stand for 10 minutes, then pour into a jug.
To make the filling
Heat a little oil in a frying pan, add the shallots and simmer for about 5 minutes until cooked before adding the garlic. Cook for a further 1 minute. Add the sundried tomatoes, black olives and spinach.
Take the pan off the heat and add the thyme, quark, cheddar cheese and parmesan and mix well. Add salt and freshly ground black pepper and lemon zest to taste.
Preheat the oven to 180C/fan 160C/gas 4.
When ready to cook, heat the frying pan and add a little butter and oil, stir the batter then pour just enough batter into the pan to make a large size pancake. Cook for about 1½ minutes and then turn onto the other side, cooking for about ½ minute until golden and cooked. Place on a clean plate continuing to finish all the batter. Place sheets of parchment paper in between the pancakes to prevent them from sticking.
Brush a gratin dish with a little melted butter. Spoon some filling down the centre of each pancake, roll them up and lay them alongside each other in a buttered gratin dish. Sprinkle over the cheese, breadcrumbs, thyme and bake for about 15 or until the cheese has melted and is golden.
Garnish with thyme sprigs and serve.