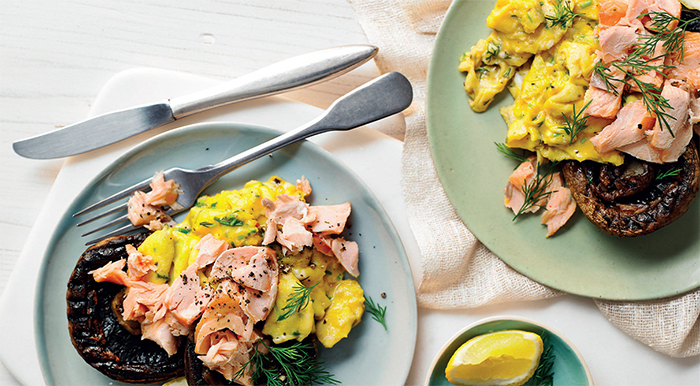 It is often said that breakfast is the most important meal of the day, which is all the more reason to start off the day with a wholesome and healthy meal that is also delicious.
Check out this simple, and tasty breakfast recipe from Weight Watchers.
Scrambled Eggs With Mushrooms & Smoked Trout
Serves 1
3 SmartPoints

Ingredients
2 large flat mushrooms
2 eggs
1 tbsp chopped fresh chives
1 crushed garlic clove
4 tbsp skimmed milk
60g hot smoked trout
Dill sprigs
Lemon wedges

Method
Lightly mist 2 large flat mushrooms with cooking spray on both sides, grill stalk-side down for 6 min, then turn, season and cook for 3-4 min.
Whisk 2 eggs, 1 tbsp chopped fresh chives, 1 crushed garlic clove and 4 tbsp skimmed milk. Season, then cook in a misted non-stick frying pan over a medium heat, stirring slowly for 2-3 min.
Top the mushrooms with the egg and 60g hot smoked trout.
Season and serve with few springs of fresh dill and lemon wedges.
Enjoy!
See more on WeightWatchers.ie.