VIP Publishing is delighted to announce that the eir Power of Women Awards are back.
These awards celebrate the best and brightest female entrepreneurs in Ireland, across the worlds of fashion, technology, beauty, lifestyle, wellness and more!
The winners, decided by an expert panel and awarded at an exclusive lunch in Dublin's Marker Hotel on November 18th, will be profiled in the December issue of VIP Magazine.
The Public Relations Award sponsored by Malfy Gin is celebrating the incredible women who spread the word for a living, and do it with aplomb! Here's a bit more information about our inspiring nominees…
Caroline Kennedy – Kennedy PR and Brand
An honours graduate of Communications Studies at DCU, Caroline has more than 25 years of experience working in the Irish media sector.
Her eponymous agency handles the PR for luxury brands like The Merrion Hotel, Nespresso and Shiseido. She has worked as a television researcher, radio producer and public relations consultant and in general, is passionate about the media industry.
Caroline founded Kennedy PR + Brand in 1992 and the agency is now recognised in Ireland as a leader in the field of Consumer PR and Communications. She has directed the launch of numerous household brand names and events in Ireland. Previously, she was a director of the Junior Dublin Film Festival and currently sits on two prestigious boards – The Ireland Funds and the Dublin City University Trust.
Aoife Horgan and Debbie McCarthy – VERSIFY
VERSIFY is an independent full-service agency based in Dublin, set up in July 2017 by PR Consultant Aoife Horgan and Brand Marketing Director Debbie McCarthy.
Having both worked within the beauty and lifestyle industry for over 12 years, the highly experienced duo combined their enviable list of contacts, creative prowess and refreshing commercial acumen to offer brands an agency with a difference.
They also work with influencers and creators on brand deals and partnerships, combining their social media acumen and media industry knowledge to build quality content.
Hannah Saunders – Hannah Saunders PR
With over a decade of experience in the PublicRelations and Influencer Marketing industry, Hannah has been at the forefront of some of the most talked about PR campaigns in Dublin, New York and London.
Hannah's association with internationally recognised brands such as Gillette, AVON, Fitness First, P&G, Easilocks, Never Fully Dressed, Chupi, Therapie Clinic, Pretty Lavish and Outdazl to name but a few enabled the young, creative and determined company to be born.
Hannah displays great knowledge and passion for both repositioning and re-igniting longstanding, established brands as well as launching new brands and services from their foundations. She has a special focus on Irish brands.
Sinead Ryan and Joanne Byrne – Presence PR
Joanne Byrne is a Director of Presence PR along with Sinead Ryan and has been working in Public Relations for over 15 years.
Since Presence PR was formed by Joanne and Sinead in 2003, Byrne has worked with a wide range of clients from FMCG to celebrities. Joanne also manages the careers of those who are signed up to Presence People.
Ryan has worked in Public Relations for over 25 years, both in-house and in consultancies and has a particular interest and expertise in crisis management, social media and hospitality.
Emma Fitzpatrick – 11PR & Events
Emma set up 11PR & Events at the start of the pandemic after being made redundant from a job she had for 17 years, working in high-street fashion marketing.
She poured that expertise into a new company dedicated to working with beauty and lifestyle brands and counts prestige companies like John Frieda, St Tropez, Sanctuary Spa and Swedish Nutra Ireland among her roster of clients – especially impressive considering the relative newness of the company.
She offers a full service of PR, events, marketing and brand partnerships.
Emma Kelly – Elevate PR
Emma founded Elevate over 21 years ago in Dublin, and the business has evolved over that time to keep abreast of current trends as well as the digital revolution.
Emma focuses on consumer trends and influencer marketing, as well as representing several high-profile brands like Charlotte Tilbury, Regatta Great Outdoors and The Dylan hotel.
Emma has also run webinars on the future of Media, imparting her wisdom on traversing the industry through the years, and overcoming challenges in PR such as maintaining success during the pandemic.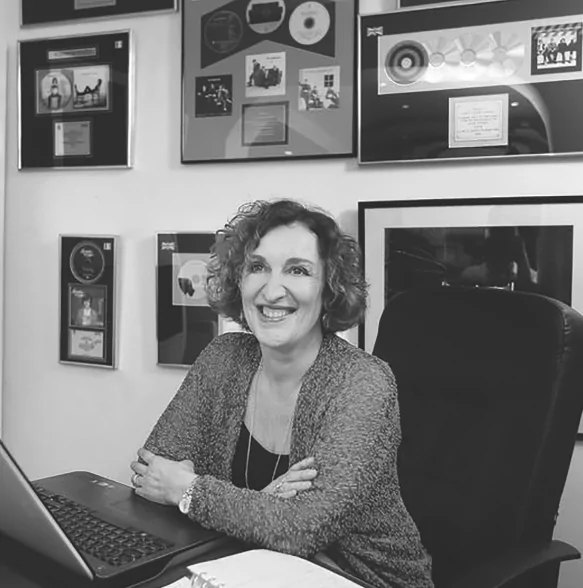 Lindsey Holmes – LHP
With over twenty years of experience running campaigns as diverse as music festivals and presidential elections, Lindsey Holmes Publicity is a stalwart in the Irish public relations industry.
Lindsey established her PR consultancy in 1994 and has represented some of the biggest international and homegrown talent, including U2, The Cranberries, Don McClean and The Waterboys.
Lindsey established the agency as at the time, very few companies specialised specifically in the entertainment area. Since setting up LHP with roughly five clients, she has gone on to achieve incredible feats like helping to increase the attendance at Electric Picnic from 10,000 to 70,000.
Valerie Roe – Valerie Roe PR
Valerie was the manager of the iconic Lillie's Bordello for 13 years. Lillie's was ranked as one of the Top 3 celebrity clubs in the world, voted by Vogue and Elle Magazines, to name but a few.
She represented Ireland in the Miss Universe competition in New York and toured the world as part of a UK chart-topping band before turning her hand to PR more than fifteen years ago.
Since then has been at the forefront of the industry by leveraging up-and-coming talent from social media and reality television, using its celebrity to market products and services, as well as creating high-performing campaigns for both Irish and international brands, including Bellamianta, BPerfect Cosmetics, KASH Beauty, All Saints, Hunky Dory's, National Dairy Council, Cannonball, The Avenue of 6 stores at Whitewater Shopping Centre, Couture Club, and Yankee Candle to name but a few.