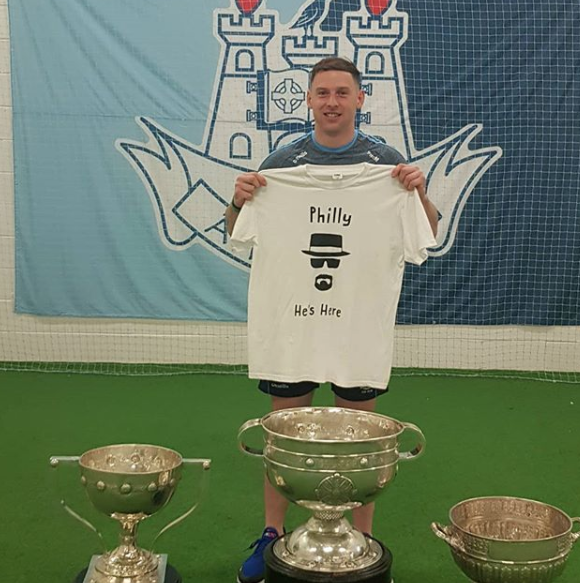 Dublin footballer Philly McMahon has shared an emotional tribute to his late father, who passed away earlier this year.
Philly, who won his sixth All-Ireland medal in Croke Park yesterday, dedicated the win to his dad Phil, who sadly lost his battle with cancer back in July.
Posting to Instagram, the Dublin hero held up a Breaking Bad themed shirt with the phrase "Philly, He's Here", as the Sam Maguire cup, along with the Leinster Championship and National League trophy lined up in front of him.
The 30-year-old, who released his book The Choice this year, about the loss of his brother John and how football changed his life, was emotional in Croke Park yesterday, as he remembered his biggest supporter.
The Dubliner spoke about his gratitude after the game, saying his dad was there in spirit.
"The big word for us this year was gratitude," he told Sky Sports.
"There's people in this stadium that probably won't ever see an All-Ireland again. It's just great to give a bit of happiness to people.
"These lads gave me a gift last year, my dad could see me win the All-Ireland. He was here in spirit today. There's plenty of people who are probably not here who would love to be here to watch us. So we are grateful for what we have."
Huge congratulations to Philly and the entire Dublin team!