Former Xpose star Peter O'Riordan has come under fire online after he responded to SNL star Pete Davidson's post about suicide.
The comedian, who recently split from popstar Ariana Grande, posted that he 'didn't want to be on this earth anymore', leaving fans and friends concerned about his well being.
After the post, Peter, who previously worked for TMZ, shared his opinions on mental health, and angered a lot of people.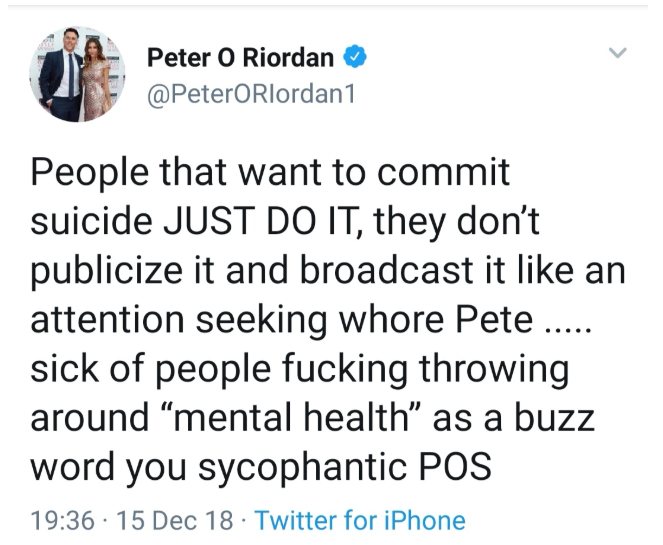 The tweet has since been deleted, with the father of two apologising for his words, saying "Mental health is a very serious issue,my comment was intended to highlight the need for Pete to seek help for his issues privately & not have it all over social media.
"My comment caused offense or was misinterpreted,then I am deeply sorry. I hope he gets the help he needs,"
However, many believed his tweet could trigger people with suicidal thoughts.

Your clear intent was to attack someone who is obviously struggling with something. Your comment was not only offensive, it was malicious.

— T'Hanos (@MrMatrix09) December 15, 2018
Hopefully you can turn this into a moment of growth. What you said was gross. Maybe talk to people who actually know a thing or two about a serious topic next time instead of mocking people with mental health issues.

— Stephen T. (@GoshZilla) December 15, 2018
Apparently it did. It's gone. Maybe you should think a bit more before posting in the future.

— Barbara Stiles (@Dovewoman1) December 16, 2018
What do you think of Peter's comments?