Stephanie Evan has revealed that she is facing another health setback following a neurological illness she has been battling.
Presenter Peter O'Riordan's wife took to Instagram to reveal that she now has issues with her thyroid after finding a lump.
"Today I had a biopsy to see if I have thyroid cancer. They found a large 3.6cm mass on my right thyroid after I was complaining about having pain swallowing and radiating neck and ear pain. I could feel a lump in my throat but thinking it was all related to that…" she explained.
The mum-of-two added that she is feeling anxious and will properly have to have more procedures done.
"I am now recovering from the FNA biopsy which hurt more than I was expecting. I have to wait for the results and I'm feeling anxious and exhausted. I will probably have to undergo a thyroid surgery in the near future I'm just praying it's not cancer. Could use all the love and healing vibes and ice cream xo"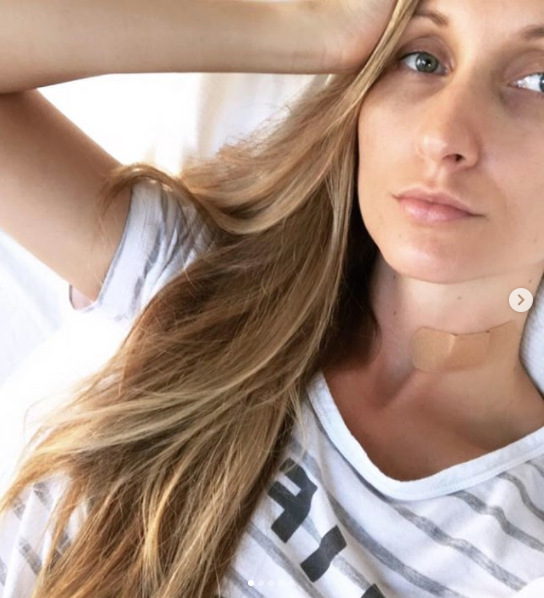 It's been a tough couple of years for Stephanie, who was diagnosed with a neurological illness called Trigeminal Neuralgia before birth of her second son in September 2017.
In December last year, former Xpose presenter Peter made a plea for donations to help cover the cost of medical bills via GoFundMe.
"TN is a neurological illness that is debilitating and also known as the suicide disease because of the extreme pain and lack of remedies for that pain. It has made this time that should be joyous for the family very difficult," the page explained at the time.
"Stephanie has been dealing with this pain for over a year on and off and shortly after giving birth, it took a turn for the worse. After seeing over 12 different doctors, hospital visits, MRI's and CT scans she was sent to see a neurologist and got a diagnosis."
Since then the 32-year-old has been undergoing a series of tests and trying various different remedies and treatments for the illness.