Ireland is basically the second home for Hollywood A-Listers. So when VIP Magazine got to catch up with some of them we had to ask just how they found their adventures here in Ireland.
We chatted with the cast of the upcoming Disney movie, Disenchanted, including Patrick Dempsey and Amy Adams. The highly anticipated sequel to Enchanted was filmed on our shores.
Of course, Patrick travelled the length and breadth of the country while he was here. So we had to ask how he enjoyed it.
From Irish food to singing on screen, here's what the cast of Disenchanted had to tell us…
Hey guys! You're back for the sequel to Enchanted, how exciting is that?
Amy Adams: It was really just such a pleasure, and getting the returning cast together. It was so fun to get to see everybody just step back into it, and that we were lucky enough to have everybody come join us. And I can't thank them enough, and I'm very appreciative. And then for our new cast members, I was just so, so, so pleased to get everybody we have.
Patrick Dempsey: For me, it was a fantastic ride. I had a great time where I could work a little bit, do some sightseeing in Ireland, and work on the musical that, you know, great fun with the singing and the dancing. So it was fun.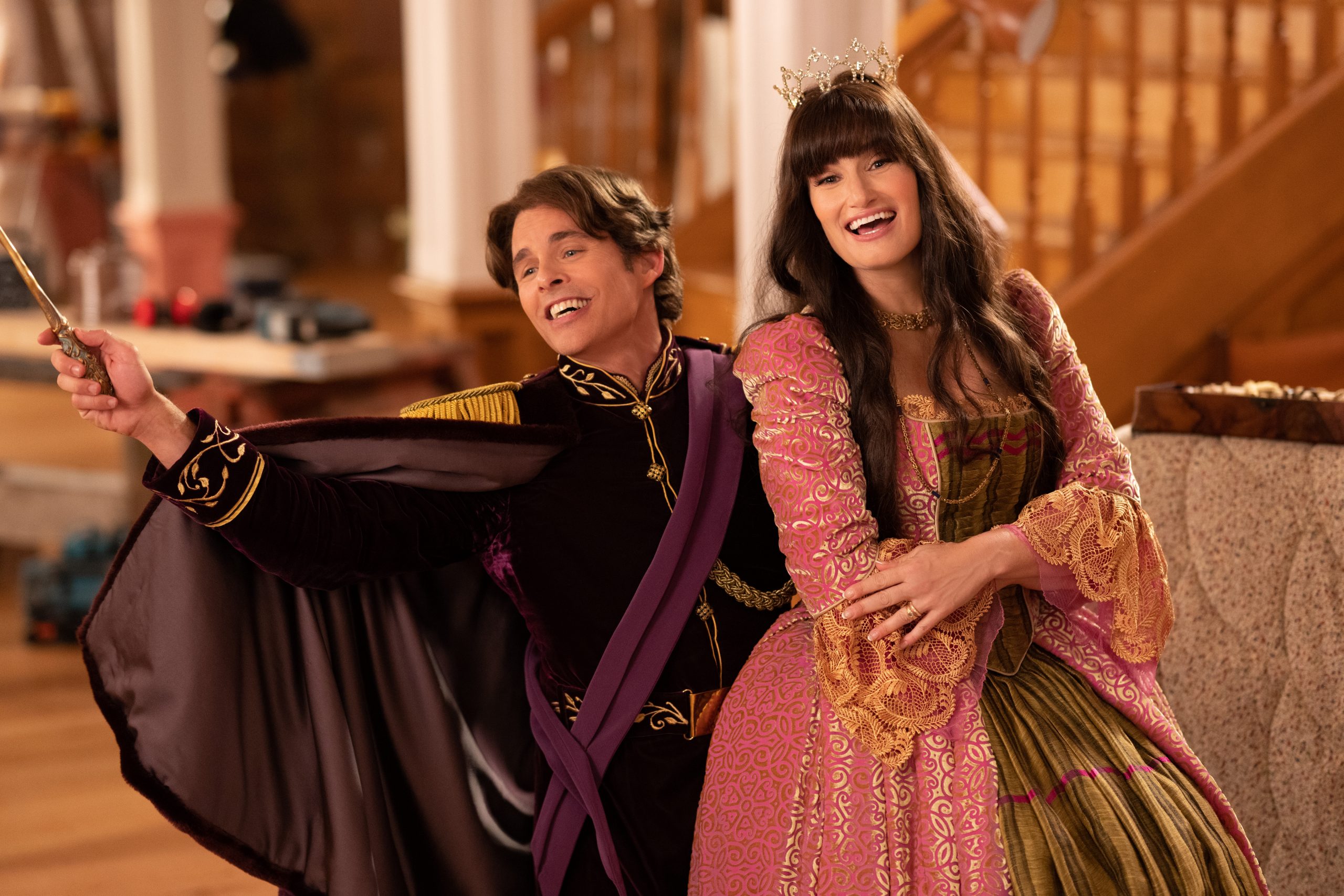 You mentioned Ireland, how did you all enjoy filming here?
Yvette Nicole Brown: We all had the best time in Ireland. It was just a lovely gathering, a little troupe of us coming together to make this love letter to everyone who loved the original film. And I'm just so honoured to get to be a part of it.
Maya Rudolph: Well, Yvette and I will tell you that we learned a lot about the butter. [laughs]  All the dairy products. We can tell you what you need to buy and import because it changed our lives.
Yvette: Absolutely.
Maya: I was there with my family, so like we discovered a lot of beautiful places and places to climb and things like that. And all of the people. And got to be in a beautiful place when the world felt unsafe. It's one of those places that, if you want to feel welcomed and loved and a pride in where people live and they wanna show you where they live and they want you to enjoy it, then you should go to Ireland.
View this post on Instagram
Patrick, you certainly enjoyed your time in Ireland. Tell me a bit about what you got up to.
Yvette: [laughs] He did.
Amy: Yes, he did.
Patrick: I did. And I travelled all over the place. I had a great time. I had to, because of COVID, there was a lot of testing, a lot of masks. So, I ended up spending 14 days in Northern Ireland to begin my journey, locked down. And there wasn't a lot to do, but it was the spring of the year, so you had a lot of the lambs and a lot of the newborns happening in the countryside. And the people were great. It was good to be outside. There's such a rich history. Oh, and talk about musical history and
the roots there of the music. The people, the butter, of course, and the bread. It was great. It was a great opportunity to live and work. It was really sad in some ways, because, you know, Dublin was shut down. Everything was still on lockdown. So, you had to get outside. And a lot of people
I'd met on hikes and travelling and then sharing my journey on Instagram, I was their top spokesman for travel to Ireland and enjoy the sights. [laughs] I was in my element, with the
rain and the cold.
View this post on Instagram
Patrick, you mentioned earlier about the singing process in the film. What was that like?
Patrick: It was a joy. And that whole process of going through, finding your voice, working with the coach on that, learning the lyrics and the dance was an extraordinary experience and something I'd never done before. And really appreciate the talent with the voices and the singing of Idina and Amy and Maya and everyone. You know, it's an extraordinary feeling you get when you sing. The vibration, it's something very intoxicating about it. So it's nice to get a taste of that.
Idina, we have to ask, do you finally get a song in this film?
Composer, Alan Menken: We had two attempts in the first movie to do that. I don't know if Idina, did you ever hear the songs? The two songs you wrote for the first movie? And we just couldn't
get it in.
Idina Menzel: But I appreciate you trying. It was just superfluous at the time 'cause you were trying too hard. And I really appreciate that. But now you made up for it in so many ways that I'm singing a song I could barely sing live if I tried.
Disenchanted lands on Disney+ on November 18