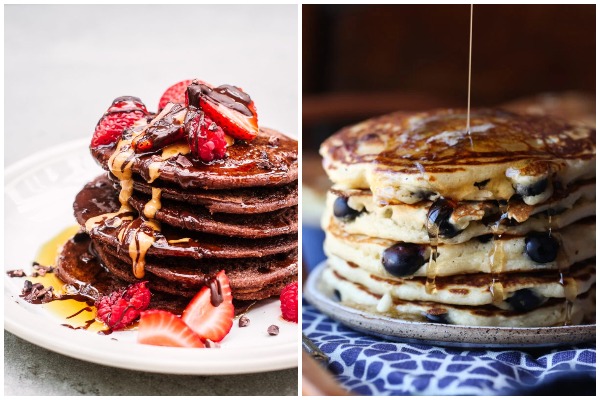 Who would believe that Pancake Tuesday is already upon us. Many would argue that the day is the best celebration of the year, and with the hardship we've experienced already in 2021, we're embracing a reason to smile with open arms.
And what better way to put a smile on your face than flipping and eating some delicious pancakes? Fun for the whole family to get involved in, we're rounding up some of the best pancake recipes that are sure to brighten up everyone's day, from the littlest ones in your life to the biggest!
Simple Pancakes 
From SuperValu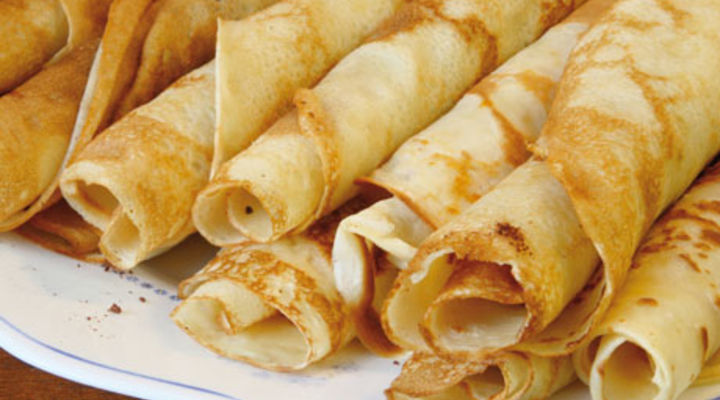 Ingredients 
0

 

–

 

SuperValu Sunflower Oil
Method 
To make the pancake batter, sift the flour into a bowl, add the salt and make a well in the centre.
Break the eggs into the well and add a little of the milk.
Gradually add the remaining milk into the egg and flour mixture using a large whisk until a smooth consistency has been achieved.
Cover with cling film and stand in the fridge for 1 hour if possible.
Heat a heavy-based frying pan and when hot, brush with the minimum of oil.
Pour a small amount of the batter onto the pan and swirl it around until it is evenly and thinly spread over the bottom.
Cook over a moderate to high heat for about 1 minute or until the edges are curling and the underside is golden.
Flip over and cook the second side for 30 seconds or so until golden.
Chocolate Pancakes 
From Little Green Spoon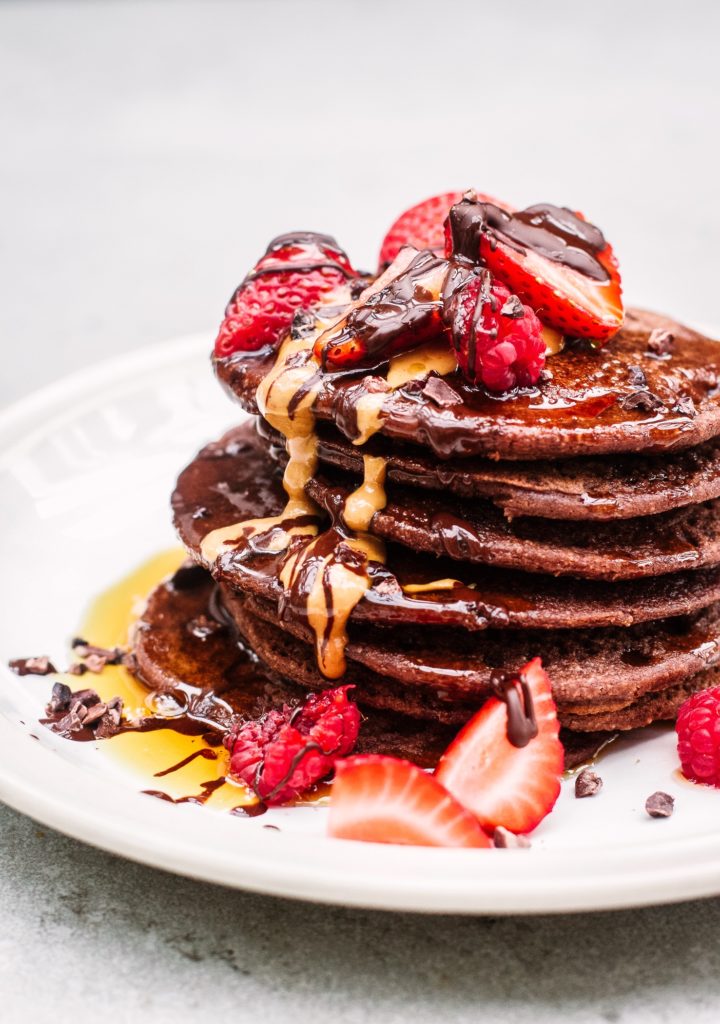 Ingredients 
120g of gluten free oats
300ml of nut milk
15g of nut butter
7g of ground flaxseed
15ml of maple syrup
1 teaspoon of baking powder
10g of cacao powder
15ml of melted coconut oil
Method
Add all of the ingredients to your blender. Blend on high until smooth. Let it sit for 2-3 minutes, it will thicken as it rests. Blend again.
Place a non-stick pan on medium-high heat. Add in about half a teaspoon of coconut oil. When it's melted, pour about a sixth of the mixture into the pan. Cook for about 60 seconds on the first side until lots of bubbles have formed in the centre, then flip and cook for another 30 seconds.
Repeat with all of the mixture, adding a little more coconut oil to the pan as needed. Stack them on top of each other as they're done to keep them warm.
Serve with nut butter, fresh berries and a drizzle of melted dark chocolate.
Blueberry Pancakes 
From Cookies & Cups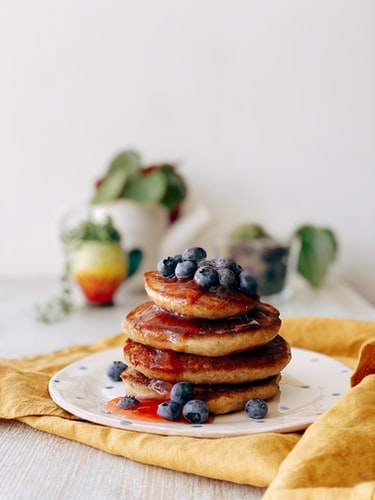 Ingredients 
2 cups

 all purpose flour

2 tablespoons

 baking powder

1 teaspoon

 kosher salt

3 tablespoons

 light brown sugar

2

 eggs

1 teaspoon

 vanilla

1 1/2 cups

 milk

5 tablespoons

 butter, melted

2 cups

 fresh blueberries
butter for frying
Method 
In a large bowl whisk the flour, baking powder, salt and brown sugar together.
In separate bowl whisk the eggs, vanilla and milk together.
Add the wet ingredients into the dry and mix until just combined. Lastly, mix in the melted butter and stir until combined, the batter will be slightly lumpy. Set the batter aside while you heat your griddle to medium-low heat. Melt a small pat of butter on the griddle and then scoop out 1/4 cup of pancake batter onto the hot griddle and top evenly with blueberries, as many or few as you prefer.
Cook until the edges are set and bubbles form on top of the pancake. Flip and cook until browned.
Serve warm.
Protein Pancakes 
From Centra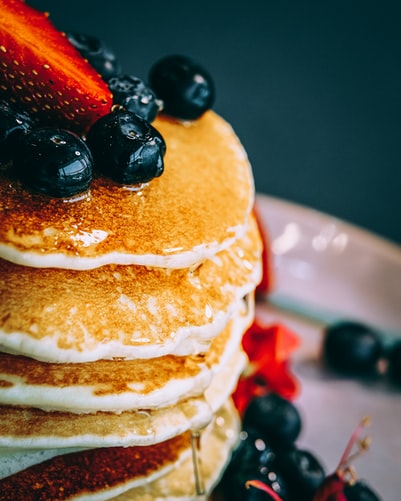 Ingredients 
1

 

tbsp

 

Baking Powder

1

 

tbsp

 

Cinnamon

6

 

Egg Whites

280

 

g

 

Greek Yoghurt

90

 

g

 

porridge oats
Method 
In a blender, combine all ingredients until smooth. Heat a large non-stick frying pan over medium heat. Spray with a non-stick, all-natural cooking spray.

For best results, allow pancake batter to sit and thicken about 5 minutes while pan is heating.

Pour about ½ a ladle of batter onto pan. Flip when bubbles on top burst, about 5 minutes. Cook for another couple of minutes and until pancakes are golden brown. Repeat with remaining batter.

While pancakes are cooking, stir Greek yogurt sauce ingredients together in a small bowl.

Divide pancakes and sauce recipe into two servings and enjoy