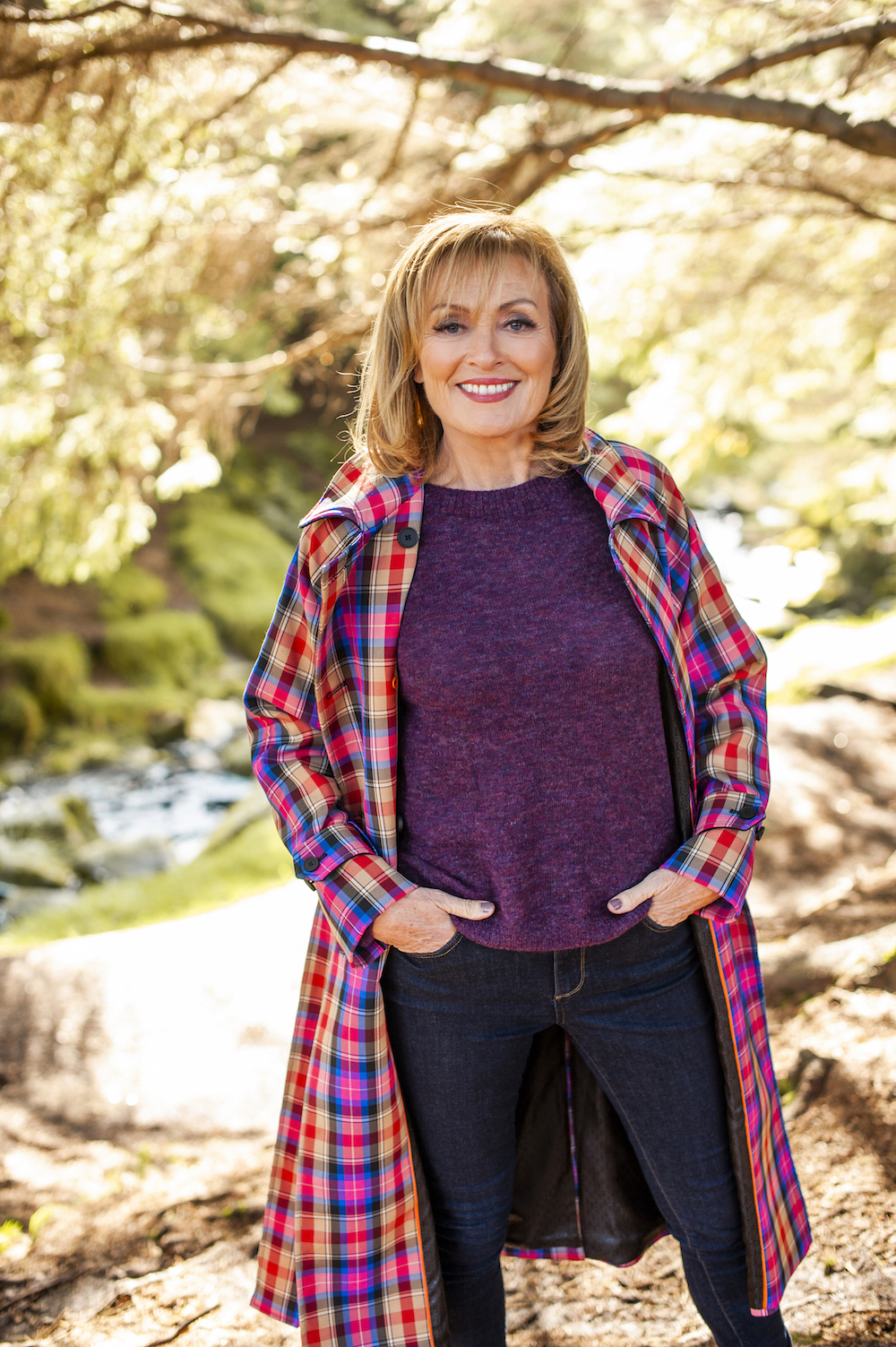 Mary Kennedy is the definition of what it is to be a national treasure. So accustomed are we to turning on our tellies three nights a week to find out what gems she and the team at Nationwide have uncovered that we can hardly believe the news still, as she announced her retirement from RTÉ earlier this year.
At 65, and as staff, she must retire but we have no doubt in our minds she will be back bringing us joy and positivity once again in a freelance capacity. We'd miss her too much! For now, she is continuing to work away as she nears the end of an era and a new beginning. But as she tells us; it is not just the 15 years that she was with Nationwide, her first role with RTÉ occurred 41 years ago and "I was so nervous!" she says. Looking at her smiling face now, a complete pro in front of the lens we find that hard to believe.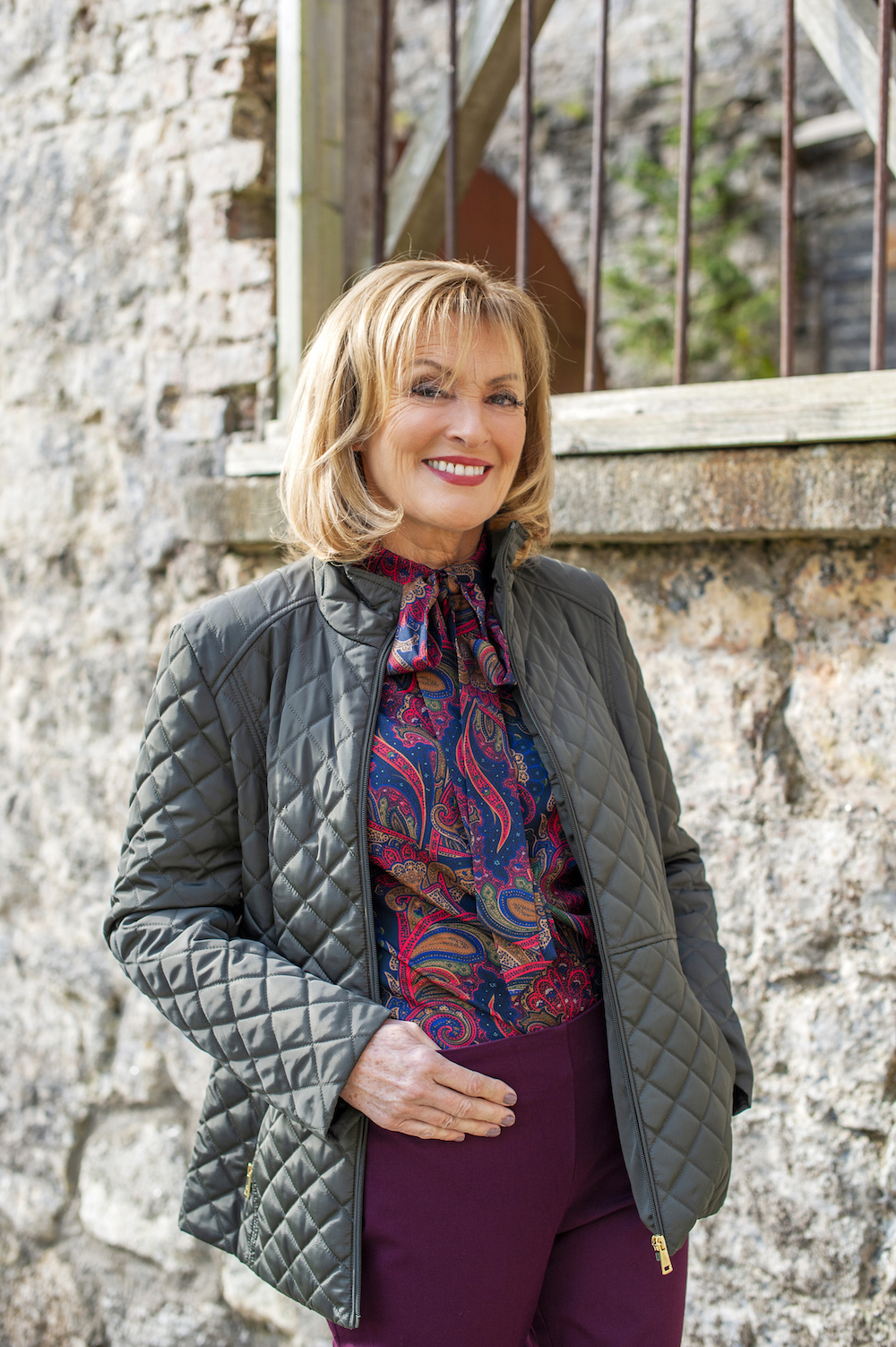 An established author, a mum, a grandmother, a broadcaster, she has packed a lot into her 65 years. And perhaps one of the many great things about being around Mary Kennedy is her almost palpable enthusiasm, a complete zest for life and love for our beautiful country.
She suggested the location for this, our stunning shoot, in the grounds of Glencree Peace and Reconciliation Centre County Wicklow, causing half the team to plan to come back with our children, nieces, nephews and so on. She wowed us with her knowledge of the area as well, more of which you will read throughout this piece. Following a gorgeously blustery, fresh-air filled day, it was time to cosy up with a piping hot cup of tea and have a more in-depth catch up with Mary.
We talked about her plans for the future, how she doesn't sweat the small stuff, her pride in daughter Lucy who is the tour photographer with her cousin, (Mary's nephew), and rising star of the music world Dermot Kennedy. We also spoke about some of her highlights in Nationwide, such as the time she spent the day at home with Irish icon Maureen O'Hara. (Can we get a wow?!) What is clear is that Mary is open to what's next and excited for the future, and we for one, can't wait to see it!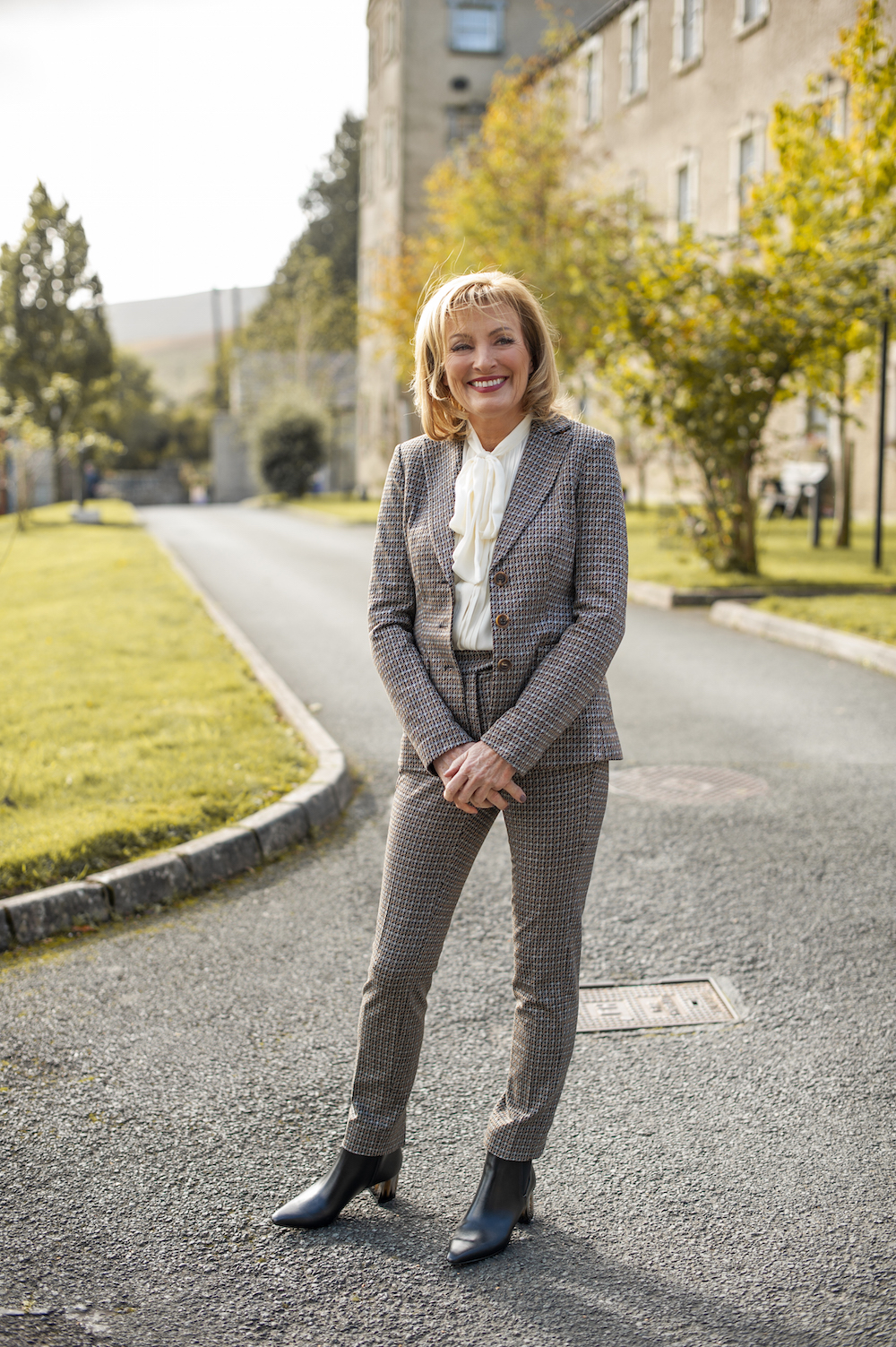 Mary, lovely to see you! We are meeting in the aftermath of your retirement announcement from RTÉ. But in fact, your ties to the channel go back way beyond your 15 years as staff with Nationwide?
Yes. It was actually October 1978 so 41 years ago and that was when my first thing was with RTÉ. I was freelance and working as a teacher.
Do you remember that first job well?
Yes, I remember it well. I answered an ad in the paper which was the way you applied for jobs in RTÉ back then. I was given a job as a part-time continuity announcer. My very first day was a Saturday and I did a tea-time slot introducing children's programmes because the station only opened at 5pm back then. I can remember making my first announcement and being so nervous [laughs]! When it was finished, I threw my eyes up to heaven and the camera was still rolling!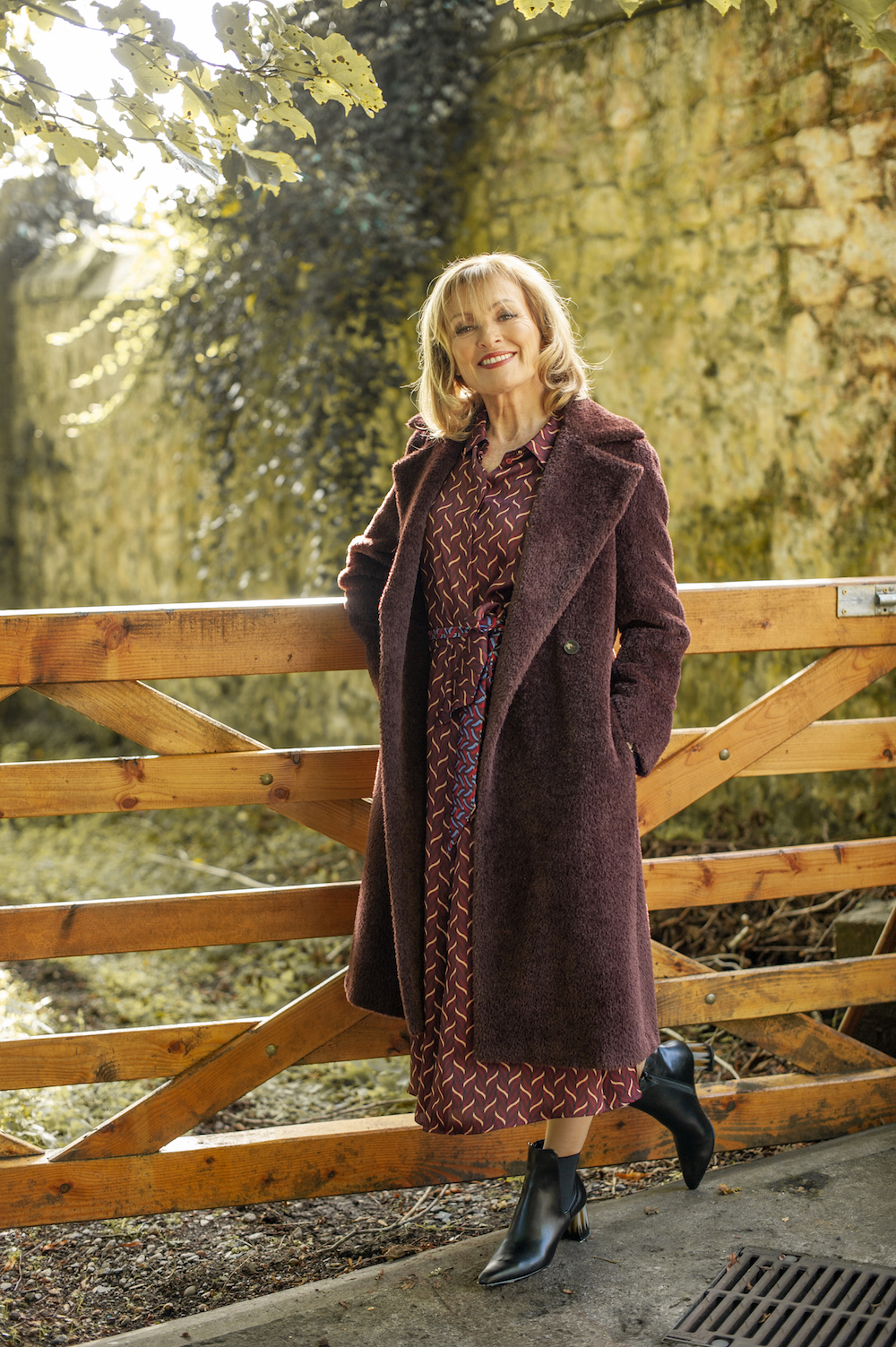 We would love to see that clip now!
Oh, I would love to find it. There are some of them in the archives I am sure. And we had such posh voices back then let me tell you, [laughs], we sounded like people out of the BBC, that's just the way it was.
So let's talk Nationwide… what do you think it is about the show that Irish people love so much?
It shines a light on real Ireland, on the heart of the country. It is such a positive show. I think it is nice to show positivity and to kind of celebrate that with real people. It is also not just about one particular type of person, it is about everybody. It is part of our DNA to be strong on community, looking out for each other and what is going on. This strikes a chord with people.
It does. It always makes us want to throw on our coats, get outside and explore.
It gives people ideas about where they would like to go. My sister lives on the Aran Islands and we did a programme there about three years ago. She said that the shopkeepers and local businesses are still getting people visiting saying 'Oh we saw it on Nationwide and we put it on our bucket list.' I love to hear things like that. It really is a spectacular country to call home.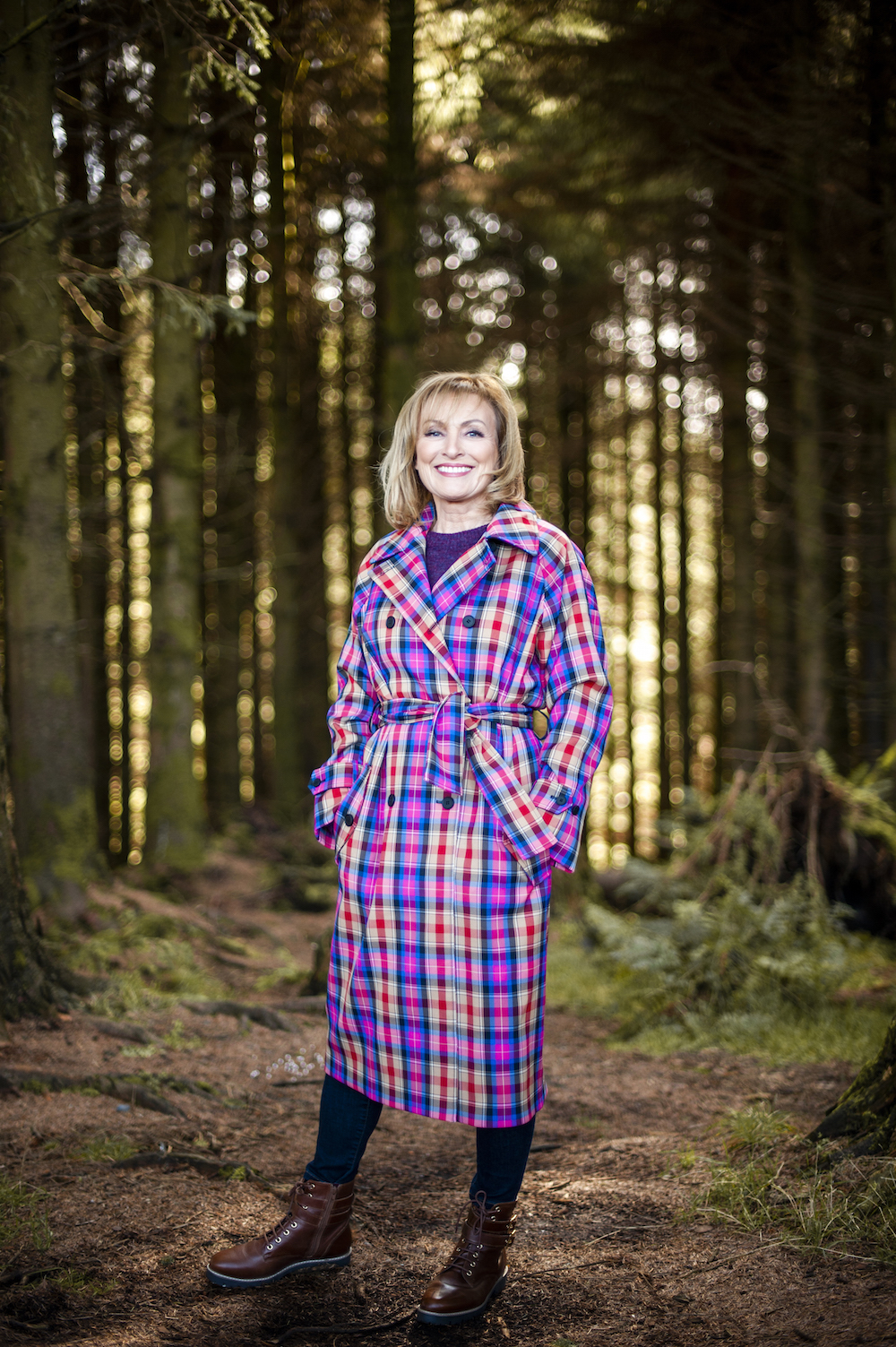 Are there particular memories from your time on the show where you think "I will be telling that story for years!"
Well you know they are all very special. I suppose it's the stories you go into thinking it is going to be a ten-minute segment and it ends up being much longer. I do a strand called At Home With, and I remember Maureen O'Hara and visiting with her in Glengarriff to celebrate her 90th birthday. She was just magical so that ended up being a whole program. And the same happened with Big Tom of The Mainliners, who died last year. We went up to see him in Castleblayney in County Monaghan. He was just gorgeous and we ended up giving him the whole show.
As we know it is only out of necessity that you must retire as staff at 65. Surely that means we will be seeing more of you on our screens?
I am open to all options. I am looking forward to the next chapter. I don't worry about things that I have no control over. I love my life, I love the people around me. There is a lovely quote from St Teresa of Ávila and it finishes off, "All will be well. Let nothing disturb you, let nothing frighten you, all sorrows pass, all will be well." It is the "all will be well" I love, I just think in life this is the right attitude to have.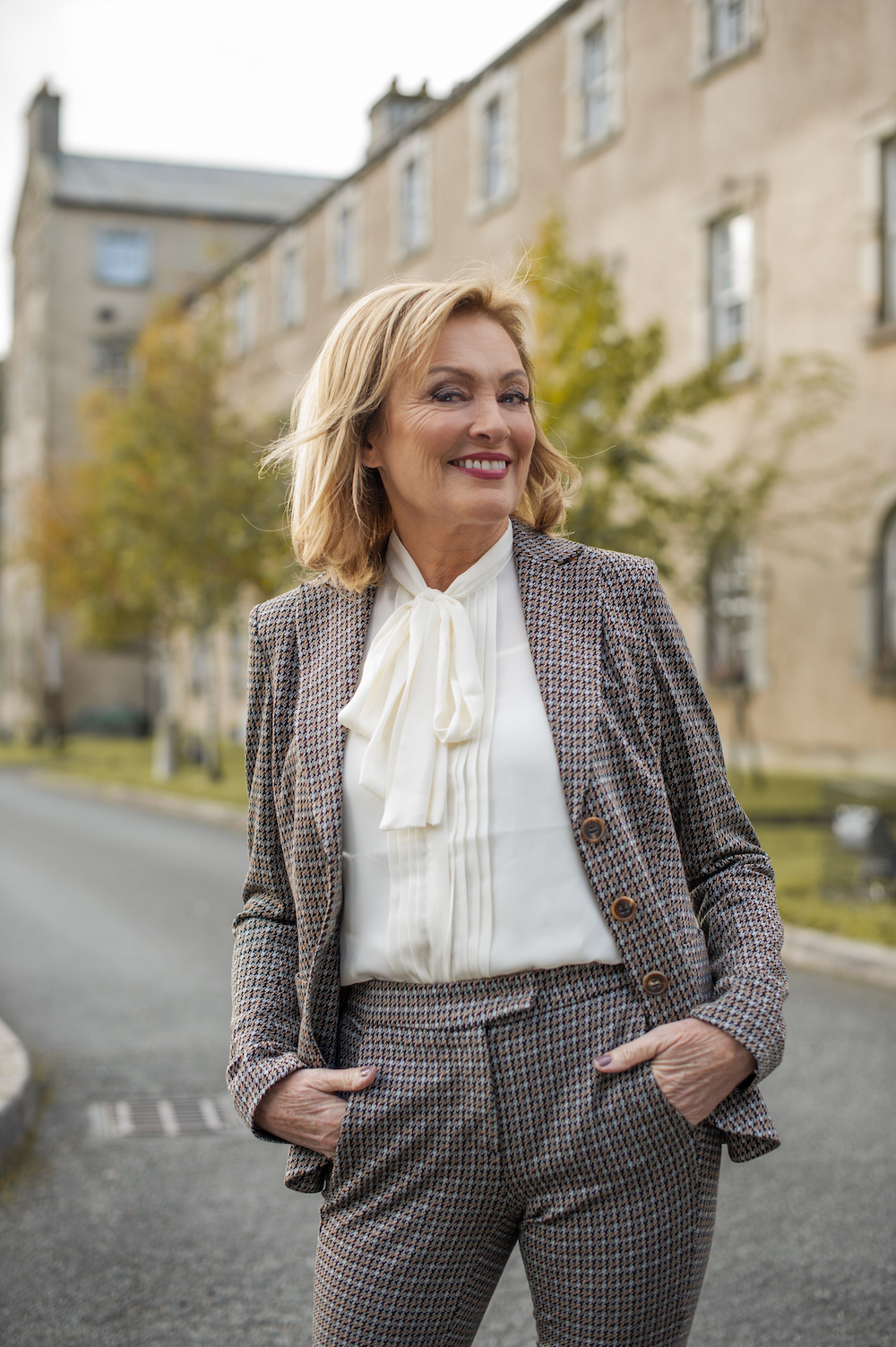 We came across another quote that you love by Angel Lady Diana Cooper who says, "First you are young, then you are middle-aged, then you are old, then you are wonderful." It really resonated with you?
Yes because I feel that we are a sum of our parts, that every age we go through, every happy moment and every difficult, sad moment we go through makes us. I have absolutely no thought that you should try to "stay young" as long as you can. You have your youth and that informs you, then you have your middle age and that informs you, and then you get older and that informs you. I think it is just lovely to have all of that together and the richness it gives to life is immeasurable. I also feel that when one gets to the age that I am at that there is a certain confidence. There is a French expression that I love, which translates as "when you are good in your skin" and I feel that…very content.
We love your outlook, Mary. And you have so many strings to your bow. Your most recent book was published just over a year ago. How have you found the reaction ever since?
Brilliant. I think what people love is probably honesty. If I am to be honest again. [laughs]… I just don't shy away from things that affect me or dealing with the issues that affected me at a particular time. And I think people also loved the photographs… which were personal photographs that I was happy to share. And all of the modern ones were taken by my daughter Lucy who is a photographer.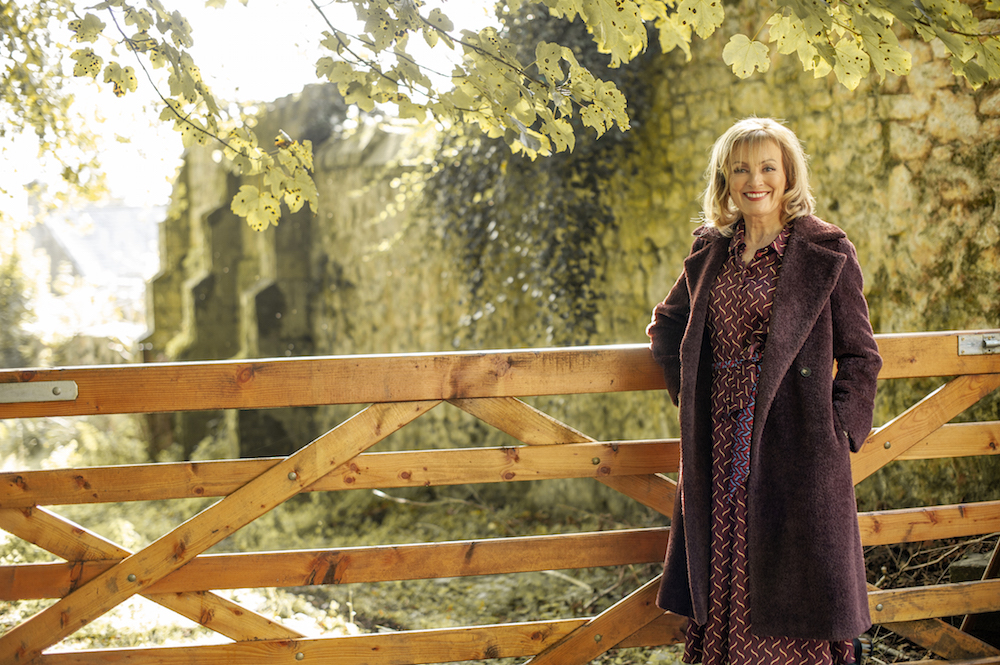 Speaking of family, perhaps a children's book is the next thing? You have your little grandson Paddy living with you to test ideas on?
He is just gone six months old so he is at the stage when you read him a story, sometimes he just wants to eat the book! [laughs]. Sometimes I might take a teddy and make up little stories. I find myself suddenly saying, "This is a sheep and he went into the field and he couldn't find his brother…the black sheep who was called Baa…" And I was thinking, "Where is this story coming from?" [laughs]. But it is just so much fun. I love writing, I really do and you know one of the nice things to consider is that it wouldn't be done at five o'clock in the morning before going to work… we will see!
And of course, aside from writing one of your passions is to get outdoors. Hence why we did the shoot in Glencree. How did you come across it?
Well, that is one of the joys of Nationwide. We did a programme during the summer about the Dublin and Wicklow mountains. And this, the Glencree Reconciliation centre…the history behind it is fascinating. It started off as a Barracks and at one point it was a Reformatory. It also was part of Operation Shamrock which was where German children who were affected by WW2 were brought and given shelter. Then it was made into a centre for Peace and Reconciliation in 1994 and now it still works in that area. You can do walking trails, it has a gorgeous coffee shop and that's what I love about Nationwide, that through it you can find these wee gems. So I just thought why don't we do the photos here?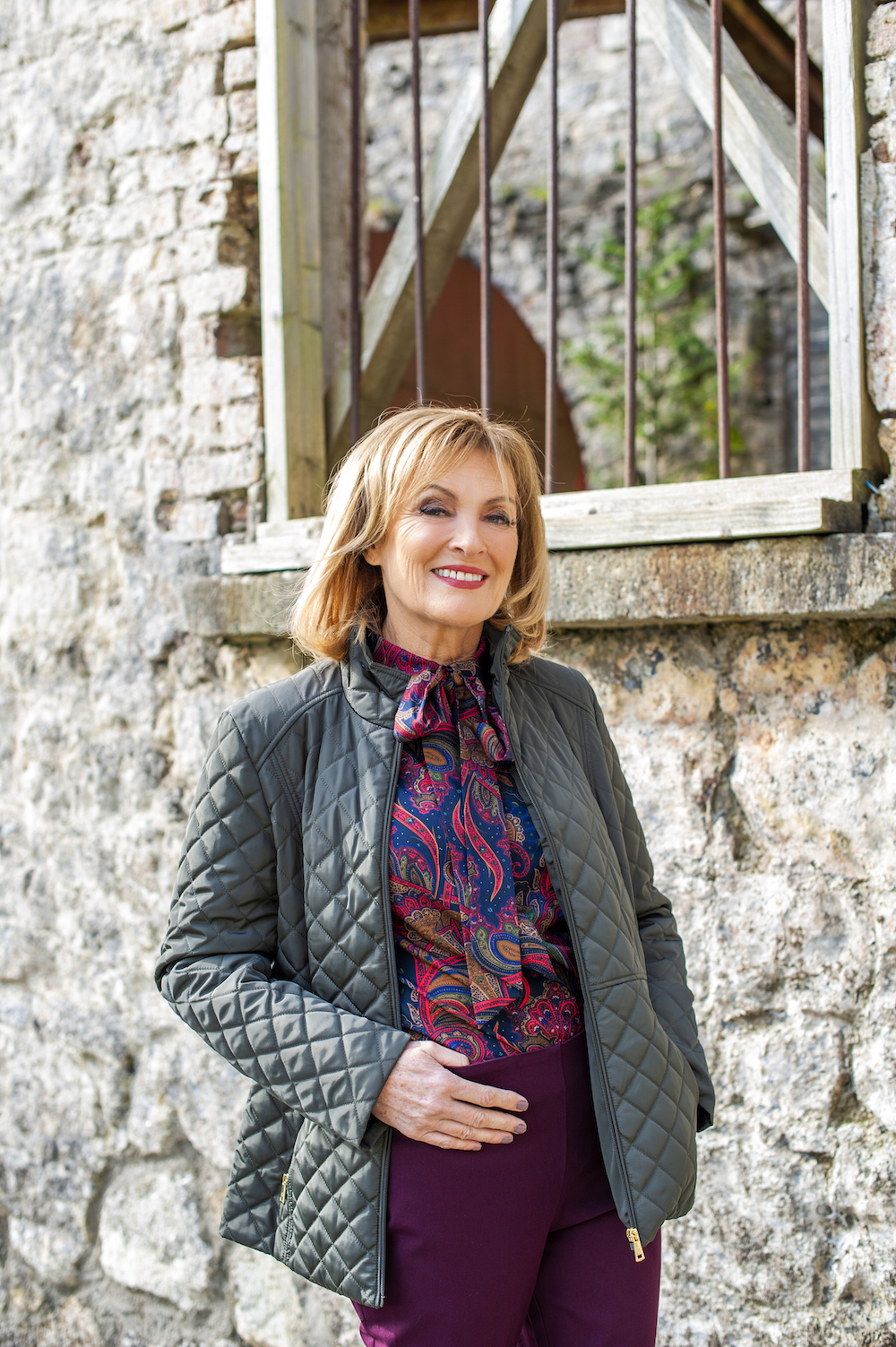 And for you is getting outside a meditative thing?
I think when it comes to real peace for my head it would be getting out jogging. I love to run a lot! I have to do 5kms three times a week and I do it mostly very early in the morning and that is really meditative. And I love the garden as well. Earlier this year my son Tom got married and the second day of the wedding was in my back garden so all through the summer, the summer bedding and the hanging baskets planted were all white. It is still beautiful I have to say.
Sounds divine. You have also spoken in the past about having an inner life? Is this still very important to you?
I am very philosophical about life. I do have a feeling of what is for you won't pass you. And also as you do onto others will hopefully be done onto you, so I think kindness is hugely important to me. I would be into mindfulness. For my birthday recently I went to a yoga retreat down in the Cliffs Of Mother and it was absolutely gorgeous. So that kind of thing I suppose. I also refer to myself as an 'à la carte' Catholic. It is the religion in which I was brought up and I am happy with it.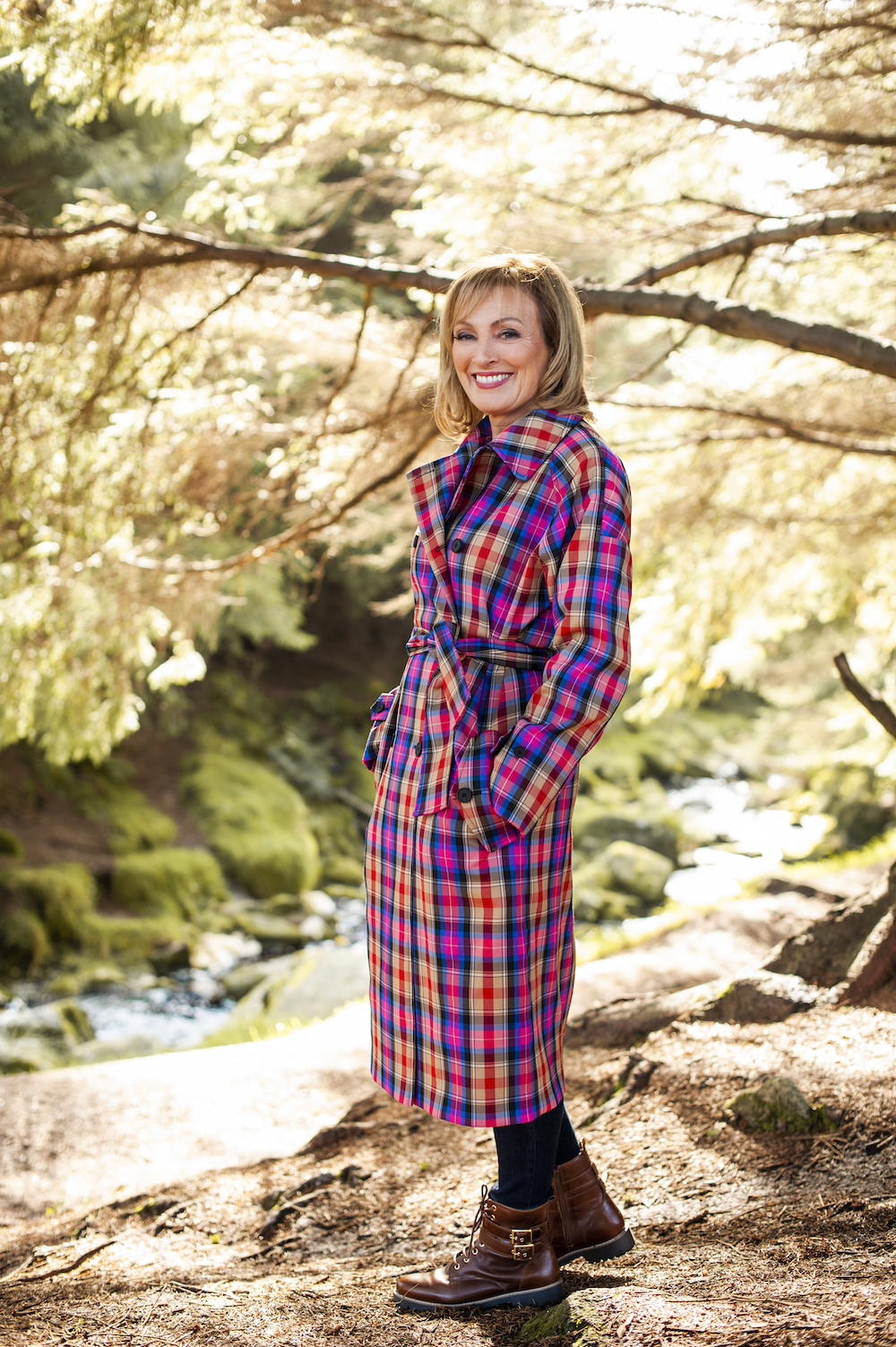 You seem to be utterly at ease with life Mary.
Well, I just don't over-think things. I am quite – not in a lazy way – but I am accepting of life. If something bad happens – like that bloody fall I had last year–I was out for a run and I fell and ended up with six stitches in my chin – that was so shocking at the time! But I got up,I got over it and I am back running.
You have also talked about suffering from burnout. Is now the time to be more mindful about minding yourself?
Oh god yes. It will be easier when you are not racing around the place. I think especially with the first grandchild coming into all of our lives is a very significant moment and I want to be there for the milestones. I was just running on empty and I will not let that happen again.
Right now your daughter Eva is renovating her house in Limerick so she is staying with you with Paddy. That just must be so much fun.
Oh, it just gorgeous. I look at it as a privilege because as soon as their house is ready they will be gone. For now it just means that in the mornings if I go in and he is awake in the cot, he is just beaming smiles for me and it is wonderful, it would lift your heart.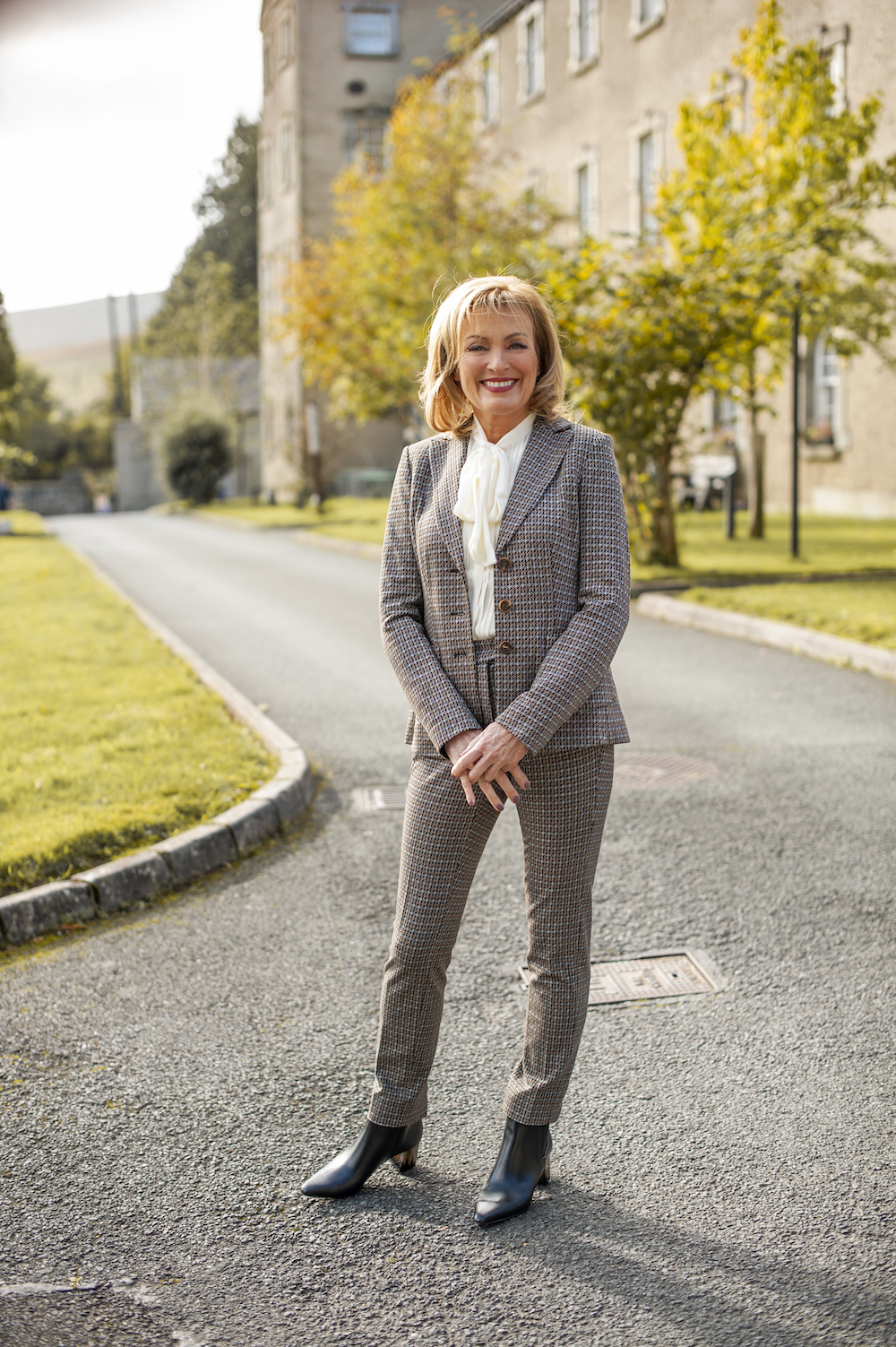 And you must be so proud of your youngest daughter Lucy who has a very exciting job, travelling the globe at the moment as global star Dermot Kennedy's photographer. You must be delighted to see them working together?
It is lovely…there is only six months between them. And when they were growing up they were really close, they always got on. When we would be on family holidays, you would always say "Where are Dermot and Lucy?" and there they would be just chatting, chatting, chatting, they never stopped talking away as little kids. And I do think that that is a factor in the kind of shots that Lucy gets, she gets some really nice candid shots of Dermot. He trusts her and she loves him, and they love each other, so it is nice. And he is doing great. I am sure there are a lot of artists who would take inspiration from him and the way his hard work and the talent pay off.
A very talented family. Now, we can hardly believe we are asking this but it's only a month away. Are you looking forward to Christmas?
Yes! Last year it was at my house. Dermot played the piano and we all sang but this year it is my brother John and his wife Eileen's turn. Then we are all going back with my sister Deirdre to the Aran Islands between Christmas and New Year which will be lovely to ring in the new year there. I love winters on the island, the big fires. We are very lucky to have those island communities. The whole culture of Irish life, the Irish language, and Irish song and dance. We would be poorer for not having them. I adore it there.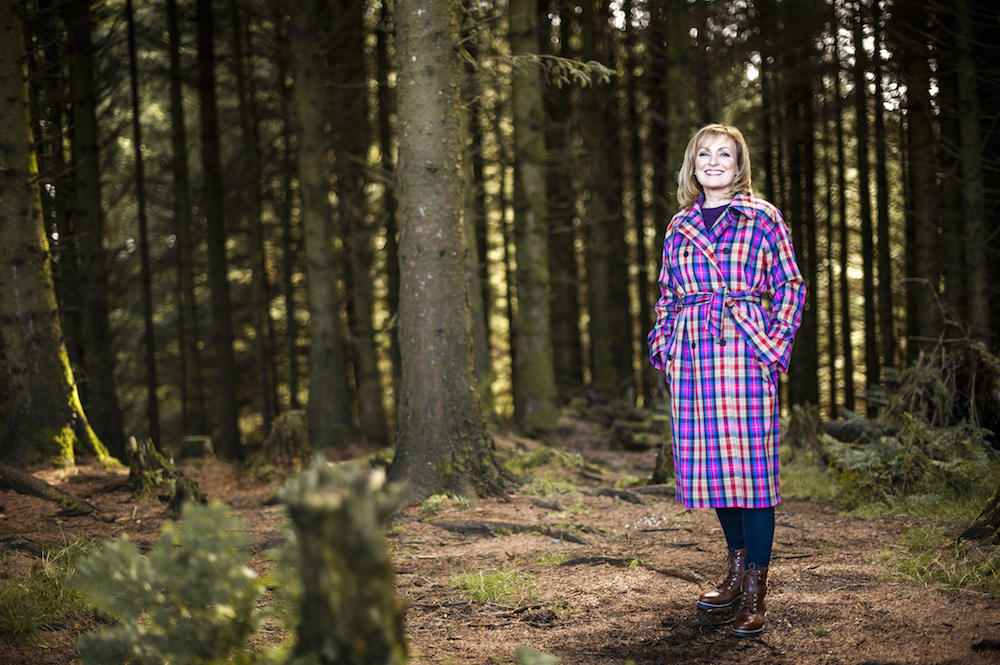 Is the great Irish outdoors where you are most yourself?
Yes and no. I love all that kind of outdoors. I love hiking. I love the sea…. but I also love getting dressed up and putting on a pair of heels and getting out the door. I love both.
Do you think this is something that we should encourage everyone of every age to get out and do?
Totally. It is so simple. We are so lucky to have a capital city within 20 minutes of a place like this where you have loads of parking, nice walks, and stunning scenery that would lift your soul. Even if you don't feel like it and you are thinking, "It's a grey old day and it is lashing rain." If you actually do it put on the raincoat and go out you will definitely not regret it.
What do you know now at 65 that perhaps you wish you had known at 25?
I know now what is important in life is relationships, people, and health and wellbeing. You don't get that from buckets of money or going to flashy events. It's all about embracing life.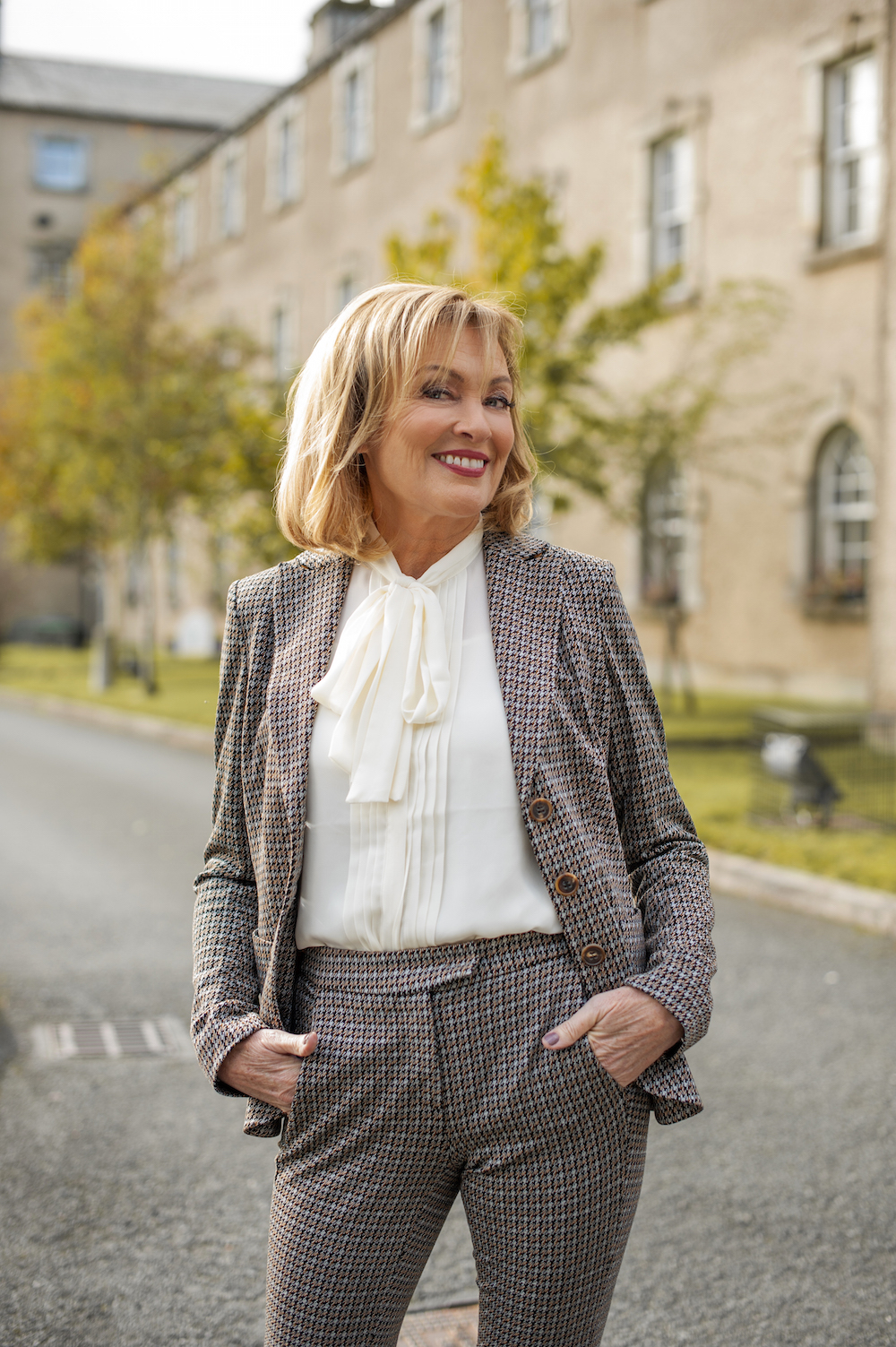 And finally… the new year is just around the corner. What are your thoughts on what is ahead?
I don't know what is going to happen. Let's face it, there are a lot of things I haven't thought about. But I am so lucky. I am strong.Iambuiltlikeanoxand I am healthy and fit so that really is the main thing. I am truly looking forward to what the new year has to bring. Some of it may be a struggle, and some of it will be nice, but I don't make resolutions because I always break them. That is another thing I have learned at 65. Why bother? [laughs]. I am just looking forward to what's next.
INTERVIEW: Elle Gordon PHOTOGRAPHY: Lili Forberg; misslili.net STYLING: Megan Fox
HAIR: Hillary O'Reilly Hillary Salon 59 Ranelagh Dublin 6. MAKEUP: Dolly Buckley, thepowderoomgirls.com
Shot on location at The Glencree Centre for Peace and Reconciliation, glencree.ie