Last night's Love Island proved to be one of the most dramatic yet, as Scott gathered the villa for a confrontation over the talk about his relationship with Catherine.
For the past few days, some of the islanders, particularly Tyrique, Sammy, Jess, and Montel have voiced their opinion that Scott's feelings for Catherine aren't genuine and he is playing a game. However, this was said behind Catherine and Scott's backs, and wanting to get the full story, Scott called everyone to the firepit for a chat.   
With the footballer addressing the speculation head on, he said: "Everyone, can you all come round the fire pit…me and Catherine were sat in the den and I can hear everyone saying my name multiple times. If anyone's got an issue with anything that's going on, just air it out now in front of everyone."
Tyrique was quick to respond, saying: "I feel like it's a feeling within the Villa for myself that people think you are semi playing a game…you're definitely over exaggerating your feelings for Catherine."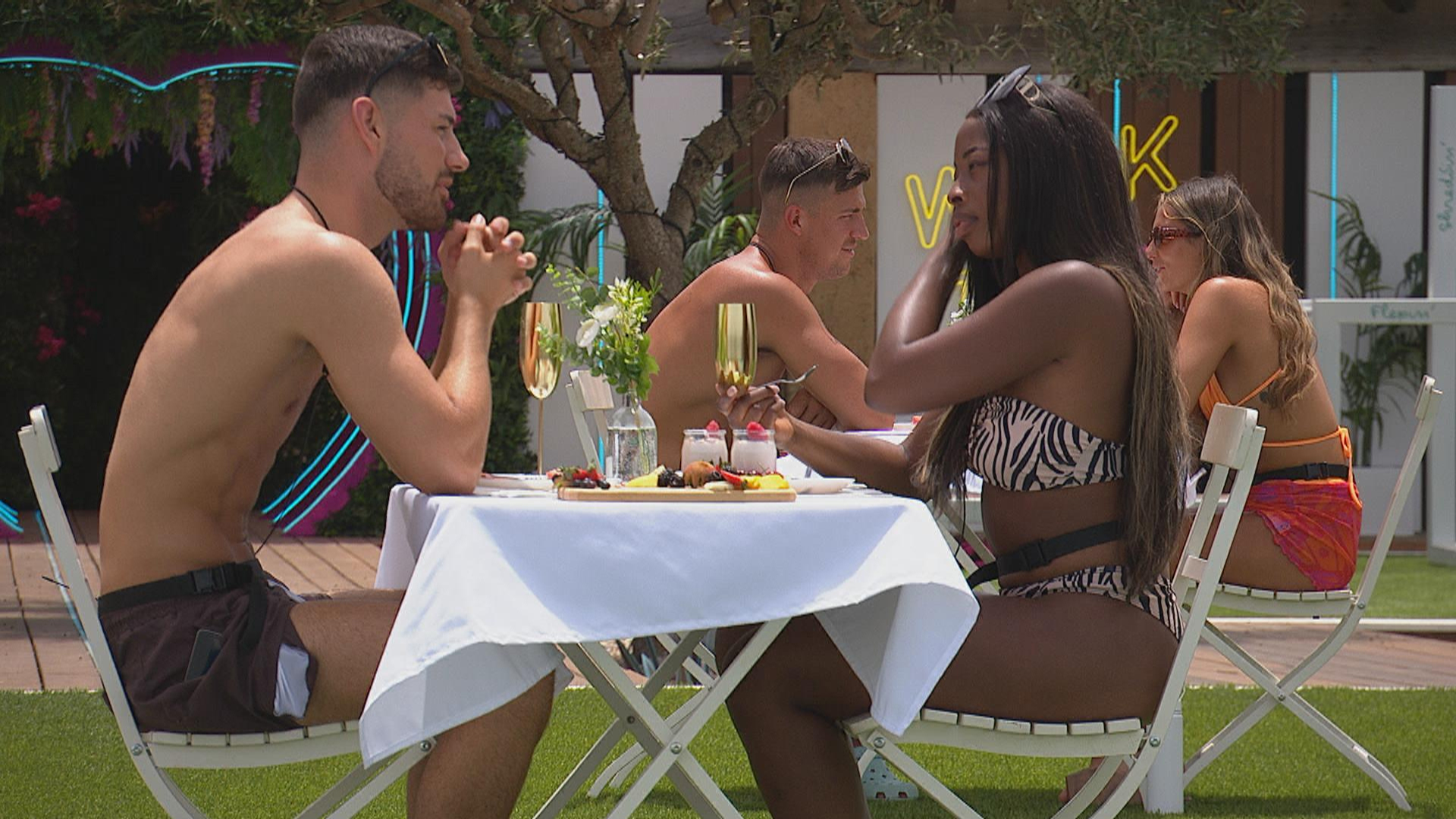 With Catherine saying: "That was the most uncomfortable situation I've ever personally been in." Before she was cut off by Tyrique who interjected saying: "Catherine, we apologise for making you feel uncomfortable, because that's not fair."
With Whitney interjecting: "no, you apologise."
Tyrique went on to add: "If the majority of people feel one way, then maybe there's an element of truth."
"But why? What have I said? When have I ever said a bad word about the girl?" Scott replied.
"No one is saying you say bad stuff, its about the whole thing, its how you seem, maybe I'm wrong, and you genuinely do feel the way you say you do. I just feel like, and most of us feel like, you're just with Catherine to try and stay here longer" Tyrique replied.
"No one is saying you don't have feelings for Catherine, where this is spiraling from is you tried to get to know Leah, you tried to get to know Kady, and neither of them went well. Before you even finished getting to know them you went, bang closed off with Catherine, it was just a bit rash and a bit weird to just close things off completely because it wasn't really being reciprocated," Sammy stated. Several islanders objected, pointing out the Leah did have feelings for Scotts.
View this post on Instagram
"I said to you girls multiple times, if he pulls Leah, finds out that she doesn't like him, and then comes to me, then I know its all fake, but he didn't do that," Catherine explained.
Ella was quick to defend Catherine as she interjected: "She's upset because she heard all of her friends talking about how the guy she's with is playing a game."
As accusations of dishonesty escalated, the discussion hit a boiling point as the Islanders fleed the fire pit in a bid to diffuse the drama. While the boys did apologise later on, fans have voiced their happiness with Scott for facing the drama and defending Catherine.
The way Scott is protecting Cathrine is cute… he's not here for the fakery, let's hope he keeps it up during Casa, cause so far so good 🤞🏽 #LoveIsland pic.twitter.com/VKY0H0EN8U

— SHiiKANE (@Shiikane) June 30, 2023
Catherine and Scott got even more closer and stronger than before. Scott only Concern is Catherine being ok. They are so peaceful🥰#LoveIsland pic.twitter.com/nBBTMZGG5D

— Rainyzion (@Rainyzion) June 30, 2023
Praying against the spirit of harlotry, may Scott and Catherine survive Casa Amour. Amen. #loveIsland pic.twitter.com/KTvEous6Lr

— Girly 😉 (@girlymomz) June 30, 2023
#LoveIsland "Scott and Catherine aren't that into each other…"

Uhm… we watching the same thing!?

— Sparks (@Sparks2810) June 30, 2023
Tyrique failed and now Scott and Catherine are closer than ever #loveIsland pic.twitter.com/Ubpdv68R01

— rodri bdor🦈 (@AnnaMulcahy10) June 30, 2023
"I wanted to stand up for Catherine"
Scott the man that you are!
#loveIsland pic.twitter.com/J3bowi7Bub

— Lilly🧚🏾‍♀️🇬🇭 (@LillyImaan) June 30, 2023
I'm sorry but the way Scott is thanking Catherine for standing up for him and she is doing the same. The love they have for each other is there. I need them to stick with each other even through Casa Amor until the finale #LoveIsland pic.twitter.com/Attb1SACqk

— heebie jeebies era (@SoNastyandRude) June 30, 2023
Scott: *only shows interest in Catherine* *honestly said he's not interested in anyone else rn but they're both aware things could change*

Tyrique: *interested in every bombshell* *tells Ella he's closed off now every 4 days when he's not*

Yet Scott's the villain? #LoveIsland pic.twitter.com/8PtIg13qcz

— Maisie (@maisier1616) June 30, 2023
Scott appreciating Catherine standing up for him and Catherine feeling comforted by his presence. No hesitation just instinct. The yin to his yang truly. That's a couple and I love them together. MY WINNERS #LoveIsland pic.twitter.com/VxGJN3nr6u

— heebie jeebies era (@SoNastyandRude) June 30, 2023
Why are the islanders coming for Catherine and Scott?!!!! We must protect them at all costs 🫶🏽 #LoveIsland

— girloncobblestones (@MaheenHumayun) July 1, 2023
I swear people be bothered when people be minding their business. Catherine and Scott just be drinking water and catching sun and here comes the shade parade. 🐸😒👀#loveisland

— London Taye (@London_Taye) July 1, 2023
Looooooool Catherine called out Montel for saying her & Scott's terrace kiss was fake when he did the exact same thing with Leah just after two days and all he could do was stutter! Beg! #LoveIsland

— YT: LifeOfAls (@LifeOfAls) July 1, 2023
Scott immediately asking Catherine how she felt about how he handled the situation was SO reassuring🥹🥹🥹 #LoveIsland

— …yep its monica🧜🏼‍♀️ (@monicacatapusan) July 1, 2023
Love Island returns this Sunday at 9pm on Virgin Media Two and Virgin Media Player, proudly sponsored by Virgin Mobile