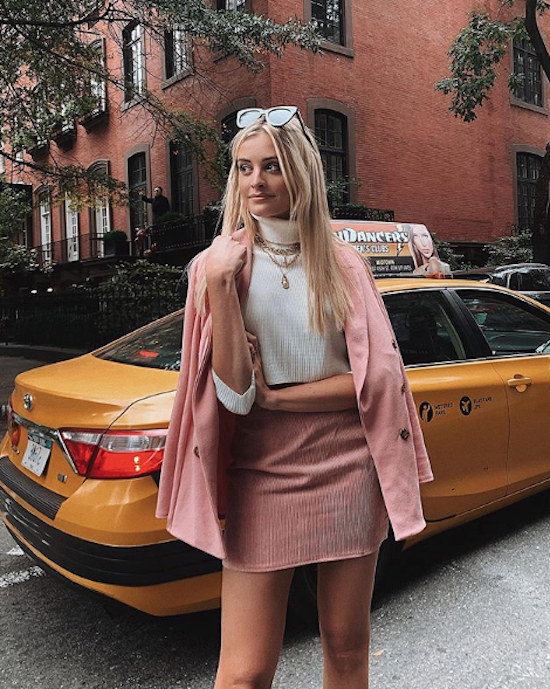 Louise Cooney is celebrating Valentine's early with a romantic New York trip with beau Mark.
Louise previously lived in New York, moving there in 2019 but returning home during the first covid lockdown, and is now sharing the city with her boyfriend. So far, the pair went for a quick drive past Louise's old apartment and visited The Edge observation deck, seeing the fab 360-degree views of The Big Apple at sunset.
The pair have also been enjoying some American snacks as they treated themselves to some goodies from the American doughnut shop Dunkin Donuts when they first arrived. They then went out for dinner in the extremely trendy Japanese restaurant, BONDST.
They definitely enjoyed their meal there, with Louise saying it was "the best meal I think I've ever had." After the couple went for drinks in Lovers of Today, a cocktail bar beloved by the likes of Taylor Swift.
Louise and Mark's relationship has been going strong since announcing their relationship back in September last year. This trip to New York follows them taking a big relationship step and moving in together.
The pair moved to a gorgeous Dublin apartment just last month. A big step but one they were excited for with Louise saying in a vlog, "I'm going to view an apartment now, myself and Mark are going to move in together, which is so exciting.
"Megan [Louise's then roommate] is going to stay here, I love living with Megan, but it's an exciting time for us and our relationship that we're feeling ready to move in together."
Continuing, she said, "I'm going to go and view a place now and see what it's like. I definitely want to stay around where we are. Something very similar to what we have is perfect.
But I do need more space – as you can see from my videos, I work a lot from my room, and there's stuff everywhere, so it would be great to have my own space to shoot in."
Back in March of 2021 Louise revealed the news she was seeing someone new to social media, and shared that she wouldn't have met him if the chaos of the past year hadn't happened.
The pair met thanks to Louise's return from NYC, home to Ireland, because of the Covid pandemic in 2020.
Written by Sláine Mckenna