Sometimes you just need to let the people in your life know how much you care about them.
With International Women's Day here, and Mother's Day just around the corner, there are plenty of reasons to celebrate the women in your life. From your own mother to your partner to your sister to your friends, we all have a very special woman in our lives.
Since 1976, L'OCCITANE has been committed to empowering women, including a continued partnership with Women's Aid to support their work toward a society where domestic abuse is no longer tolerated.
L'OCCITANE is on hand to spoil the ones you love this year as well with their brand-new fragrance – HERBAE par L'OCCITANE Spartium.
You can discover the essence of Provence with the limited-edition fragrance that embodies nature's wild and untameable beauty.
L'OCCITANE has put together the best minds to create a fragrance that captures the desire to escape and reconnect with nature. The fragrance is both striking and elusive, with a floral and green scent that will invigorate your senses.
Take a look at the full HERBAE par L'OCCITANE Spartium collection below:
€62
The eau de toilette is an ode to the wild grasses that grow in the heart of Provence, HERBAE par L'OCCITANE Spartium EDT has an addictive, refreshing scent that's perfect for springtime.
The citrusy, green freshness from the rhubarb leaf and grapefruit notes gives way to notes of jasmine and ylang ylang bringing a floral, sunny facet.
To respect L'OCCITANE's key commitments, the packaging is printed on paper obtained from sustainable sources and there is no cellophane wrapping.
€16.50
We all love to be fresh, so this perfumed gel is the perfect handbag essential.
This floral, green, solar fragrance in a gel texture is ideal for on-the-go perfume touch-ups to apply throughout the day.
Your escape to nature can continue with a relaxing shower. The scent will transport you to the countryside while the formula, which is comprised of 95 per cent natural ingredients, will refresh and nourish the skin.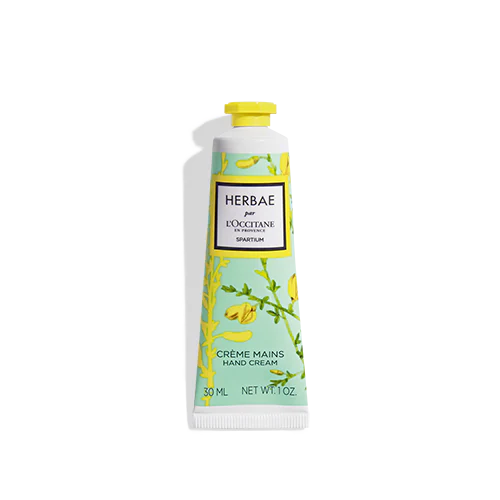 €11
It's no surprise that the classic Shea Butter L'OCCITANE hand cream sells every four seconds worldwide.
And we already know that this latest, limited edition offering will fly off the shelf thanks to its exquisitely fresh wild grasses accord.
With a clean charter formula, enriched with organic and sustainably sourced shea butter, this beauty essential helps to deeply nourish skin whilst leaving it gently fragranced.
€7
Another dreamy product in the collection is the perfumed soap which is ideal for the hands and body.
This gorgeously crafted soap is once again made of 95 per cent natural origin ingredients, gently cleanses the skin and leaves it delicately perfumed with this sunny, captivating scent.
To help respect biodiversity and reduce waste, the packaging has been printed on paper obtained from sustainable forests.
This moisturising body lotion is a must-have in your self-care kit. It is enriched with L'OCCITANE's iconic shea butter and 95 per cent natural origin ingredients, and is bursting with the freshness of wild grasses.
Its light texture leaves the skin beautifully fragranced all day long and is packaged in a 50 per cent PETR bottle, meaning the bottle is made from 50 per cent recycled plastic and is recyclable.
You can pick up a FREE L'OCCITANE hand collection gift this spring when you spend €30 or more in your nearest boutique, or online at ie.loccitane.com using the code IEVIP.
[VIDEO HERE]