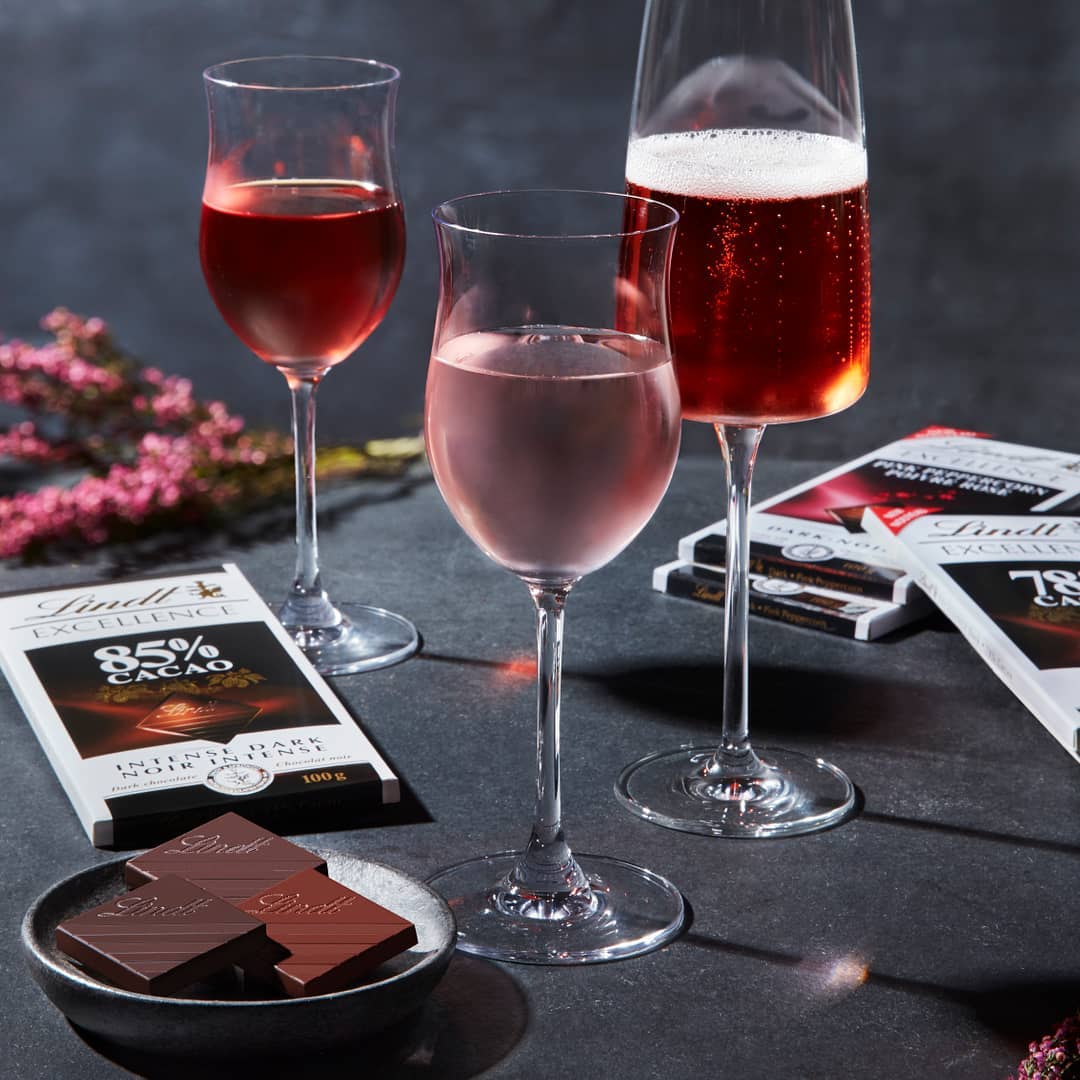 Ever wanted to try food pairing? Lindt's EXCELLENCE range is the perfect way to start learning the craft as you can pair different sweet treats with your wine.
You'll only need a few things to get started;
A selection of Lindt's luxurious EXCELLENCE bars;  EXCELLENCE 70%, EXCELLENCE 85%, EXCELLENCE Caramel with a Touch of Sea Salt, EXCELLENCE Chilli
A red wine glass
A champagne flute or coupe
A whiskey tumbler
A cosy corner to curl up and enjoy your pairing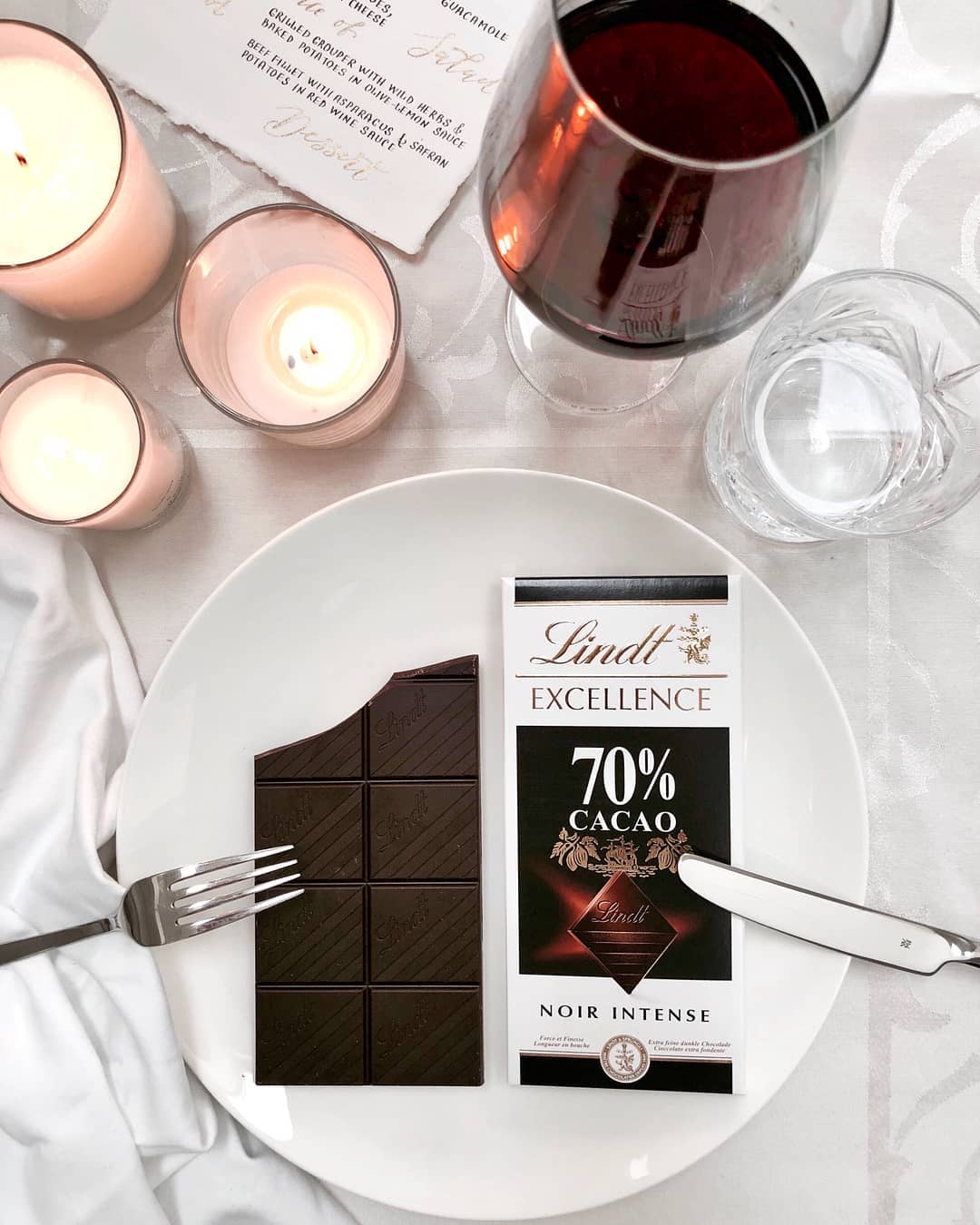 So what are you looking out for exactly? Most of us enjoy a great quality bar of chocolate, but if you generally wolf it down like we do then you probably haven't stopped to really taste the different flavours and textures it has to offer.
Lindt's Master Chocolatier, Stefan Bruderer has some tips on how to go about noting different flavours and pairing with a specific wine.
Firstly, he recommends savouring the flavour and not rushing the experience. Next, you need to go on a journey with your five senses to immerse yourself in the flavours.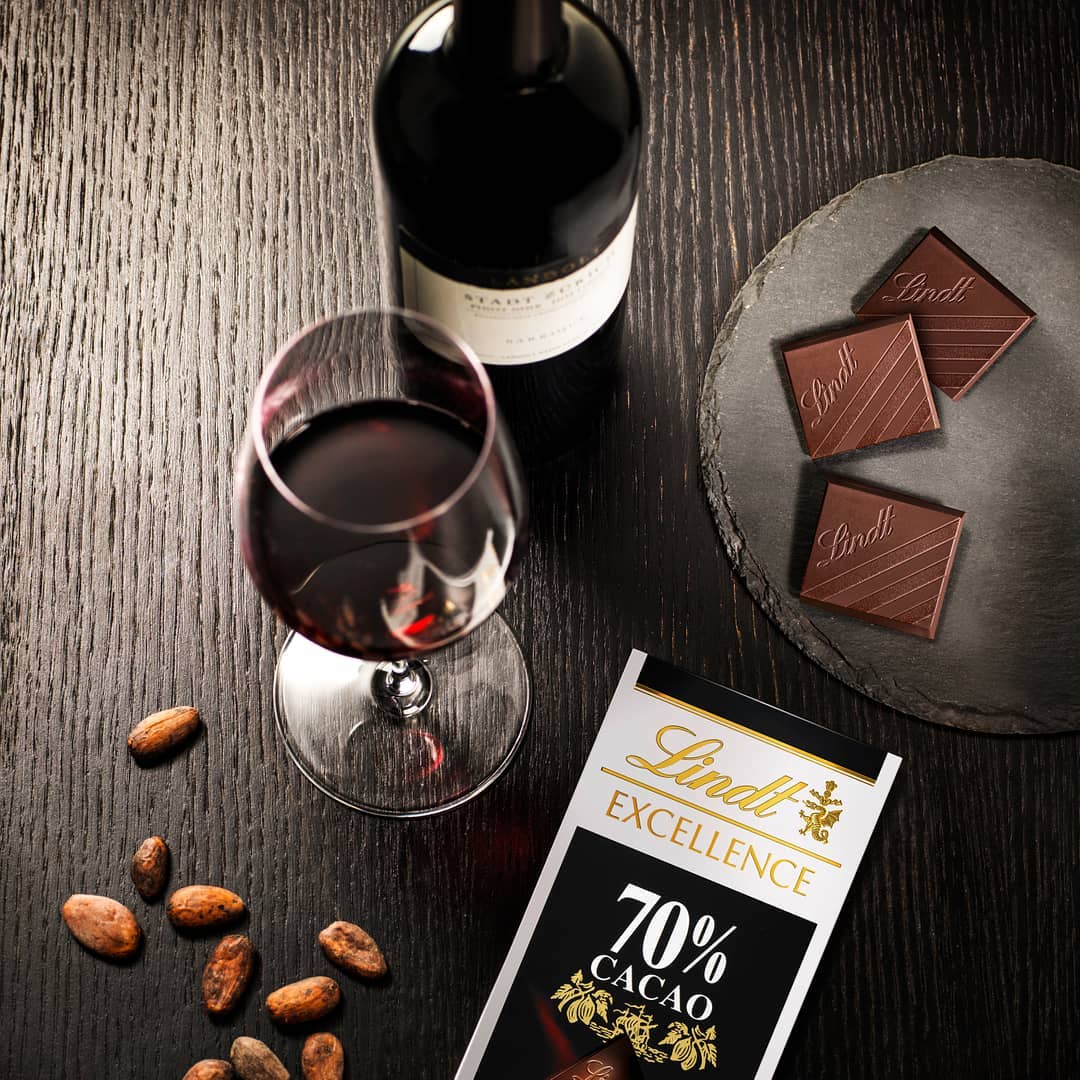 SIGHT: Appreciate the chocolate colour. Noting the premium silky sheen with an even texture.
TOUCH: Feel the velvety, smooth surface of chocolate – never rough or grainy.
SOUND: Hear the crisp, clear snap as you break the chocolate.
SCENT: Cherish the rich and intense aromas of the chocolate before you taste it.
TASTE: Let a piece melt on your tongue and experience the intense symphony of cocoa flavours.
ASSESS: Now the chocolate is nearing its finish. How has the flavour evolved? Is the chocolate bitter, heavy, light? Did any changes in texture and flavour occur? Take note of how the chocolate leaves the palate. Is there a strong reminder lingering in your mouth, or does it quickly vanish?
Now you know how to fully appreciate the flavours, it's time to start experimenting with different wine options. This is the perfect Sunday afternoon activity to do at home, with your partner of family. Light the fire, pop on your favourite film and escape to a whole new world of indulgent flavour pairings.
Suggested Pairings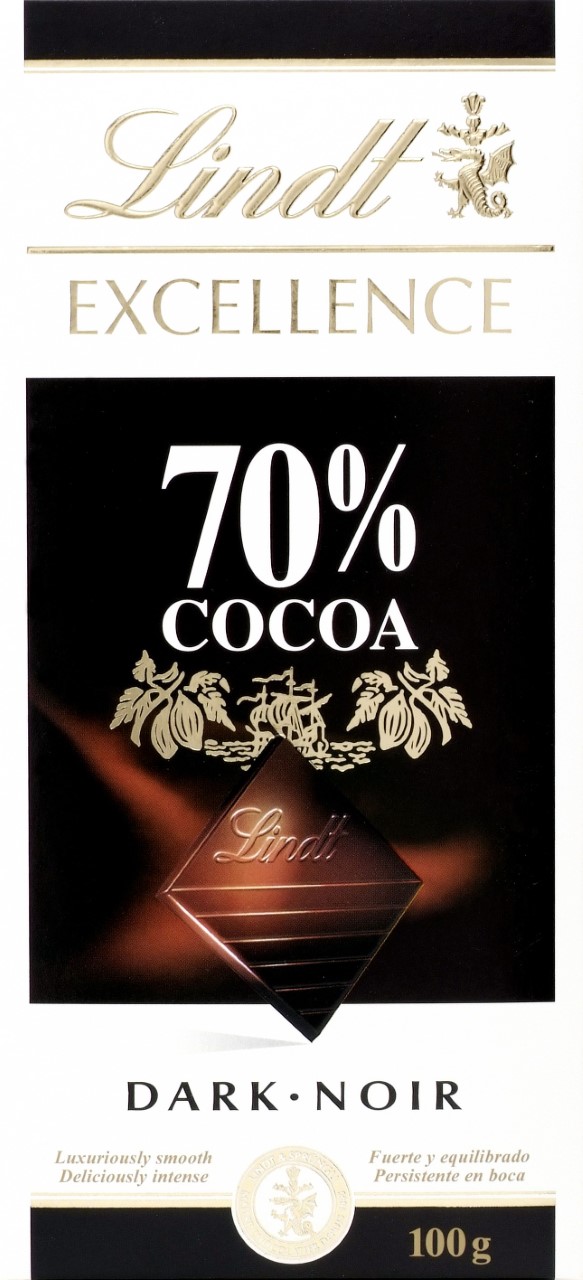 EXCELLENCE 70% is a full-bodied dark chocolate, masterfully balanced to be strong but not too intense. Its delicately fragrant, smooth cocoa flavour has subtle fruit and floral undertones and hints of natural vanilla.
Pair with a Cabernet Sauvignon which is aged in oak. This gives it warm and spicy notes of cinnamon and nutmeg that pair beautifully with the vanilla flavour profile and fruity notes of cherry and orange in the chocolate.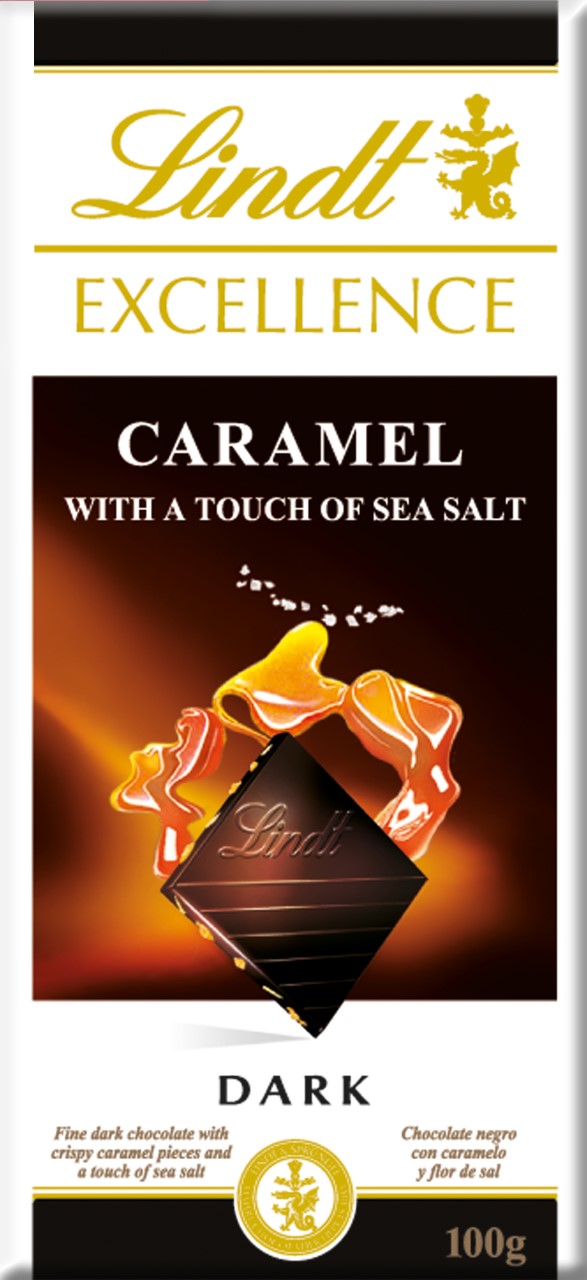 EXCELLENCE Caramel with a Touch of Sea Salt is the perfect balance of smooth dark chocolate, crisp and deep flavoured caramel pieces, and a subtle, delicate undertone of sea salt. The most dramatic pairing with this is Prosecco.
The citrus and pear notes in the wine along with the refreshing sparkle makes this pairing luxurious and truly indulgent.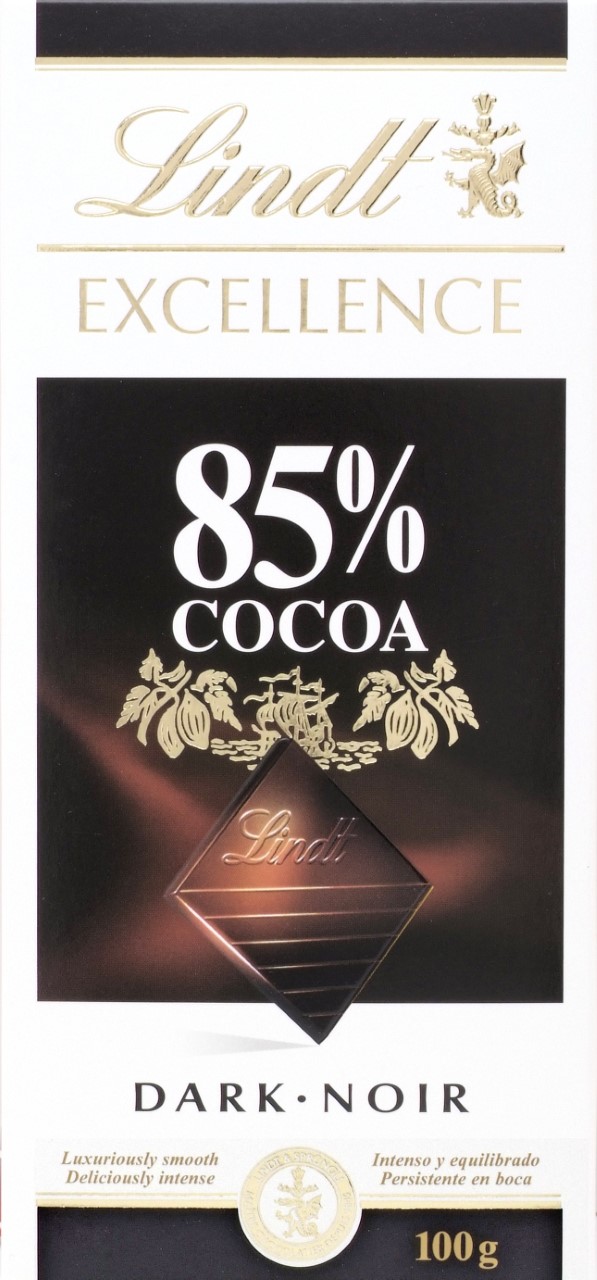 EXCELLENCE 85% is an intensely flavoured, fine dark chocolate which is perfectly balanced, being neither bitter nor overpowering. Aromas include dried fruit and liquorice as well as powerful earthy tones.
Look for New World cabernets (from Australia, California and Chile) which feature cassis and red cherry notes as their main markers. They also often feature hints of coconut and toasted nuts. This is an ideal partner for the robust flavours and intensity of a high percentage chocolate.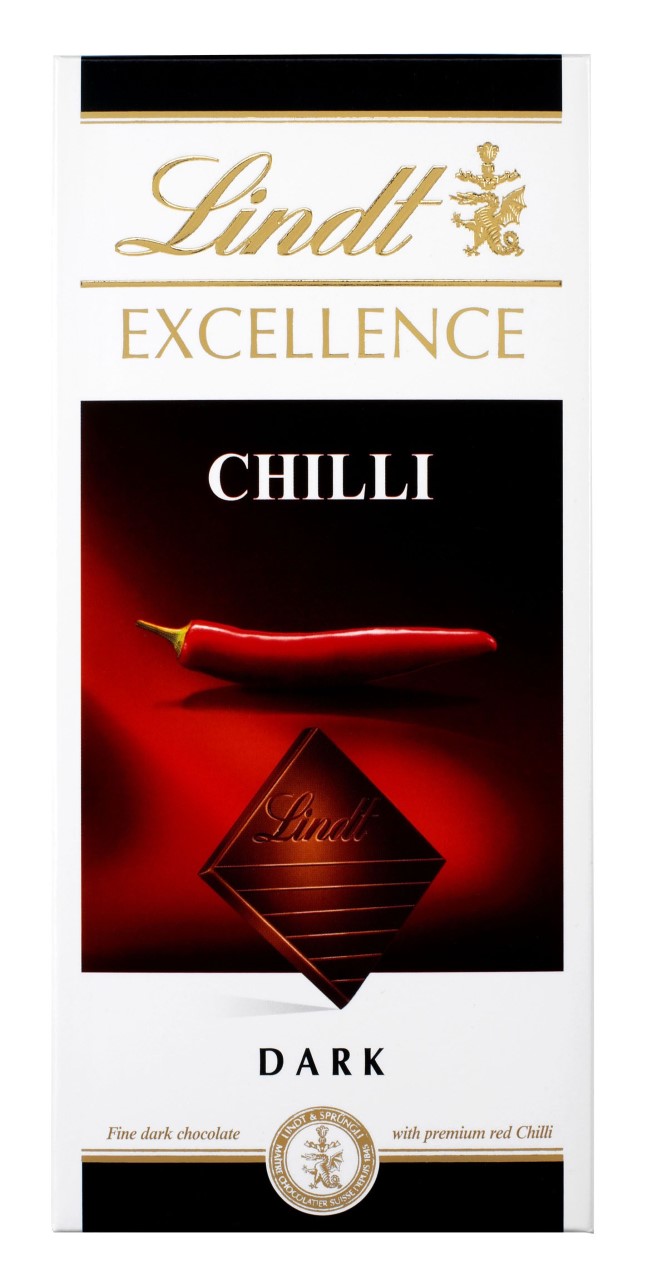 EXCELLENCE Chilli is a true taste sensation. The delicious dark chocolate gently melts away, providing a delicate sweetness and delectable cocoa flavour that subsides to a gentle warmth from the chilli, but the heat is well controlled and in harmony with the fine cocoa.
Whiskey and chocolate are an excellent match because their flavour profiles and common tasting notes such as honey and spice, are so similar. In order to get the most out of your tasting, be sure to enjoy both at room temperature, which helps maintain their "nose" (aroma).
Lindt EXCELLENCE bars are available from supermarkets and retailers nationwide.