Lauren Arthurs announced that she had named her newborn daughter Fallyn.
The gorgeous name is actually Irish but it wasn't its Irish roots that inspired Lauren.
During a Q&A session on social media, she revealed that it was actually an iconic series that piqued her interest in the name.
When speaking about her journey to figure out her daughter's name she revealed that she had Fallyn chosen from the beginning.
View this post on Instagram

"We didn't at all actually. Again my decisiveness kicked into play. We had two briefly but it was Fallyn for most of my pregnancy," she explained.
"We were calling her that before we had her which I found surreal but it was nice to get used to saying it."
She then explained that her daughter's name was Irish meaning "leader", sharing a poster with the origins of the name.
She added that she "absolutely loves" that her name was Irish.
One follower asked her: "Did the inspiration for the name come from Fallon in Dynasty? Adore it."
Lauren was quick to confirm that is where she originally got the inspiration for the name.
"Yes, exactly! I loved it so much and had never heard it before watching the show. We just changed the spelling to a Y instead of the O as it read really nicely as Fallyn O'Flynn," she wrote.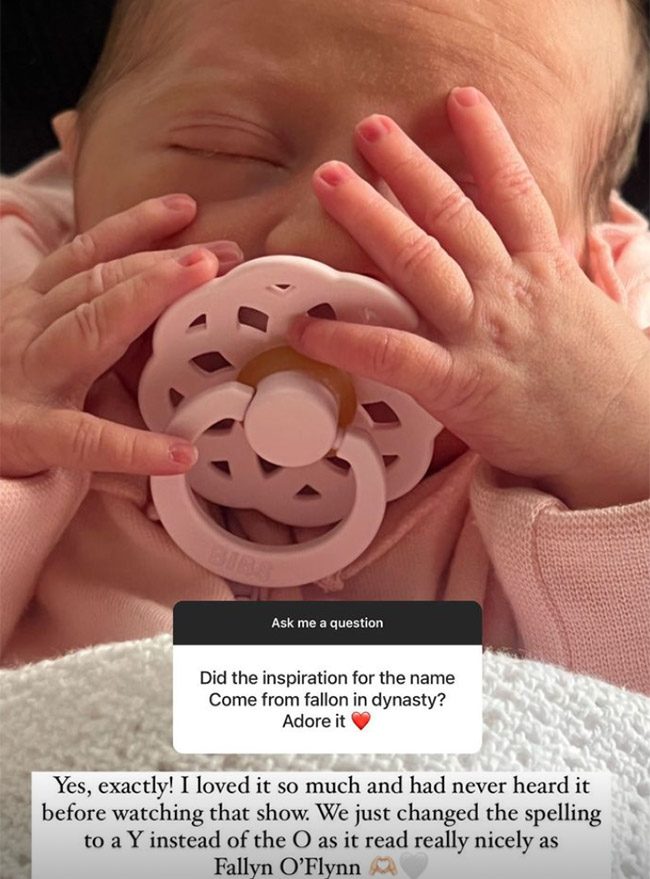 It's clear that the name was chosen with plenty of time to spare as Lauren has a nameplate necklace with Fallyn on it as well as baby clothes with her daughter's name embroidered on them.
Lauren welcomed her baby girl into the world in Cork University Maternity Hospital on June 17th with her husband, John O'Flynn, by her side.