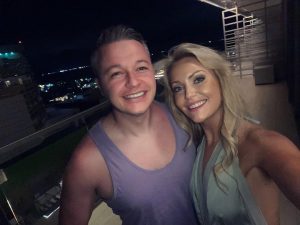 Earlier this week Kerri-Nicole Blanc and hubby Keith Malone annouced the birth of their beautiful baby girl.
Now, just a mere few days later the model has shared her newborn daughter's name.
Taking to Instagram to share an array of photos of her little bundle of joy, Kerri-Nicole penned: "Our tiny dancer Miss Klara-Lillie."
"Weighing in at 4 pounds 9 this morning and already showing us she's a warrior queen who has just graduated from ICU and joined her mommy on a ward!
View this post on Instagram
"The strongest Girl," she added.
Friends and followers alike were quick to comment on the name with Shauna Lindsay writing: "Omg stunning name."
"Congratulations beautiful, she is perfect," shared Daniella Moyles.
While one follower wrote: "Amazing news and her name is beautiful."
Kerri-Nicole, who is already a mum to daughter Kayla, had been keeping her followers updated on her pregnancy journey so we can only expect the same now that little Klara-Lillie is here and they embark on this new and exciting chapter in their lives
"Our hearts are so full," shared Kerri-Nicole at the time of her daughter's birth.
"Welcome to the world baby girl. 5 weeks early and weighing 5 pounds, she is beyond PERFECT! our little angel."
Another huge congratulations to both Kerr-Nicole and Keith.